Whenever you're creating a beat or playing a set in a crowded club, you have to ensure your setup has enough power to make the crowd go wild. Having the best DJ speakers are essential to ensuring your mix comes across and your set ends a success. Not enough range and the audience may not be hear the nuances of your mix. Too much power though and your hard crafted mix will come out distorted.
Don't want to read? Don't worry we've got your quick fix here:
Our Top Picks
While testing your music and mixes is fine on a pair of the best DJ headphones, you'll need a set of good speakers to hear how your actual mix will sound in a club or wherever you're playing a set. Analyzing your music with quality speakers can give you a significantly better result when compared to headphones.
In fact, speakers can help you find minor beat misses and stray notes which, once eliminated, make your mix stronger.
However, to ensure that your set goes perfectly, you need to find speakers that offer superior sound clarity and maximum output along with other important things. Here are our top 10 picks for the best speakers for DJing.
Top 10 DJ Speakers:
The speaker comes with a 1000W RMS which generates phenomenal power. Its wonderful 12" woofer is tuned brilliantly and offers amazing bass. The speaker comes with 8 drivers for mids and highs, which means you get nine speakers working in perfect harmony to give you commendable sound quality.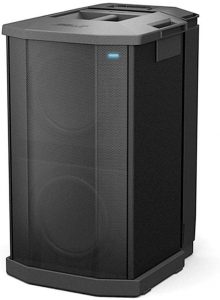 Bose F1 Model 812 also comes with XLR/ ¼ inch combo inputs, stereo RCA inputs, and two-band equalizers which make it one of the most convenient speakers in the market.
The speakers are designed to give the music space and depth. Sounds like bassline pump, hi-hats, percussion's, and snares sound super crisp. The speaker even produces synths and ambient sounds excellently. You can also use the speakers in solitary mode to get a 3D effect.
These speakers are built to last long as they are made from the best quality materials which makes them durable and capable of handling any amount of pressure. The only drawback with these speakers is the weight, they weight around 20 kgs and can be tough to move around.
The speakers have a basic design which gives them a professional look.
Pros:
Optimize Sound to Fit the Venue
2-Channel Integrated Mixer
8-Driver Mid/High Line Array
Cons:
Not ideal for large venues.
Best Speaker for House Parties – Mackie Thump 12:
The Mackie Thump 12 sits in second place due to its ability offer amazing power at a considerable price. It can generate maximum power up to 500 RMS watts which pumps out pretty amazing bass that can get the crowd grooving.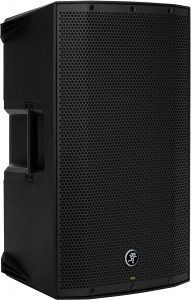 Mackie Thump 12 is primarily designed for small-scale events such as yard and house parties where you wouldn't bother carrying a sub-woofer. You can place one of the speakers on the table and let the party turn wild.
It comes with a 3-band equalizer and a single XLR/ ¼ combo that makes even more convenient to use.
Owing to its durable all wood and impact-resistant tempered plastic body the speaker can withstand a couple of hits easily. Despite their huge size the speakers weigh only 13 kgs which makes them quite portable.
Coming to the sound output of the speakers, the Mackie Thump offers a powerful base while the high frequencies can be tuned up/down with the equalizer. With accurate adjustments you can get a balanced sound.
Pros:
Compact style and lightweight.
Cons:
Limited functions compared to other speakers.
From one of the oldest speaker manufacturers in the industry comes a well-balanced product that gives you great value for money i.e. the Electro-Voice ZLX-12P. It has been designed to help producers create music and offers great sound output at gigs and events.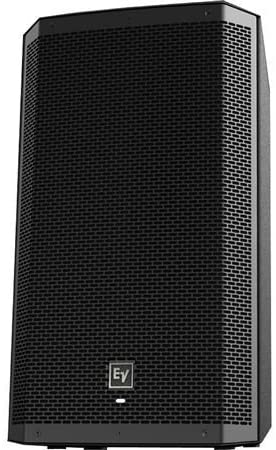 The 12" woofers and 1.5" superior-quality titanium drivers produce excellent audio across the entire spectrum along with amazing clarity in the high-end. Electro-Voice ZLX -12P offers smooth and precise sound even in harsh frequencies which makes it suitable for snares and percussions.
It has a peak rating of 1000W but is able to produce power only up to 250RMS. 
You don't have to worry about amplifiers or any other connectors to connect the speakers as they come with XLR/ ¼ inch combo jacks and a 3.5mm input that lets you connect phones and laptops with ease.
The speaker is designed to look professional with a wooden body and offers commendable performance. It has an excellently designed enclosure that offers optimal sonic performance.
ZLX-12PS is widely known for its crystal sound that is clear, precise, and powerful. The speakers come with high amount of bass and high-end that can easily fill a decent sized room with incredible sound.
Moreover, the rounded enclosure does not pour out while playing the bass but tunes it to make it sound warm and complement the music.
Pros:
Good Range of Tuning Options
Cons:
We all are aware of the amazing speakers that are manufactured by JBL. The brand is commended for its numerous speakers that offer crystal clear sound and amazing power. JBL brings to you yet another sound masterpiece with its 'EON612' series.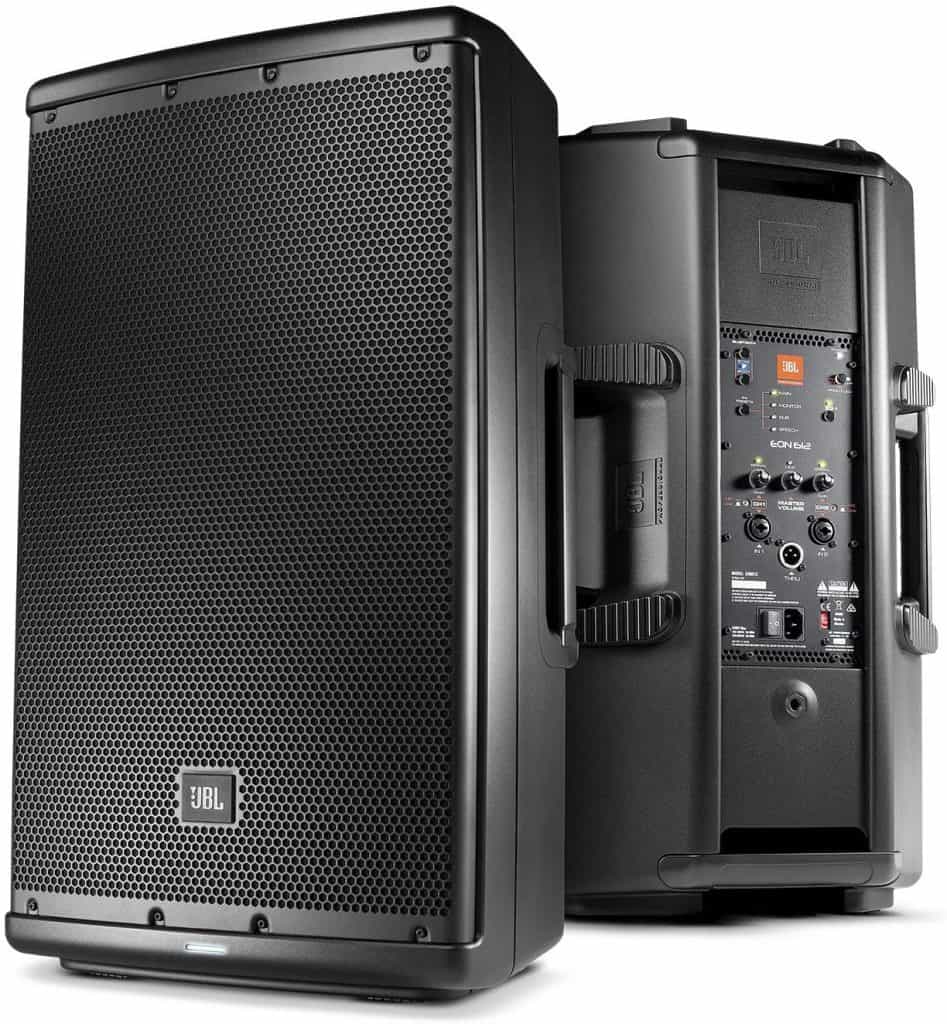 There's a lot that can be said about the 'EON612', and to begin with, we can talk about the amazing power generated by the speakers.
EON612 comes in the combination of the 300W peak powered wave-guided frequency transducer and the 700W peak powered 12″ woofer. Its bass-reflex ports deliver a frequency range of 48 Hz to 20 kHz with a Max SPL output of 126 dB that can be used for a wide range of applications.
The speakers come with a dual combination mic or line XLR-1/4″ input connectors with individual signal gain knobs and a master volume knob to adjust the overall levels. With the XLR loop-thru, you can connect with the EON612 series speakers.
EON612 is equipped with a built-in DSP processor with Bluetooth v.4 control that lets you fine-tune the sound of the speaker in different acoustic environments. You basically control the speaker through your Android or iOS app.
The EON612 also enables you to control its 5-band parametric EQ, saving and recalling presets, and adjusting the master volume through its Bluetooth system. Moreover, with a single button you choose between the different modes i.e. Main, Monitor, Speech, and Sub for incorporating a dedicated subwoofer.
Pros:
Purposeful, durable design
Cons:
Bluetooth connectivity issues
Desire for more functionality through Bluetooth
Mackie is known for creating rugged speakers that offer amazing sound quality and superb durability. The same attributes can be found in the Mackie SRM650 along with other exciting features that make it a great choice for DJ gigs.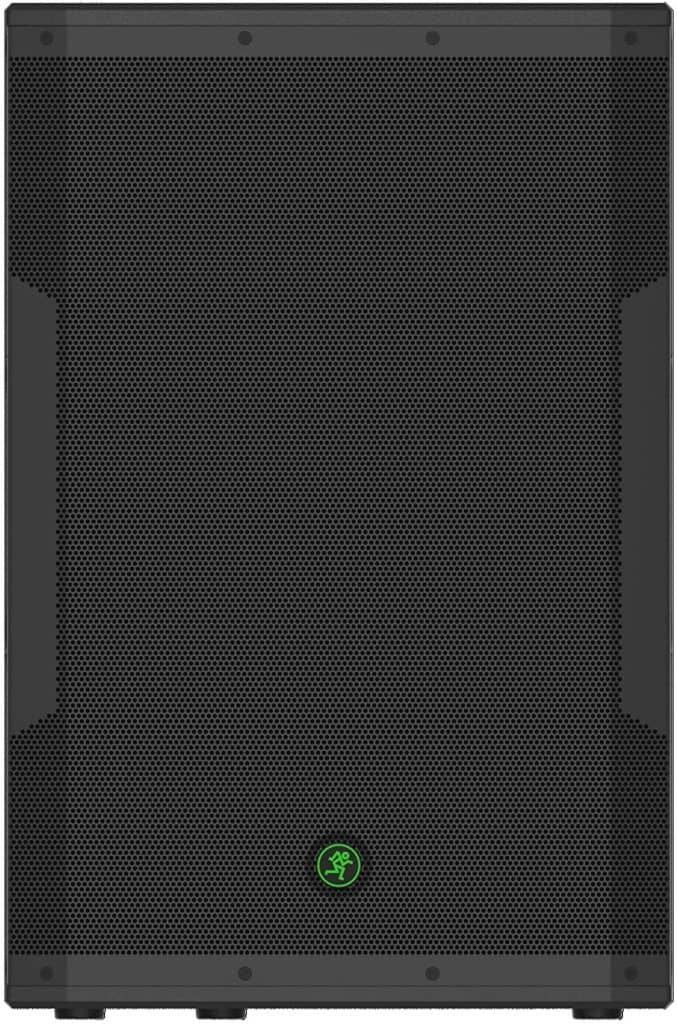 Mackie SRM650 redefines DJ speakers in every way possible. It offers tank-like ruggedness, with great output, clarity, and simple 15″ design.
Every unit of the speaker is paired with professional-grade custom transducers and internally braced all-wood cabinets that are very tough.
It comes with High-Definition Audio Processing, acoustic correction DSP for high-definition sound and system optimization tools such as application-specific speaker modes along with an accurate feedback destroyer.
To sum it all, the Mackie SRM650's incredible output, amazing sound, and the proven durability are some of the key things that seasoned professionals demand from a portable loudspeaker. These built to last speakers are efficient and durable enough to help you play in a wide range of events.
Pros:
High definition audio processing
Great sound for the price
Comes with built-in 2 channel mixer
Cons:
Sometimes frequencies sound muffled
Yamaha is one of the top companies known for manufacturing sound equipment. Speakers from Yamaha are usually durable and produce crystal clear sounds. The Yamaha DXR 8" 700W is one of the prime offerings from Yamaha for DJs who are looking for speakers that are powerful and durable.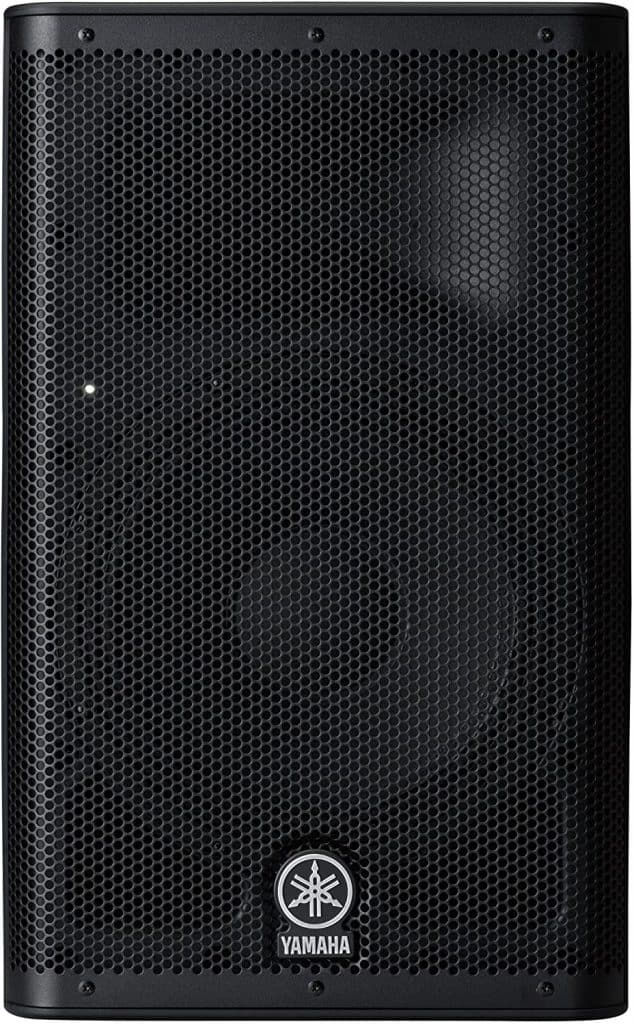 The DXR 8" 700W has a compact size and is highly durable. The key features of the product also include clear audio and high output levels which is ideal for live sound applications. It comes with a cabinet that is equipped with rugged ABS construction.
Its unique construction enables bass-reflex design for enhanced bass performance while reducing turbulence significantly. The 8" woofer and 1.4″ compression tweeter offer high-resolution audio and wide frequency response.
For optimal driver performance, the speaker uses an FIR-X linear phase filter.
The different units of the Yamaha DXR8 can be placed anywhere on the floor or stage. It comes with useful mounting options that can be used for placing the speakers in perfect spots. You can use a standard 35mm pole socket to mount the speaker on top of a subwoofer.
The Yamaha DXR 8" 700W has a bi-amplified design that provides a combination of the peak output power of 1100W for a power-packed performance and minimal distortion. Its D-contour processor enables you to use the speaker as the main/FOH speaker or as a stage monitor.
It comes with a fully functional rear panel that comprises has XLR, 1/4″, and RCA inputs, as well as XLR thru and output connectors for varied compatibility with professional sound systems and devices.
Pros:
Compactand easy to handle.
Smooth and crystal-clear sound.
Powerful output available on demand.
Cons:
This one of the few speakers that combines all the best features of most of the speakers on this list. It comprises qualities like unmatched power, precision audio, and lightweight. Even though it has a considerably high price, the number of features makes it worth every penny.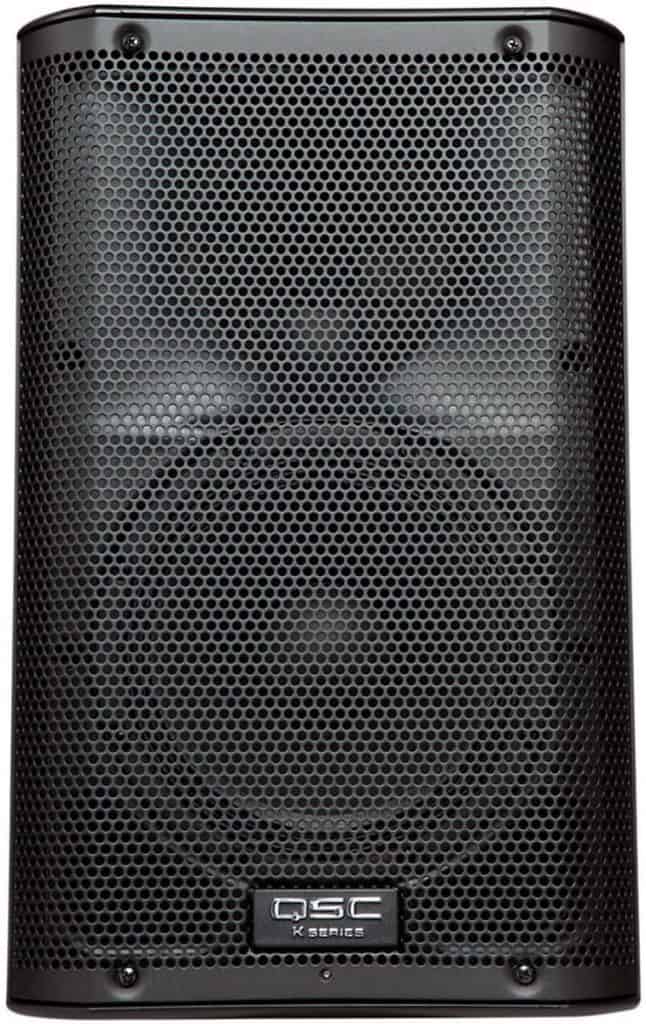 The QSC K10 is rated at 1000watts RMS, which is comparatively higher than most powerful speakers. It has a 10" woofer that is combined with 1.75" compression driver for high frequencies. All of these features combined make the QSC K10 a full range speaker.
To know more about the QSC K10 speaker, you can watch this video:
If you are planning to play on full-range for a longer period of time, the QSC K10's built-in limiter enables you to do so without incurring damage. The speaker comes with EQ settings that can enable you to control the lows and highs along with a DEEP setting for enhancing the bass depth.
For connectivity, the speaker comes with the standardtwo XLRs and two ¼ inch jack inputs.
The speaker has a super-sturdy body which is made from very lightweight plastic. It can surely withstand a great number of hits and even get scratched and scuffed without taking permanent damage.
QSC K10 offers great tone and performance with it's ability to balance crisp highs with incredible bass. The loudness of the speaker does not compromise on the quality of the sound as it balances the highs and the lows of the music without any crackling sound. You will get crystal-clear sound even when you push the speaker to the maximum.
Pros:
Good choice for large venues.
Cons:
A bit expensive than other DJ speakers.
The bags for this particular speaker must be purchased separately.
Yamaha is widely popular for its powerful speakers that are built with excellent quality. The DBR10 is one of the phenomenal speakers that are far cheaper than the QSC 10 and offers amazingly loud sound at an affordable price.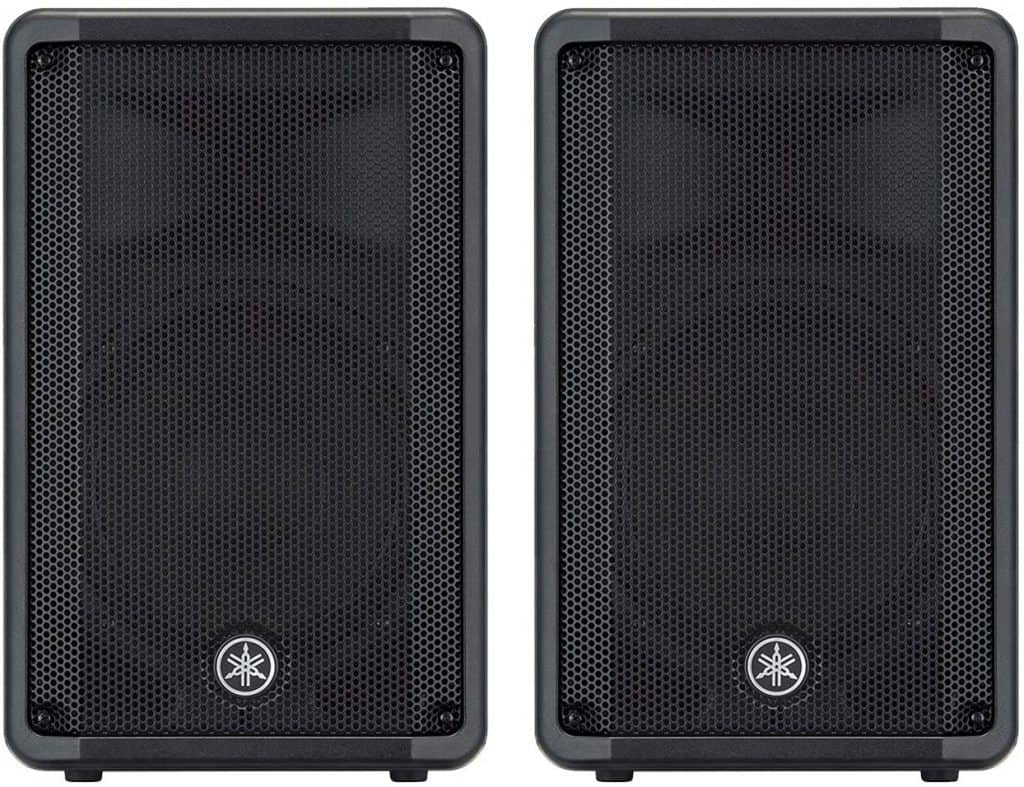 The DBR10 has a 700w speaker but it has an RMS output of 325 watts. It may seem low, but you will find other features that make this speaker a good purchase. The speaker is great for small parties as the speaker doesn't go below 55Hz.
DBR10 come with 2 EQs, XLR and ¼ inch combo-jack inputs and a stereo RCA input, the speaker has all the inputs and outputs that are commonly used.
Weighing only 10.5kgs the Yamaha DBR10 which is exceptionally light for this category but considering the size the weight is justified. It is made from strong plastic and is tested for quality.
The DBR10 is very popular for its punchy and clear tone. Its capability of producing crisp highs and defined bass is revered by well-known music producers worldwide. The DBR10's inability to reach any lower than 50Hz may be a limitation but the warm and precise bass produced by the speaker compensates very beautifully.
Pros:
Cons:
No phantom power on mic input.
For DJs who are looking for compact and portable speakers that come with amazing power and durability, the Behringer Eurolive B112D Active PA can be a great option.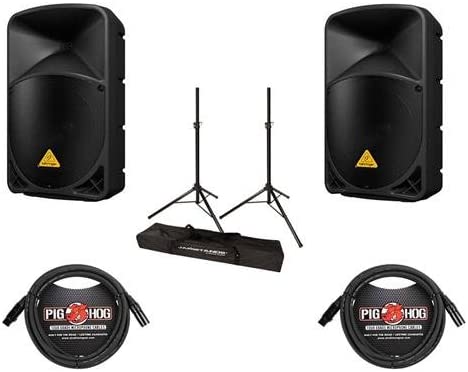 The Eurolive B112D packs amazing sound quality with its 12" woofer and a 1.35" aluminum high-frequency compression which has the ability to generate a maximum output of 1000 watts. The speaker comes with an integrated mixer that provides you with an independent input trim.
It has a combination of XLR/TRS mic/line inputs but can also be connected with Behringer's ULTRALINK wireless systems and a USB 3.0. The speaker has a 2-band high and low EQ which allows you to tune the PA according to the environment while the built-in optical limiter is designed to protect the speakers.
The speaker's mixed XLR output allows you to connect multiple B112Ds for increased output. Its ergonomically shaped handles make it convenient and easy to carry and setup. At this price, Behringer B112D is the only option that can offer exceptional sound quality. 
Pros:
Cons:
Low bass handling at higher volumes (75%+)
The Rockville RPG is a pack of speakers that can be a great addition to your set of equipment. Just like other speakers on the list, this set of speakers offer amazing sound output but also some astounding advanced features.
The speaker comes with a remote control that can help in choosing the different output options of the speakers. Moreover, the speakers come with a USB port that can be used to play MP3s. You can also connect devices like laptops and mobiles with the wireless connection option.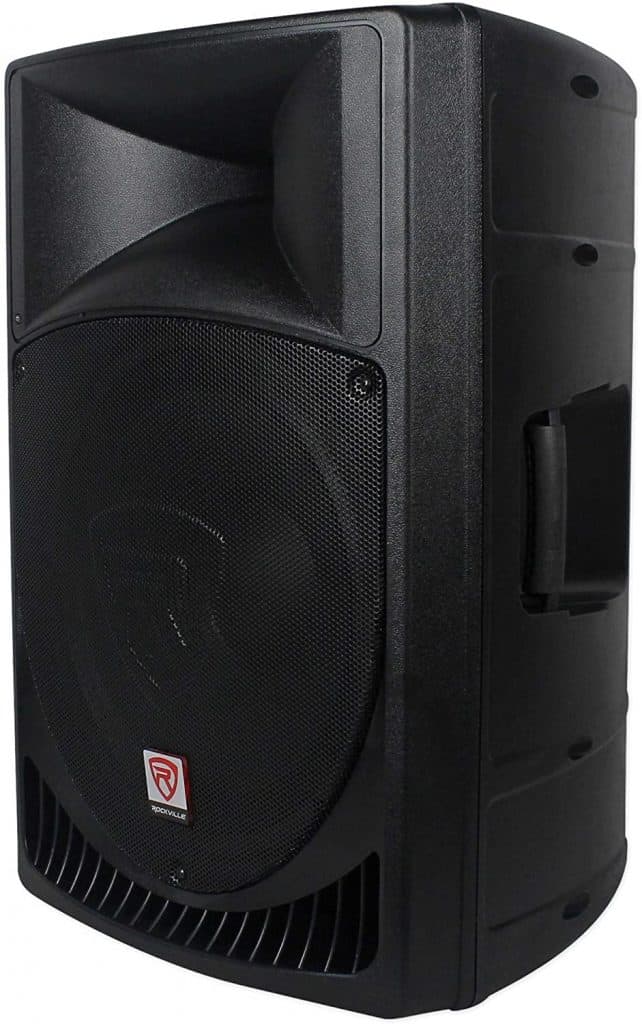 Rockville RPG122k speaker setup is divided into two parts i.e. active and passive. Each of the speakers come with their own stands, appropriate cables, remote control and a microphone. Since the speakers come with a comprehensive kit, they are pretty easy to setup.
Rockville RPG122K has a very reasonable price as compared to the other speaker options on this list. These speakers are small in size and can be used in small rooms like coffee houses and bars, for sales presentations, corporate meetings, karaoke, and even for home use.
Pros:
The microphone provides good sound
Bluetooth connectivity is useful             
Cons:
Bluetooth connectivity has a limited range
Lacks power for larger professional uses
How much to spend on DJ speakers?
As seen below, there are different types of speakers that come with amazing features and benefits while carrying different price tags. Below, we've classified general ranges by the level of equipment.
As a DJ you need to understand that when starting off, you might have to be mobile and ready to take gigs that involve traveling from place to place.
DJ Speakers
Price Range
Beginner
$350 – for a Speaker$500 for a subwoofer
Entry Level
$400 – $500 for a Speaker
$700 for a subwoofer
Mid Range
$600 – $1000 for a speaker$1000+ for a subwoofer
High Mid Range
$1200 – $1500 for a speaker$1500 for a subwoofer
Depending on what type of events you typically DJ, you should spend around $1500 for your complete DJ speaker setup. At a beginner range, that will get you 2 speakers and a subwoofer which will be sufficient for most applications.
Remember that if you mostly DJ in clubs and at different events, you'll want to choose speakers that are compact, portable, and reliable.
And just as a word of caution, if you can't afford the above ranges – just know it may affect the quality of your sound and your entire set.
Moreover, people tend to choose DJs based on their performance and music quality. Consequently, you don't really want to compromise on sound quality. You may to choose a heavier speaker over a lighter one – which means more work for you but it'll result in a better performance.
Choosing a DJ Speaker:
You may find speakers that offer loads of features like connectivity, style, and size or weight but to ensure that your purchase is a fruitful one, you need to keep your primary preference limited to sound output and quality.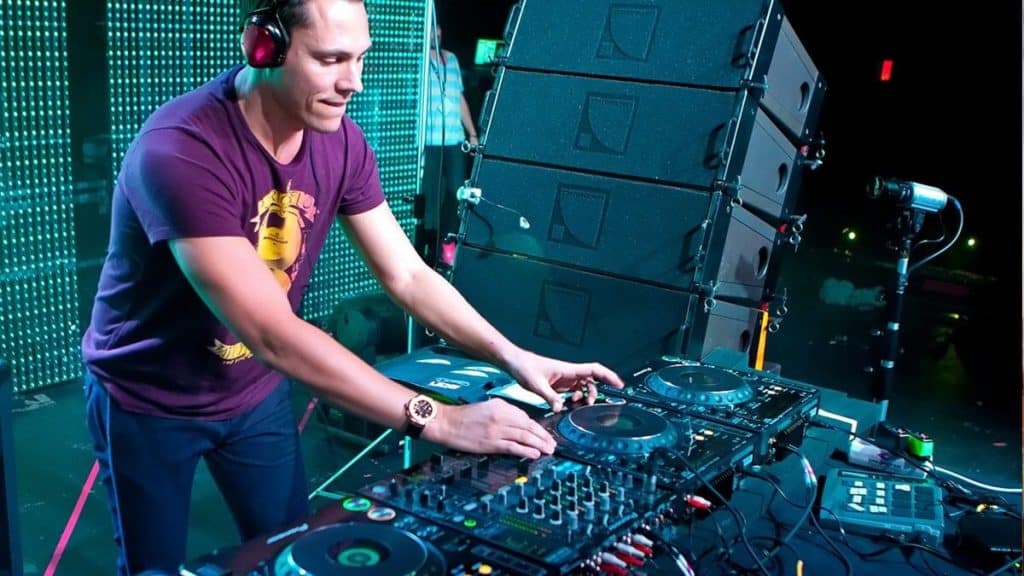 The reason behind keeping sound as the primary preference is, that the audience only listens to your music and it is very important that you keep your music pleasing to the audience's ears.
We understand that there are numerous brands in the market and choosing one among the best can be challenging. Therefore, we have listed the necessary parameters, that can help you find the right speaker for you.
To understand how to choose the right speakers for different events, you can watch this video:
Passive vs Active:
When choosing a speaker, this is one of the first and important choices that you will have to make. Active speakers come with a built-in amplifier and start working with just power source or a battery source. They are also referred to as 'Powered speakers' and are widely preferred as you don't have to carry an amplifier around with you.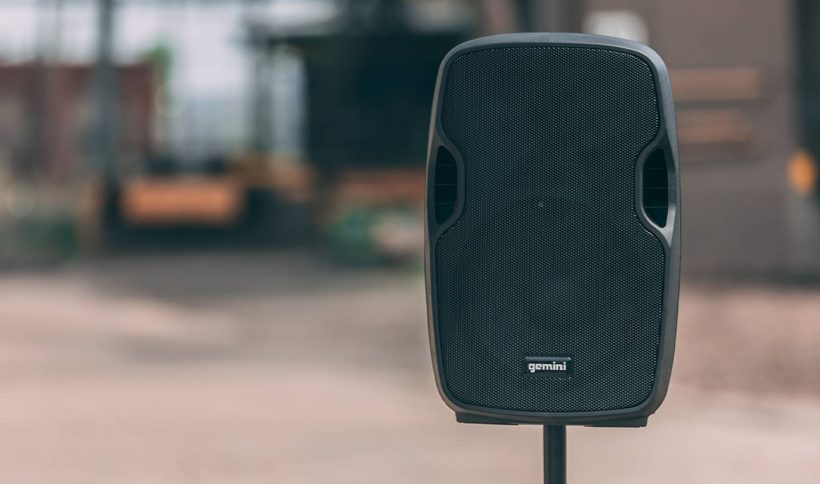 Passive speakers on the other hand require a separate amplifier to produce powerful and crisp sound. The only way a passive speaker will benefit you is if you already have an amplifier. In that case, buying a passive speaker can save you a lot of money.
Watts:
A lot of people around the world have numerous misconceptions about the technical aspects of the speakers. And one of the common misconceptions that people have is more watts equal better sound. However, this is not entirely true.
In the audio world, the measure of the energy output of a receiver or amplifier used to power a speaker is known as a watt. Speakers are rated on the number of watts they can handle.
Hence, if you are buying a passive speaker you need to buy a speaker that uses the same amount of watts that your amplifier can generate.
For Passive Speakers,
Speaker Wattage must EQUAL or LESS than Amplifier Wattage
If the margin of mismatch is huge there is a chance that the speakers may blow out.
The wattage that you should select for your DJ speaker depends on factors like your gig type, venue size, client expectations, speaker positions, speaker type, your music style, and many more.
There is a generally accepted rule that can help you measure the number of watts you need for a particular gig i.e. the number of watts by the number of people.
| | |
| --- | --- |
| Type of Gig | Wattage Needed |
| Indoors | 5 Watts * (# of people) |
| Outdoors | 10-12 Watts * (# of people) |
The key to successful monitoring of wattage is to use the correct wattage of the speakers and use it with the amplifiers efficiently.
Frequency Range:
To describe the audible frequency range that a loudspeaker can produce, the term 'Frequency range or response' is used.
Audio frequencies are measured in Hertz (Hz) and the theoretical range of human hearing is generally regarded as being from about 20 Hz (the very lowest bass tones) through 20 kHz (the very highest treble notes).
When you are choosing your DJ speaker, you need to check if it has a full range of frequency. Most of the full-range speakers have the ability to reproduce almost all kinds of sound frequencies without any additional equipment.
The speaker you are going to buy should have the following:
A low-range woofer for the low DJ speaker frequencies and
Tweeters for producing higher frequencies
Configuration:
To ensure that your audience enjoys your music to the fullest you need to find speakers that are configured for specific events, as the speaker setup for an outdoor event differs very much from an indoor one.
The best way to configure your speakers is to have two active speakers for each sub-woofer in an average-sized venue.
If you have good quality speakers though, you may not need to use subwoofers.
However, if your style comprises powerful bass or if you are into EDM, then it is necessary to carry sub-woofers as they produce low- frequency sounds which allow your audience to feel the music.
Dimensions:
This is the final step in choosing a speaker for your event. You need to finally decide how big and how heavy equipment may suit the event. The logic behind it is very simple, the bigger the venue, the bigger speakers you need.
On the other hand, weight is a relative factor, but it is also believed that speakers with higher density are better. The idea behind this thought comes from the fact that heavy speakers have more quality and durability.
Heavier speakers tend to be more expensive because they are made from different types of wood. Lightweight speakers are typically made from plastic or fibreboard. Lightweight speakers will commonly be sold to DJs as they're "so convenient". But, don't fall into that trap.
Plastic or Fibreboard speakers are typically not as durable as wood speakers. So that money you save by not going with high quality DJ speakers may be wasted when you have to buy a new set of speakers after your plastic ones get ruined.
The best DJ speakers will last you for multiple years over 100s of different gigs. They're an investment to spend some time on. Try to not skimp on price if you can help it.
Conclusion
Speakers are an integral part of your booth and can be considered a medium of conveying your music to the audiences. It is also a kind of utility tool that can help your DJing career exponentially by playing your sound more clearly.