With a long legacy of speakers that have impeccable sound quality, Yamaha is clearly the brand you need to look for when searching for quality speakers. It has a horde of professional speakers that are tailored to produce the sound that fits a particular ambiance, which is music to any DJ's ears (pun intended)!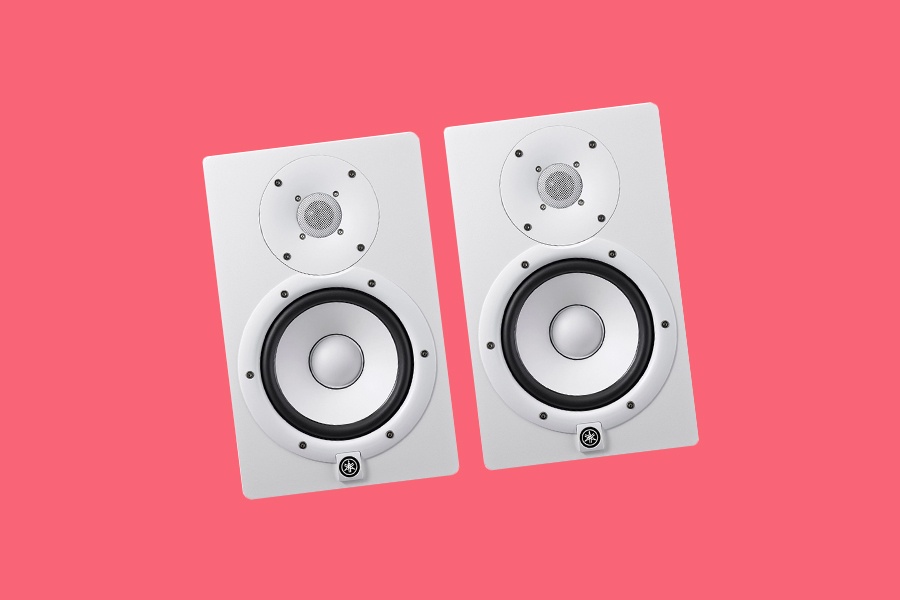 Among its vast array of products, there is one that specifically matches the requirements of DJs – the HS8. Some DJs need speakers that are suitable for studio use but at the same time produce ample sound to cover a large hall. The HS8 juggles between the two with ease by utilizing the components that are used for its composition.
Overview
The HS8 has been constructed using incredible features, and it is perfect for DJs who love bass. It's all in the name! HS8 features an 8-inch mid-range and 1-inch dome tweeter.
It is powered by a 120Watt power source that is divided cleverly to produce a powerful sound. Out of the 120Watts, the speaker bi-amps the 75W power to the mid-range and 45W to the tweeter. This helps the speaker to produce a sound that is loud enough to fill an entire room without compromising on clarity.
High-powered speakers often have a hissing sound which can be annoying especially when creating and recording music. In the HS8, you can stop this sound by turning the volume of the speakers down.
It comes with two different types of input ports that give you easy and convenient connectivity options. You can connect your controller, mixer, or PC to the speaker using these connection ports.
The HS8 does not come with a standby feature, which means, you have to turn the speakers off with the switches on the back panel when not in use.
Features
The HS8 is a quite powerful speaker that is made from high-quality components. Each of the parts in this speaker performs excellently to produce the exceptional sound required for DJing. Let's learn more about them and how they make the Yamaha HS8 a better alternative.
Sound
The Yamaha HS8 surpasses most of the previous models created by the company in terms of sound quality. So if you are planning to make a switch, this is kind of the product that you should consider.
It has a powerful low-end that is designed to handle the bass well. If you are into bass music, this speaker can be of great help. For events where you need a little extra power, you can add a subwoofer to the speaker and give your music more power and range.
The HS8 is not just about the bass. It can produce some amazing mids and highs too which is essential for genres like trance and EDM. It has pretty warm mids that have a great amount of depth while the highs are incredibly crisp and clean.
It balances the frequencies pretty well and the flat response is quite solid. The flat sound is of prime use to the DJs who are into mixing and music production, as the flat frequency lets them find the errors in their tracks without putting in a lot of effort.
Such balance and flat response are hard to find in this price range and from a company like Yamaha, seems like a great steal.
In addition, the HS8 produces sound with great precision and an excellent amount of clarity. These features combined can make your music production process much easier and faster.
If you are interested in the technical aspects of the speakers, you will only find Yamaha HS8 more surprising.
To see how the Yamaha HS8 sounds, you can watch this video:
The speaker comes with trim level adjustments on both mid-range and tweeter, this gives you the freedom to configure the speaker based on your requirements. You can tune the speaker to get the best sound output in any location or placement.
Yamaha claims that the mid-range and tweeter unify the sound frequencies at 2khz but actual close driver measurements reveal the crossover happening at ~1.7khz very steeply. However, the tweeter starts falling off at 2.3khz at an equal rate.
When you take the average sum of these two factors, this is when you get an output of 2khz. The mid-range easily eliminates any kind of interference from the cone irrespective of its crossover range. Meanwhile, the tweeter can play smoothly even when the frequency range crosses 7khz.
The depth of the speaker's bass is fairly ported at 45hz. When combined these frequencies can produce a loud and clear sound that is rich in quality. This is something other bookshelf speakers may not be able to provide you.
Build Quality
Yamaha has been in the sound industry for quite a long time and the reason behind the brand's success is the incomparable build quality. The company designs speakers that are tough and highly durable.
The HS8 is constructed with a dense MDF board which makes the speaker light and highly durable. The different types of wood used in the construction of the casing make it strong enough to withstand shocks and impacts that are common during transit. MDF also works as a great alternative for resonance proof sound casing.
Yamaha has included all of its best technologies to create the HS8. The company has used the piano design that involves three-way mitered-joints which attributes to resonance reduction. It helps the speaker to produce a distortion-free and clean sound.
Specifications
The HS8 is an attempt by Yamaha to create a speaker that is best in class and outperforms every competition with ease. There are many unique components in this speaker that are found in the high-end range.
It packs in an 8-inch cone woofer which is an essential part of the speaker, as it produces sound with minimal-distortion while all the notes are defined clearly. The cone handles the bottom-end brilliantly and adds power to the bass.
With the low-end covered, the 1-inch dome tweeter is another notable feature of this product. It is designed to give you a clear and crisp sound. The tweeter generates high-frequency output efficiently and can be beneficial for DJs and audiophiles.
The speaker uses a 120-Watt of energy to function. The power is divided among the mid-range and tweeter with the help of a bi-amplification system. This helps the speaker to maintain an ideal sound balance.
Frequency range plays an important role in speakers as it enables them to produce the different notes and pitch of the song. Yamaha HS8 has a wide frequency range of 38Hz-20kHz which lets it produce every note and pitch accurately.
Most speakers need subwoofers to help them cover the low-range frequency and produce powerful bass. On the other hand, the HS8 features a 2-way Bass Reflex System that produces sufficient bass to eliminate the need for subwoofers.
When performing you might not always have the best DJ table to place your speaker and to cope up with this situation, you might have to place your speaker in positions that won't possibly affect its output.
The company has added a room control feature that helps the speaker deliver clear output in any situation or placement. There is a trim control function in the speaker that can be used to modulate the frequency response.
See what makes up the Yamaha HS8, watch this video:
Design
There are not many efforts taken by the company in terms of the design and appearance of the product. It seems like a give and take, where you have to sacrifice the stylish design to get features that are beyond compare.
The Yamaha HS8 has a basic appearance with no flashy accentuations or LED lights that can grab the attention of an onlooker. It is available in two color options i.e. white and black with a matte coating.
It has a white colored woofer cone that does stand out from the rest of the box. This accentuation helps the speaker look professional while maintaining an interesting appeal.
If you are looking to get something worth noticing we recommend you choose the white speaker. The bright color is easily highlighted in any ambiance and can be a stylish addition to your gear. It has silver screws all around the dome which makes it look cooler than the black one.
You need to check the dimension of the speaker before you buy it, as there are chances that it might not fit in small studio setups.
It may not be possible to create space for the speaker if you have a small studio. Fret not, as Yamaha has a solution for it too. You can purchase an HS8 monitor that is designed for mounting and hang it on the ceiling or a wall. This can help you keep your workspace clean and organized.
Inputs
Yamaha has added only two connection options to this speaker i.e. XLR and TRS. These ports channel balanced and unbalanced signals to the speakers. It is important to have multiple connectivity options in a speaker, as it lets you connect different devices for performance.
It also has an AC input at the back that connects the power cord to the speaker and turn it on.
Pros
The Yamaha HS8 has been designed to offer excellent sound clarity. To achieve this the company has added numerous components that work in sync to produce crystal clear audio output.
Bass matters a lot to DJs and therefore speakers that fail to produce powerful bass are of no use to them. The HS8 comes with a powerful 8-inch cone that pumps out powerful bass.
Yamaha HS8 has a strong and durable body that can withstand falls and impacts. The MDF wood and the three-way mitered-joints keep it from falling apart.
As the speaker covers a wide frequency range of 38Hz-20kHz, tuning becomes very important, especially when considering the size of these speakers. Fortunately, the company has added a range of tuning options that can be modulated from the back panel.
It doesn't matter if you have a small, medium, or large-sized studio as there are many ways to fit this speaker. You can mount it on a pole or tripod or hang it from the ceiling or walls. If you have a sizable studio, you can place it on the DJ table.
Cons
The Yamaha HS8 falls in the mid-price range that can be a little out of reach for DJs who need budget alternatives. However, you can buy this speaker as an investment and save yourself from buying speakers that need subwoofers.
Comparison to Other DJ Speakers
Yamaha as a brand produces great speakers for DJs – some of which made it onto our comprehensive guide. To see a full comparison of Yamaha speakers versus other DJ speakers in the market today read our guide to the best speakers for DJs.
Who is it Best For?
It is a suitable option for any DJ, but the deciding factor is the size of your studio. These speakers are loud and big, which means using them in a small studio could be a problem. To avoid it you need to find a suitable spot to place the speakers in your studio.
Here is a video to give you a detailed insight into the specifications of the HS8, and what makes it perfect for EDM:
The speaker can work wonders if you have a large studio. It is highly suitable for bass lovers as the sound pans through the large rooms with ease.
Final Thoughts
The Yamaha HS8 is a great speaker that falls around the price of $600, and if you are into composition and beat-mixing then these speakers should be on top of your list. Even though it does not carry a flashy design the features and the price compensate fairly for it.
Since it plays music pretty clearly, you can use it while composing music or creating your set and make your track perfect in all aspects.