When it comes to buying DJ equipment, the key is to find the right balance between quality and affordability.
You don't want to spend too much money on gear that you're going to end up using only a few times a year, but you also don't want to skimp on quality and wind up with a subpar product, and a pair of DJ speakers are no exception to this rule.
In this review, we're going to be taking a closer look at a pair of speakers any aspiring DJ should be considering, and that's the Mackie Thump 12A powered speaker.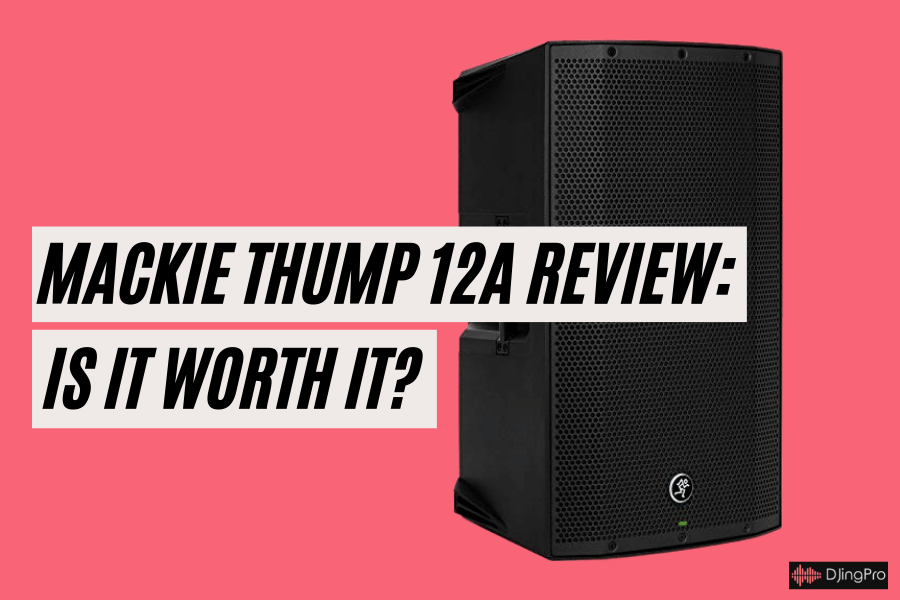 The Mackie Thump 12A Lowdown
Great Value
Price: $379 | £329 | €349 (approx.)
Woofer size: 12 inches
Power: 1300 Watts
Max SPL: 126dB
EQ Bands: 2
Connection options: Yes
Weight: 13.2kg
Pros
Affordable option
Lightweight & Portable
Very loud volumes
Power factor corrections
Cons
Sound quality gets muddled on high & mids
Mackie Thump 12A Features
Mackie's Thump 12A Powered Speakers is the perfect example of a quality piece of equipment that won't break the bank.
But let's get into the features…
Speaker Modes
The Mackie Thump 12A interestingly has several speaker modes which is what makes it a great option:
Music mode
Live mode
Subwoofer mode
Monitor mode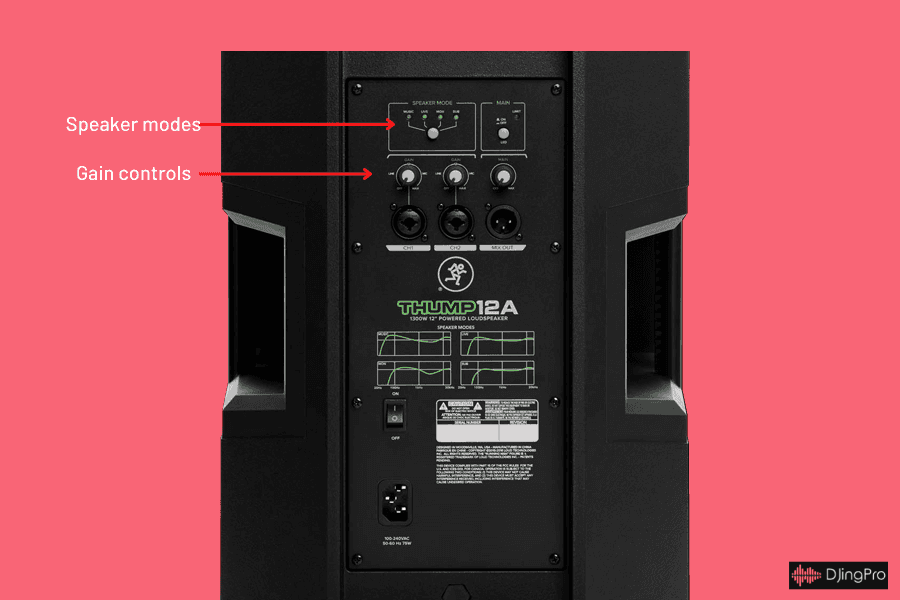 The music mode brings in some of the higher bass frequencies. While the live mode cuts some of the higher bass frequencies.
As for the subwoofer mode, this helps to cut the bass out quite significantly, while the monitor mode adds more versatility, giving this pair a wider range of uses for the modern DJ.
Sound Quality
When it comes to sound quality, Mackie has always been a trusted brand name. And the Thump 12A is no exception.
The 12A's deliver an impressively clear and powerful sound, whether you're using them for DJing or just general music playback. A pretty loud set of good speakers.
The Good Part
You can easily blast these in a pretty large room of, let's say, 100 people. Going from a set of cheaper and smaller sets of speakers, the Mackie Thump 12A will definitely feel like a step up.
There is a 'but' though…
The Bad Part
While they can pack some serious punch in terms of volume, it really is only enjoyable for those who love heavy bass or aren't interested in the crispness for clarity's sake. This means if the bass overpowers the vocals in a track, this can cause frustration to some.
Going from a better quality pair of speakers, will definitely feel like a step down.
Build Quality
The Mackie Thump 12A is made of tough polycarbonate casing, meaning it can take a few knocks and bumps without any issues.
It's also fairly lightweight compared to other speakers with an impressive 13.2kg and has 4 handles to make it easier to carry.
While there are pole mounts underneath the speaker itself, there is no tightening screw, which might make you nervous about it falling off. However, from my experience, I have never had that issue.
On top of that, the Mackie Thump 12A's are also designed to be able to withstand being used in both indoor and outdoor settings without any problems.
Specifications
Woofer size: 12 inches
Tweeter size: 1.4″ titanium dome compression driver
1300 watt (1000 Watts for low end, 300 Watts for high end frequencies)
Maximum SPL: 126dB
Frequency Response Range: 50Hz – 23kHz
Crossover Frequency: 180Hz
Dimensions (H x W x D): 660 x 405 x 360mm
Weight: 13.21kg
Tuning Options
The Mackie Thump 12A comes with a built-in 2-channel mixer, two of which are your gain controls for the first and second outputs, and then a main output.
Other speakers just give you a 2-knob option, but will often lack a master gain knob.
For example, let's say you were planning to set it up as your main speaker, with one microphone plugged into the first input and your DJ controller on the second input, you can adjust the first input where your microphone is on 25% if the hall is fairly empty.
Overall you have better control over the sounds coming out of the speakers.
Design
The Mackie Thump 12A is a great-looking speaker, with a significant improvement on the previous generation.
There is an angular grill which serves its purpose as a monitor speaker. Mackie's logo is also present on the front of the speaker in a subtle way.
Connection Options
The Mackie Thump 12A has several connection options on the back.
There are two combo XLR/TRS inputs for microphones or line-level sources, as well as two XLR outputs to daisy chain more Thump 12As together or connect to a subwoofer.
However, it's worth pointing out that many cheap or budget DJ controllers only support RCA connectivity. So if you're connecting them to the Thump 12A, it will result in a lower quality sound.
That's why I highly recommend pairing the speaker with one of the more premium controllers or DJ mixers that support XLR outputs.
Value
The Mackie Thump 12A is an impressive piece of kit and for the price ($379 or £329 or €349), you really can't go wrong.
It's a great option for those who are looking for a high-quality speaker that won't break the bank. Mackie has definitely delivered with the Thump 12A.
While it's definitely not the best sounding speaker on the market, its sufficiently good enough to get you started when it comes to playing at gigs.
Mackie Thump 12A: My Experience
As someone who has played with these in my early days, I would definitely recommend for house parties or even small venues with up to 100 people. Particularly if you're looking for budget speakers.
For the larger events, I would recommend going for one of the larger models, like the Mackie Thump 15.
Having played with them, I have yet to hit the clip light once, and that's thanks to the internal fuse.
However, if you want better bass, I would again recommend the Mackie Thump 15.
With that said, overall, I think the Mackie Thump 12A is a really good set of speakers, and a great starting point. It packs a lot of punch for the more intimate events and the go-to standard for beginner DJs.
Affordable Alternative to the Mackie Thump 12A?
If you're still on the fence about the thump speakers, there are several other options available. Here are some worth considering.
Electro-Voice ZLX-12BT
The Electro-Voice ZLX-12BT is a great Mackie Thump 12A alternative. It's slightly more expensive, but it comes with Bluetooth connectivity and a slightly more powerful woofer.
Really well-balanced mid and high frequencies
Excellent range of tuning options
Negative is it lacks on the low-end delivery
Ideal for smaller-venue sound reinforcement or stage-monitoring
LCD display and 1-knob DSP control with presets for precise and speedy setup
Input level meters and independent amplifier control for optimal gain structure
1000-watt
Crisp and powerful bass
Affordable option
Lightweight and portable
JBL EON 712
The JBL EON 712 is a Mackie Thump 12A alternative that's also more expensive but here's the nice features:
It has a built-in 3-channel mixer
Backlit color LCD screen providing easy access to functions
8-band output EQ
Bluetooth connectivity
Premium Alternative
Great for bigger venues
Easy to carry for Mobile DJs
Tweeters are stronger than other speakers
More expensive
2414H compression driver
Redesigned high-frequency horn
Power: 1,300W Peak / 650 RMS
requency response: 50Hz - 20kHz (-10) - 60Hz - 20kHz (-3)
Max SPL: 127 dB
Behringer EUROLIVE B112D
The Behringer EUROLIVE B112D is another 12″ speaker that is also a more budget-friendly option. Even cheaper than the Mackie Thump 12A.
TRS or XLR connections
2-band high and low EQ
Built-in optical limited designed to protect the speakers
Great power, sound quality & ergonomic build
Downside is it can be prone to clipping;
Lower bass handling (another negative point)
Best Active DJ Speaker
1000-Watt 2-way PA sound reinforcement speaker system for live & playback applications
Ultra-compact and lightweight system
Delivers excellent sound even at extreme sound pressure levels
"Wireless-ready" for digital wireless system (purchased separately)
2-channel mixer with individual Mic/Line inputs, Volume controls and Clip LEDs
Dedicated 2-band EQ plus integrated sound processor for system control & speaker protection
Conclusion: Should you buy the Mackie Thump 12A?
Mackie Thump 12A is a great speaker for those who are looking for an affordable option without compromising on quality, an appealing choice.
It packs a lot of punch and gets the job done. It's also my experience that they are sufficiently good enough to get you started when it comes to playing at gigs.
If you do have more money to spend, there will always be better options. But for now, I can say its awesome sound quality, basic tuning options, is lightweight, and delivers in a room of up to 100 people.
Great Value
Price: $379 | £329 | €349 (approx.)
Woofer size: 12 inches
Power: 1300 Watts
Max SPL: 126dB
EQ Bands: 2
Connection options: Yes
Weight: 13.2kg
Frequently Asked Questions
Does the Mackie Thump 12a have Bluetooth?
The Mackie Thump 12a does not have Bluetooth connectivity. For that option, you can get the Mackie Thump 12BST which is the slightly more advanced Bluetooth version of the 12A.