You may be familiar with the speakers of brands like JBL, Sony, BOSE, Sennheiser, Pioneer, and more. They come with extensive features and offer flawlessly clear sound but their high price makes them out of the reach of many who wish to get these speakers for their booth.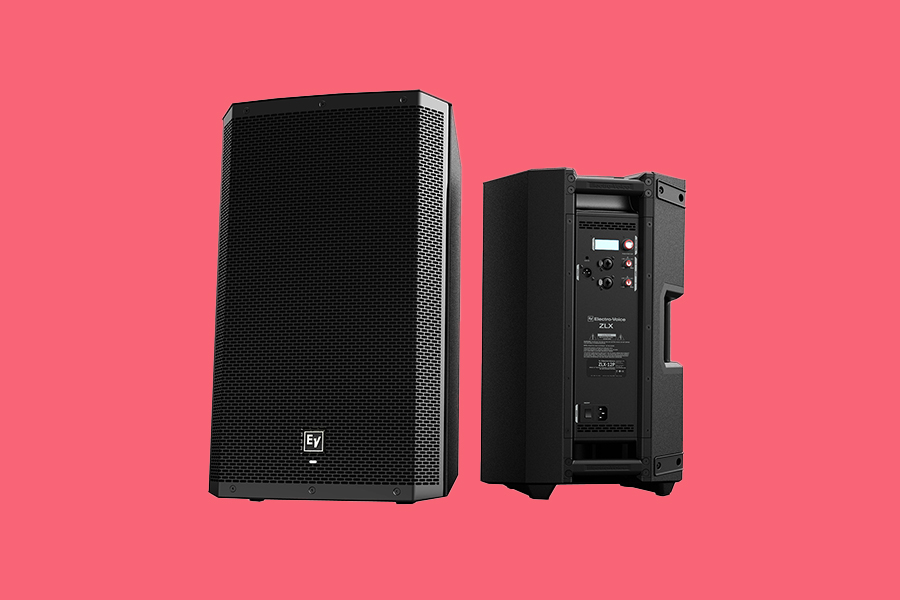 Apart from clear sound, people choose branded speakers for the commendable durability they promise. Fortunately, there are some companies that produce loudspeakers that come with the same features and durability as these high-end brands. Electro-Voice is a fine specimen that falls in this segment.
Electro-Voice is one of the oldest brands that have been functioning for a long time. It was founded in the year 1927 but because it's not one of the big dogs (Pioneer, JBL, etc) it's not as well known. The most renowned product from the company is the ZLX-12P, a loudspeaker that takes on products manufactured by high-end brands.
It comprises features that are almost impossible to find in this range. Let's dive into the features of this incredible product, to find out what makes it a worthy competitor.
Overview
The Electro-Voice ZLX is a great solution for people who need speakers that offer clean audio in a compact and portable body. To put it to use all you have to do is plug in a mic, mixer, or instrument.
It splits the 1000 watts power among the 12-inch woofer and 1.5-inch high-frequency titanium driver to generate a commendable sound output of SPL. This makes it suitable for large halls or clubs too.
The E/V ZLX-12P comes packed with impressive smart features such as an onboard DSP (Digital Signal Processing) with EQ and placement presets. It lets you adjust the sound output of the speakers according to the ambiance or placement.
There are back-panel clip indicators that let you know whether your device has been connected to the speaker properly. DJs often end up ruining good-quality speakers due to power overload which is a rather common thing in events. With the E/V ZLX-12P, you won't have to go through this as it comes with auto-limiting technology that can protect your amp and speakers.
It also gives you the benefit of Bluetooth connectivity which makes it easy to access your sound library which can be helpful for DJs.
Features
The overview was just a glimpse of the Electro-Voice ZLX-12P. It has various other perks that make these speakers highly functional and convenient. Here is a comprehensive description of the features of the Electro-Voice ZLX-12P.
Sound
It is the only function that matters the most in a speaker. Therefore, it is important to check the sound of a speaker before buying the product. But, the ZLX-12P won't disappoint you in any way when it comes to sound.
To see how the Electro-Voice ZLX-12P performs outdoors, you can watch this video:
If you are looking for speakers that can give you clear mids and highs, well, your search ends here. The ZLX-12P has been designed to give you a crisp and well-balanced output in these frequencies. It can be a great advantage if you are into trance and EDM.
These speakers are a pretty great option for vocals too. It provides you clean vocal feedback which gives you an advantage when editing the vocals or adjusting the notes and pitches.
The speaker is pretty great at producing mid-tones. You will get smooth mid-tones from the speakers with the lowest distortion possible.
Its only bleeding point is the low-end frequency which fades the bass a little. You can fix it by the tuning options that come with the speakers. By using these features and functions you can cover a small-sized venue too.
To add more power to the bass, you can couple the speaker with a subwoofer. This will help in better sound distribution and give you a much-refined output.
Build Quality
It is a common notion that budget speakers have poor build quality. However, E/V ZLX-12P is very different from those kinds of speakers. The speaker is made from superior quality materials that add to its overall durability.
It is made with a combination of steel, polypropylene, and rubber which enables the speaker to withstand any kind of harm. The polypropylene makes it lightweight while the rubber and steel protect it from shocks and impact.
For enhanced portability, the speaker has been furnished with handles that are placed ergonomically. You can carry it anywhere with the help of these handles that are on the top and the side.
The combination of the components used in the construction Electro-Voice ZLX-12P makes the speakers strong. Since E/V has used a lot of parts from the pro-touring range, you don't have to worry about its durability.
Specifications
The reason why E/V ZLX-12P is considered to be the best speaker in the budget range is due to exceptional components included in its composition. Some of the parts included in the speaker are found in high-end products.
It comes with a 12-inch woofer with a titanium 1.5-inch compression driver that can handle high frequencies with ease. The titanium compression driver can endure vibrations for a very long time.
To get comprehensive insights into the Electro-Voice ZLX-12P, you can watch this video:
The speakers are designed for stage performances and therefore consume a lot of power. It consumes 1000 watts through the standard D-amplifier. This may not be achievable from a conventional studio setup, therefore it is best suitable for events and house parties.
It has a dynamic frequency response rate which can be adjusted using the different preset options. You can choose from Music, Live, Speech, and Club presets to modulate the sound frequency of the speaker.
The different presets reduce or increase the frequency response to generate the ideal sound output. For instance, the 'Music' mode uses a frequency of 50Hz-20Hz at -10dB. This frequency range gives you impeccable clarity and defines every note of the song.
Earlier carrying speakers was the biggest problem for DJs whenever there was a gig or an event because they were very heavy. The E/V ZLX-12P is very light and therefore does not create any kind of inconvenience in terms of portability.
It is a very loud speaker and can handle small-sized venues with ease. The speaker has a sound output of 126dB which is considerably high as compared to the other speakers in this range.
You might have to add a subwoofer to the speaker if you are about to play in medium-sized venues. However, the loudness of this speaker varies according to the selected preset. Hence, there are chances that you might not need a subwoofer.
It can be difficult to select the right speaker for different situations but with the E/V ZLX-12P you will not get stuck in these dire situations.
Design
Electro-Voice has majorly focused on improving the performance of the speakers which is why the product has a very simple appearance. It has a large size that measures up to 24.00″ x 14.00″ x 14.00″ and weighs around 34.4 pounds.
The front grille has a unique pattern which gives it a more industrial and sophisticated appeal. It has angled edges that make it a little different from the other flat-faced speakers that are available in the market.
With a speaker like this which expected to perform well, stability is a very crucial factor. There are rubberized feet at the bottom that add stability to the speaker.
The company has made its best attempts to maintain a modest look with this speaker. Therefore, the EV logo has been kept small and placed on the front grille. It is highlighted cleverly with the power light underneath it.
It has been constructed with polypropylene which keeps it lightweight and makes it resistant to cracks and heat. The inclusion of steel in the construction makes it highly durable and resistant to shocks to some extent.
Here is how you can operate the Electro-Voice ZLX-12P
Connection Options
These days sound equipment companies have taken a step towards advancement and make the life of their customers easier by giving them multiple connection options. Similarly, the Electro-Voice ZLX-12P has multiple options too.
It has two line-in options that include the combo jacks which are designed to support TRS or XLR connections. The TRS jack lets you connect the speaker to the main sound source while the XLR connection gives you the freedom to connect the speaker to a mic source.
Even though it is easier to control the channel in and out from their mixer but in case if you don't have one, you can balance the mic/line-in with the knob next to it.
If you are performing at a large event and are coaxed to use multiple speakers, you can chain in the Electro-Voice ZLX-12P too. The XLR port at the back can be used to connect it to other speakers.
Here is how you can connect the ZLX-12P to an amplifier for a live setup:
The DJs with a budget-level controller may have a problem connecting to the speaker as it does not have an RCA input port. This is a rather common thing for budget-level speakers.
If you are DJing with an iPad or a smartphone this speaker can be of great help. It has an AUX port that can be used to connect such devices. This is one of the unique features that are hard to find in the speakers at this price range.
Saving the best for the last, this speaker comes with a Bluetooth connectivity feature which lets you connect it to different devices. You can then browse and select tracks that you would want to play from the connected device.
Tuning Options
Electro-Voice ZLX-12P gives you a vast array of range tuning options, which is a great USP at this price range.
It lets you control the onboard DSP with a knob that you can find on the panel at the back. Furthermore, you can use this knob to control the volume of the speaker. Thanks to the sizable LCD screen which lets you monitor the controls of the speaker without straining your eyes.
The best part about the tuning abilities of this speaker is the four modes that you can use to adjust the speaker to the right playing conditions.
You can learn about the different tuning options, in this video:
It comes with the 'Music' mode as a default setting which is ideal for listening and playback. Then comes the 'Live' mode that can be used for playing in the clubs or live events. The 'Speech' setting works best for vocals. Lastly, it has the 'Club' mode that emphasizes the low-end frequencies and is suitable for DJing.
There is another tuning option included in the presets i.e. 'Location'. This setting is diversified into 'Pole', 'Monitor', and 'Bracket'. These settings adjust the low-end frequency to keep it from being buried when the speaker is at high placement or placed against the wall.
Considering the price of EV ZLX-12P these are a lot of tuning features. Moreover, everything is labeled so well that it makes it convenient for the users to navigate through the back panel and choose the right port.
Comparison to Other DJ Speakers
The EV ZLX-12p speaker made our list of the Best DJ speakers in the market today. Is it right for you though? Read through our full buying guide to DJ speakers to make sure you're making the right choice.
Who is it best for?
The Electro-Voice ZLX-12P does have a lot to offer, but the extensive features cater specifically to the needs of some. It has a loud sound that can cover considerable distances. Therefore, it is a must for DJs looking for a budget setup and the need for a great speaker.
Moreover, the strong and durable design is perfect for DJs who are always on the move as it can stand shocks and impacts pretty well. With the tuning functions, you won't have any complaints about the sound.
Pros
It has a transparent sound and great projection for maximum area coverage. When used with a wedge the high headroom gives a dynamic sound that allows you to create perfect music.
The speaker is quite flexible and reliable in terms of usage and it can be used with a plethora of systems and used as gear at venues of different sizes.
With the quick tuneability, the speaker makes a great pick for mobile setups.
Cons
It is not compatible with high-end systems which may cause a problem. If you have systems like CLR, Xitone, Matrix, and others of this range you might have to connect them using different line-ins on controllers.