For DJs, clear and quality sound is the most important thing in the production process, and to create good music, you need a sound system that helps you analyze it thoroughly.
However, if you look for a good sound monitor, there is a chance that you will be overwhelmed by the price set by renowned brands. There is a simple solution to this problem — The Behringer Eurolive B112D.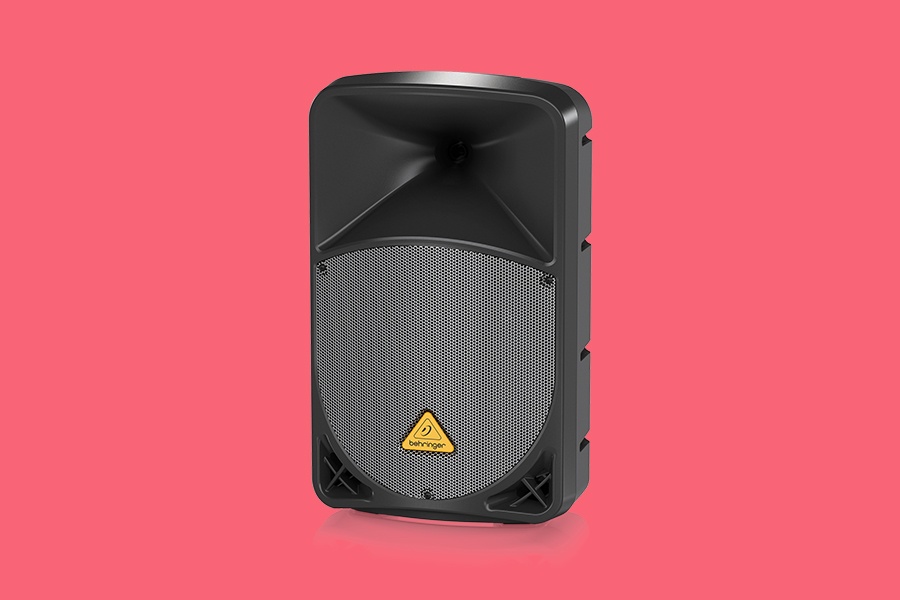 Behringer is one of the oldest sound equipment manufacturers. It owns many brands and renowned sound products used by everyone in the sound industry. The B112D is said to be among the best sound systems made by the company that falls in the affordable range.
Let's take a look at what this widely revered speaker has to offer.
Key Features
Best Active DJ Speaker
1000-Watt 2-way PA sound reinforcement speaker system for live & playback applications
Ultra-compact and lightweight system
Delivers excellent sound even at extreme sound pressure levels
"Wireless-ready" for digital wireless system (purchased separately)
2-channel mixer with individual Mic/Line inputs, Volume controls and Clip LEDs
Dedicated 2-band EQ plus integrated sound processor for system control & speaker protection
Wireless Connectivity
Break-free from the ordeal of carrying multiple wires as Behringer Eurolive B112D comes with wireless connectivity that helps you connect wireless microphones to the PA-powered system seamlessly.
To get the best of this technology, you can pair it with the Ultralink series microphones. These microphones need a 2-channel receiver to offer a stable and wireless connection. Due to this wireless feature, Behringer Eurolive B112D makes a perfect speaker for any event.
1000-Watt Sound System
DJs prefer using speakers that have powerful sound output. This is why the Behringer Eurolive B112D comes with a 1000-Watt 2-Way PA Sound System.
The highly advanced system is enhanced with a high-end Digital Signal Processor. Features like the active crossover, transducer response correction, dual protection limiters, and dual-band EQ to reduce distortion.
Portability
Normally, event speakers are huge, and carrying them around can be troublesome. However, the Behringer Eurolive B122D has handles that make carrying the speaker around a lot more convenient.
Large-format Horn
A DJ speaker should be able to produce sound loudly and clearly, which is why the Behringer Eurolive B112D comes with a large-format horn. The size of the horn enables the speaker to disperse the sound more and cover a wider area.
Advanced 2-Channel Mixer
This is the most important feature of the Behringer B112D. It comes with a separate mic and line input along with an additional line output that connects with another speaker system.

By using all these connection ports, you get one huge sound beast that has incredible sound output.
Furthermore, it has a built-in mixer, clip LEDs, and volume control. With these features combined the Behringer B112D makes an ideal alternative. It provides flawless performance in terms of ultra-low noise and preamps.
The 2-band EQ along with its integrated processor protects the speaker in circumstances.
Distinctive Trapezoid Design
The BD112D's trapezoidal shape allows you to mount it in different positions. You can mount it in the vertical position on a 35-mm pole socket. In other cases, you can tilt it on the side in case you need a floor monitor.
Another way the design comes to help is when stacking it above other speakers. The shape lets you place other speakers on it or balance on other speakers very easily.
Long Excursion Driver
DJs need powerful sound to keep the party pumping and the Behringer B112D can do that quite effortlessly. It comes with a 12-inch long-excursion driver that can produce loud sound and deep bass so that your audience enjoys your music to the fullest.
Switch Mode Power Supply (SMPS)Technology
Most speakers get damaged when they get heated beyond control. This normally happens when they are equipped with heavy transformers or heat sinks that fail to process heat properly. However, the B122D is equipped with SMPS technology to keep the speaker cool for hours.
Phenolic-diaphragm Compression Driver
The Behringer B112D comes with a Phenolic-diaphragm Compression Driver that helps it produce crystal clear audio and define every note quite well.
What Are The Qualities Of Behringer Eurolive B112D?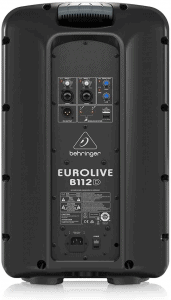 Lightweight and Performance
Behringer has combined their fine expertise and craftsmanship to create the B112D. Its lightweight construction and enhanced portability is quite an impressive feature, but what makes it even more special is it does not compromise on power.
The speaker features Class-D power amps that are engineered to provide varied input controls along with low-distortion and great sound output. Considering these qualities it can be said that Behringer Eurolive B112D offers great value for money.
Its lightweight makes it easy to lift it and transport it from one venue to another. Furthermore, the speaker's sturdy construction is strong enough to endure shocks and abrasions that can occur while transport.
Low Distortion And High-quality Sound Output
The B112D has been created with the latest technology for sound reduction, clear vocals, and deep bass with very little distortion. This enables you to use the speaker with minimal tuning and less boot time.
Wireless Connectivity
Behringer B112D comes with wireless technology which makes setting up very fast, simple, and convenient. You can get a strong and disturbance-free mic connection by connecting it with the Ultralink Mic from Behringer.
With this speaker in your booth wires and connectors will become a thing of the past. The wireless technology of the Behringer Eurolive B112D gives you convenience and freedom that makes it a great portable speaker PA system.
Best Active DJ Speaker
1000-Watt 2-way PA sound reinforcement speaker system for live & playback applications
Ultra-compact and lightweight system
Delivers excellent sound even at extreme sound pressure levels
"Wireless-ready" for digital wireless system (purchased separately)
2-channel mixer with individual Mic/Line inputs, Volume controls and Clip LEDs
Dedicated 2-band EQ plus integrated sound processor for system control & speaker protection
Pros
Ergonomic construction
As mentioned above, the Behringer B112D is incredibly light but that's not all. Even though the speaker is lightweight, it is quite strong and suitable for traveling. Its trapezoidal shape adds to the convenience and helps when mounting it on a pole mount or stacking it over other speakers.
Due to this ergonomic construction, the Behringer B112D is perfect for performers who need a powerful and convenient speaker.
Powerful Sound
This another impressive feature of the B112D. It can produce a powerful sound that reaches a 1000-Watt sound limit. With a sound output of this magnitude, the B112D performs well in small and medium-sized venues.
Great Sound Quality
You will be impressed by the sound clarity of this speaker system. It can produce high-range and mid-range frequencies with unrivaled quality.
While most speakers in this range fail to produce clear vocals, the B112D outperforms them even when used on the highest volume setting and produces undistorted vocals.
Cons
Input Clipping
If you increase the input limit over 8 or 9, the speaker makes high-end sounds seem harsher.
Poor Bass Handling On Higher Volumes
If you increase the volume to 70% the speaker starts giving feedback and creates a humming sound. This can be a major disadvantage when performing at events.
Who Should Buy The Behringer Eurolive B112D?
If you're looking for a sound system that can handle a DJing event, PA, and live shows this multipurpose system can be of great help. Its high-power sound output can fill a venue with crystal clear sound.
When it comes to live performances, the speaker performs well for both solos or duos and gives impressive sound clarity. It can produce flawless sound quality while keeping distortion to a minimum this means that you will get crisp vocals even at high sounds.
DJs can take advantage of the inbuilt mixer system and save themselves from carrying extra equipment. The speaker can produce powerful bass and treble while its function enables them to get maximum control with its easy-to-manage functions.
You can use these speakers in the office too. Its high-quality sounds with low distortion work exceptionally for business meetings, conference calls, and presentations. With clear vocals, you can ensure your meetings and calls will run very smoothly.
Owing to its versatility and adaptability, the Behringer Eurolive B112D is the best option for every occasion.
User Opinions
People who have used these speakers in the past have had a positive experience. The performance and overall quality of the Behringer Eurolive B112D have been a major crowd-pleaser.
Based on the numerous ratings received from the various customers, the Behringer Eurolive B112D has an average rating of four stars.
The majority of people who used the Behringer Eurolive B112D have loved it mostly for the sound. It is unbelievably light when you consider the amount of power it can produce.
You can get a good output for bass and treble with commendable clarity, powerful sound, and minimal distortion.
People also loved the lightweight of the speaker as it is very helpful in moving it from one venue to another. Even though there is one handle on the speaker, you will not have any problem carrying it.
The speaker is quite sturdy and it has been constructed to last long. Behringer has not just stopped at the chassis, the company has included quality knobs and input jacks that keep functioning quite well for a long time.
There are some minor problems that users faced with the B112D. Even though it has great sound quality and terrific output, you have to be careful while using the driving input. As the input reaches maximum capacity the sound produced by the output tends to come a little harsh.
It can be adjusted with the in-built EQ settings. However, if the dials are moved to a higher range, it can create a noticeable impact on the sound quality.
Conclusion
The Behringer Eurolive B112D is a good option for DJs who want to set up a booth with a tight budget. Its various features like distortion control and sound amplification are perfect for professional events or DJ events.
If you're looking for a speaker that offers quality sound output with enhanced portability you can rely on the B112D.
Since it can be used as a floor monitor, mounted speaker, or stacked over other speakers for louder output, you don't have to worry about the adequacy of the sound output no matter where you're performing.
Best Active DJ Speaker
1000-Watt 2-way PA sound reinforcement speaker system for live & playback applications
Ultra-compact and lightweight system
Delivers excellent sound even at extreme sound pressure levels
"Wireless-ready" for digital wireless system (purchased separately)
2-channel mixer with individual Mic/Line inputs, Volume controls and Clip LEDs
Dedicated 2-band EQ plus integrated sound processor for system control & speaker protection