With so many DJ controllers on the market, it is easy to feel overwhelmed by all the options when choosing the best DJ controller for you.
But don't worry, every year we update our list, we go even further to break it down by skill level and by budget.
Our goal here is to use our 10+ years of experience DJing to guide you to making the right choice. So without further a do, let's dive in.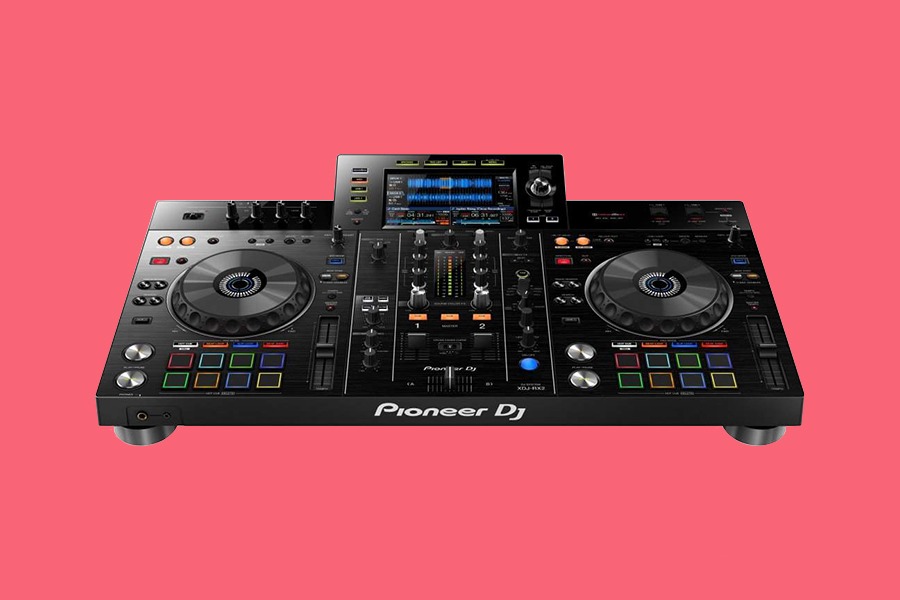 Why Buy a DJ Controller?
A DJ controller is one of the biggest value piece of equipment you can buy. Using a controller will save you having to buy separate decks and a mixer, which for the most part, can be impractical if you play in venues that don't have a traditional club setup.
With that said, they can offer simple digital mixing, and if you're a mobile DJ they're also a great space saver carrying with you (think weddings, house parties, etc.).
But with so many different brands out there, how do you know which DJ controller is best for you?
for DJ controllers and laid our personal favorites. To help you choose, we've chosen options from every budget range.
What is the Best DJ controller?
The short answer? It depends on your budget and skill level.
Using our combined 20 years of experience DJing, we've evaluated all of the potential options, and we break down several key factors when deciding what option is right for you. They are as follows:
By skill level: We've highlighted our top picks based on whether you're a beginner, an intermediate DJ (we've got great mid-tier picks too), or at a very advanced stage of your DJ learning
By Budget: We will recommend the best option if your budget is under $300, $500 and $1000
And if you're in this for the long haul or don't care about budget, then we've got our top picks for that too.
Don't have time to read? Don't worry, here's our top picks…
Best DJ Controllers: Our Top Picks in 2022
Image
Product
Features
Price

Editor's Choice

10.1" touchscreen with intuitive GUI design for streamlined navigation
Rapid browsing with Playlist Bank and Touch Preview
Phrase Display and 3Band Waveform facilitate accurate mixing
Pad status display lets you know which mode each performance pad is set to
Beat FX Bank and X-Pad make it easy to access your favorite effects
4 Beat FX: Ping Pong, Filter, Phaser, Slip Roll, Vinyl Brake and Helix, as well as six Sound Color
FX including Space and Crush
Eight Release FX: Vinyl Brake (Short/Long), Backspin (Short/Long), Echo Out, Build Up, Mute and Ducking
Integrated decks and mixer minimize unwanted noise and loss in sound quality
Professional, club-standard layout design
Plug-and-play compatibility with rekordbox dj and Serato DJ Pro

Check Prices

Best Standalone DJ Controller

Ditch The DJ Controller, Discover the Power of PRIME - Full-featured, ultra-portable 4 deck smart DJ console with 10-inch HD gesture controlled touchscreen powered by Denon DJ's ENGINE OS
Command any Venue – Dedicated XLR Zone output provides music to separate room; 2 dedicated XLR inputs for microphones with individual control; crisp 24-bit Denon DJ legacy audio
Wireless Streaming - Stream everything from the freshest underground sounds to certified classics from streaming partners including TIDAL, SoundCloud Go Plus, Beatsource Link & Beatport LINK
DJ Set Essentials – 6-inch jog wheels with HD displays; class-leading time-stretch and key-matching; analyze music files and Rekordbox collections direct from USB/SD; 8 performance pads per deck
Feature Packed - Touch-capacitive jog wheels; dual function sweep FX and filter; integrated digital DJ mixer; StagelinQ connection for Event/Pro DJ lighting and video control

Check Prices

Best Value

Complete Serato DJ System – DJ Controller for Serato DJ Lite (Included) with 2 decks of control, built-in 24-bit audio interface and plug and play USB connectivity for Mac and PC
Touch and Feel Your DJ Mix - Large 6-inch capacitive-touch jog wheels emulate an authentic turntable feel – perfect for scratching, beatmatching and precise cue placement
Personalize your DJ Set - Six Fun, quick-launch FX with dual paddle triggers; dedicated instant loop controls; eight performance pads per deck to access cues, loops, fader cuts and samples
Stream Millions of Tracks – Browse and stream everything from the freshest underground sounds to certified classics directly in Serato DJ Lite from leading providers including SoundCloud and TIDAL
Ready to Connect To All Your DJ Equipment - Microphone input, headphone output and RCA output to connect to DJ speakers, plus a mixer with 3-band EQ, filter knobs, channel faders and crossfader

Check Prices

Editor's Choice

Customizable color LCD on jog display screens are located in the CENTRE of each jog wheel, reveal only the information you need whether that's BPM, waveform, playback position or Hot cue, loop points
Transitioning to this DJ controller is a breeze thanks to the familiar jog-wheels and layout, using rekordbox Dj with the DDJ-1000 feels the same as playing from USB drives with a NXS2 set-up
Improved Magvel Fader is durable for more than 10 million movements the refined software processing of the jog wheel and crossfader significantly reduces latency
Add texture to your sets with four new Beat FX and four Sound Color FX from the DJM-series mixers
Performance pads -hit the 16 back-lit rubber performance pads to trigger Hot cues, pad FX, beat jump, Sampler, keyboard Mode, beat loop and key shift at a touch

Check Prices

For Beginners

Lightweight and compact with a pro-style layout it'll help you learn to mix

Check Prices

Best for Mobile DJs

Bundle Includes: Reloop Mixon 4 4-channel DJ Controller with JamStands JS-LPT100 Single-Tier Laptop/DJ Stand, 2 x Knox Gear 25-Feet XLR Male to XLR Female Microphone Cable and Monoprice 12-Feet Male to Male RCA Audio Cable (Black)
Serato DJ Pro: With MIXON 4 the choice is yours. Empower your DJ set with the world's leading DJ software, Serato DJ Pro (Mac/PC) and explore new innovative mixing tools and the latest expansion packs
Plug N Play for Djay: With Algoriddim djay (iOS/MacOS), the music is at your fingertips thanks to its integration with popular streaming services as Tidal*, Soundcloud*, Beatport Link* or Beatsource*, giving you instant access to more than 260 million tracks in a powerful and award-winning app
High-Quality Audio Processing: The sturdy 4-channel mixer gives you high-quality audio processing and an intuitive club-ready layout with individual signal meters on each channel allowing for comfortable gain mixing
Connectivity Options: Along with two master outputs for professional PAs, MIXON 4 comes with booth outputs as well as a mic and two headphone connections

Check Prices
Best Overall – Pioneer DJ XDJ RX2
Expensive but well worth the money, the Pioneer DJ XDJ RX2 simply excels at every task you put to it. At it's core, this is a 2 channel, 2 deck all in one DJ controller. There were a number of features I really liked about this controller including the large 7 inch touch screen and the sturdy buttons for different cues and DJ effects.
Out of the box, it comes with a Rekordbox license key but this controller is also compatible with Serato. Picking this up in your hands you can feel the durable build quality. This is a DJ controller built to last.
Just wait until you sit down with this majestic beast. It's intuitive and easy to use. One special bonus is that most clubs use a version of this controller. Thus, if you're trying to become a Club DJ – this is the absolute best controller for you.
We do have some nags about it though – at it's price point, some users expect 4 channels. Also, the crossfader is not quite up to snuff compared to the rest of the unit.
Premium Pick – Pioneer DJ DDJ-1000
Another Pioneer DJ controller, the DDJ-1000 is our premium pick for DJ controllers. At it's core, this is a four channel controller with 2 beautiful jogwheels. Each jog wheel is responsive and mechanical to your every touch. As a nice bonus, each jog wheel has a high resolution display built into their center. Personally, I really like the unique display choice but some other DJs may not like the placement – it's not as big as some other displays.
Want to know more? Read our full review of the DDJ-1000!
If you're looking to practice DJing for future club gigs, you'll want this unit. This premium dj controller comes with high quality DJM style effects almost mimicking the traditional club standard CDJ setup. For a laptop DJ controller, this is absolutely the closest approximation to a club setup and is perfect for any intermediate club DJs to practice at home on.
Moving onto the technical specs. The DDJ-1000 has 2 core decks (shown above). Each deck has a jogwheel and display, deck select buttons, performance pads, pitch controls, and transport controls.
Inputs/Outputs
XLR and RCA output
1/4″ Booth outputs
RCA phono/ line input jacks
2 Microphone inputs
2 USB sockets
1/4″ headphone output (on front of unit)
1/8″ headphone output (on front of unit)
While you may be a little concerned about the jogwheel displays, don't be. Each display is high resolution and looks absolutely gorgeous on the unit. In my mind, these are 10x better than the traditional outdated LCD screen at the top/middle of the controller.
Overall, if you're a club DJ who uses a laptop or a DJ looking for a serious controller for practice and gigs, this is absolutely the DJ controller to get. This is the perfect controller to bridge the gap between a DJ club setup and a home setup.
By Skill Level
For Beginners – Pioneer DDJ-400
Inexpensive and perfect for beginners, the Pioneer DDJ-400 is one DJ controller I always recommend to new people entering the space. This 2 channel controller works perfect alongside Rekordbox and is a great way to learn how to DJ without breaking the bank.
Note: We've written an entire article on the best DJ controllers for beginners. If you're just starting out, read THIS.
The DDJ-400 comes with a free license key for Rekordbox to get you mixing out of the box. It features a nice simple easy on the eye layout and is aimed at the beginner DJ just starting out. With all of the essential controls including a 3 band EQ with trims, and library browse and track load so you can keep your hands on the hardware and off the mouse.
Read our full review of the Pioneer DDJ-400 here.
It also features responsive 5 inch super touch responsive jog wheels that let you scratch, spin, and cue tracks. 8 performance pads for hot cues, beat loop, beat jump, sampler, pad FX, and keyboard. It even has beat FX just like the ones on the flagship DJM mixers.
One thing that I really like about the DDJ-400 is the fact that Pioneer have listened to customer feedback and added longer pitch faders. If you compare the fader length to the DDJ-RB above you'll see what I mean. This means beginners will be able to get a more precise beatmatch just like using a more expensive controller.
You'll also be happy to find a looping panel at the top just like on the expensive CDJ players, or higher priced controllers. Beat FX are selected inside the Rekordbox software but fully controlled on the beat FX panel on the mixer.
Overall this will make a great first controller and with the more advanced controls like the beat FX and looping panel; you'll have an easier time transitioning to the club standard equipment when it comes time.
Best DJ Controllers by Budget
Our Pick for under $500 – Numark Mixtrack Pro FX
Numark are another manufacturer that has plenty of experience in the DJ game. They were the choice for my first budget set-up many years back!
This is great reliable controller for beginners or even mobile DJs on a budget. It's also great for house parties or smaller venues. This makes the list for the best DJ controller for DJ's on a budget.
This controller is built to work perfectly in conjunction with Serato DJ. It comes with the free Serato DJ intro version of the software and is upgrade ready.
The Mixtrack Pro 3 offers a simple plug and play USB connection to connect to your computer or laptop. You'll also find a single pair of rca outputs for your speakers or amplifier.
You can use the touch sensitive all metal jog wheels to nudge your tracks for beatmatching just like the more expensive controllers. And they are actually really good for scratching. They also have LED's that light up the platters for darker settings, and they look really cool!
Using the performance pads you can set loops, auto loops, and samples. You also have a sync button to auto beatmatch, something to help out the beginners. Or you can use the long pitch sliders for the traditional method. The pitch faders were a bit tight to start with but they loosened up after a few days. Overall they feel pretty good and it's really easy to manually beatmatch using them.
At the top you'll see the multi function touch strip that Numark are calling the strip search function. This lets you search for a certain point in a track with a single touch of the strip. The strip search also allows control over effects and their perimeters. The controller has no built in effects so they'll be chosen using the software, and then controlled with buttons and the strip search.
The strip search is a good function, but I think it's a bit limited in its abilities. I'm sure Numark could have given it a few more jobs to do if they'd thought about it more.
The mixer offers a 3 band EQ and a library search function to search your tracks. This lets you find your music and select it without taking your hands off the controller to use your mouse.
You'll also find a microphone input to keep the mobile DJ's and aspiring MC's happy. And it has VU meters to keep those levels in check, something very important everyone especially beginners.
Overall a simple controller, very light and transportable, and coming in at a great price. This controller will make the perfect setup for beginners, or aspiring mobile DJ's on a budget.
Best DJ Controller Under $1000 – Pioneer DJ DDJ-800
So what do you give up for that price difference? Not all that much. Let's start with the most important stuff. First of all, the DDJ-800 is only 2 channels whereas the DDJ-1000 is 4 channels. Most beginner to intermediate DJs are ok with only a 2 channel controller but as you progress in skill, you may want to look at 4 channel options.
The DDJ-800 has a capacitive jog wheel. The DDJ-1000 has a mechanical jog wheel. And I won't lie, the mechanical jog wheel DOES feel better while spinning. But is it worth the $400 more? The jog wheels on the DDJ-800 feel a little lighter while spinning than the DDJ-1000 but I got used to it pretty quickly.
There are some big benefits to the DDJ-800 over the DDJ-1000 though. Coming in at 10 pounds, the DDJ-800 is 25% lighter than the DDJ-1000. While not a huge difference, this could be important if you're limited on space or like to travel a lot with your DJ controller.
So which should you use? Well, if you don't absolutely need 4 channels and the capacitive jog wheels aren't a deal breaker for you, this is the controller to pick. Overall, if you're looking for a DJ controller under $1000, the DDJ-800 is a slightly smaller, lighter, and cheaper DJ controller to pick up today.
Best for Mobile DJs
Reloop Mixon 4
The Reloop Mixon is my top choice for the best DJ controller for mobile DJs and for DJs who want to use their phone or iPad for DJing.
This DJ controller was one of the first to integrate plug and play functionality with the djay app and Serato DJ. For mobile DJs, space and portability is of the utmost importance. In this capacity, the Reloop Mixon 4 excels. It's lightweight and small allowing you to take it with you wherever you play.
While it's easily portable, this mobile dj controller does not lack in strength. There are 8 different performance modes including unique FX modes to allow you to incorporate different DJ effects into every channel.
The controller has the ability to simultaneously charge your device while you mix. The Mixon 4 even has its very own docking station so that you can fit an iPad PRO (12.9") directly onto the top of the controller.
Stand out features of the deck section are very large jog wheels, which are very nice indeed, and colourful RGB performance pads. There's an auto sync button, key lock, and an effects unit.
The 4 channel mixer section offers a 3 band EQ with gains and filters. The channel filters will also work in conjunction with the effects function on the deck section with the touch of a button. This works great and is a combo I haven't seen before.
It also boast separate channel VU meters, nice smooth and tight up faders, a loose crossfader, and more. The inputs/outputs include a XLR, 1/4″ jack booth, 2xRCA out, 2x headphone inputs, and 2x miscellaneous inputs.
With a sturdy build, plenty of features, and it's portability, overall, the Reloop Mixon 4 is the perfect companion to any traveling DJ.
Best Standalone DJ Controller
Denon Prime 4
The Denon DJ Prime 4 is simply a beast of a DJ controller. With an absolutely massive 10 inch touch screen, this is the best standalone DJ controller money can buy. Featuring a solid metal build with 6 inch jog wheels and 4 decks, DJs will be able to absolutely mix their hearts out with this piece of equipment.
Ditch the laptop or USB drives, this standalone dj controller comes with a built in hard drive to allow you to store your music on the controller. If you need extra capacity, you can plug in additional USB drives or SD cards.
For mixing, this deck features 6 inch metal jogwheels that just feel amazing while mixing. With 4 channels – each with dedicated crossfaders, 3 band EQs, and gain knobs – you'll be able to mix however you want.
For inputs/outputs, the Denon DJ Prime 4 can't be beat. One semi-unique aspect is the Zone output on this controller. This allows you to assign a specific channel to play in a different area. Not sure what you'd use this for? How about playing some chill music in the lounge while you DJ the main party? Other than that, other inputs/outputs include 2 XLR inputs for microphones (with individual control), 4x RCA line in, RCA/XLR master out, and inputs for 1/4″ or 1/8″ headphones.
The big overwhelming feature of this standalone controller is the massive 10 inch touchscreen on the unit. This is truly unique and one of the best reasons I recommend this as the best standalone dj controller. On traditional standalone controllers, many DJs miss their laptop screen. With the Denon DJ Prime 4, you'll have a big screen right in front of you – perfect if you want to make changes to the setlist or choose new songs on the fly.
Cheapest DJ Controller
Hercules Inpulse 300
Next up we have the tiny Hercules Inpulse 300 which is purely for fun.
But it's still the best DJ controller for under $200!
And possibly the lightest DJ controller weighing in at less than 1kg! It's so light, I felt like it might float away if I had let go!
This is a very cheap option for people that are curious about DJing. And a good choice for those that don't wish to spend too much money until they are sure that they will enjoy mixing.
It could also be great for people that have the odd house party, or to soundtrack birthday parties etc.
The Inpulse 300 comes in at less than $200 and offers great value to get you off to a start in DJing. It's very small at only 26.5 cm wide and you could easily carry it in a backpack to get to the party.
It comes bundled with DJUCED 40 DJing software. And it offers a simple plug and play feature. This means you can easily connect straight to your computer/laptop using the provided USB cable.
The deck section offers very small jog wheels, and I mean VERY small! But amazingly they give you the ability to scratch! It has 4 performance pads per channel, and play/pause, auto sync and cue buttons.
The 2 channel mixer offers a 3 band EQ with filters, a library browse knob, and more.
Overall, a fun little controller with more features than you'd expect from first impressions.
Don't expect this controller to perform on par with other controllers in this review, it's been added for fun and as a very cheap beginner option.
My impression is that the Instinct P8 is designed purely for one off DJ's playing at house parties. Or maybe undecided beginners, or people that just like a bit of easy mixing fun every now and again.
You could probably even teach your kids how to mix using it. But for the price it's a fun little controller that will achieve the basics of mixing and add plenty of cool extras to your mix.
Find the Right DJ Controller for You
Do you still have questions about the best DJ controller for you? There are a lot of factors that go into choosing one.
If you want personalized advice from our team of DJs, please sign up to our email list.
If you reply to any one of our emails with your questions, we'll respond within 24-48 hours.
If you bought a DJ controller as a result of this article, let us know! Leave a comment or email us with your pick and we may just hook you up with a special surprise!