In the world of DJing software, there are only a couple of choices and two reign supreme: Rekordbox and Serato. I've been using Rekordbox for pretty much my entire DJ career so here's a honest down-to-earth Rekordbox review drawn from my personal experiences. I also threw in a comparison of Rekordbox vs Serato for those still on the fence between these pieces of DJ software.
Rekordbox: First Impressions
As it's one of the most popular pieces of DJ software these days, installing Rekordbox is a pretty straightforward process.
You can look for it on Google, directly on rekordbox.com or through a link in the Pioneer DJ website. After this there's just a simple installation either on PC or Mac and you're ready to go.
In terms of pricing, it used to be pretty simply. But Rekordbox has updated their pricing scheme with the release of Rekordbox 6 this past April.
Before, you could pay $129 for a license key that gave you a lifetime access to the software, now there are 3 different monthly plans, each with a different price and available functionalities.

The free plan is obviously the most bare bones and with it you can manage your music library across devices, control the program through your computer and access your tracks from compatible streaming services, namely Beatport Link and Soundcloud Go+.
With the Free plan there's a way to control Rekordbox with a DJ controller, as well as being able to record and share your mix.
The caveat: you can only use Pioneer controllers considered "Hardware Unlock Devices". Hardware unlock devices consist primarily of the controllers in the DDJ line of products and some of the DJM mixers.
This is important for people who bought controllers, such as the DDJ400 that came bundled with the license key before the release of Rekordbox 6.
The next two price tiers are Core and Creative ($9.99 and $14.99 a month). They both have all the functionalities of the free plan plus the options to record and share your mixes, save sampler sequences and work with all Pioneer DJ supported devices.

The Creative plan also has a cloud library sync through Dropbox (a new functionality introduced with Rekordbox 6) and the possibility of being used with 4 devices at the same time. In contrast, the Core plan can only be used with 2 devices. For the free plan, you can only use it with 1 device.
Right now and until July 13, the pricing of the Core and Creative plans is reduced to $6.99 and $9.99 each, giving you a discount on the monthly subscription.
As said before, Rekordbox only works with Pioneer DJ controllers and equipment, in contrast with software such as Serato, that can be used across different equipment brands.
On the other hand, setting up a Pioneer DJ controller to use it with Rekordbox is extremely easy because they're all natively mapped on the program, meaning that you won't have to spend extra time mapping every button and knob on your controller with the controls of the software.
Is Rekordbox hard to learn?
On the subject of learning how to use the program it couldn't be easier. It is extremely intuitive and with a sleek and straightforward layout, consistent with every major DJ software these days, regardless of a few differences.
Rekordbox User interface
There are 2 distinct ways to use Rekordbox: using only your computer or using it in combination with a controller. According to the equipment you have connected (DJ controller or DJing only with your laptop), the user interface and software will look different.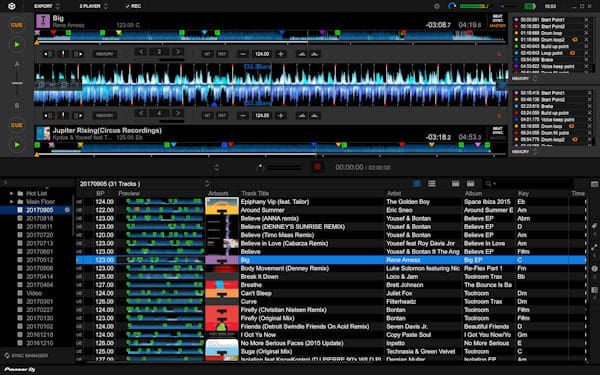 With only your computer connected to your laptop, Rekordbox gives you a very simple view: one reminiscent of a typical DJ controller. You have either 1 or 2 players with their respective "play" and "cue" buttons, soundwave visualization, crossfader and tempo and pitch controls, all on the top half of your screen.
Your music library browser is on the bottom of the screen with the option to customize how much information of each track you want to see and in which order you want it.
Using Rekordbox with a DJ Controller
When you connect a DJ controller, Rekordbox gives you 3 distinct modes for the program:
Export – Rekordbox works the same way as it is with only a computer
Lightning – used if you want to program a light show to go with your dj set in a club
Performance – Main way you'll use Rekordbox, Great for playing your music either at home or at a club
With Performance mode, your music library bottom section will remain the same, but everything in the top half will drastically change.
Here you'll have a visualization of 2 or 4 decks, either in a vertical or horizontal display and these will show all the basic information. Added to that display is a place for navigating your pad presets (hot cues, loops, fx and samples).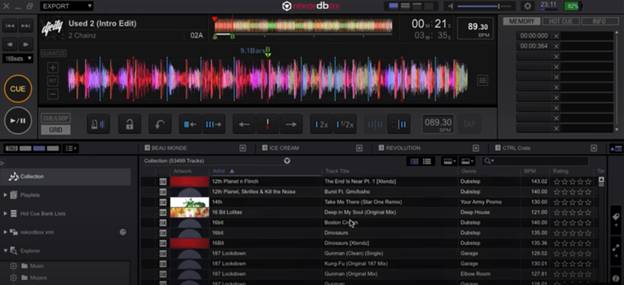 You'll also have the option of seeing and using entirely new sections, such as your fx, sampler and mixer, which are mapped to your controller and most importantly, your recording settings.
Using Rekordbox with a controller, such as the DDJ400 is extremely easy, as the program will detect your controller and map the audio inputs and outputs automatically. A quick visit to settings will also give you the option of getting really specific with each and every parameter you can find to tailor the software to your needs.
Finally, with the introduction of Rekordbox 6 there are no major overhauls in the interface of the program, besides a new light mode for very bright spaces and the Cloud library sync if you have the Creative plan.
Functionality
Rekordbox DJ comes with a good variety of different options. One of the most useful functionalities is the BPM + Key recommendations in which the software recommends other tracks in your library with a similar BPM and/or Key. The BPM range can be modified and the Key recommendations really help when you're mixing live and want to mix within Key.
Another standout feature of this software is the user interface, it is neat and clean, easy to understand and easily readable. Even for a beginner it would take little time to learn how to use the basic functions.
Another thing to note is that you can use the performance mode without having a controller plugged in which means you can organize and practice your mix with just a laptop.
Rekordbox also comes with a good variety of effects. Of course, you have the standard ones such as Reverb, Delay, Echo, etc… But there's also less common effects: Robot, Enigma Jet, Mobius Saw, amongst others. With all these options you can find the effects that better suit your style.
On the downside, I wish this software had some kind of livestream integration for all those bedroom DJs who are just getting started but want to share their mixes live.
What's Better: Serato vs Rekordbox
These two DJ softwares are the two most common ones you'll find in the industry. They're both pretty similar but there are some differences:
| | | |
| --- | --- | --- |
| Features | Serato | Rekordbox |
| Pricing | Multiple Expansion Packs/Subscription Plan | 3 Pricing Plans |
| User Interface | More Colorful/Crowded | Elegant and easier to use |
| Features | With all of the expansion packs, it has a ton of features | Less features but simpler to learn and easier to use |
| Compatibility | Compatible with a wider range of DJ controllers. More stable on your computer | Has to be used with a compatible DJ controller. |
First of all, while Rekordbox has 3 plans (shown above), Serato has two main versions along with multiple expansion packs.
Serato has two main versions and a variety of expansion packs to help you with all aspects of your DJing. All of the expansion sets are explained below.
Version
Price
Comments
DJ Lite
Free
Few options. Good intro to DJing but you'll quickly run into it's limits
DJ Pro
$129 (upfront)
$9.99/month
Can download a free trial. Has almost all functions you need.
Serato PLay
free
Adds advanced functionality for laptop-only DJing in Lite and Pro
Serato Flip
$29
Lets you create, save, and play back custom edits of your tracks
Serato Video
$99
Adds video to your sets with in-depth effects and transitions
Serato DVS
$99
Adds control vinyl and CD integration for supported hardware
Serato P'nT DJ
$29
Allows you to key shift and key sync with perfect audio qualit
Serato FX
$99
Lets you make a set your own with a variety of customisable effects
To me, all of these expansions are kind of annoying. I'd much rather pay one fee for the entire software than be constantly bugged for expansion after expansion.
Serato vs Rekordbox UI Differences
You can also notice some differences in the UI. While Serato is more colorful and crowded, Rekordbox is more elegant and serious but also easier to use. Both have the option to switch between 2 deck view and 4 deck view and vertical or horizontal track view.
When it comes to visual design and ease of use, Rekordbox is superior.
Rekordbox DJ does not have as many features as Serato DJ, but for being newer it certainly doesn't stay behind and you will already be familiar with the software used by Pioneer CDJs. However, Serato does have an edge on other aspects as it is compatible with a wider range of DJ controllers and it runs more stable on your computer.
Other Options for DJ Software
If you're having a hard time choosing between Rekordbox, Serato, Virtual DJ, or more options, consider reading our article on the Best DJ Software. This is where we compare all options and include our top picks depending on your skill level and goals.
Rekordbox Review: Final Thoughts
Overall, I love using Rekordbox to help me create my mixes. I've tried using Serato multiple times but always come back to Rekordbox due to it's simplicity, ease of use, and clear user interface. I simply know exactly where everything is during my sets making it easy to switch between tracks, add effects, and control the mood in the club.
What do you think about Rekordbox? Do we have any Serato fans reading this? Leave your comments below and explain which is better and why!
Author Bio
This post was written by a fellow DJ named hectic_ . You can find his music at the following links:
Soundcloud: https://soundcloud.com/hecticalpaca
Mixcloud: https://www.mixcloud.com/shadowcollectiverecords/
Bandcamp: https://shadowcollectiverecords.bandcamp.com/
Instagram: https://www.instagram.com/hectic_alpaca/