Tired of carrying your laptop around everywhere you go? Wish there was a better alternative? Read on because today, we'll look at the five best ways to DJ without a laptop. Is an all-in-one unit the best option for you?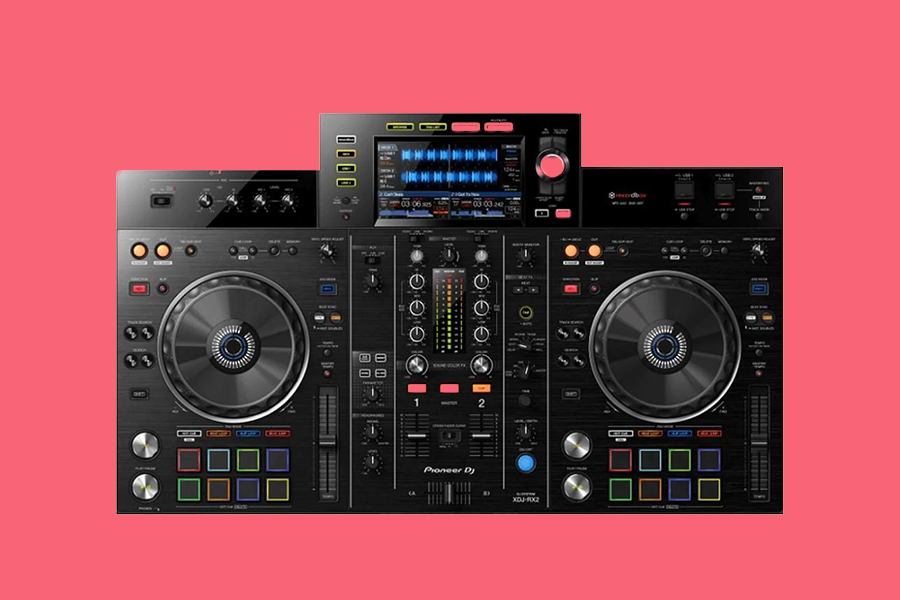 The most popular way to begin DJing is to buy a DJ controller to playback and control music directly from your laptop. Controllers offer DJ's great value for money and can cost a lot less than a mixer with stand alone players.
But the extra cost of buying a laptop and DJ software can really discourage some aspiring DJ's. So is it possible to DJ without a laptop in the modern day? Let's find out.
When I first started DJing, every DJ that I knew was mixing without a laptop. It seems strange having to explain what this setup consisted of, but DJing has changed so much since then. DJ's who are just starting out will do some research, and it will seem that the only option is a setup that uses a laptop.
But DJing is ever changing and evolving, and there are lot's of modern options that don't require a laptop. Before we go any further let's help you decide whether you really do need to DJ without a laptop…
| How to DJ Without a Laptop | Advantages | Disadvantages |
| --- | --- | --- |
| Use Vinyl + Turntables | Historical method of DJing. Certain novelty effect when using this method. | Expensive. Hard to carry around lots of Vinyl to different places. Bad for mobile DJs |
| Use a newer DJ Controller | Compact and easy to carry around. Plenty of functionality | Can be expensive. Typically not as flexible without a laptop. |
| All in One DJ Controller | Best Option for Mobile DJs and DJs without a laptop. Can be used with and without a laptop. | Slightly harder to use without a laptop. |
| Use Your Phone/Tablet + App | Great paired up with the Reloop Beatpad 2. Many possibilities and highly portable | Not as capable as an all-in-one DJ controller |
| Use your Phone | Can be done using Algoriddim. Most portable solution (obviously) | Extremely limited functionality. Hard to interact with the crowd. |
5 ways to DJ without a laptop
Do I need a Laptop to DJ?
Some DJ's simply don't want to buy an expensive laptop on top of already expensive DJ kit. I hear ya! I struggled to afford a laptop after moving over to digital DJing and saved for a long long time.
The main problem was finding a powerful enough laptop to run DJ software, at an affordable price. And then you have to fork out again to buy the software! If it's just a case of saving a little longer, I'd say keep saving. Don't cut your setup short just because of a few months saving.
Many mobile DJ's will still want to use a laptop at home, but they want to DJ without a laptop at their gigs.
This may be due to people dancing close to the booth with drinks that could spill on it. Or maybe you just want less kit to carry to every gig. Whatever the reason we have something to suit your needs in the many options below.
Some of you just don't like the thought of DJing with complicated software. In all honesty, most software looks a lot more complicated than it actually is. Many programs can be simplified by removing options from the interface, most are beginner friendly.
If you've heard stories that some clubs won't let you use a laptop in the DJ booth, understand that I've never actually encountered this. I know that this is happening as I've seen posts directly from club owners, but it's rare. Some clubs actually expect you to take your own DJ controller, the club setup is just there for backup.
If any of this has changed your mind, see my list of the top 10 beginner DJ controllers. If you still wish to DJ without a laptop check out the available options below.
How do DJs DJ without a Laptop?
Well there's a couple of different ways. We'll go through all of them from the historic ones to ones currently being used today.
The traditional way of DJing

Back in 2001 I mixed my first two tracks using turntables and a mixer. This is known as the traditional DJ setup, music is played using vinyl records and the only other thing you'll need is speakers!
The traditional DJ setup is turntables and a mixer. This requires buying vinyl records though and transporting those to where you want to DJ. This is definitely NOT the best option if you want to consistently DJ in clubs.
This setup is lots of fun, but the cost of buying records every month is going to cost you a lot more than a laptop. But if you can get hold of some bulk packs of records that DJ's very often sell, you'll be laughing. If money is no object this setup will be a great way to DJ without a laptop.
Nowadays, the traditional DJ setup is still very popular, but to avoid high vinyl costs you'll unfortunately need to use it alongside a laptop with a DVS.
The multi player/CDJ laptop-free option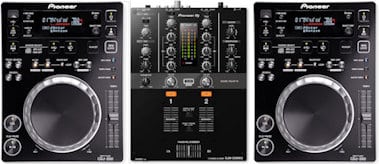 This is basically the same as the traditional DJ setup but instead of turntables you'll be using a newer DJ controller.
The best DJ controllers for Djing without a laptop feature a prominent USB port and a big LCD screen. The USB port allows you to plug in your music library and the LCD screen helps you set cue points, loops, and match different beats.
And as with the first option the only other thing you'll need is a set of active speakers.
This is a very popular option for those that wish to DJ without a laptop. While DJ controllers range in price from $200 – $2000+ dollars, you can always find one that fits your budget and is perfect for use without a laptop.
The all-in-one DJ controller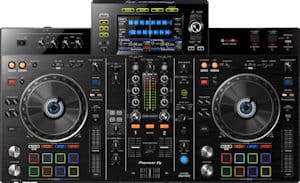 An all-in-one DJ controller will offer the most creative DJing experience possible for the DJ without a laptop in their setup. An all-in-one unit like the Pioneer XDJ-RX2 (pictured above) will offer a ton of options very similar to a laptop option.
Most DJ's now accept that you can do a lot more with a controller-laptop combo than you could ever do with separate players. The all-in-one controller is the next best option if you want the ability to drop in loops, effects, and hot cues while seeing your whole track as a waveform.
The two best all-in-one controllers you'll find are the Pioneer XDJ-RX2 above, and the Denon MCX8000 below.
Each all in one dj controller has their unique advantages and disadvantages. The Denon MCX8000 is a little bit cheaper (normally $300 less than the Pioneer XDJ-RX2) but at this level of equipment you shouldn't let that sway your decision much.
While it is capable of being a standalone controller, the good thing about the Denon unit is that it will also let you play from a laptop. So if you change your mind it's no big deal! O maybe you're a DJ that doesn't want to take your expensive laptop to every gig, but still wants to use it at home!
Best Laptop-Free Option: Pioneer DJ XDJ-RX2
Compared to the Denon MCX8000, the Pioneer XDJ-RX2 is a little more expensive – but it's well worth it. Personally I liked the LCD sccreen on the Pioneer much more than on the Denon MCX8000. The screen on the MCX8000 froze a couple of times on me which is NOT what you want to happen when you're in the middle of a big set at a packed club.
I also liked the positioning of the screen on the Pioneer better. Compared to having to look at two separate screens on either side, it was simple to easily look in one place and feel what was going on with each track.
In terms of on-board software, I also think the Pioneer has the Denon beat. The Pioneer all in one controller made everything from cue points to loops more intuitive than the Denon.
DJ Using a Phone or Tablet
Now this option I can't claim personal experience with if you think it's up your alley, then there are plenty of options to choose from.
These controllers let you link up your device and DJ using the controller in conjunction with an app.
My favourite device controllers at the moment are the Reloop Beatpad-2, and the Reloop mixon 4, both pictured below. They both let you slot your device into the back of the unit and mix tracks from your music library.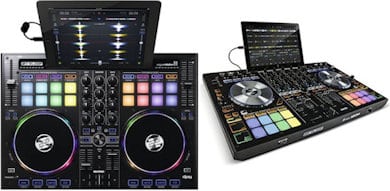 The Reloop beatpad 2 works on iPad, Android, and Mac's and it works beautifully.
The Mixon 4 is the most feature packed of the two, but they both offer great features. It really depends on your needs, but these are professional grade, well built controllers.
Our Recommended iPad or Android DJ Controller: Reloop Beatpad-2
Can I DJ just using my phone or tablet?
It's possible to DJ a party using nothing but your phone or tablet! I wasn't sure whether to add this option as you are still using a type of computer based DJing.. But I wanted to cover all options, after all if you're using a device you're still DJing without a laptop. It's similar, but not the same.
This would be more of an option for people that do small house party's etc.. But it's still fun for a quick mix whenever you feel like it! Or it could appeal to DJ's that travel a lot and are away from their equipment for long periods.
Apps like Algoriddim Djay (pictured above) will let you do some amazing things. You can add loops and effects to you sets, set cue points, drop in samples and even record your sets. How cool is that?
Other DJ apps such as the Tracktor App will let you use features like EQ, FX, and different filters. The app is designed to simulate the effect of having Tracktor hardware right in front of you.
Now, if you decide to DJ just using your phone… just know it will look odd.
Most people will think you're just texting your friends instead of DJing the entire party. Just for that reason, you may want to use an iPad or tablet at the very least.
That way you have something in front of you and it doesn't just look like you're staring at your phone the entire time!
The Best Way to DJ without a Laptop?
Now you know the best ways to DJ without a laptop you can take what you've learned and build your dream setup.
What method should you use?
If I was in your position and was certain I didn't want to include a laptop in my setup, I'd think of the future. What type of DJing do I want to do, and do I want to play in clubs? Or do I want to be a bedroom DJ and do the odd house party? Or maybe go all out and start a mobile DJ business?
There are so many options, but to tick all of the boxes your best option is one of the all-in-one units.
It's just the fact that you can do so much with them and you're never going to get bored. These are suitable for all skill levels, even the XDJ-RX3 mentioned earlier.
If you're a beginner these units will grow with you for many years to come. If you're a mobile DJ you have a portable all-in-one unit that can perform every function you could possibly need. And if you're a club DJ you could do the sickest of performance mixes. These things would never be possible on independent players.
Conclusion
I'm sure you've found this article helpful, but if you need any more tips just comment below. Once you've chosen a setup so you can DJ without a laptop, check out my other articles…
Beginners will like my full guide to DJ equipment and gear, with all of the choices available to you > HERE
Aspiring mobile DJ's will like my guide on starting a DJ business which takes you right from equipment to finding your first gig > HERE
And something everybody that plans on DJing for crowds should check out is my crowd reading article > HERE. You'll never nail a DJing gig without it!