At first glance it may look like a run of the mill entry level controller, but the DDJ-400 from Pioneer packs a lot of punch in its compact size.
In this Pioneer DDJ 400 review, we'll be going into all aspects of this marvelous DJ controller. With a well rounded set of features and a couple of crucial extras, this controller could be the best choice, at its price range, for beginner, amateur or even professional DJs.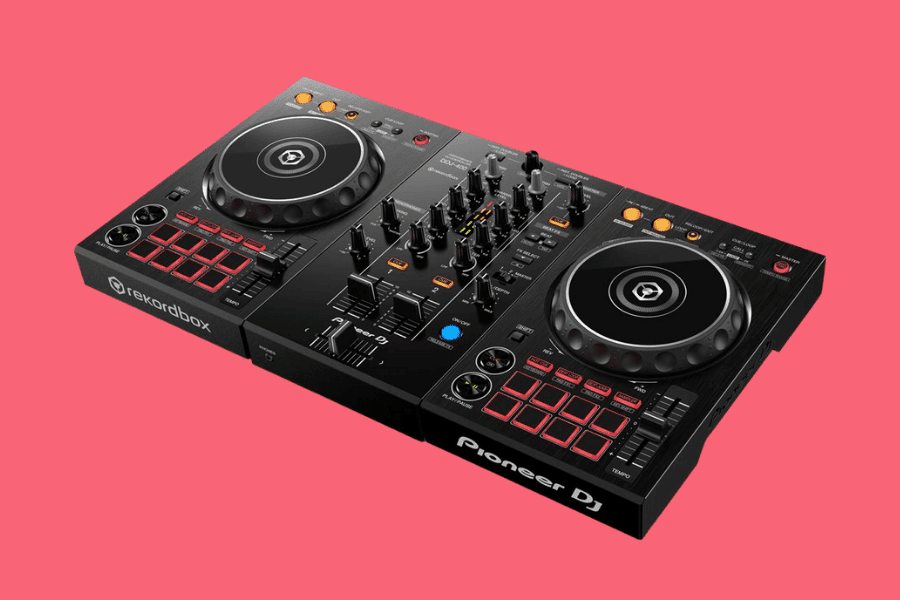 Pioneer DDJ-400 Review: First Impressions
Anyone familiar with Pioneer dj equipment, especially their top of the line Nexus CDJs, will see that the DDJ-400 has the same basic layout for its buttons, knobs, loops and effects dedicated areas, in this case combining both decks and the mixer in one device.
Although it is completely plastic, it feels well constructed and it has a different matte finish to distinguish between decks and mixer that's pretty good against fingerprint smudges. Buttons, knobs and jog wheels have a good size, they don't feel cramped on the controller.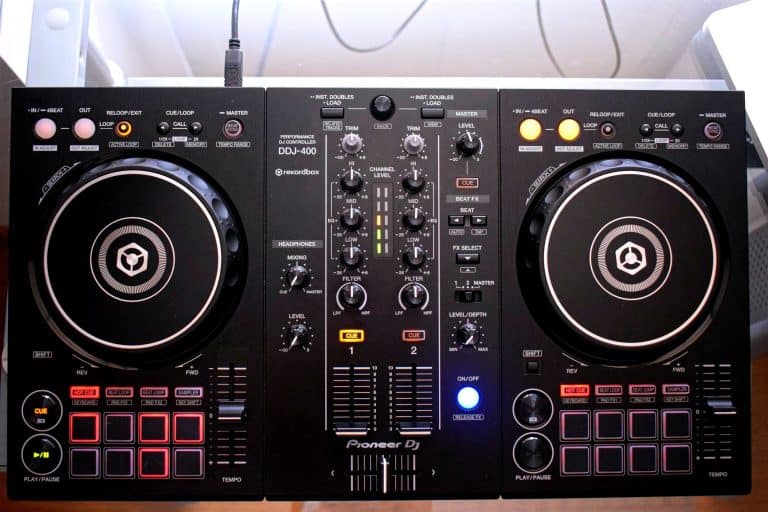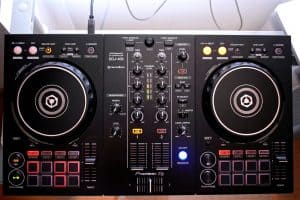 For its size it's really lightweight and small enough so it can be transported in a big backpack or in a small duffel bag to be used by mobile djs with as little as an ipad, also having more than the basic features so it could potentially be used in a professional club setting.
Features & Functionality of the Pioneer DDJ-400
While most entry-level controllers have a built-in sound card, I want to take a deeper dive into many of the professional features and the controller's creative capabilities.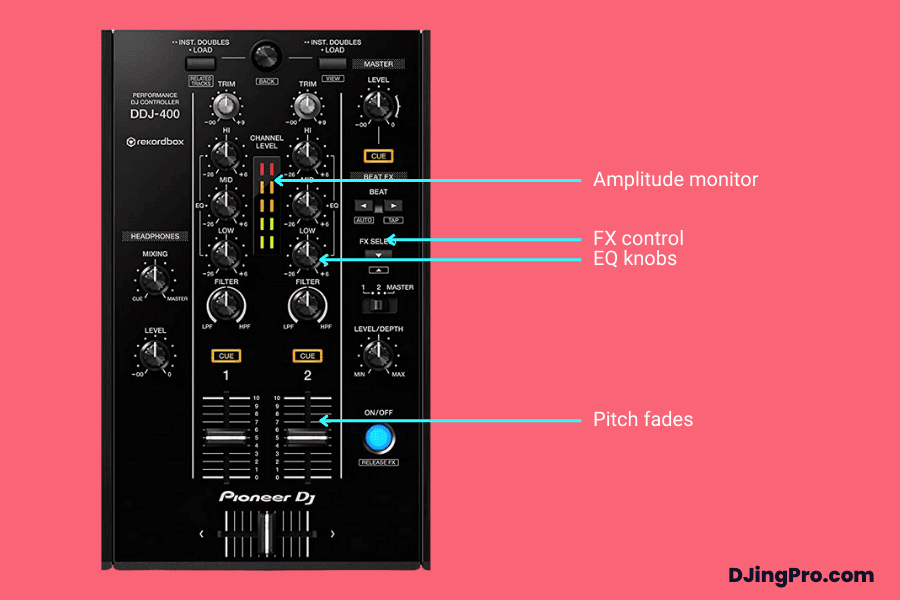 In-Built Mixer Section
Like with most entry-level controllers, the DDJ-400 has a built-in mixer section with all of the standard mixing features you'd expect from the Pioneer DJ controller product range. The 3-band EQ along with the dedicated high, medium, and low pass filter gives DJs the essentials to EQ tracks for mixing and transitions. Also as expected, each channel comes with bright LED level meters to monitor amplitude levels. You'll also find the trim knobs at the top so DJs can regulate the volume levels efficiently and dedicated cue buttons.
Overall, this typical mixer layout should always come as standard for any DJ controller. But while Pioneer is always tweaking their models (which is a good thing), it makes the in-built mixer section feel a little cramped.
The other thing to mention on this part of the DDJ-400 is the dedicated FX section (which I will cover later on), the channel faders, and the crossfader.
Restrictions
This controller has limited connection options which is unfortunate. The DDJ-400 doesn't have DVS support and can only be used with Rekordbox DJ software. This means DJs who use DVS will not be able to use this controller. There are also no inputs for turntables or cd players. Lastly, there are limited outputs for speakers or headphones so DJs must connect the device to towers or amplifiers using the standard 1/4 inch jack output.
Lastly, as this is a two-channel entry-level DJ controller, there is no key shift that you can find with more advanced DJ gear.
Build quality & design
While you should not expect premium components at this particular price point, the DDJ-400 has a strong build quality and feels like a professional DJ controller with its club-style layout.
It's still lightweight and easy to carry. But I would recommend investing in a protective case if you plan on using it outside of your home regularly.
As for the portable design, it's typical of Pioneer DJ controllers. It has the same layout with several performance pads and EQs as well as dedicated volume sliders for each channel. You can instantly tell they've taken the inspiration from their flagship NSX2 and have tried to deliver the same layout but with a much more compact unit. This is especially useful for beginner DJs to transition over to more advanced DJ gear.
Connection Choices
The DDJ-400 plugs into your laptop or computer via USB which allows you to plug your entire DJ music library. The headphone jack is located on the front for your DJ headphones which will help with proper cue monitoring as well as a built-in soundcard for your speakers or active studio monitors using the standard RCA cables.
Additionally, there is a mini-jack if you wanted to use normal headphones as opposed to DJ headphones as well as a mic input for those looking to use microphones.
For this price point, I don't expect a massive amount of connection options for this DJ controller. However, it is something that needs consideration if you have an existing sound system you want to connect. The RCA output is the only option and limits your choices of other types of connections.
Beat FX Controls
The beat FX feature is the best part of this controller. You can enhance your mixes with Sound Color FX and Beat FX featuring curves taken from Pioneer's DJM-900NXS2 mixer. You can choose from several preset options such as flanger, echo, and filter sweeps, making it easier than ever before when DJing on an entry-level device.
This is a major plus point for those with entry-level DJing skills. When you're just starting, the last thing you want to do is spend hours trying to figure out how to set up effects on your laptop or PC when it should be easy enough in front of you at all times.
The beat FX controls are located centrally on the mixer, giving it a much more natural feel similar to professional club gear.
Jog wheels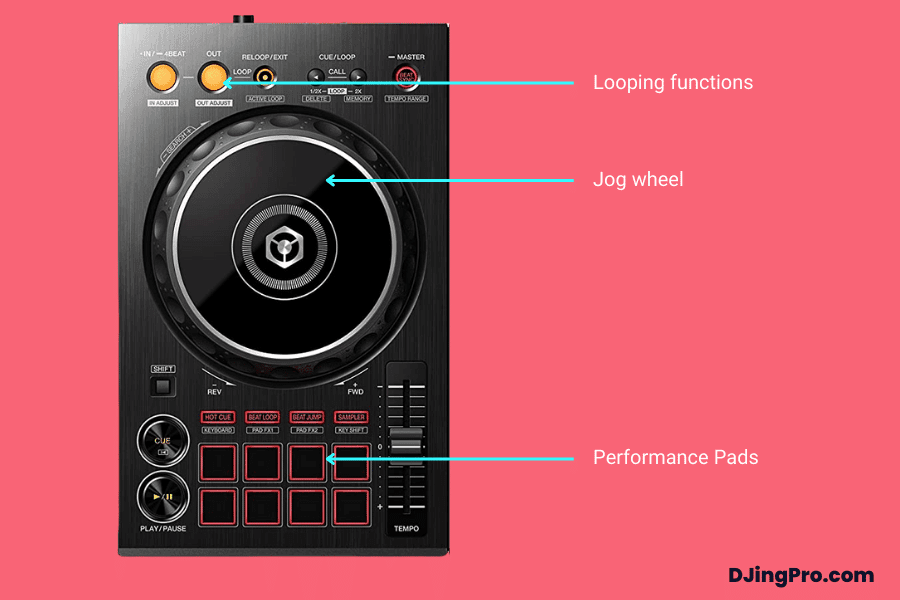 The DDJ-400 jog wheels are a great addition to this controller. They're well-spaced and give the DJ more control over their mix. The jog wheels are also both velocity-sensitive and have buttons for scratching and ducking which is an excellent feature for beginners. However, the ducking feature is not on by default.
However, scratch DJs won't get the same surface area with the DDJ-400 jog wheels like regular turntables, but can still get the resistance.
Looping Controls
The DDJ-400 has CDJ style looping controls which should be a standard for all entry-level DJ controllers. The loop type can be set to ducking, key sync or beat loop and the controls are also velocity-sensitive which is an excellent feature if you want more control over your mix transitions. You can set your loops that are stored in Rekordbox as well as set loops on the fly.
You can set a 4-bar beat loop while you can also halve or double your loop length. This is a welcome change over the DDJ 200 which only had ducking and key sync looping controls.
Pitch Faders
The long pitch faders are a welcome addition to this controller. Historically most beginner DJ controllers had shorter ones which made beatmatching a bit of a hassle. Now with the Pioneer DDJ-400, the new pitch faders enable improved precision in matching with two deck tempos.
The DDJ-400 also includes a crossfader curve adjust feature which you can set with the latest version of Rekordbox.
Software: Rekordbox
The controller comes with Rekordbox DVS Plus Pack which is a DJ software that works inThe Pioneer DDJ-400 comes with a full version of the Rekordbox DJ, a powerful DJing software with lots of features that enable full flexibility over your music collection, preparing your mixes and even for use during a live DJ set. The software essentially works with any Pioneer DJ equipment and is considered the industry standard for most top DJs and music venues.
The Pioneer DDJ-400 is a general-purpose controller, but Rekordbox DJ is the key to unlocking its functionality. You can plug the controller directly into your laptop or PC.
While this is mainly a controller for Rekordbox DJ, it is also compatible with Serato DJ.
For a full review of DJ professional performance software, check out our guide to the best DJ software.
Dimensions
The Pioneer DDJ-400 is a bit larger than other entry-level DJ controllers, but still compact enough for the aspiring DJ with a home studio setup.
Width: 482 mm
Height: 58.5 mm
Depth: 272.4 mm
Weight: 2.1 kg
In-Built Tutorial Feature
The Pioneer DDJ-400 has a tutorial feature that is excellent for beginners getting to grips with DJing. The tutorials are intuitive and easy to understand.
It covers the basics of connecting up your gear and the DJ controller for Rekordbox. Additionally, it guides you through some basic DJ skills to give you a foundation on which you can build when you master DJ techniques.
While it's not a complete course on Djing, it is a welcome addition that not many other entry-level controllers offer.
Performance Pads
The DDJ-400 comes with eight performance pads per channel that are used as 'hot cues' or to trigger phrases, drum samples (pad FX), and loops.
It has a dedicated sampler section that can store up to three sample slots for use in your remixes. This is one of the bonuses you get when going with an entry-level controller like the Pioneer DDJ-400
With this many features on offer, it's easy to see why beginners would be drawn towards it – especially those who want more flexibility from their gear than just playing prerecorded tracks!
Previous controllers had slightly larger performance pads. However, these still feel great.
Does the DDJ-400 need speakers?
While it is technically possible to use this model without speakers being plugged through the RCA outputs, it is possible to plug into a laptop through the USB cable and play tracks off the computer's internal speakers. However, to ensure crystal clear sound, we recommend that you use a set of powered speakers.
For a more detailed guide of what speakers to go for, check out our guide to the top powered speakers and studio monitors for DJs.
Summary of Pros & Cons of the DDJ-400
Pros
Great FX features, looping functions, and sample options
Compact size which is perfect for small spaces like on stage or at home
All of the basics that DJs need to perform are crossfader, jog wheels, volume sliders, and performance pads. Plus a Rekordbox DJ Software license
Has a professional club-feel layout similar to more advanced DJ controllers
Comes with Rekordbox DJ software which is more popular amongst top DJs
Cons
Limited connection options
No DVS support
Limited to use with only Rekordbox DJ software and can't be used as a stand-alone mixer
Why Should I Buy a Beginner Controller?
The Pioneer DDJ-400 has a few benefits that make it perfect for beginners.
First of all, the unit is small and compact which means you can use it in tight spaces like on stage or at home with ease. This controller also comes with Rekordbox software so you can use it to playback MP-320 digital files.
If you are dabbling in your hobby and want a high-quality, versatile controller but don't have the time or money for professional gear, then this is the perfect choice for you!
Alternatives to the Pioneer DDJ-400
While the Pioneer DDJ-400 is a fantastic entry-level controller, it is not going to suit everyone. If you have more than an hour of DJing experience or are looking for something slightly different then here are some alternatives that may be worth considering.
Pioneer DDJ 200
The ddj 200 which is the predecessor to this new DDJ-400 model is still a fantastic option for those looking to use it at house parties but doesn't necessarily want to master their craft. This is because this is a mere basic DJ controller with no crazy effects or expansive mixing features on it.
It does conveniently support consumer-based playback methods such as playing tracks from streaming services as well as from phone apps. Anybody can learn the basics and it doesn't cost too much or isn't too big.
Basic DJ controller Ideal for home use
Very cheap and compact
Brilliant features like loop control and cue points.
Supports a variety of streaming services including SoundCloud, TIDAL, Spotify, and Deezer.
Roland DJ 202
The Roland DJ 202 is another fantastic option if you want something that offers a bit more production capabilities. It offers more mixing possibilities with built-in drum kits and samplers so you can produce beats from scratch.
It offers Serato DJ Lite as an alternative to Rekordbox DJ, and this particular DJ controller has two channels but offers you the option to connect up to four decks on it.
Has music production features such as built-in drum kits, sampler, and sequencer
The drum kits consist of eight different sounds
It's a two-channel DJ controller but can connect up to four decks
Comes with Serato DJ Lite
Competitively priced with the DDJ-400 but offers slightly more
Pioneer DDJ-SB3
The DDJ-400 is not the only beginner DJ controller from Pioneer in the entire range. The DDJ-400 sits in the middle ground between the ddj 200 and ddj-sb3. But the DDJ-SB3 has nearly all of the features except it comes with larger jog wheels suited more for scratch DJs and also bundles the controller with the Serato Scratch Lite for mastering the art of scratching. It even allows you to add scratches reproduced from other famous DJs with custom scratch samples using the pad scratch feature.
The DDJ-SB3 also offers rookies the chance to dabble with the FX Fade feature.
Final Thoughts: Is the DDJ-400 worth it?
The DDJ-400 is an entry level controller that despite some small flaws, is a great DJ controller considering the price.
It really is the most complete gear for a beginner dj as you can easily learn the basics but as you improve and feel more adventurous you can use the additional features in creative ways to enhance your mix and not feel like you need an upgrade.
In addition, when you do upgrade or go to play in a club you will already be familiar with the layout used in most setups: two CDJs and a mixer.
The DDJ-400 is one of the new and improved entry-level controllers from Pioneer DJ that clearly aims at beginner DJs looking to learn their basic DJing craft.