Pioneer DDJ-400 Controller Review
At first glance it may look like a run of the mill entry level controller, but the DDJ-400 from Pioneer packs a lot of punch in its compact size. In this Pioneer DDJ 400 review, we'll be going into all aspects of this marvelous DJ controller. With a well rounded set of features and a couple of crucial extras, this controller could be the best choice, at its price range, for beginner, amateur or even professional djs.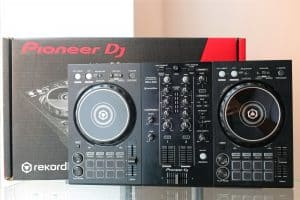 First Impressions
Anyone familiar with Pioneer dj equipment, especially their top of the line Nexus CDJs, will see that the DDJ-400 has the same basic layout for its buttons, knobs, loops and effects dedicated areas, in this case combining both decks and the mixer in one device.
Although it is completely plastic, it feels well constructed and it has a different matte finish to distinguish between decks and mixer that's pretty good against fingerprint smudges. Buttons, knobs and jog wheels have a good size, they don't feel cramped on the controller.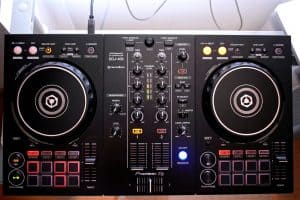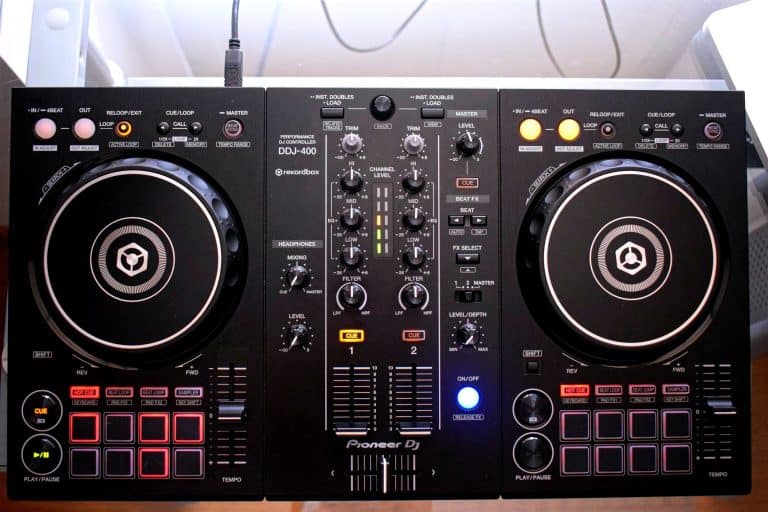 For its size it's really lightweight and small enough so it can be transported in a big backpack or in a small duffel bag to be used by mobile djs with as little as an ipad, also having more than the basic features so it could potentially be used in a professional club setting.
Features and functionality:
The pitch slider on each deck has a nice customizable range and is precise enough so you can feel confident trying to adjust the tempo manually when beatmatching instead of using the sync function.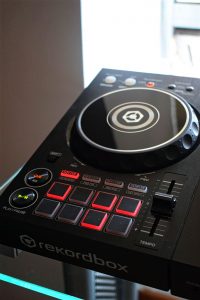 The jogwheels are highly customizable in that they can be used for scratching and for track navigation. It helps that the difference in materials between the top and the sides makes for an easy differentiation depending on the type of navigation speed you want.
This grip on the outside rim is also similar to that which can be found on a CDJ unit.
The looping options are varied with dedicated in and out buttons for easy looping and an active loop button for recalling the last marked loop, you can also double or half the loop length.
 Another way to activate loops is via the 8 performance pads on each deck which have premade loop lengths.
As the DDJ 400 resembles the flagship CDJs and DJM mixer from Pioneer, it also has a dedicated beat fx panel with the option to choose between using the effect on deck 1, 2 or master. Because of this you can't use separate effects on each deck which is a drawback.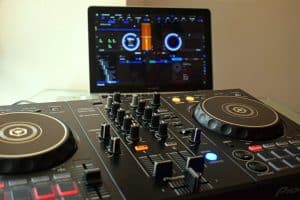 On this fx section you also have the option to change the beat length and scroll through the different effects available on Rekordbox. There's also the option of using the effects from the pads, with 16 custom inputs for each channel.
These 16 performance pads also have additional functionalities such as being able to be used as a sampler or do key shifts, all of these alternate functions and the rest through the controller can be accessed by using the shift button.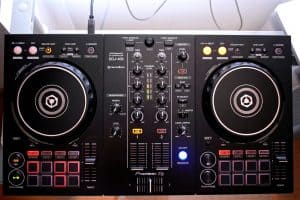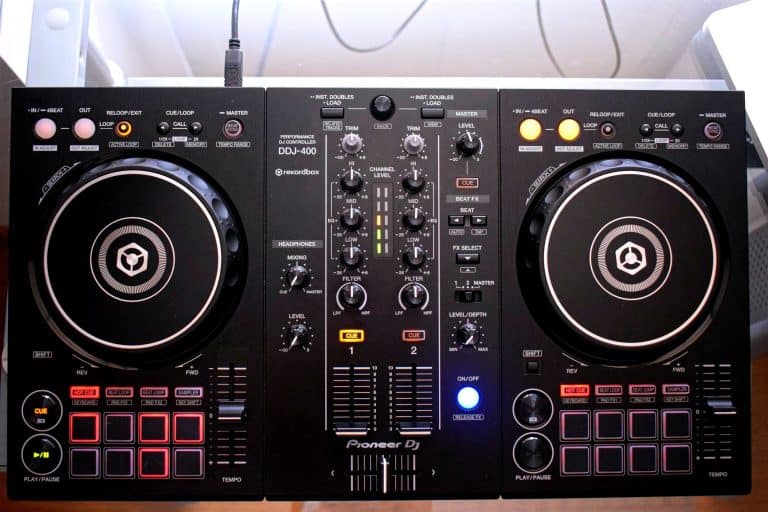 Thanks to its many features in a small package you have different additional functionalities that you wouldn't find on other similar controllers, however you are restricted to using only two decks, so at some point you may feel restricted when trying to start mixing on more than two decks.
Inputs/outputs:
In this respect is really a simple and straightforward process, as the ddj 400 only has 2 outputs (usb cable and master line out) and 1 input (microphone)
DDJ 400: Good for Beginners?
As we've said before, the DDJ-400 is modeled after the flagship CDJ units from Pioneer, the controls and their placement are basically standard for the brand, which makes it easier to use for anyone previously familiar with the Pioneer products. Likewise it's a great beginner option as it makes the transition into more professional equipment easier.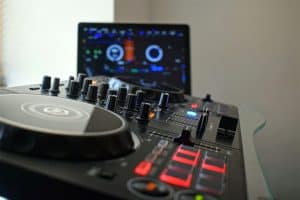 The size, weight and price, when comparing it to other similar units, makes it also a good option for djs of any amount of experience.
On the subject of price, it's important to add that the controller comes bundled with a Rekordbox licence, a software that on its own costs around 100 dollars, so it really is the best choice for someone on a budget.
This controller is both easy to learn how to use and hard to master, which means that as you progress in your abilities you can use more of its functionalities without feeling constrained by it and that you need to upgrade your equipment.
For beginner djs, another of the key features of rekordbox comes in the tutorial made, where step by step the software can help you navigate the software and the controller.
Lastly, building a music library can be very expensive, especially if you are a dj with no recognition or experience, that's why it's helpful the DDJ-400 can be used with Algoriddim's apps, both for iOS, PC and Mac.
This means that if you have a premium Spotify account, you can access your music, playlists and millions of songs without having to buy them, as long as you have a stable internet connection.'
Other DJ Controllers for Beginners
If you want to see some other DJ controllers for beginners, check out our article reviewing all of the beginner DJ controllers. Not a beginner? Check out our guide to the top DJ controllers for all skill levels.
Final Thoughts
The DDJ 400 is an entry level controller that despite some small flaws, is a great DJ controller considering the price.
It really is the most complete gear for a beginner dj as you can easily learn the basics but as you improve and feel more adventurous you can use the additional features in creative ways to enhance your mix and not feel like you need an upgrade.
In addition, when you do upgrade or go to play in a club you will already be familiar with the layout used in most setups: two CDJs and a mixer.
Author Bio
This post was written by a fellow DJ named hectic_ . You can find his music at the following links:
Soundcloud: https://soundcloud.com/hecticalpaca
Mixcloud: https://www.mixcloud.com/shadowcollectiverecords/
Bandcamp: https://shadowcollectiverecords.bandcamp.com/
Instagram: https://www.instagram.com/hectic_alpaca/