Apple devices have quite a reputation among DJs owing to their stability and reliability. When it comes to mobile DJing, most DJs prefer iPhones to create or mix sounds.
Their compact size and compatibility with all kinds of DJ equipment are some of the common reasons that make them a suitable option. If you're planning to explore the world of mobile DJing with your iPhone, here are some of the best apps that you can use for creating or mixing music.
Have an android device – check out our sister article about the Android DJ Apps.
Best iPhone DJ Apps
Cross DJ
Cross DJ is the optimal choice for DJs who are looking for DJing apps that are loaded with a plethora of features and functions. Even in the free version, you get a great many effects and essentials that can help you kick off mobile DJing.
With 2 decks, tempo adjustment, and a beat-grid, Cross DJ unlocks countless mixing possibilities for you. Furthermore, the app comes with a looping function. You can use this while mixing a track or creating a new set.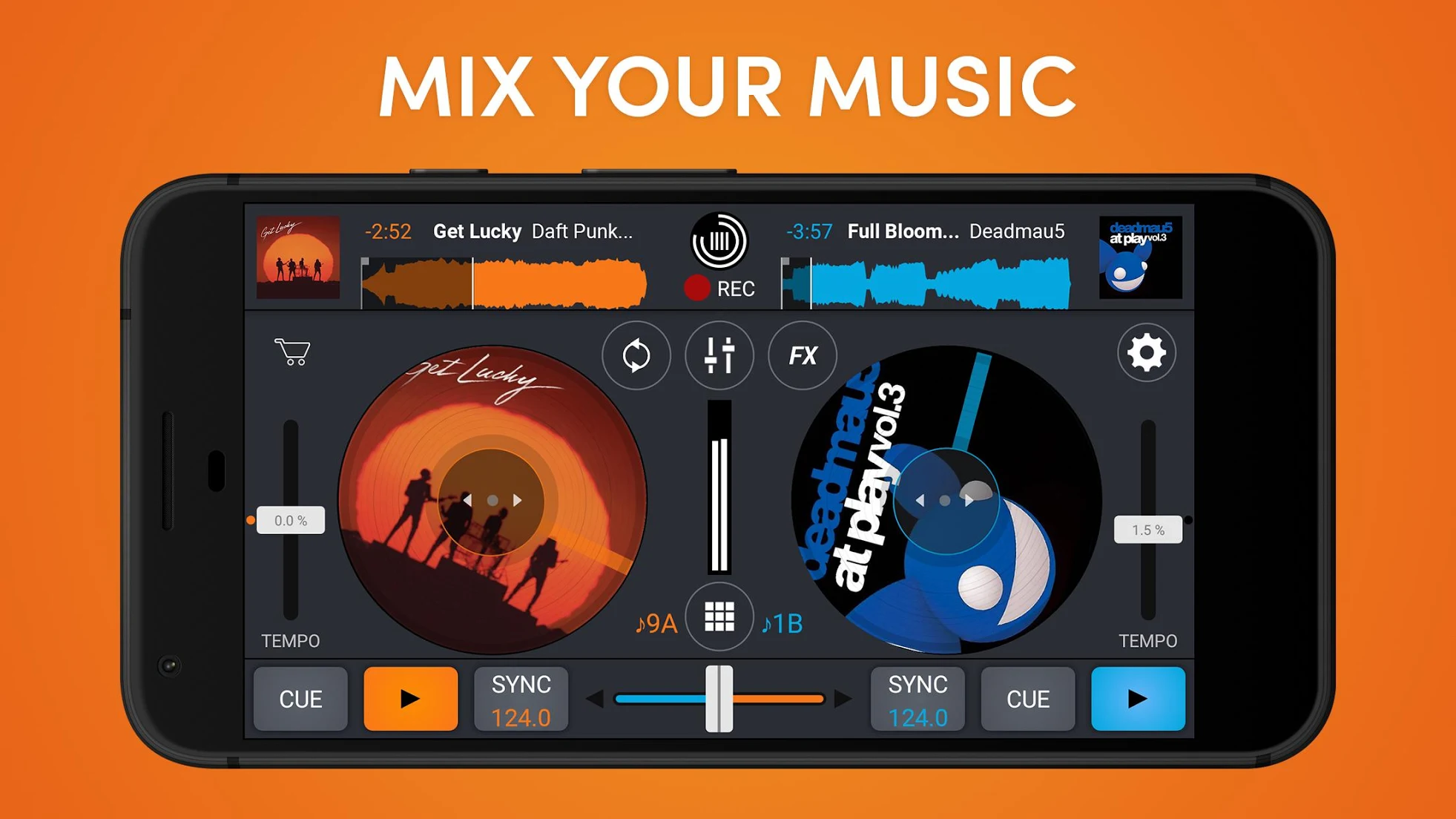 The app allows you to cue songs that are stored on your device. Or, you can stream songs from platforms like SoundCloud and play songs directly from there. Cross DJ has a very simple interface that is quite easy to use.
It offers precise cue points along with pitch manipulation up to 5 levels.
For DJs who love scratching while creating a set or mixing, this app will surely impress you beyond expectations. It creates a realistic scratch sound that is almost identical to the one from a real turntable.
Buying the paid version of the app will enable you to explore the world of advanced mobile DJing. You can purchase Audio FX like Echo, Hi & Low-pass, Phaser, Brake, Roll, and more. The app comes with a sampler that has over 72 samples.
These samples are synced with the player.
The Keylock and Key Detection modes are some of the must-try features of the app. You can use the Key Detection feature to determine the key of any track in your playlist. Whereas, the keylock feature allows you to adjust the BPM of the track without affecting its key.
Edjing Mix
If you're not a fan of apps that come with a boring layout, you must try Edjing Mix. Not just looks, the app will impress you with its numerous features too. The app offers you more than 20 DJ effects that you can use to give your mixes a unique creative touch.
Apart from the basic functions which include tempo, volume, and beat-grid you can add other effects to your set by pressing the buttons at the center of your screen.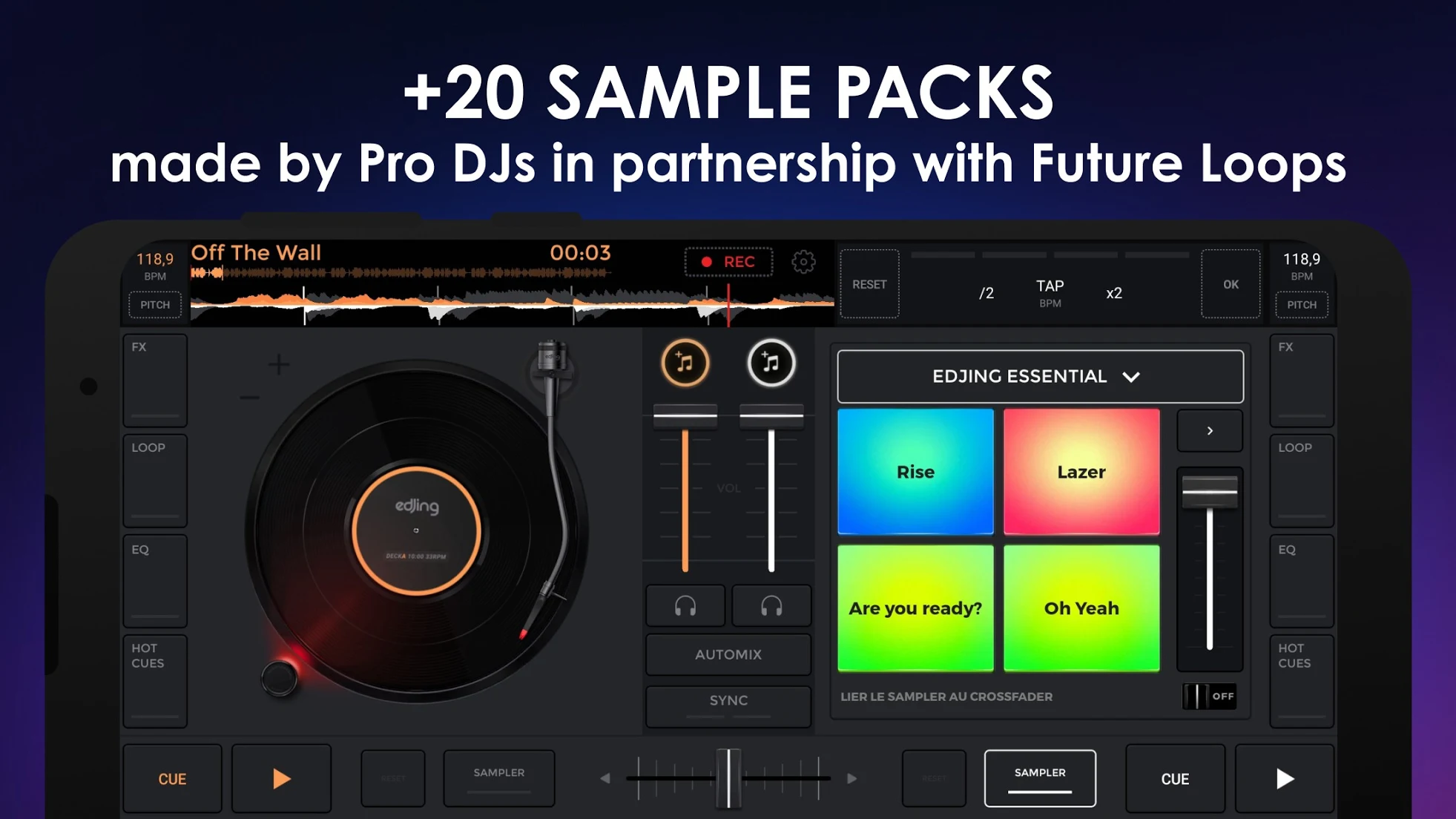 There are numerous ways to access music with Edjing. Accessing the songs in your storage is one of the basic ways. You can also stream songs from several streaming services such as SoundCloud or Spotify.
The free version allows you to access SoundCloud and iTunes, for other services like Deezer, you will have to purchase a premium account. You can unlock many other features by purchasing them with in-app purchases.
You get 16 samples such as siren, kick, gunshot, snare, and more in the free version.
You can choose to purchase from 20+ sample packs that include beats from genres like EDM, Dubstep, Hip-Hop, etc. The samples are created by Pro DJs in collaboration with Future Loops.
The app comes with a three-band EQ control which also gives you the added advantage of EQ gain. Using the EQ bands and gain in combination will help you transition smoothly between the tracks.
Traktor DJ 2
This is an entirely free app that you can use for practicing your DJing skills. Moreover, it is an upgraded version of the previous app which makes it even better. The Traktor DJ 2 offers great speed, beat-grid and BPM detection, and a great sync feature.
It is a great app for beginners as it comes with fewer features that are essential and easy to use. You can cue your personal playlist to the app, or you can start using the app with some of the preinstalled tracks.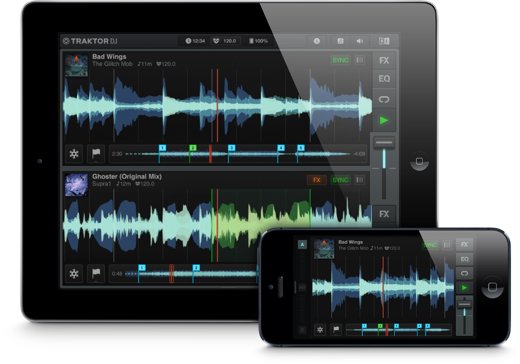 Additionally, the clear and easy layout of the app provides a great user experience to beginners.
The app keeps updating periodically which enables the company to add more features. This will eventually make the app suitable for advanced DJs too. It also gives the users precise beat detection which can be a great relief.
Traktor DJ 2 makes sound shaping not just easy but also effortless. It comes with EQs and filters on each channel enabling you to cut and blend the vocals and frequencies of a track. These effects allow you to twist the sound and make them sound creative.
The app has a feature called 'Freeze Mode' which can be useful for both beginners and seasoned DJs. It is indicated with a snowflake icon on the app screen. When the button is pressed, the app freezes the track and the frozen part plays like an instrument.
You can use the freeze mode to chop vocals, extract drum beats, and other sounds for your set.
With the Traktor DJ 2, you can even perform in small level gigs as the app is compatible with the Traktor Kontrol S2 MK3 DJ controller. Since it's designed for Traktor DJ 2, you can plug your device in and start playing your set.
The app is also compatible with various other DJ controllers such as Traktor Kontrol Z1, S2 Mk2, and S4 Mk2.
DJ Player Professional
This is among the few apps that offer multiple device and USB interface compatibility. It comes with numerous features that make using the app easier and convenient. Also, the app has a very simple layout which adds to the user-friendliness.
All the features and functions are labeled well making the app hassle-free to use even during live performances. Functions like tempo, vinyl control, sync, beat grid, multiple outputs, and more are placed conveniently.'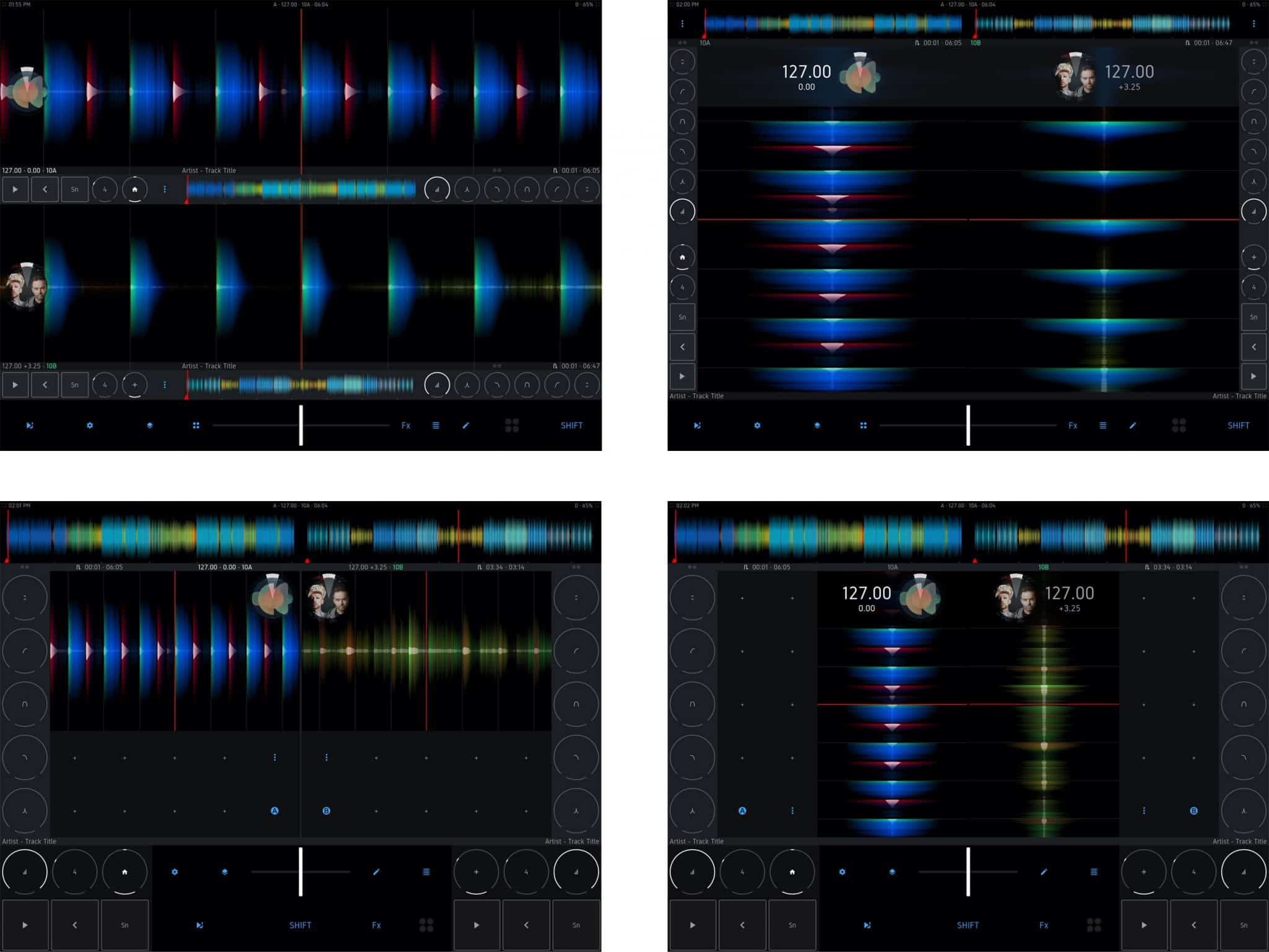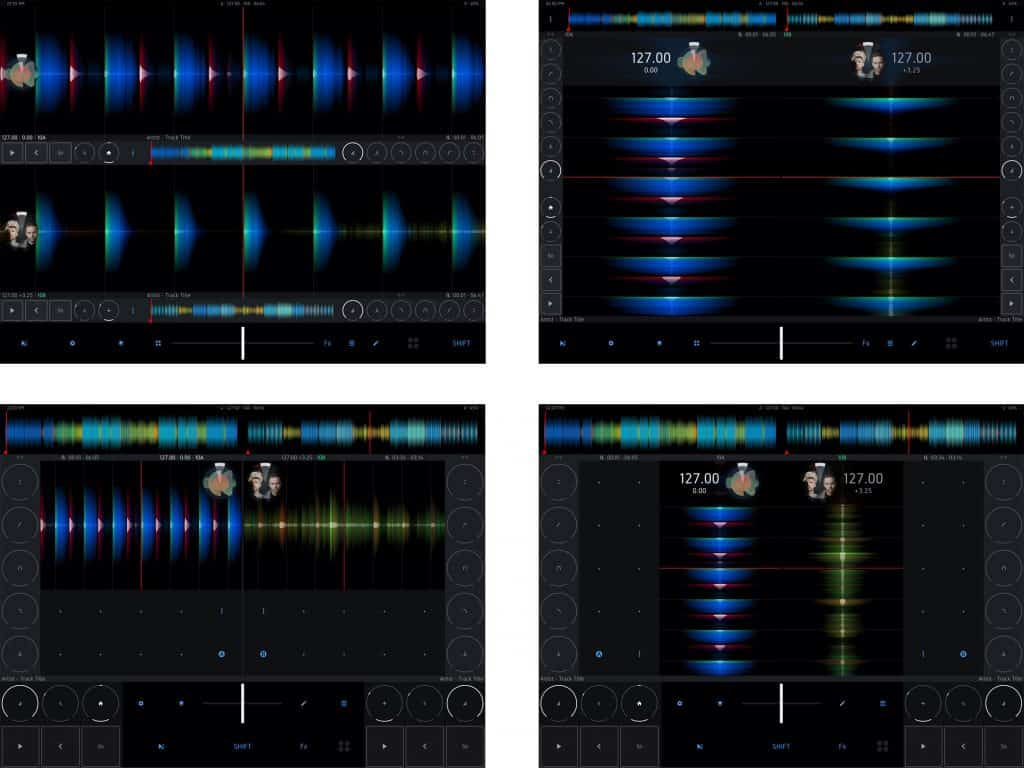 With the numerous features of the app, you can mix your tracks in countless ways. Due to the high number of features, it might seem a little complicated for beginners. So if you're looking to foray into the world of mobile DJing, this app can be a great place to begin.
Create mashups and remixes all you want with the DJ Player Professional app as it supports stem files. You can use up to 4 decks with 4 stems each. This further allows you to control around 16 tracks at once.
As the name suggests, it is a professional app. Therefore, it is programmed to work with professional set up equipment such as MIDI controllers, Vinyl turntables, sound cards, and external mixers.
The app gives you the advantage of storage access which you can use to add cue points, loops, BPM data. Also, you can store all of this data configuration on the DJ Pro Cloud feature of the app.
You can also use the tracks uploaded by other DJs.
It comes with a 3 band EQ which is adjustable from -100db to +6db. Furthermore, the EQ band provides features like channel fader, low and high-pass filter, crossfader with adjustable curves, and gain.
Pacemaker DJ
The Pacemaker DJ app stands out among the others due to the various functions that make DJing a lot easier. It carries a simple look that enables you to understand the app in a short time.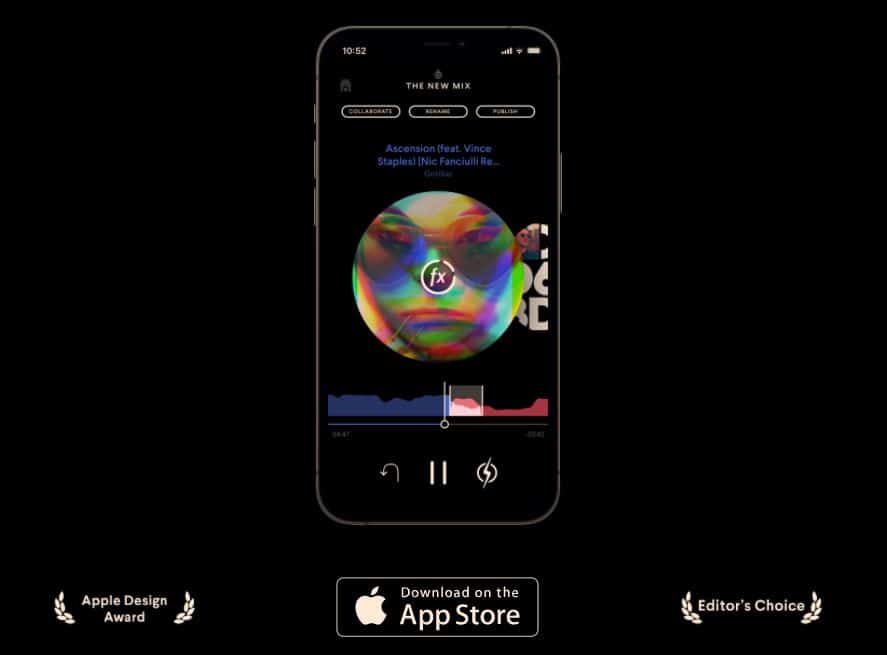 It features all the necessary functions and effects that are required for beginners. The app comes with a sync button, crossfader, jog wheels, effects, and more. These features have multiple functions while the jog wheels can be used for creating a wide range of effects.
To access the advanced effects and configurations, all you have to do is tap the jog wheels and the app will show them on the screen.
If you don't have a music library yet you can stream tracks from Spotify or pick tracks from your storage. Also, the easy overlay enables you to find music very easily. The application is compatible with a wide range of devices. Not just DJ controllers, you can use the application with your Apple watch too. You can mix or add effects to any track from your Apple Watch with a touch.
It also offers different sound effects depending on the kind of device you use. For instance, if you're an iPhone user the app provides you with effects like ChopChop, Hi-Lo, Whitenoise, 8-bit, and more. Whereas, iPad users get Roll, Beatskip, Echo, Loop, etc.
The app has a community of its own where aspiring and seasoned DJs share their tracks and experiences. You can socialize or collaborate with other artists too.
Deej
Deej boasts a simplistic layout that is best suited for beginners. Its clean design and basic functions can help you learn a lot especially if you're new to DJing. The app also has tutorials integrated for beginners.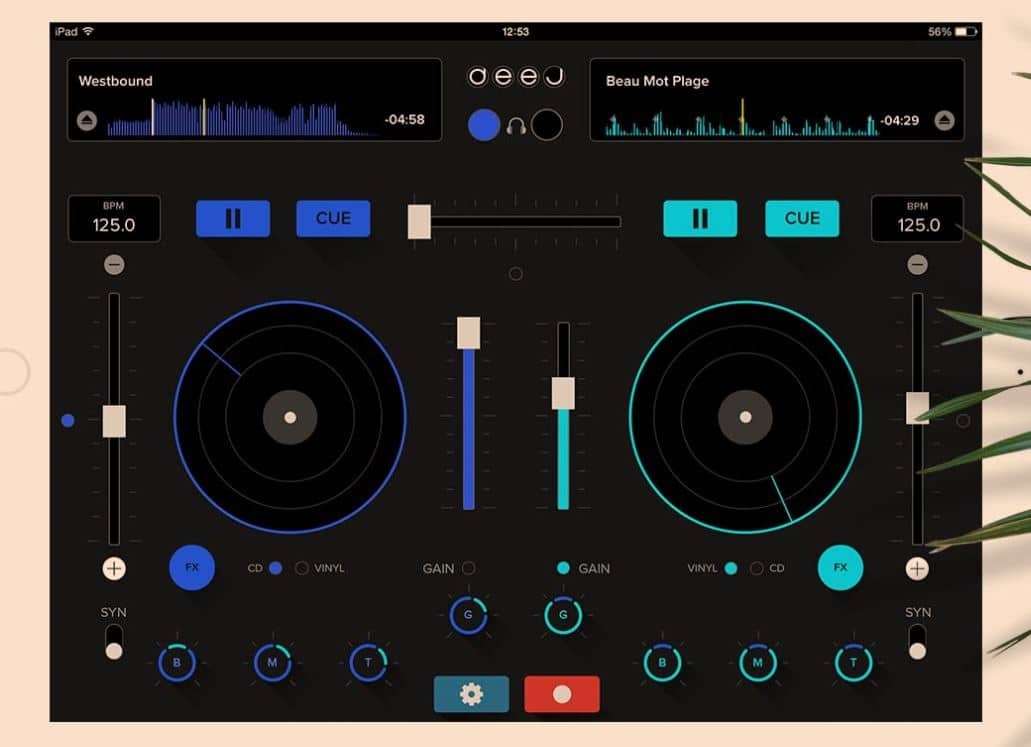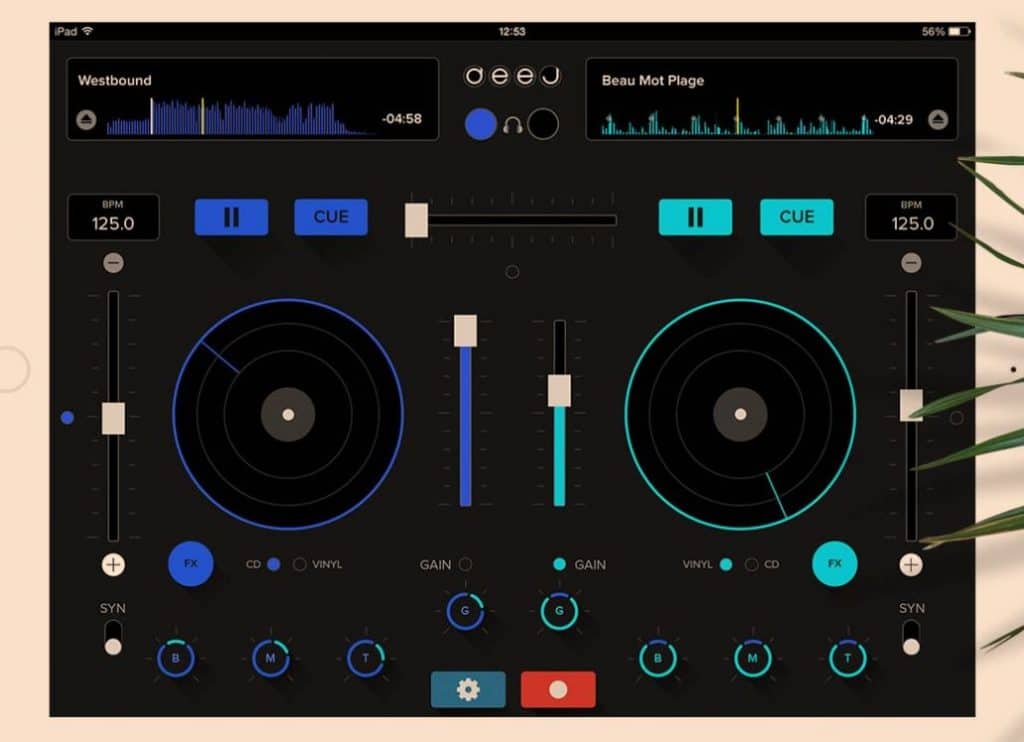 You can refer to them to gain knowledge about the basic aspects of DJing and learn how to use the functions.
Even though the app comes with a lot of features, all of them are arranged ergonomically so that they don't look too cluttered. You can use functions like tempo adjustment, 3 band EQ, cue points, beat grid, and jog wheels to create or mix sounds.
While it does help beginners a lot, the app has one particular feature which benefits seasoned DJs. You can record the tracks and upload them to SoundCloud, Mixcloud, or Dropbox.
There are cool effects included in the app. Echo, phaser, filter, and flanger are some of the common effects that you can use to make your track sound better.
You don't have to worry about the app's compatibility with different devices. You can download and use the app on all Apple devices. It also works smoothly on iPhone 5 and retina display iPads.
Conclusion
Whether you're learning, practicing, or exploring a new career avenue with mobile DJing, choosing the app that matches your level of expertise and interests is very important. The apps mentioned above are regarded as one of the best according to users and worth giving a try.