As more and more people turn to mobile DJing, the question often comes up – what are some good Android DJ apps? Fear not because today we have the answer.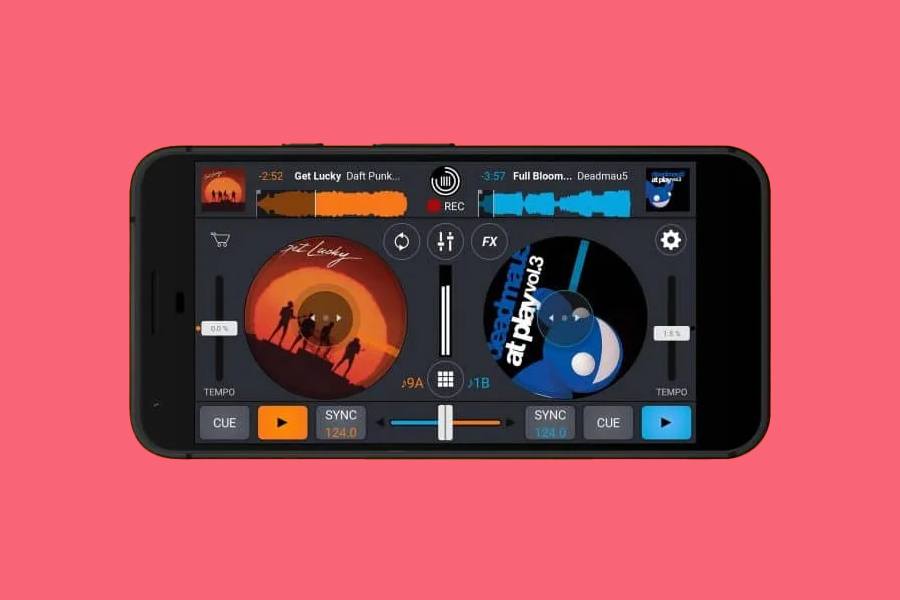 We all use mobile phones for varying purposes but now you can turn it into a full-fledged masterclass or a music studio. All you have to do is install DJ apps that come with all the latest and necessary features. 
Let's take a closer look at the best DJ apps for Android.
DJ Android Apps
Cross DJ
Cross DJ was one of the first DJing applications that were designed to work on mobile phones. It provides an all-around premium experience to the user. The creators of the app claim that it is one of the best mobile DJ applications on the market.
The free version of the app does offer some interesting functionalities. You can begin with track syncing, pitch bending up to 5 levels, BPM detection, and beat grinding. With the pitch-bending feature, you can manipulate the sound between the ranges of 4% to 100%.
Cross DJ also lets you integrate SoundCloud and iTunes to help you source songs.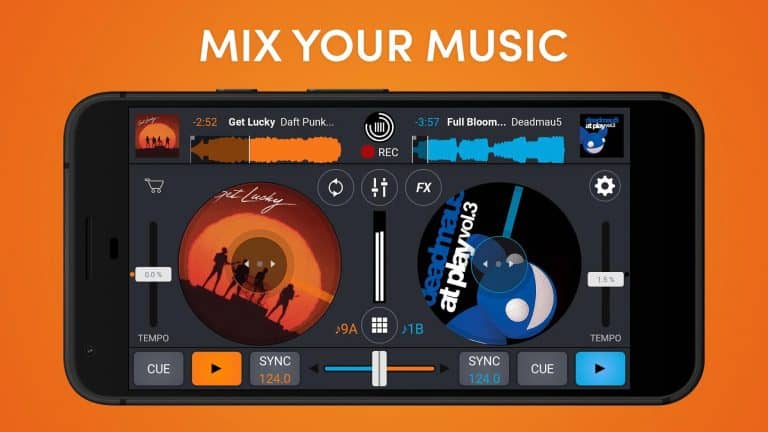 And that's just the tip of the iceberg! The app opens a whole new world of options in its premium version. You can purchase different functions like external mixer support and auto-mixer to take your mobile DJing skills to a new level. Also, you can purchase sample packs to add to your tracks.
Another important feature of this app is automatic track suggestion. The app analyzes your track and suggests beats or tracks that you can use to get a clean mix.
While Cross DJ is a great app for mobile DJs who want to create beats on the go or use a mobile setup, there are in-app purchases available which might turn off some potential users.
You can also use Cross DJ with your iOS devices like iPads or iPhones and connect it with a suitable iPad controller to make the most out of it.
DiscDJ 3D Music Player
If you want to use something out of the ordinary, the DiscDJ 3D Music Player can be a perfect pick. It has a 3D view of a real-life DJ controller with buttons that control the functionalities of the app.
The app is a great way to learn about mixers and practice them before you get your hands on them. However, you have to be careful with the touch feature as misclicks are very common in this app because of the small screen size.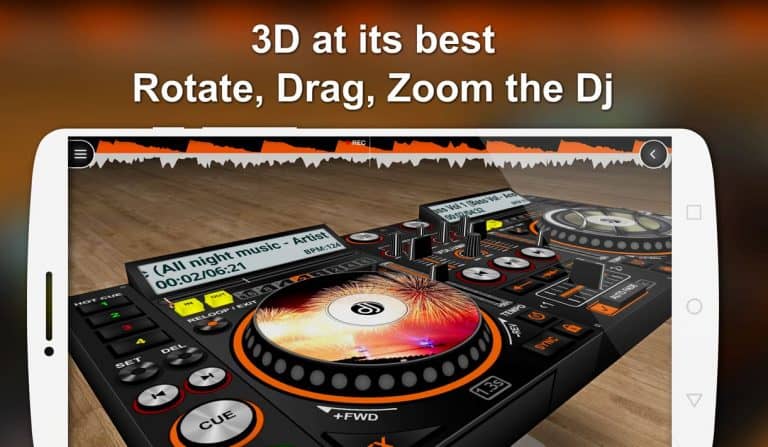 Download Links: Android
To make the most out of this app you will have to download all the songs you need for your set. If you already have a song library you can use the app to mix the tracks quite easily. With all the buttons and knobs at your disposal, you will be able to mix quite well.
It is quite an impressive and useful app for DJs who love spending more time with a mixer. It might not be easy to use the app at first but as you learn more about it, you will be able to use it more efficiently.
Music Maker Jam
The Music Maker JAM is unique because it not only allows you to mix tracks but also does some basic production on it. You can use the many buttons in the app to create different sounds.
There are many sounds and sound packs to begin mixing or production right away. For DJs who are just starting to learn production, this app can help them boost their learning process.
Other features in the app include an 8-channel mixer, a recording function to record your mixes, tempo adjustment, and the freedom to make your remixes. Also, you can share your recorded mixes on social media.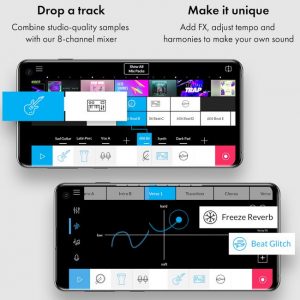 Download Links: Android
For serious music creators, the app comes with a pro version. The pro version costs around $3.99 a month which goes to a price of $47.99 a year. If you consider all the features and functions the app offers, the price will seem fairly reasonable.
In the pro version, you get access to all the sounds, latest effects, and different modification modes. The different modes include playback modes, reverse modes, double-speed modes, and half-speed modes.
Overall, the Music Maker JAM is a perfect app for recording, creating, and mixing music.
Djay Free:
A user-friendly app that is perfect for people who are new to DJing. The sharp and cool interface of the app is perfect for beginners. However, it has almost all the tools that are suited for professionals.
The app offers almost all features in the free version. You can use the sync option, faders, beat-grid analyzer, jog wheels with scratch function, tempo adjustment, and more. You can also customize the interface for a personalized look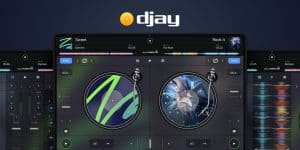 Download Links: Android
All these features are hard to find and since they're free, it makes the app even better. The app does ask you to get a pro version for uninterrupted mixes, but that's up to you.
Djay Free is the best app for beginners who wish to learn about all the functions that are crucial for DJing.
DJ Studio 5:
DJ Studio 5 has a to offer to both beginner or seasoned DJs. It has a clean design that comes loaded with features that can help you while learning or creating your set. The app gives you most of the features for free.
To begin with, you get 10 free samples and 8 sound effects in the free version. Also, you get features like tempo adjustment, jog wheels, equalizer, a beat grid, cues, etc. These features can help you create music with ease.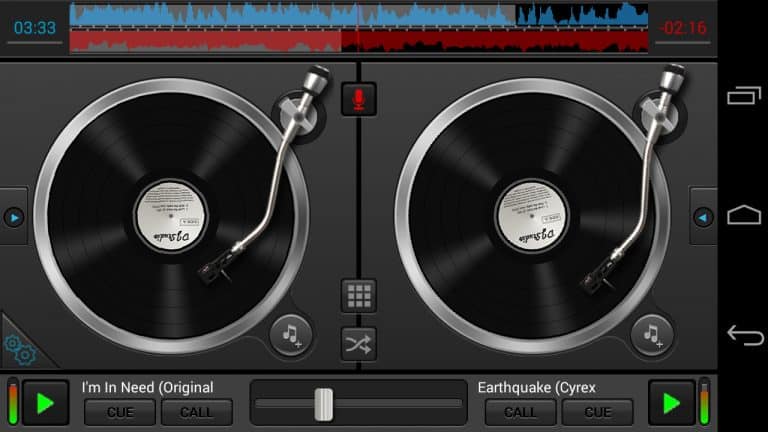 Download Links: Android
Some apps pester their users with ads that cause interruption while creating music. That's not the case with DJ Studio 5. You can get rid of the ads without having to buy the pro version.
DJ Studio 5 comes with another interesting feature that can be very helpful for DJs. The app sorts your downloaded music not just by the song's or artists' name. It sorts the song by analyzing the BPM!
The app comes with 7 customizable decks. You can customize each deck based on your preference, convenience, or performance.
There is a sharing feature in this app. It allows you to share your playlists with your friends on social media.
eDJing Mix
Edjing Mix is designed to offer great performance no matter how skilled you are. It has been created in collaboration with Pro DJs to offer a complete DJing experience. The app transforms your phone into a real DJ setup.
It allows you to use SoundCloud to source music along with all the local folders. With this app, you can create great remixes in an instant. There is a new sampler included in the app and it also comes with hardware integration ability.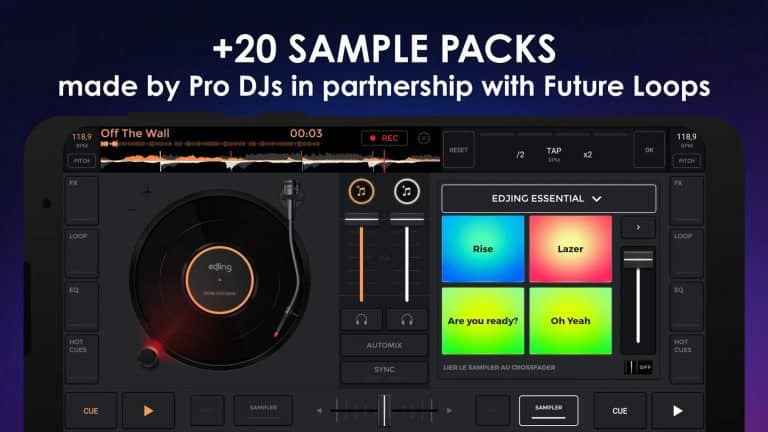 Download Links: Android
The app comes with a smart search feature that shows all your songs from different sources on the same screen. Moreover, the app's song analyzer sorts the songs according to their BPM. You also can create a queue for the upcoming songs.
Its new sampler gives access to 16 free sample sounds such as kick, snare, gunshot, siren, and more. You link the crossfader to the sampler to manipulate sounds based on your crossfader's position.
Apart from these, the app provides you all kinds of DJ tools that are required for DJing. The app has an automatic BPM detection feature, audio spectrum, pro audio FX, loops, pre-cueing, and more.
eDJing Pro LE
This is the free version of the Edjing Mix app therefore it is named LE (Light Edition). It has a new sound system that provides precise frequency analysis, accurate beatmatching, and sound effects.
Just like Edjing mix, this app is also designed in collaboration with Pro DJs. The interface of the app is highly intuitive which adds to the user's convenience. It has large audio spectrums that offer the best beat localization. This lets you adjust the songs easily and match their BPM faster.
It also comes with a mixer interface with vinyl turntables. It has a Tap BPM mode for adjusting beats manually. The freeze function of this app can be used to stop a particular spectrum and play the best parts of the song.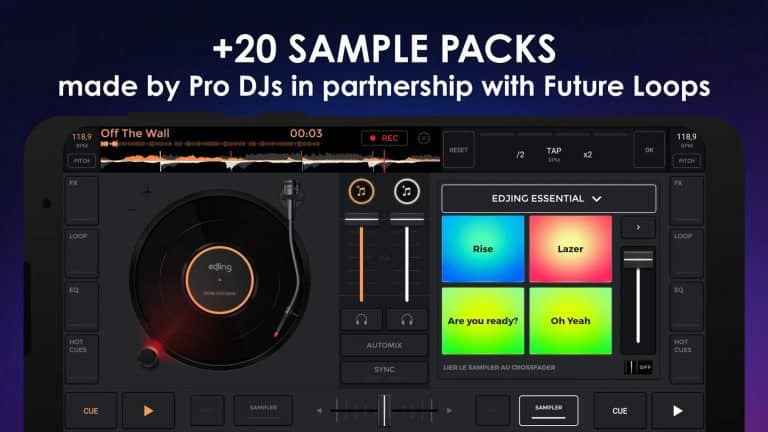 Download Links: Android
The app has a smart mini spectrum for browsing through the track. You can choose from various effects like the roll filter, the beat grid, and the roll to turn your track into a masterpiece. These effects are created to synchronize with your track seamlessly.
On each channel, there is a three-band equalizer along with filters for adjusting the bass, mid, and treble of the track.
DJ Mix Pads 2:
DJ Mix Pads is a multifunction application that works best as a sound maker and it is used widely by both seasoned DJs and beginners. It also has a musical community where people share their music with other DJs.
You can create anything from rock music to a dance track like a professional musician. There are various audio effects that you can use to give your tracks a unique touch. It has a mic sound recorder for recording vocals or adlibs.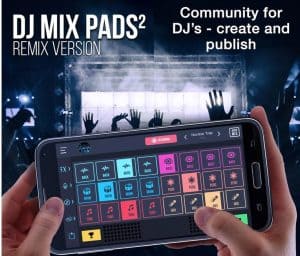 For beginners, the app offers a detailed tutorial. It helps them learn about the different functions of the app, and how to use them while creating music.
The DJ Mix Pads 2 community can be your platform to become known among other aspiring or seasoned DJs. It's quite easy to share music in the community, all you have to do is press the record button to export the song and share it with others.
Not just that! The app has its music charts with categories like top songs, top studios, and even top users.
While the free version of the app already offers you a lot many features, you can get the pro version for additional benefits and an uninterrupted experience.
So if you're planning to spend a long day in the studio mixing beats and creating music, you are going to need these.
WeDJ
WeDJ is built by professional DJs, for DJs who need reliable apps that help them play their set in clubs. Made by Pioneer DJ, the app offers a premium experience to the users along with a flexible and seamless experience.
You can play and mix songs or tracks stored on your android device. The different features of the app enable you to create music and effects to make exceptional sets. It has different FX options such as echo and reverb that can give your music a unique touch.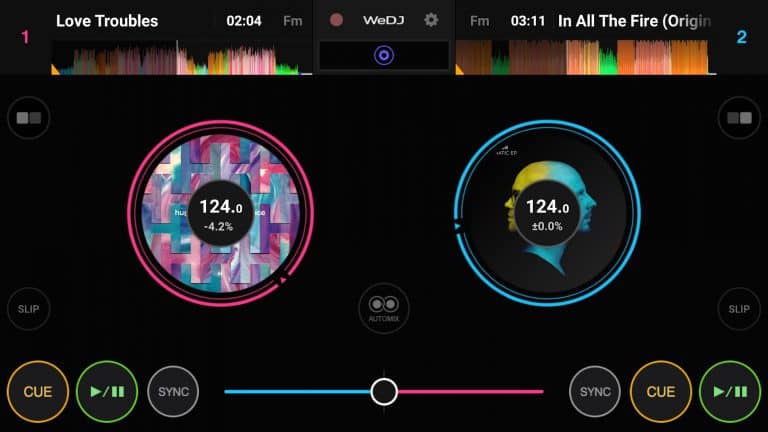 Download Links: Android
The app also has a sampler with sounds like Horn and Siren. For smooth mixing, the app offers a 3-band EQ to adjust the volume of the sound ranges. Also, there is a tempo slider for controlling the speed of the track along with Master Tempo that keeps you from making changes to the key.
It comes with a 2-channel layout that lets you play two different tracks at the same time. This is great for DJs who need to use their mobile for playing sets. The app features a beat sync program that allows you to sync the tempo of two songs.
Just like all the apps, the app has jog wheels on the screen for scratching.
Party Mixer – DJ Player App
The Party Mixer App is a great DJ mixing software that allows you to play two tracks at the same time. It has a crossfade feature that lets you control the tempo and pitch of the tracks and mix them effortlessly.
There is an 'Auto DJ' feature included in this app which mixes songs automatically for you. The app allows you to create, save, and load playlists conveniently.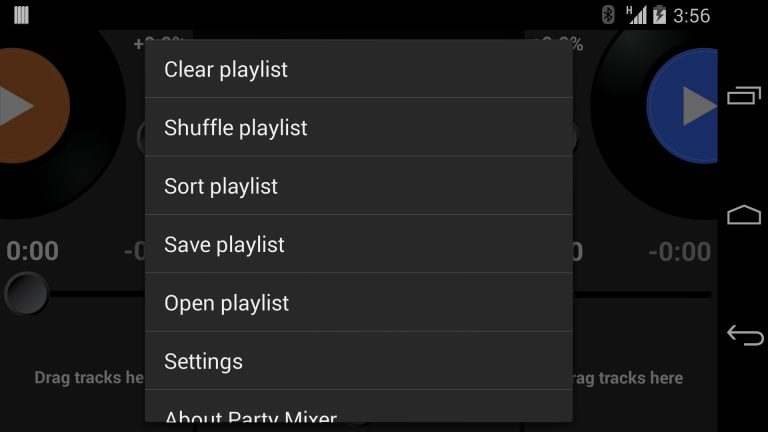 The simple design of the app makes it easier to use even by beginners. Anyone with or without DJing experience can start playing with this app. Using the app is very easy, all you have to do is create a playlist and then drop the tracks on the decks.
Other features of this app include seeking within the tracks, search in playlists, and the ability to access all kinds of music on the device. When seeking within the track you can see the time elapsed and remaining time.
The device is compatible with all android mobiles and tablets that have Android 2.3 or newer. Sadly, the tempo and pitch control might not be supported in some devices. You can use audio files of specific formats such as mp3, m4a, mp4, 3gp, mid, and wav. Android devices with version 3.1 support FLAC and AAC files.
Frequently Asked Questions
DJing apps can be very helpful in learning new DJing techniques or creating a new beat to include in your next set. There are both paid and free versions of DJing apps available in the market, when it comes to choosing between them you need to consider the pros and cons closely.
Also, you need to ensure that the app and all its functions run smoothly on your device.
Which DJ app is the best for Android?
There are a lot of different answers to this question depending on who you ask. But, in my opinion, the best DJ app for Android is the Djay app. This app combines all core functions and dj effects into a simple and intuitive interface. It's one of the easiest apps to get into and one of the best for beginners.
What is the best free DJ App for Android?
The best free DJ app for Android is DJ Studio 5. It has the most comprehensive free version of it's software – including the most features for free. While there are in-app purchases, you can do all of your mixing and playing using the free version. This app includes 5+ sound effects, 10 different sample pads, equalizers, the ability to record mixes and more making it the most comprehensive free DJ app for Android.