The iPad's portability and convenience coupled with its ability to perform a multitude of tasks has helped reshape many professions including DJing. Considering the fact that DJs are always on the move and they cannot carry their equipment with them everywhere, discovering the best iPad DJ controllers can be a great solution – especially for mobile DJs.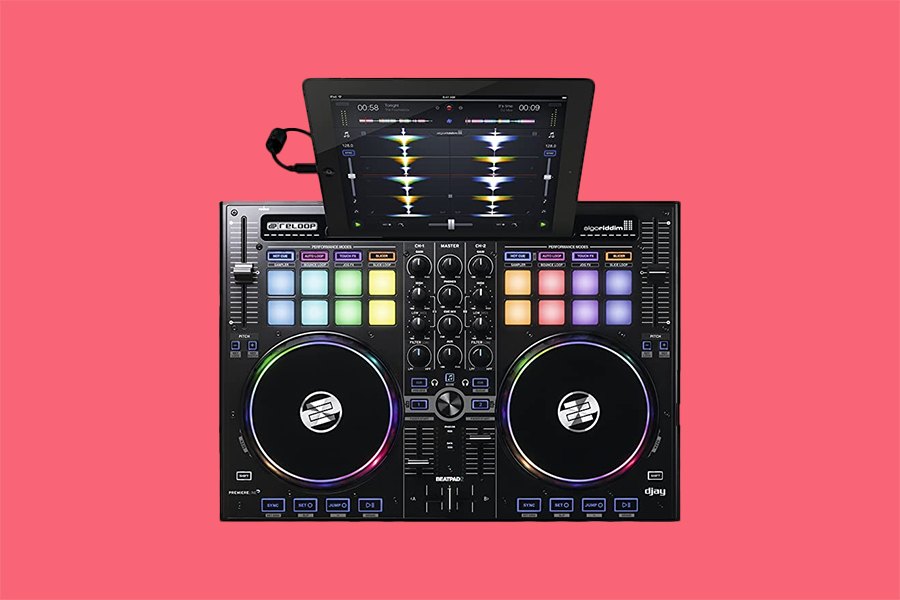 Best iPad DJ Controllers – Our Top 3
Industry-first plug 'n' play with djay and SeratoDJ (enabled)
Multi-platform support for iOS/Android/PC/Mac,
First docking mount that holds up to an iPad PRO (12.9")
8 performance modes
Makro FX mode: combine any effect with the sound filter on each channel
Loop control section with length indication
large aluminum jog wheels with LED illumination
Multiple inputs and outputs
Complete Algoriddim djay and Serato DJ System
2 DJ decks of control with touch-sensitive jog wheels
Built-in audio interface
Plug & play USB connectivity for Mac, PC and iOS
DJ Lighting FX that syncs to your DJ mix
Performance pads with 4 DJ pad FX: Effect, Cue, Loop, and Sampler
Filter knobs and Pitch Sliders on each DJ deck
Streaming capabilities
Jog mode: spin-to-nudge function & scratch capability
Beat grid adjust mode
Club-standard layout with identical deck design
2-channel mixer
16 RGB pads for triggering Hot cues, loops, or samples.
Headphone Output
3-band EQs as industry-standard
An iPad can do a lot of things for a DJ, which goes to the extent of performing an entire gig. But looking at more practical applications, connecting a DJ controller is the best way to make use of an iPad in DJing.
DJing with phones and Laptops
DJs have been using iPad and Android compatible controllers for quite a long time. There are numerous advantages to using a smart device which includes portability, compactness, and ease of use.
The very idea of a compact and portable setup attracts many traveling DJs. But with the convenience also comes limitations.
Smartphones and tablets have limited storage capacity and will not be able to store the number of tracks that you need for DJing. There is the option of online streaming, but since it relies entirely on your network connection, there is always the risk of interruptions.
On the other hand, laptops are another option preferred by DJs for portability. Laptops support a large plethora of DJ software and with keys and touchpads, they make the job a lot easier.
Even though there are many options available for laptops, DJs prefer Macbooks due to their excellent performance and robust design. Due to which the top DJ controller software is made to be compatible with iOS.
How to DJ on an iPad?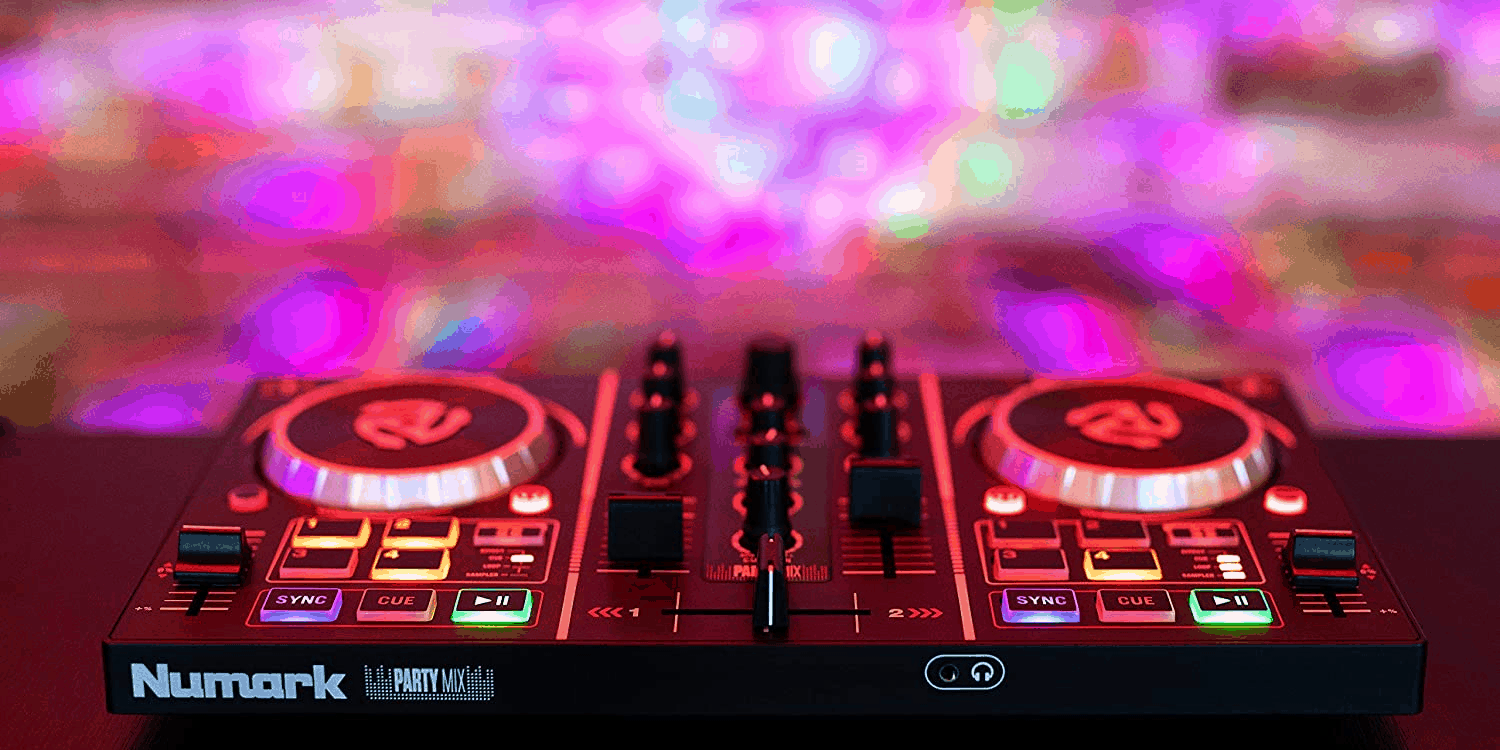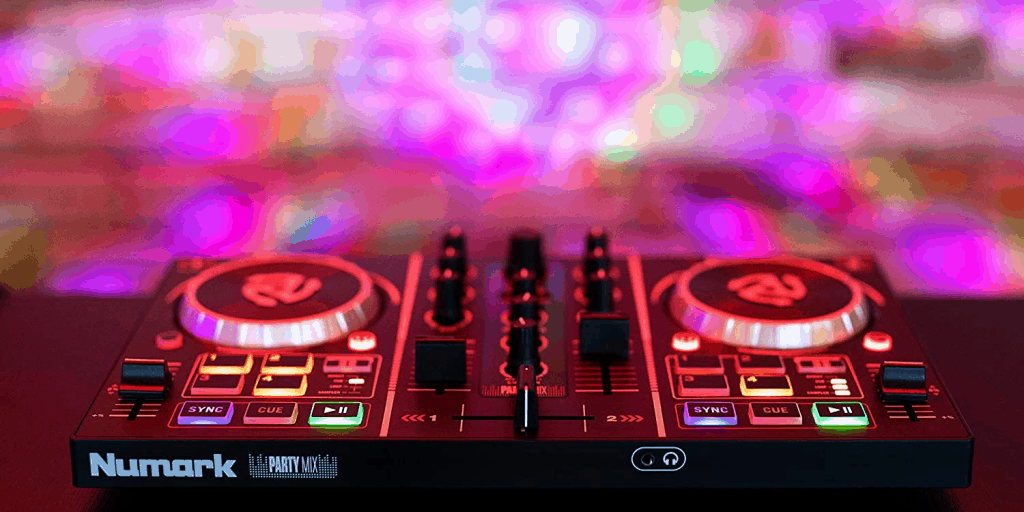 DJing is great as a hobby or a profession and if you've got the talent, you can reach great heights and become an influential DJ. But, to do so you need to keep some things in mind and prepare for the others. Here is what you need to know about DJing with a mobile setup.
Equipment
The most challenging part of DJing is getting the start right. You need to get the right equipment such as a controller, a laptop, speakers, and a DJ table to help you perform. If you go shopping for them you will be overwhelmed with the number of products that come in different price ranges and have different features.
When buying equipment, you need to look for options that are portable and easy to carry around.
How to land gigs?
The best way to land gigs is to market yourself. With good marketing, you can attract potential customers and make money from the art. Come up with a pricing plan that valuates your services fairly. When deciding upon a pricing plan, you need to be very clear about the services you will provide.
For instance, if there's a party that you are invited to play at, you need to be clear about the kind of vibe you would be setting? What does your set include? Are you going to accept any special requests?
Share your previous DJ history as it gives you credibility and helps you get more clients.
How much should you charge?
This is where most DJs tend to mess up. They price themselves according to the prices charged by professional DJs and make themselves look expensive.
Pro DJs charge according to the hour which according to their standard is fair. But, you have to be more considerate with your pricing, since you have just begun. You can charge a single fee for 4 hours and for every hour after that you can charge an hourly fee.
Best iOS, Android, iPad DJ Controllers
The device you use such as Mac, iPad, or PC is only a medium that gives you access to the functionality of the controller. Investing in a good quality controller that comes with numerous functions is the best option when it comes to a new device.
We have compiled a list of the best DJ controllers that you can use with these devices. These controllers come with numerous features and functionalities that can help you make music with ease.
Reloop Mixon 4 Serato DJ/djay Pro DJ Controller
It can be hard to find a controller that offers more features than Reloop. The company is known for creating iOS controllers that have multiple features, and Mixon 4 is a fine example.
Industry-first plug 'n' play with djay and SeratoDJ (enabled)
Multi-platform support for iOS/Android/PC/Mac,
First docking mount that holds up to an iPad PRO (12.9")
8 performance modes
Makro FX mode: combine any effect with the sound filter on each channel
Loop control section with length indication
large aluminum jog wheels with LED illumination
Multiple inputs and outputs
The Mixon 4 is a 4-channel controller for Serato DJ and supports all the latest performance features. Apart from basic features such as slip mode and slicer mode, this controller also features Serato Flip and Pitch-N-Time.
It has very flat jog wheels that are 155mm in diameter. This can be very helpful in learning new scratching techniques or matching the beat timing. The controller features a docking station on top that enables you to connect iPad models up to the Pro 12.9".
There is an amazing feature in the Mixon 4 called the Macro FX. It can be used to combine a filter with any FX on any channel by turning a filter knob. The Mixon 4 supports djay Pro or Algoriddim djay.
The Reloop Mixon 4 is a brilliant DJ controller and its compatibility with iOS and Android devices makes it suitable for every DJ.
Pros:
Has a lot of features
Competitive pricing
IOS and Serato DJ support
Large jog wheels
4 channel support
Cons:
No hardware mixer
Design choices in some places could be better
Has a plastic feel
Pioneer DJ DDJ-WeGo4 Portable DJ controller
Pioneer DJ is one of the most sought after brands among DJs. The company is recognized for its noteworthy devices that comprise the latest features and enable you to create phenomenal tracks. For iOS device users, the company has introduced DDJ-Wego4, the latest addition to the Wego series.
Easy to connect by simply plugging the DDJ-WeGO4 into your PC, MAC, tablet or smartphone with a USB cable or Lightning cable
Compatible with WeDJ Pioneer's easy-to-use DJ performance app for iPad
Free rekordbox dj license key bundled with this controller
Simple layout and advanced control with a host of professional features including Hot Cues, ampler, Pad FX , and loops packed in a compact lightweight design
PC Master Out.Frequency Range: 20 - 20000 Hz
The DDJ-Wego4 is a compact and feature-loaded controller with iOS and Android compatibility. It runs on the Algoriddim djay or you can use it with Pioneer DJ's new WeDJ mobile djing app. The controller also supports computers that have Rekordbox DJ or Virtual DJ software.
You might have to practice with this controller before performing as it has a slightly different control setup. Its main controls include loops, FX, cues, and samples that are placed as buttons around the sizable jog wheels. Once you master these controls with any DJing software, you will be able to play and create sets like a pro.
There are led lights around the jog wheels that look quite appealing and provide visual feedback to some extent while djing.
The company has not made any change to the mixer's design and chosen to keep it simple for the user's convenience. It supports up to two channels with a 2 band equalizer for each. There is a filter knob for both channels that can be used to give a distinctive touch to your set.
It has a small pitch fader for both decks which might be a problem for some DJs. It makes it hard for DJs to match the beats manually while performing.
Pros:
High-quality construction
Compact in size
Supports many devices
Comes with a licensed version of Rekordbox DJ
Cons:
Design is very simple
The Led lights around the jog wheels can be distracting
Pitch fader is too small
To see a Pioneer DJ DDJ-WeGO4 setup, you can watch this video:
Pioneer DJ DDJ-200
This is an affordable alternative for DJs who are starting or looking for a portable setup. The controller packs all the necessary features that are required while DJing. It has a user-friendly design and its lightweight adds to the portability.
Compatible with apps such as Pioneer DJ WeDJ, Algoriddim Djay, MWM Edjing, Rekordbox DJ
2-channel built-in mixer
Streaming capability with your favorite services such as SoundCloud, Spotify, TIDAL and more
Bluetooth connectivity available
Performance pad FX
Built-in tutorial feature
Transition FX
Phrase Sync
Editor's Choice for beginners with a budget
The controller can be connected to a laptop as it is compatible with Rekordbox DJ, and to your phone with the help of Algoriddim's djay or WeDJ from Pioneer DJ.
Its biggest advantage is connectivity. You don't have to carry around wires and cables to connect the controller with any devices, it has an inbuilt Bluetooth functionality that lets you connect it to iPhones and other wide range of devices.
You can also connect it with your laptop using USB if you wish to cue the tracks in your headphones. To connect a headphone for the second cue, you will need a splitter cable.
Unlike most controllers in this price range, the DDJ-200 can be powered with a USB from a power bank. You can connect it to a wall socket, but its ability to function with a USB socket gives it the upper edge on portability.
It comes with superior quality jog wheels, pads and mixer control, and large pitch faders. The controller software comes with Phrase Sync that aligns two tracks by analyzing them automatically and makes your transitions sound more natural.
The controller is compatible with a lot of streaming services which can be very helpful during the performance. You can use it with streaming websites like Beatport LINK, SoundCloud Go+, Deezer, and Spotify.
Pros:
Works with Rekordbox DJ, WeDJ, and djay
Comes with 8 performance pads per deck
Sleek design
Sizeable jog wheels
Big pitch faders
Cons:
No soundcard
Limited Controls
Numark iDJ Pro DJ controller
If you prefer playing on iPad than laptops, the Numark iDJ Pro DJ controller is one of the best iPad DJ controllers for you. It is a pro-level DJ controller that lets you do more with your iPad's touch interface. You can get Algoriddim's djay app for iPad to get a dynamic DJ experience.
Integrates touchscreen and processing power of iPad into DJ control surface
Large die-cast aluminum volume knobs
Work seamlessly with Algoriddim's djay iPad app
Touch-activated platters for Hot Cues, Loop, and Effects controls
RCA inputs, 1/4-Inch microphone input & balanced XLR outputs
1/4-Inch and 1/8-Inch headphone outputs
The controller has a brushed-aluminum casing and is equipped with a plethora of professional controls that enable you to add a unique touch to your music. It has some incredible design features that can make DJing convenient for you.
There are loads of functionalities and tools included in this controller along with a design that inspires you to explore new avenues of music. To gain access to the functions of this controller, all you have to do is connect your iPad to the DJ setup by sliding it into the dock and you will be ready to mix.
Upon connection, you will get access to the capacitive touchscreen turntables, hot cues, die-cast aluminum volume knobs, pitch and effect control, looping, and more. The latching door gives you a secure and seamless integration for an intuitive and powerful DJ system.
The controller has large jog wheels that can be used for scratching and beatmatching. It comes with rotary encoders as a replacement for line faders. This can make your transition smoother as compared to the latter.
It comes with dedicated knobs and buttons for EQ, hot cues, and loops. The controller has many sound output options such as XLR, RCA, 1/4" headphone, and 1/8" headphone. You can use the controller's wireless function to get a song from streaming platforms.
Pros:
Smart integration with the iPad
Easy to combine a touchscreen with physical controls
Large jog wheels
Cons:
Not compatible with Mac or PC platforms
It only fits a 9.7 inch iPad in the docking bay
Native Instruments Traktor Kontrol S2 MK3
Traktor Kontrol S2 MK3 is the advanced version of the previous model. It is compatible with Traktor DJ 2 installed on iOS devices or MAC/PC but plays well with Traktor Pro 3. The controller is equipped with high-quality jog wheels, excellent performance pads, and effect buttons on the mixer.
Find your tracks and mixers quickly with the Traktor Kontrol S2 MK3. With the super-easy controls, you can line up the next track, find the cue point, remove the kick, and reverb to add some hype to the drop.
Add expressive effects along with the essential controls for chops, stops, and seamless transitions. Get the music from your imagination from the speakers within seconds. If you are a seasoned DJ, you would love to play on the jog wheels. The high-quality jog wheels are great for beatmatching, scratching, and scrolling through the songs.
To avoid missing out on timing, the controller lets you jump to the different parts of the track with cue points. The controller has cue points on each of the eight pads on the deck. You can also get creative enough to play it like an instrument.
There are loops that you can use for longer mixes and even use them as an experiment in your tracks. The Traktor Kontrol S2 MK3 ensures that you have maximum control over the deck so that everything stays in sync with the beat and you never lose the groove.
Fill in the gaps between your songs with wonderful transitions that can be added using the one-touch control of the Mixer FX. It has been added to each of the channels.
Pros:
Superior quality build
Amazing jog wheels
Supports Traktor DJ 2 and Traktor Pro 3
Comes with mixer effects
It has large pitch faders
Affordable Price
Cons:
Free yourself from the restrictions of software for mixing with the Reloop BeatPad 2. It is designed to support platforms like iPad, Mac, and Android. BeatPad 2 is one of the most reliable and professional cross-platform controllers.
It is based on the original BeatPad controller due to which it can help you unlock the full potential of the widely recognized DJAY 2 mixing software from Algoriddim. Since it supports all kinds of platforms, you don't have to install any additional software for the setup.
The BeatPad 2 comes with several remixing features such as loop, sampler, slicer, and dynamic multi-effect control are some of the few. It has touch-sensitive drum pads that are illuminated with RGB lights that provide visual feedback for the selected mode.
You can control the 8 cue points and 6 samples on every deck directly from the controller's surface. The matching color of the software and controller makes this process a lot easier. It is the first controller that lets you control the Slice and Slice Loop mode in DJAY 2.
With the flexible EQ preset switch on the device's rear side, you can adjust each channel according to your requirement. Owing to the Algoriddim's DJAY 2.5 update, you can stream songs of your favorite artists, current charts, and personal playlist.
It also comes with the innovative Match feature that recommends tracks that would complement the one playing. You can get a track preview within the browser without loading the track. Whereas, the 'Queue List' gives you a virtual queue that shows suitable spots to add a track.
Pros:
Strong build
Compatible with different platforms like IOS, Android, Mac, and PC
Incredible jog wheels
Cons:
The colors around the jog wheel look gimmicky
Numark Party Mix
This little controller will blow your mind with its insane functions and abilities. It is super portable and comes packed with all the crucial DJ tools. To top it all, it offers seamless connectivity to your Mac or PC. If you have a USB to lighting cable and Virtual DJ on your iPad, you are set for the night.
Complete Algoriddim djay and Serato DJ System
USB DJ Equipment for beginners
2 DJ decks of control with touch-sensitive jog wheels
Built-in audio interface
Plug & play USB connectivity for Mac, PC and iOS
DJ Lighting FX that syncs to your DJ mix
Sync, Play/Pause & Cue buttons
Performance pads with 4 DJ pad FX: Effect, Cue, Loop, and Sampler
Filter knobs and Pitch Sliders on each DJ deck
Library controls for browsing / loading tracks
Stream your DJ music through Serato DJ Lite (Included) or djay Pro AI from providers including SoundCloud, Beatport Link, Beatsource Link and TIDAL
DJ Headphones output
1/8-inch main output to connect to DJ speakers;
Integrated DJ mixer with 2-band EQ channel faders and crossfader
It comes with the Serato DJ lite that allows you to browse, play, and mix your favorite songs.
This controller comes with a built-in soundcard and essential controls that are needed for DJing. You can use the 2 jog wheels to match the beat timing and even move forward or reverse in a track.
There are buttons for sync/play/cue buttons, headphone cueing, four performance pads, and a crossfader. It has lights that can create a disco-like ambiance.
iPad DJ Controllers: Our Final Thoughts
All kinds of systems have their advantages and disadvantages. But as a DJ you need to understand your requirements well and choose from the different equipment to perform. You also need to learn how to handle crises and deploy contingencies to keep the show going. Looking for the best DJ controllers overall? Read our ultimate guide to the top DJ controllers in the market today.