In this post we learn all about timecode vinyl, from its invention all the way to the best digital vinyl system setup options available to you.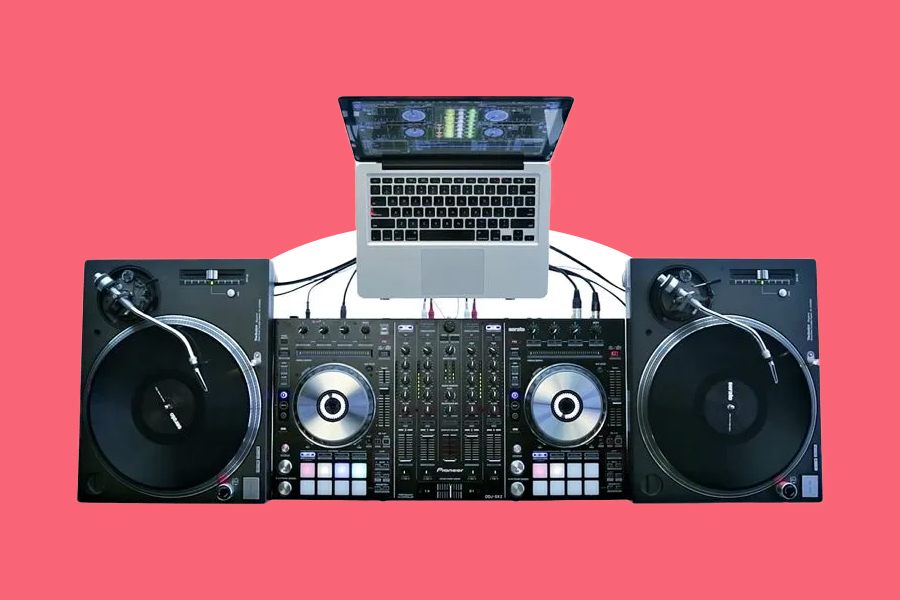 Digital vinyl systems have quickly taken over from traditional vinyl, allowing more people to spin 12″ records and enjoy the traditional feel of mixing.
If you're thinking of getting a traditional DJ setup; timecode vinyl could save you thousands! You won't have to carry around a huge heavy bag of records when you're gigging, and you won't need a whole room in your house to store hundreds of records.
In this post we'll learn all about Timecode vinyl and digital vinyl systems, from where it all began all the way up to the most advanced setups available today. We'll find out how you can easily DJ with vinyl and a laptop, and explore your setup options. But first let's take a look at why timecode vinyl is so appealing to the modern DJ.
The vinyl struggle
Back when I started DJing in 2006 digital DJing and timecode DJing were already big business. I actually started mixing digital tracks on an old version of virtual DJ. But all of my friends were still spinning vinyl records with no sign of any timecode vinyl or even a computer.
I'd never heard of timecode vinyl, digital vinyl systems, or even Serato at that point. And even if I had, my budget wouldn't have stretched enough to afford the hardware and software. Naturally I went with what seemed the most popular choice at the time, plus I had big plans.
My main goal at the time was to build a sound system to start holding illegal raves in the local forest, naughty naughty! So one sunny day I went shopping and bought myself a nice new set of turntables and a mixer. As soon as they were set up I scanned the internet for some records not realising just how much they were going to cost. Thirty minutes later I'd bought 20 records at the cost of £150, that's about $200!
You soon get bored of mixing the same records over and over, so I regularly bought packs of 20 over the next 3 years. I ended up with a stack of vinyl, no space to store them, and an empty bank account. I was literally spending thousands on records alone!
This was not specific to myself, any DJ that started DJing on turntables will know all about the struggle! Many modern DJ's won't realise that this was just how it was back in the day.
There's hardly a DJ out there who earned more from DJing within their first five years than they spent on records. So you can see why digital DJing has taken over, making DJing much more affordable.
Some DJ's still love spinning original vinyl records which is great. You can keep your record collection and spin those records as much as you like. But you don't need to buy any more expensive records ever again. Because there's a way of using vinyl records without spending a fortune on your all time favourite tracks. And that's where timecode vinyl comes in.
Vinyl emulation history – What is timecode Vinyl?
Back in the year 2000 a company called Serato audio research were experimenting with scratching music on a computer screen. They were able to develop software that allowed people to do so with a CD and called the program Serato.
At the same time a Dutch company called N2IT previewed the worlds first timecode vinyl system to the world. The records played just like normal vinyl but sent signals to a computer via an interface called ScratchAmp.
The first time we heard of this was in a New York Times article in 2001. Richie Hawtin was DJing a techno set in Manhattan for many hours using nothing but timecode vinyl and a laptop. This system was called final scratch and you can read the full New York Times article here.
There's been confusion over who actually came up with the original idea of timecode vinyl and many lawsuits have been filed. There's been claims from N2IT, Serato, and even RZA from WU Tang Clan. RZA even claims he invested $2 million into the idea in 1997.
But I think Steven Carroll is the man that really deserves a mention. You can read his full article explaining how he came up with the original idea in the nineties here.
N2IT really started the ball rolling with final Scratch, but they soon disappeared after collaborating with native instruments. Native instruments now produce one of the most popular programs available called Traktor.
By 2002 Serato had also been able to develop timecode vinyl that was encoded to work in conjunction with Pro Tools. This was called Scratch Studio Edition and it acted as a plug-in for Pro-Tools.
This was great but DJ's couldn't carry their Pro-Tools rigs on stage with them at every gig. So the Serato team got to work and produced a program called Serato Scratch Live.
Many more years of progression has lead to the current program called Serato DJ. This software can be installed to Windows or mac OS and will allow you to use a digital vinyl system (DVS).
How to DJ with digital vinyl and a laptop
The Serato DJ DVS lets you play music directly from the Serato DJ interface using your standard turntables. This is done by linking your turntables and mixer to your computer using a simple sound card, also known as an audio interface.
You then import music from your computers library and simply drag and drop the music tracks to the onscreen decks. Once the track is loaded you'll be able to control it with timecode vinyl or with timecode CD's! The timecode vinyl / CD will act just like a normal record / CD.
The Serato software will collect information from the timecode vinyl/CD. This includes playback speed, direction and the position of the track. So you can cue, scratch, spinback and use the turntables pitch sliders just as you normally would. You won't need any special needles to use with the timecode vinyl, you can just drop the original needle wherever you like on the record and the track will play from the start. This is timecode DJing!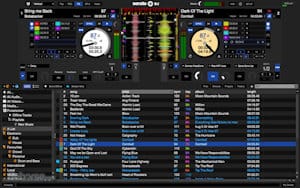 While Serato has remained the most popular choice for DJ's around the world there's been plenty of competition. The main competitor being Native Instruments with their software Traktor Pro. You can get a great comparison of the two in this awesome article HERE.
Other popular DVS options are Pioneers Rekordbox, which is now becoming a massive competitor for serato and traktor. MixVibes who have integrated the DVS technology into their products since 2004. Mixvibes actually teamed up with Pioneer to create Rekordbox, their own software is called MixVibes Cross. Two more popular options are Deckadance and Virtual DJ.
The progression of digital vinyl and hardware
Many big hardware manufacturers have recognised the high demand for software and timecode vinyl. Most now produce hardware that is mapped to work perfectly alongside certain software.
Pioneer have released their own software called Rekordbox which has become a popular choice. This works just like Serato DJ and will allow digital DJing with the same DVS capabilities. Many of their controllers and mixers come bundled with Rekordbox which proves much cheaper than buying separate software.
Pioneer, and many other manufacturers also work alongside Serato and Native instruments to produce hardware that's mapped to their software. This equipment can then be purchased as a bundle with the software licence key. This makes things much cheaper for DJ's who are just starting out.
Since the original idea of timecode vinyl came about these advances in technology now mean we have a ton of new options! This means that we can move with the times but still keep our traditional set-up working alongside our modern hardware.
Digital Vinyl System Set-up options
Option 1. The original option of two turntables / CD decks will still appeal to many and is the cheapest. You'll need 2 turntables / CD players, a mixer, an audio interface (sound card), and a laptop/computer. Since most people already have a computer and a basic DJ set-up this option is the most appealing.
To get things up and running with Serato DJ your best and cheapest option is the Denon DJ DS1. This comes as a kit and includes the full DVS software, interface, and control vinyl/CD's. You can check out the Denon DJ DS1 and check the current price on Amazon here > Denon DS1.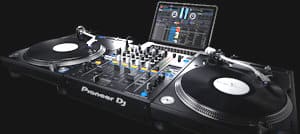 Option 2. Another great option is the DJ controller set-up. Many controllers now already come bundled with the software and a built-in sound card. This means you'll be able to simply plug and play using the controller and your computers USB port. And you can also plug in your turntables / CD decks and use the controller as the mixer.
All you'll need is a controller with RCA (phono) inputs, turntables, and a laptop. Most software doesn't include DVS playback as standard so you will also require a DVS add-on. These add-ons can be purchased and downloaded from your chosen software producers website.
If the controller doesn't have a built-in sound card you can also add your own as in option 1. But remember the DS1 comes bundled with the DVS add-on, so don't purchase the add-on if you're using this option.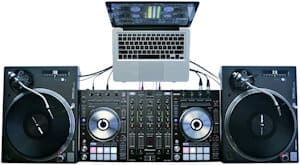 Option 3. If you don't want a full controller setup but you don't want to fork out for an interface how about a DVS enabled mixer? I previously reviewed the awesome Pioneer DJ DJM-250 MK2 that has this option at a budget price. This means you won't need a separate interface if you use it with Pioneers Rekordbox software, which is also included when you buy the mixer.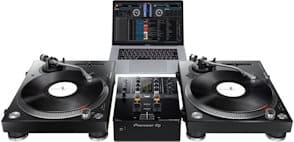 If you're thinking about getting a DVS but don't have turntables don't worry as you still have many great options. Check out my article comparing two of the best, the Pioneer PLX 1000 and the Technics 1200/1210 HERE.
Or go over and check out some turntables in my hardware section HERE.
Making the switch to a digital vinyl system
Digital DJ software and digital vinyl systems have changed the face of DJing. There will always be people that prefer two mix real pressed vinyl and argue that it sounds better etc. Those DJ's can stick to the traditional real vinyl set-up if that's what they like. But a DVS will open up the doors to many DJ's that could never afford to mix real records.
DVS technology is fantastic and you'll even see it used by hardcore vinyl heads and turntablists. It's considered normal to use in the DMC championships, RedBull 3style, and many other turntablist competitions around the world.
If you're setting up a brand new DVS including turntables, mixer, sound card, and laptop it can be expensive. But mixing digital files rather than forking out on expensive vinyl will cost much less at the end of the day, remember I mentioned I spent thousands on vinyl records. Plus you'll have the ability to easily add other features to your sets when you combine the software. Like loops, effects, samples, cues points, and key lock to name just a few.
So you now have a great understanding of timecode vinyl, digital vinyl systems, and DVS hardware. A DVS could really open up new opportunities for you and transform your DJing in ways you wouldn't believe.
All of the options we mentioned earlier will be great choices for any DJ skill level. But choosing which one is right for you will depend entirely on your DJing needs and budget. Have fun with your choice and let me know which one you went for below.
Check out my top turntable comparison where I put the DJ's favourite Technics 1210 up against the Pioneer PLX 1000 > HERE.
And if you still don't like the sound of using a laptop whilst DJing there are other options available. Find out all of your options > HERE to find the best laptop free setups.