Have you ever tried to find the best websites to download music for DJs? There are so many websites out there that it can be hard to decide which one is best.
DJs are always looking for new music, whether it's to DJ at a club or keep up on the latest tracks. This post will help you out by listing some of the best websites where DJs can download music legally.
This list of websites offers a mix of free and paid options in a variety of genres to help you build the ultimate music collection.
Whether you're into EDM, hip-hop or underground, this list will have what you need to suit your music style.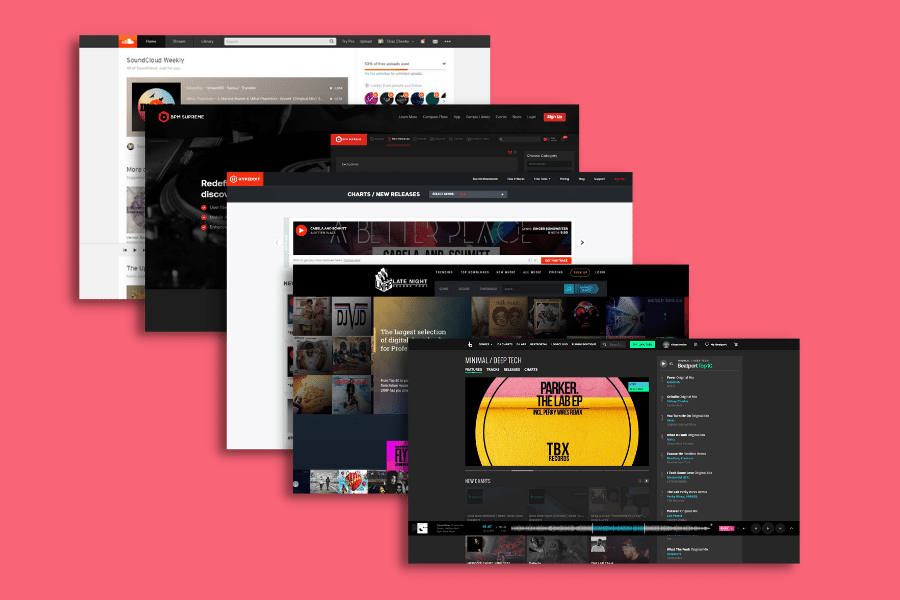 But before we dive in, I want to touch on something crucial for aspiring DJ's looking to play at clubs or music venues.
Important Tip for DJs: Do Not Rip Music From YouTube or SoundCloud
There are many reasons why this is a bad idea.
It's quite simple. It involves using a "YouTube to mp3 converter" website, inserting the YouTube link, and then downloading it.
DON'T DO THIS!
Ripping music comes with legal, ethical and technical problems.
I won't bore you with the first one. But, the ethical problem with this is you're failing to support the artists fuelling your aspiring DJ career.
How would you feel if the artist whose track you played on a set realised you just ripped his song? Embarrassed right?
But wait, how would that artist be able to tell?
That brings me to the third problem, a technical one
Illegally downloading music might sound good on your headphones or your home speakers. But when you get into a club environment with a professional PA sound system, the song is just not going to sound nice for everyone.
When you play ripped songs from YouTube or SoundCloud, you're basically compressing the music files down to a bitrate of 128 kbps. In some cases, music files can be compressed to as low as 96 kbps even. This is considered too low of quality for club systems.
Lower quality means you have a smaller frequency range in your song (high frequencies drop off with lower kbps). Hence, it sounds awful.
It's like showcasing a low-resolution image compared to 4K. It's a credibility killer! Avoid music piracy at all costs.
Now that we've got that out of the way, let's take a look at our list of the best places where you can legally download music. You will discover the hidden gems that you're going to blow your audience away with.
Types of Websites That DJs Get Their Music From
There are really fives ways in which DJs get their music, so let me summarise them here:
Music streaming services
Digital Record pools
Record labels mailing lists
Online record stores
Free sites
What is a Music Streaming Service?
Music streaming services are sites like Spotify or Tidal that give you access to a huge library of songs for an annual or monthly fee, or even for free. The free option usually comes at the expense of presenting advertising to you.
What is a Music pool?
One of the best ways to build up your DJ music collection is through DJ record pools. This is because they provide access to underground music at the highest quality possible without breaking the bank and breaking any music piracy laws.
Rather than purchasing digital downloads individually, you simply pay for an annual or monthly subscription. Record pools give DJs a chance to discover amazing tracks directly from the record labels.
Later in this article, we'll highlight some record pools that we're sure will help you scale your DJ library with unlimited downloads.
We highly recommend DJ record pools if you're looking to source electronic music.
What are Record Labels' Mailing Lists?
Record labels often have promotional mailing lists that you can sign up for if you're a DJ. This is a great way to get copies of new releases and promo tracks before the official release date.
There is a caveat to this though. Getting on these mailing lists isn't easy. You'll need to be fairly established to get hold of the latest material.
What are online record stores?
Online record stores have been around for ages. But they're becoming more and more popular as a result of the evolution from physical to digital formats.
The advantage with online music stores is that you can buy and download your tracks at a high quality, and a fraction of the cost if you were to buy them in vinyl format.
We'll highlight these options later on in this post.
What Are Free Websites?
These are essentially websites that have a large collection of tracks that are available to download. But they come with the caveat that you have to support the artist whose music you're looking to download.
We'll go into more details on these sites later on.
Quick note: We'll be labelling each recommendation based on the type of website they are. Additionally, we'll also highlight whether they're free or paid options.
1. SoundCloud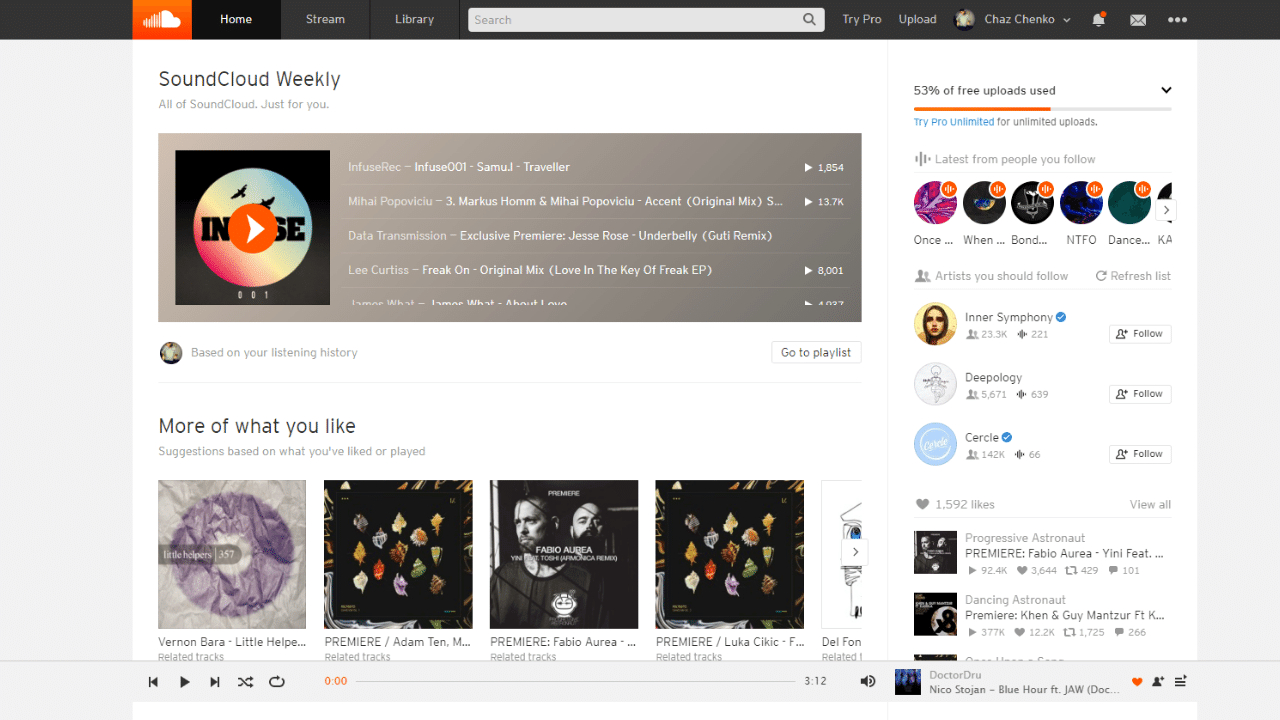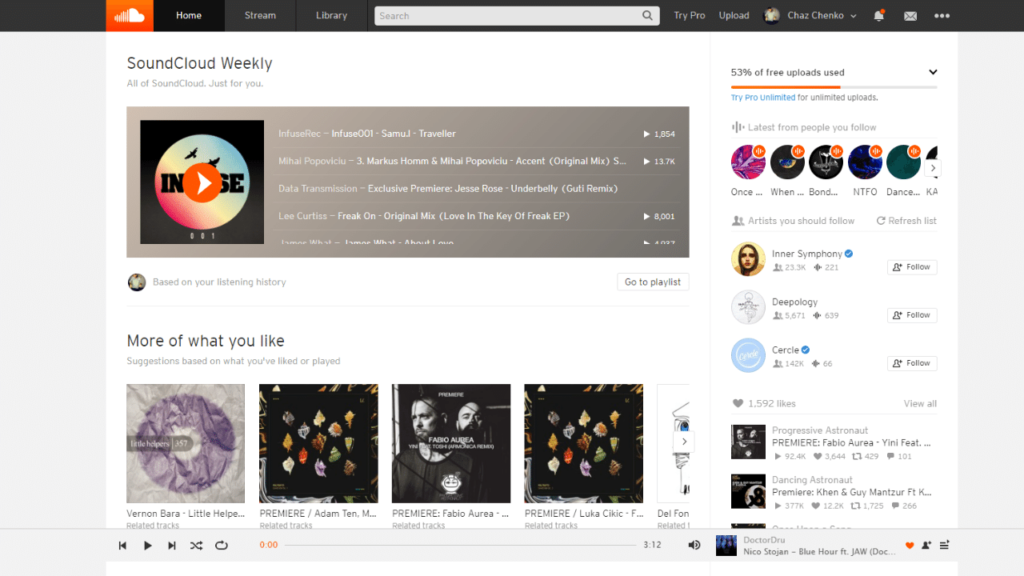 Type: Streaming
Free or Paid: Both
Touted as a 'music discovery' platform, Soundcloud is a free music streaming service with social media-like features for both musicians and listeners. An amazing source for new music.
The website offers a wide variety of sounds from all music genres for DJs: EDM; Rap/Hip Hop; Electronic music; Underground Dance Music; Soul & R&B.
Soundcloud is home to many producers, DJs and musicians that you would not find on other platforms. While their algorithms make it easy for users to discover similar music to the ones they've liked.
While most features on SoundCloud are free, the website also has a Pro SoundCloud plan that enables you to listen to tracks ad-free.
There is a useful method to sourcing amazing music on this platform. Here's how:
How To Get Free Music on SoundCloud
You can identify songs by plugging 'FREE DOWNLOAD' into the search bar and filter by genre. Once you've identified tracks you like, you can hit the download link.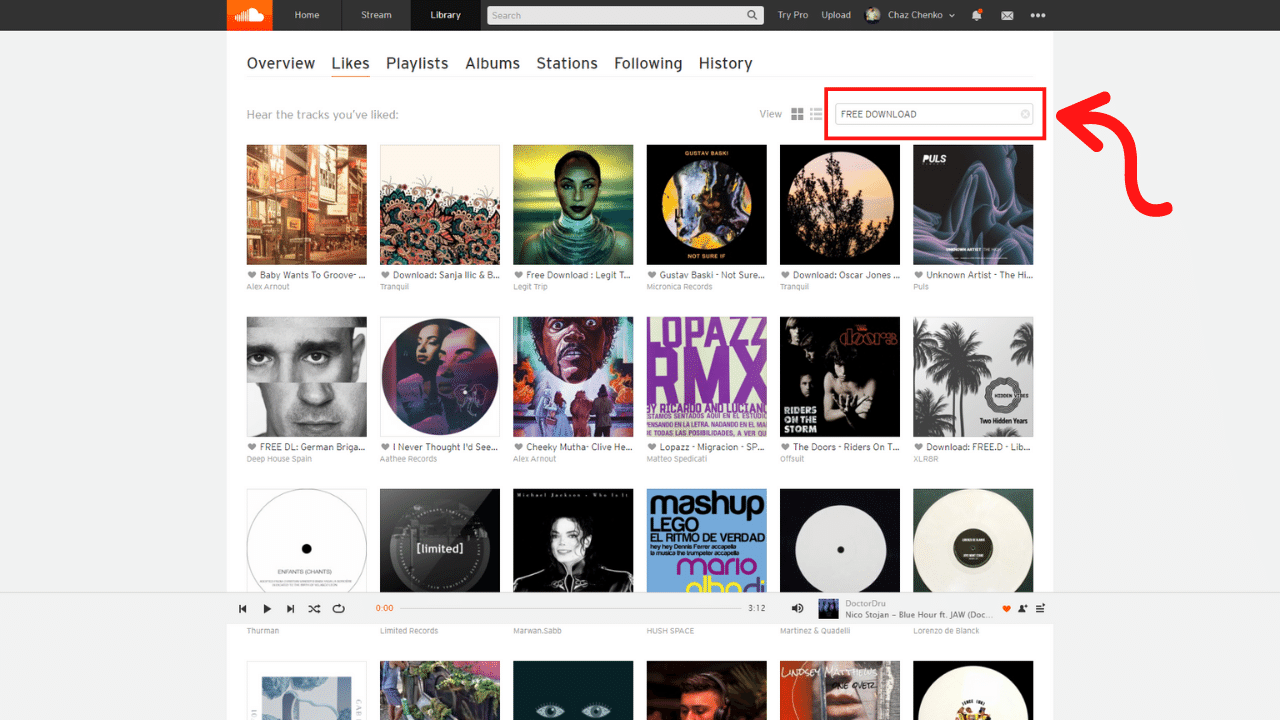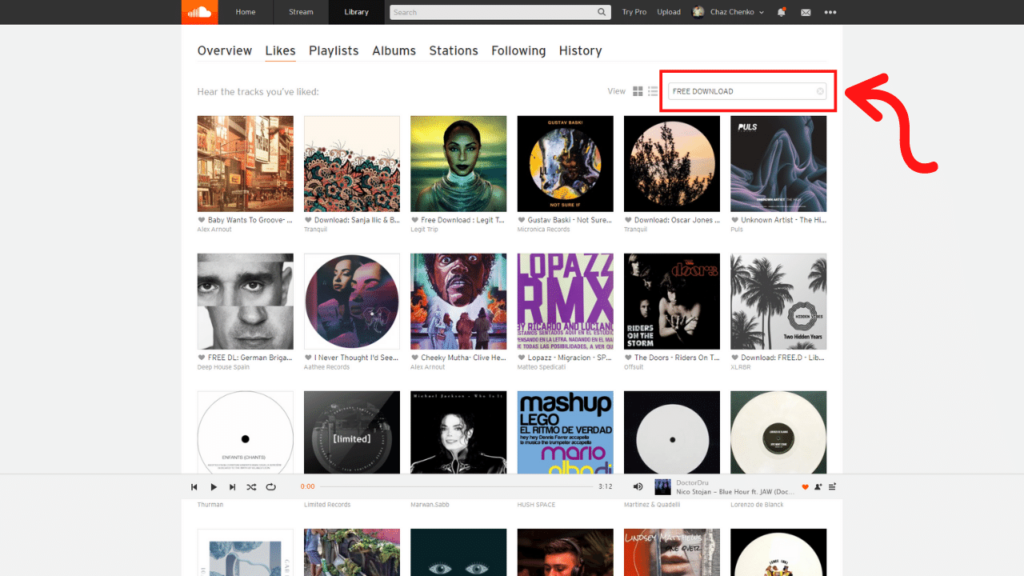 2. Hypeddit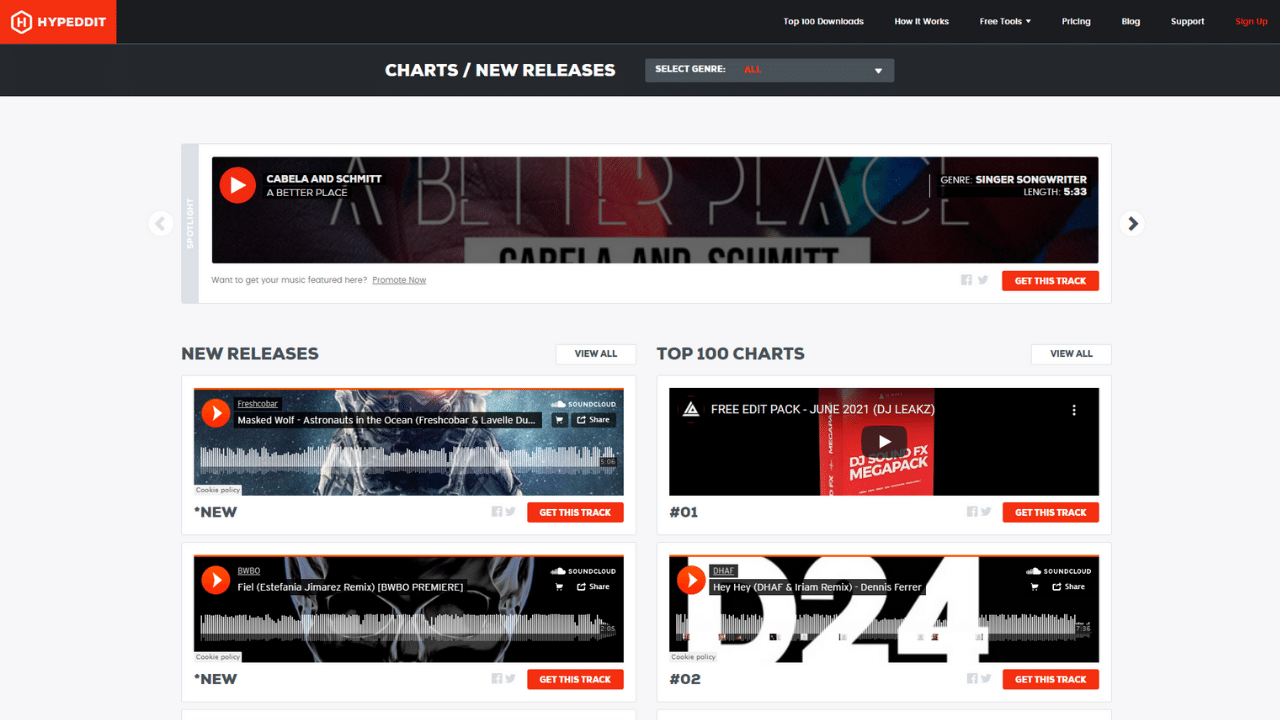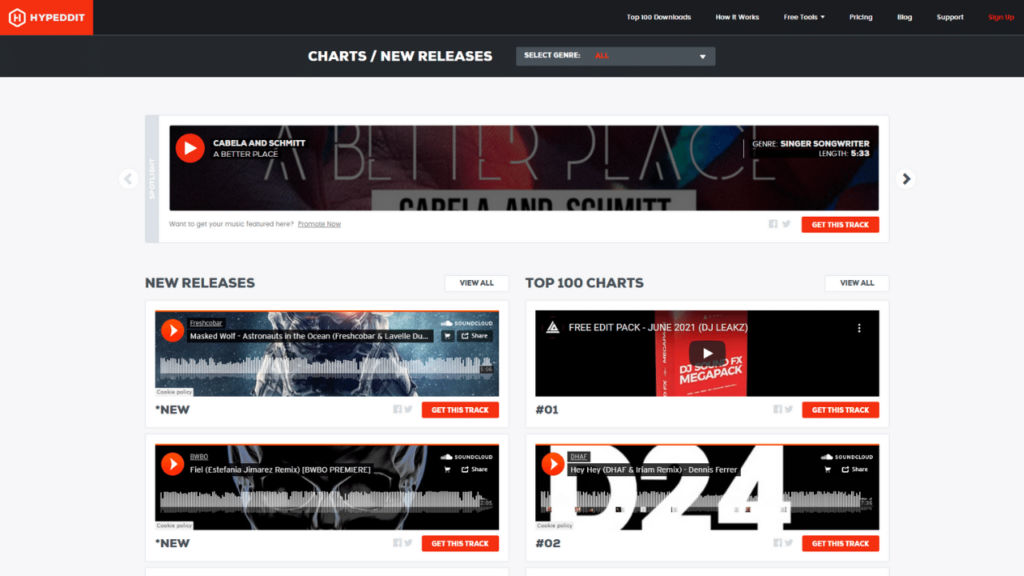 Type: Free site
Free or Paid: Free
Hypeddit is another music discovery platform with a huge library of free music. Users can download tracks legally with the caveat that it promotes the artists.
Most producers use Hypeddit because its features help to promote them in different ways. This can include performing actions like following the artist on SoundCloud, dropping a comment or liking the son, etc.
Hypeddit has become so useful that many DJs can find tracks, freely download them and still ensure they're of good quality. This site is another great way to source new music.
How To Get Free Music on Hyppedit?
You can download free DJ music by following these steps:
Go to the Hypeddit site and sign up with your social media account.
Search for a specific artist or genre of music. You can also browse through curated playlists to find something new and fresh.
When you see a track you like, hit the download link.
You'll then be prompted to follow/comment/share the track or even sign up to the artist's mailing list to download free music. This helps promote the artist
3. BPM Supreme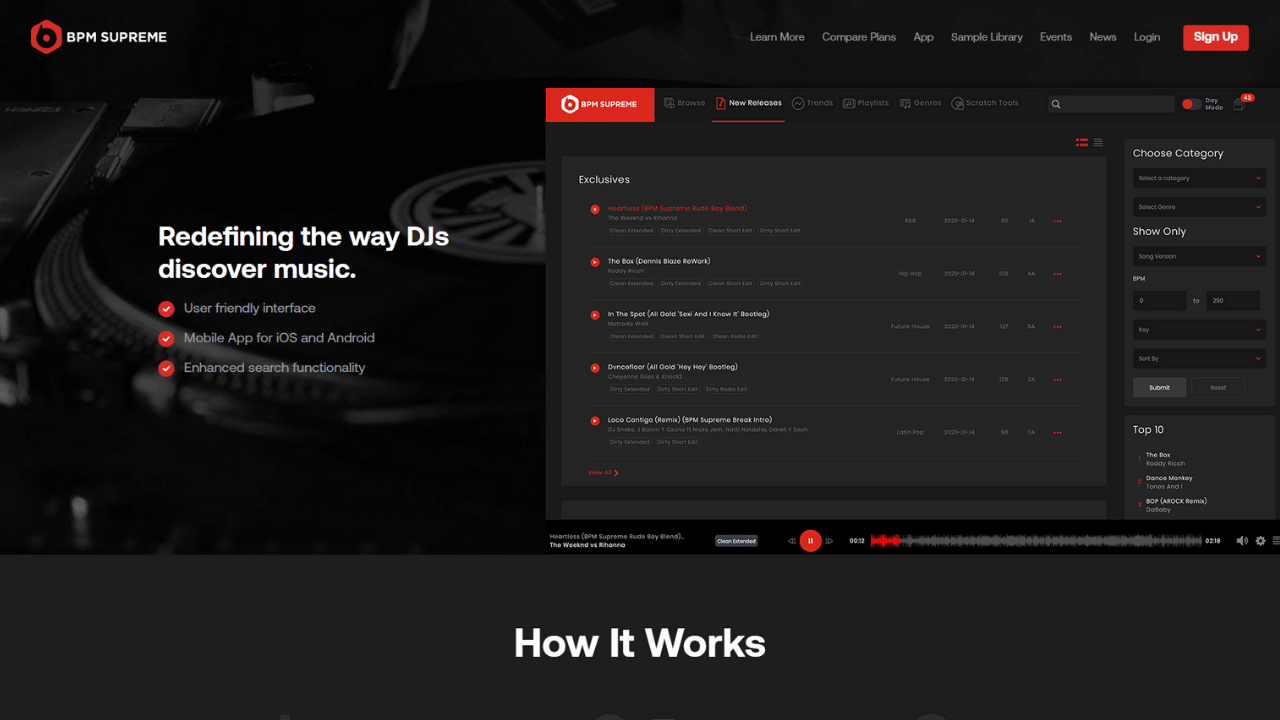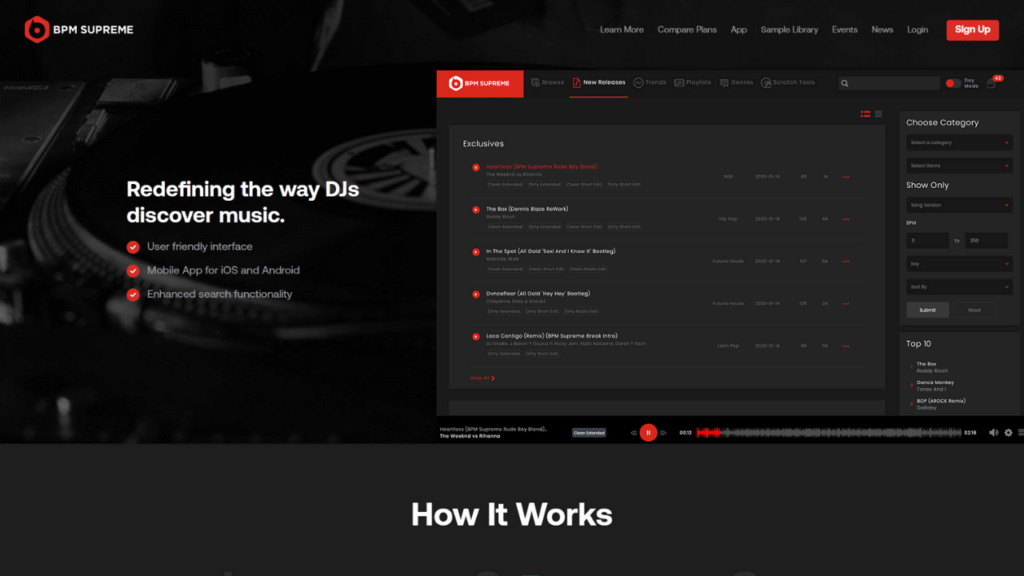 Type: Record pool
Free or Paid: Paid
BPM Supreme is a subscription-based DJ record pool that offers high-quality audio files for you to download.
Their interface is very clean and easy to use, and they also offer every variant of a song you could ask for.
The service also provides many versions of a track (think Clean, Dirty, Instrumental, Acapella, Remixes, and so much more. The service provides high-quality MP3s, all tagged with the song name, title, length, and beats-per-minute.
4. Digital DJ Pool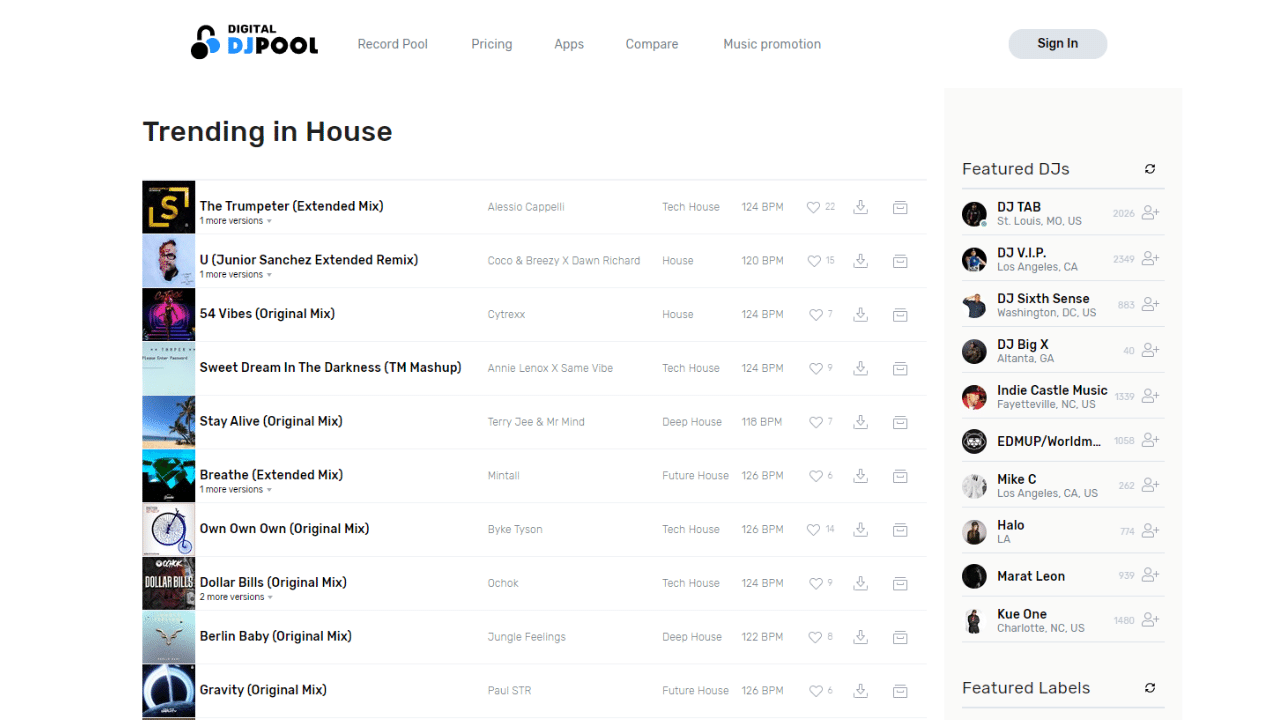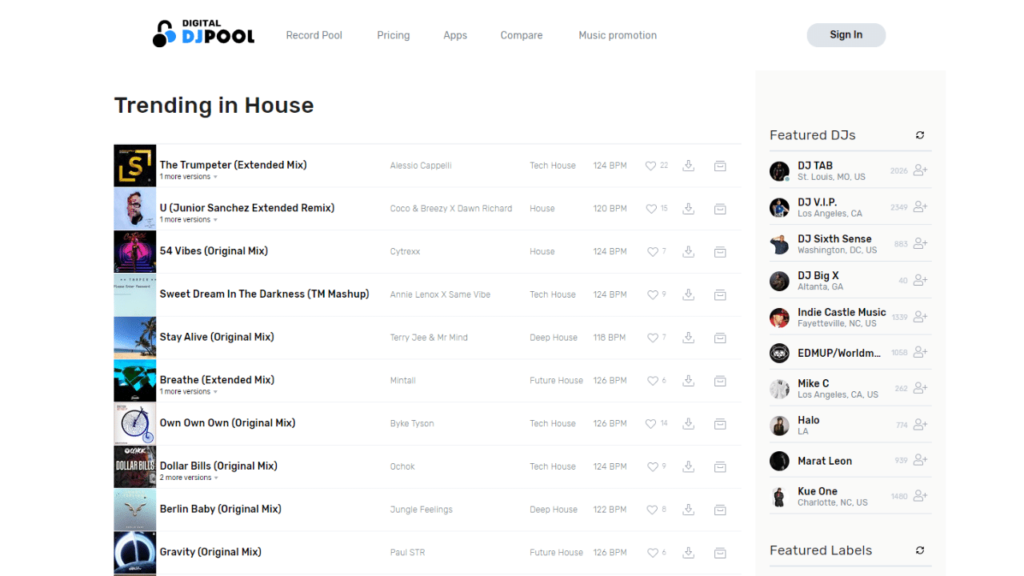 Type: Record pools
Free or Paid: Paid
Digital DJ Pool features 150,000 different songs in about 40 genres. All the files on the website are tagged for artist, title, version and genre, as well as BPM and Key. Their large library makes it easy to source new music.
The site even offers a 5-day trial for $1 which is pretty cool! It also has a mobile app that allows you to access the record pool from any location.
5. Direct Music Service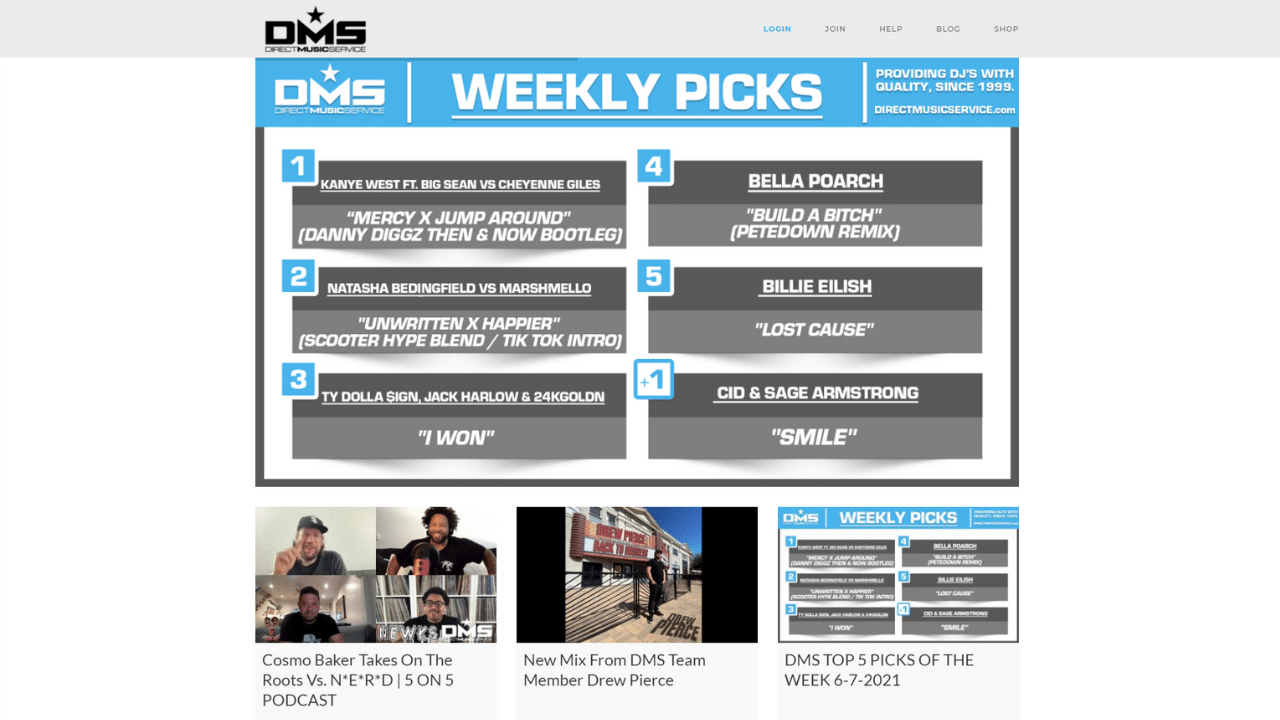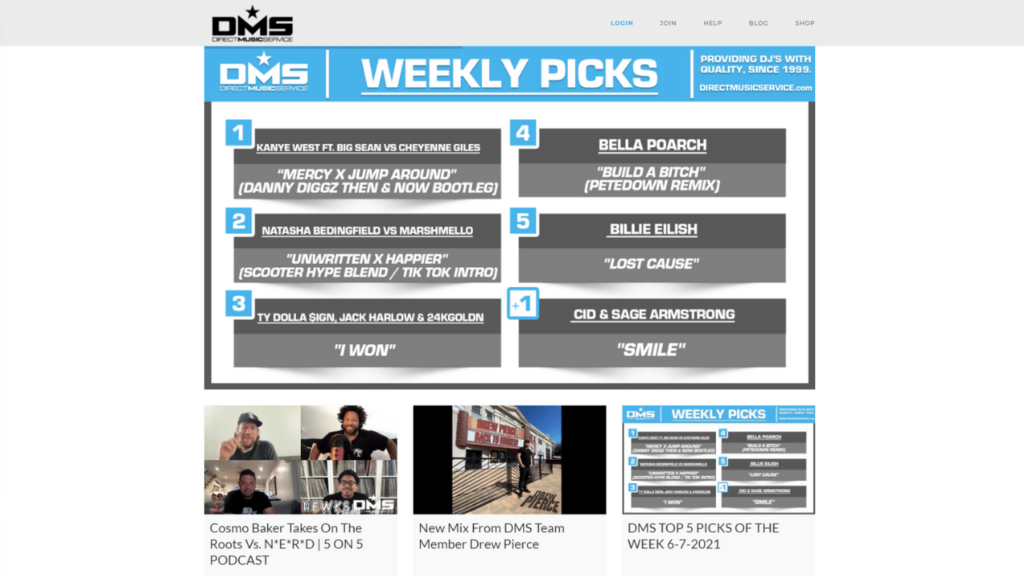 Type: Record pools
Free or Paid: Paid
DMS is a subscription-based music pool for DJs to download music for their sets. Their in-house remix crew offers members exclusive remixes and remixes.
Their mobile app is also very helpful in getting your DJ work done on the go. DMS can be the most expensive pool out there because of its catalogue size.
It is also known to have among the best edits out there. It's a great alternative to the others listed particularly for fresh tracks.
6. DJCity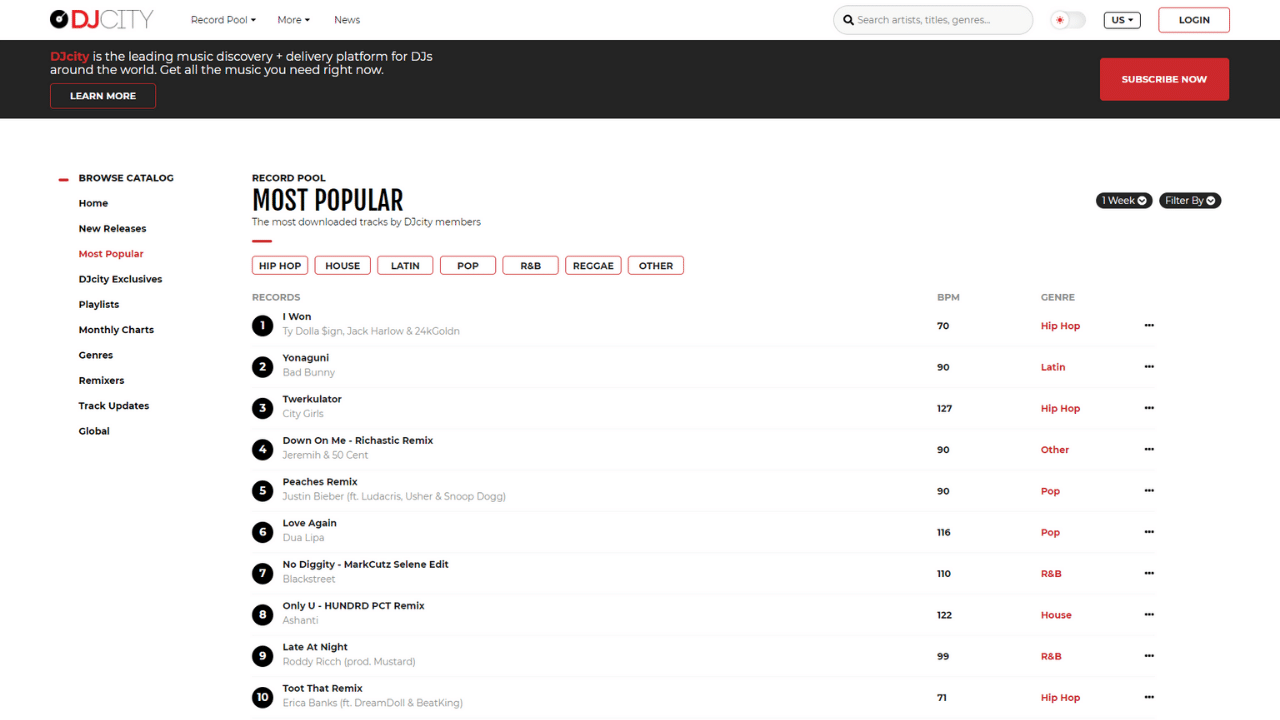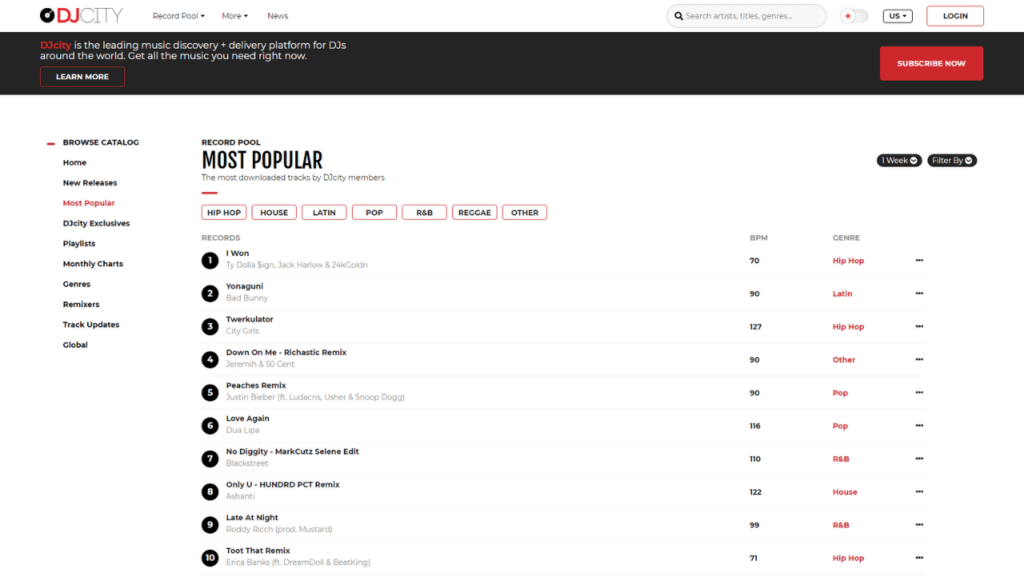 Type: Record pools
Free or Paid: Paid
DJCity specializes in club and radio music for DJs, including hip-hop, house, R&B, Latin, trap and more. Their monthly top chart lists the 50 most downloaded tracks by other members of their site. Another awesome way to source new music.
They also have an algorithm that recommends new tracks based on the ones you have already downloaded. You can download as many songs as you like, and in multiple versions.
7. iDJPool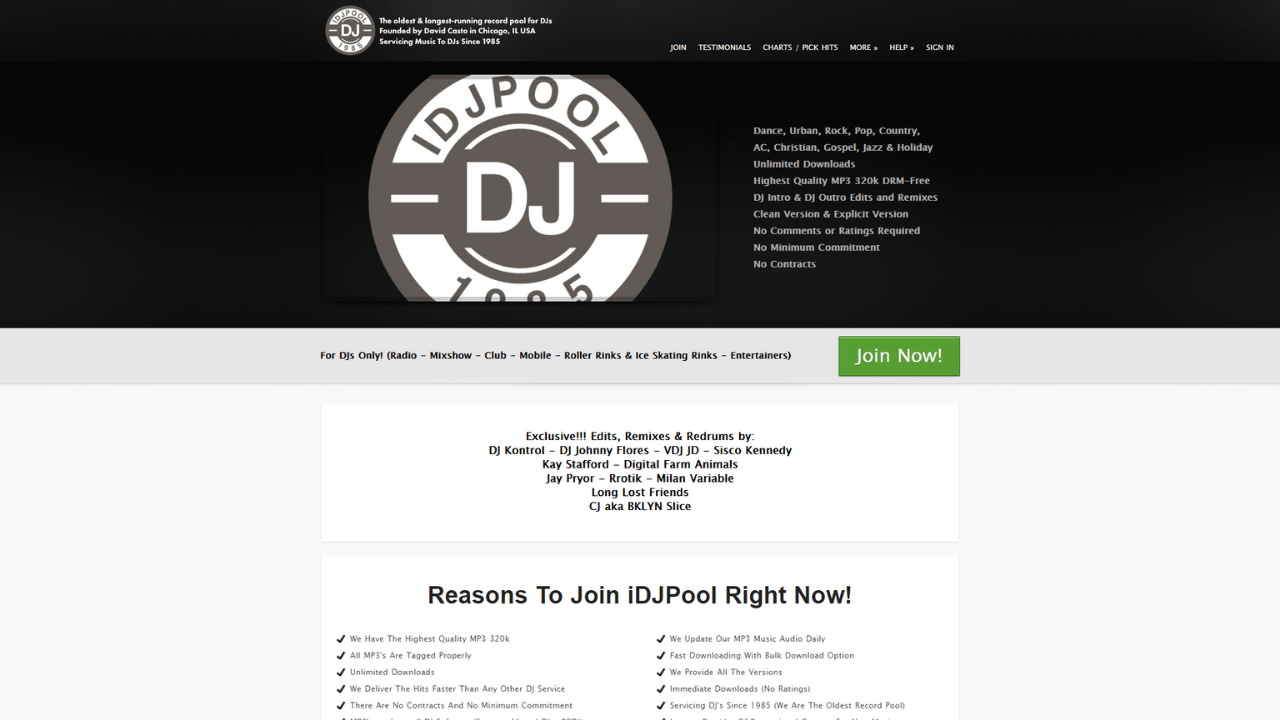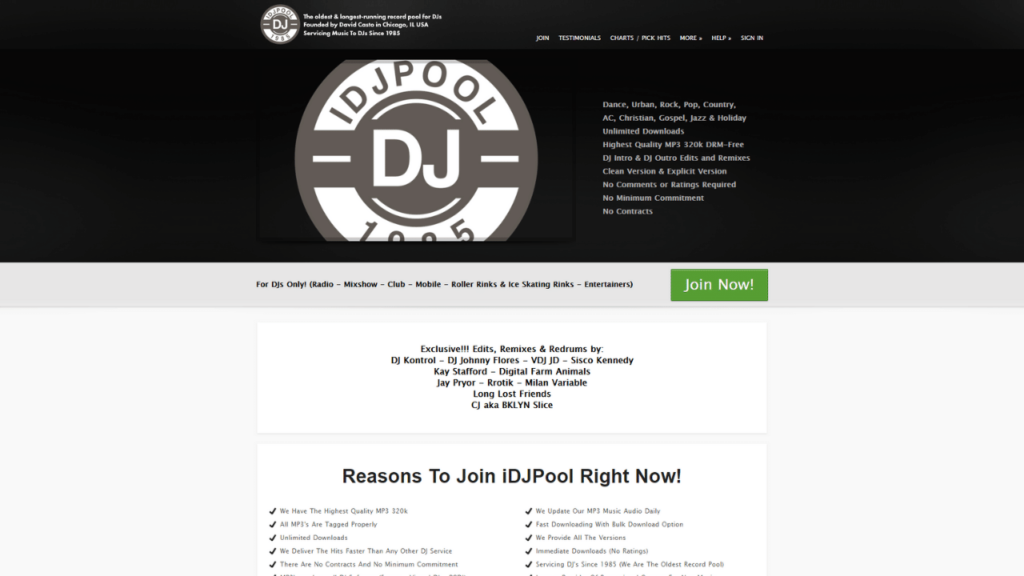 Type: Record pools
Free or Paid: Paid
iDJPool is a website that offers both commercial and underground music. There are currently over 900,000 songs in their database, as well as many remixes of popular tracks.
They have exclusive albums from artist like DMX, Nas to David Guetta. Like DJCity, they also offer monthly charts which break down the best selling songs by different genres. This includes electronic dance music (EDM), pop & new wave and beats just to name a few.
iDJPool also offers a clean and dirty version of tracks, making it a great tool for radio DJs, while you can expect high-quality downloads at a bitrate of 320 kbps.
8. Late Night Record Pool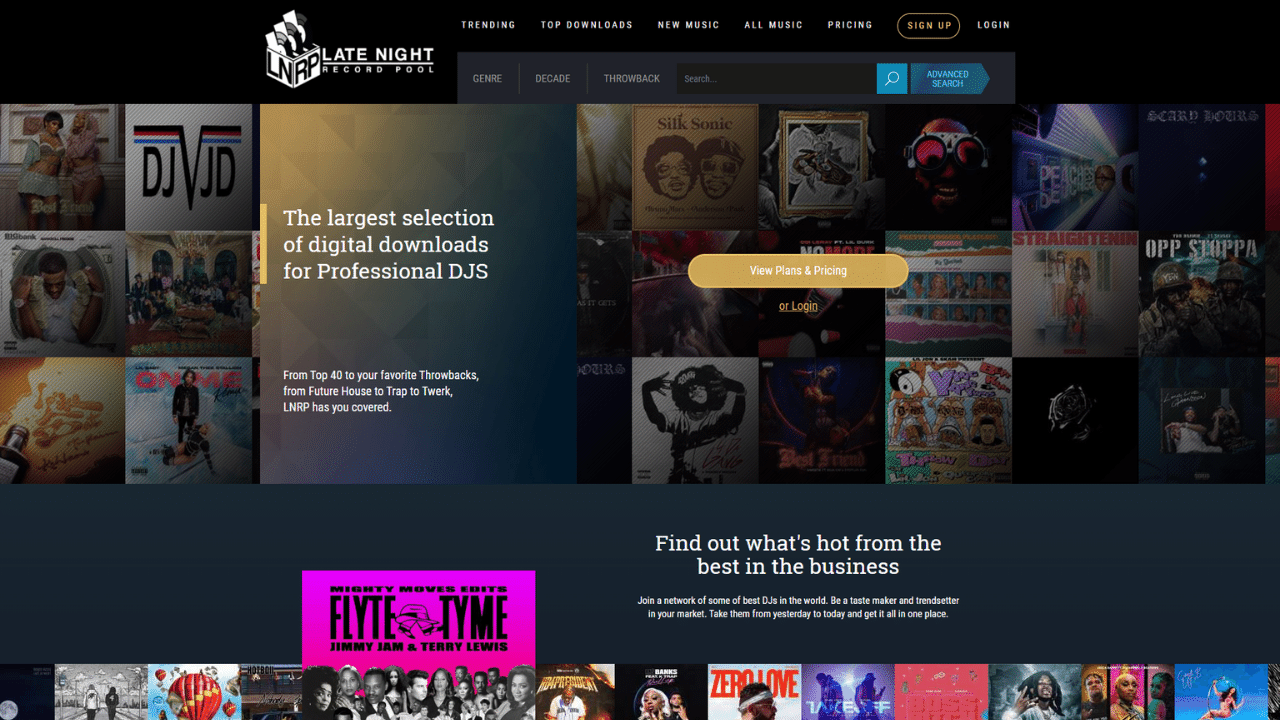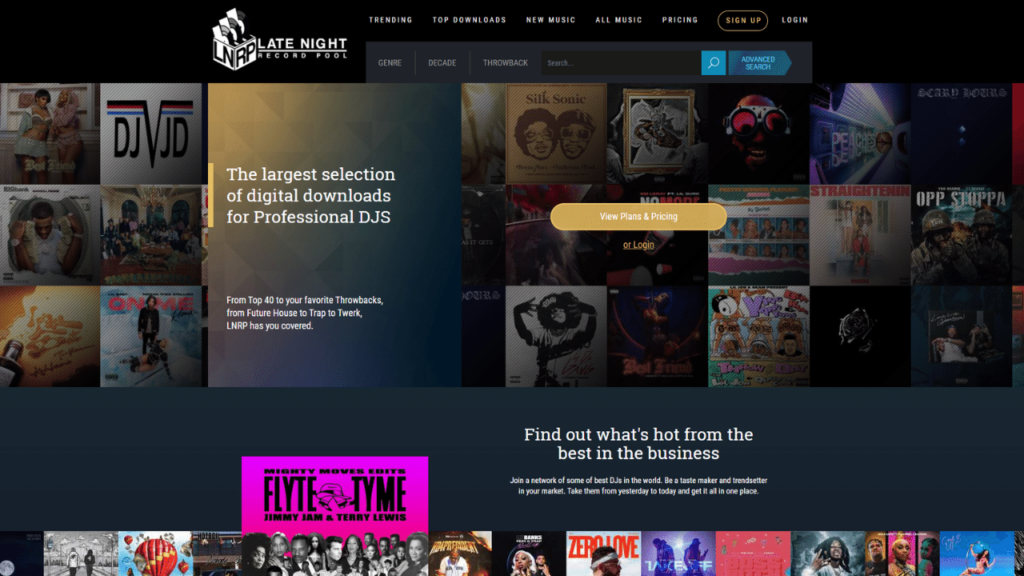 Type: Record pools
Free or Paid: Paid
Late Night Record Pool is a great site for finding underground house and techno music. They offer access to over 45,000 songs and albums from up-and-coming artists.
You can also preview all available tracks before you buy them. One thing that I liked about this service is it allows you to integrate with Dropbox. Making it a useful way to keep all your music library backed up in the cloud.
9. Beat Junkies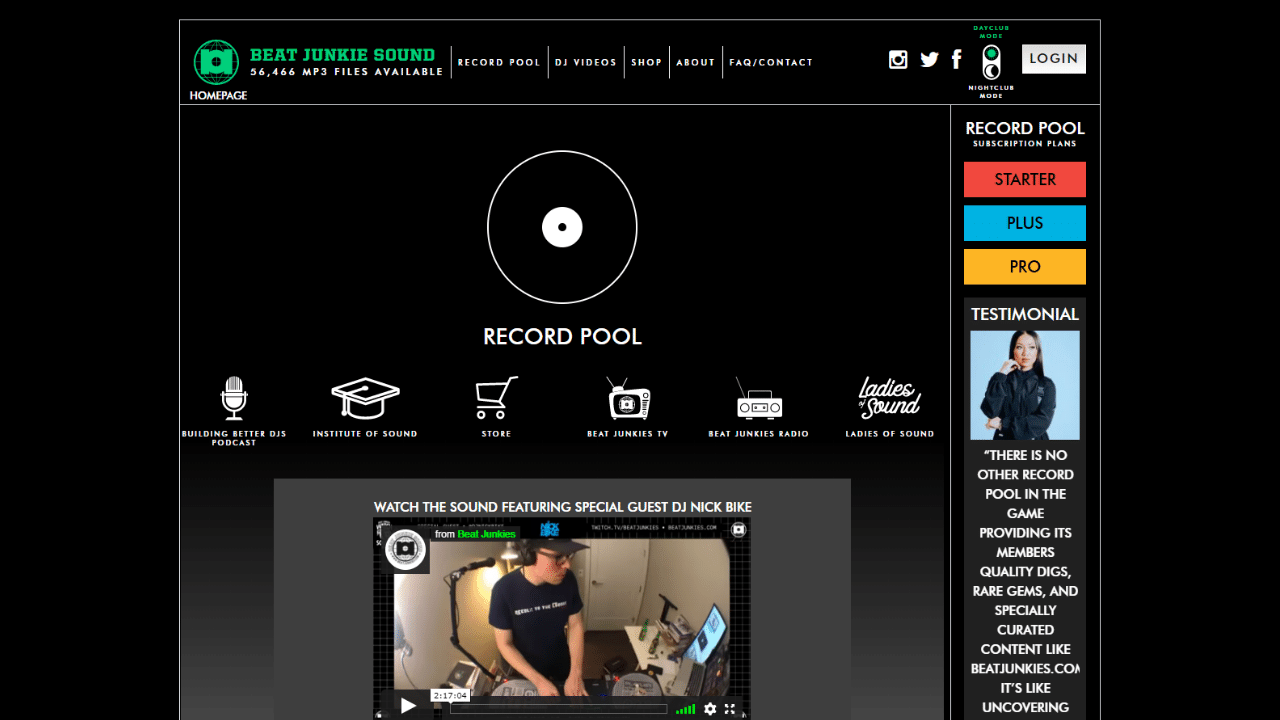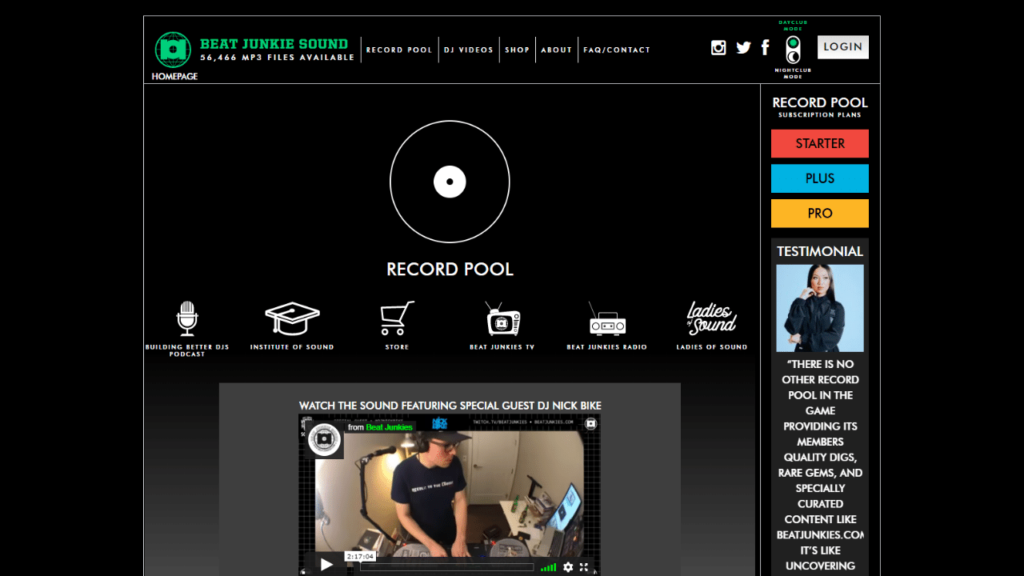 Type: Record pools
Free or Paid: Paid
Beat Junkies is a very reputed name in the DJ forums for how specialized their collection is.
They have over 50,000 songs and are known to provide some of the best remixes and edits out there. This is because they pride themselves on being able to find those speciality tracks that no one else has.
It's so worth it as you can get amazing personalized playlists from this site as well as access to amazing mixes you won't find anywhere else.
10. Beatport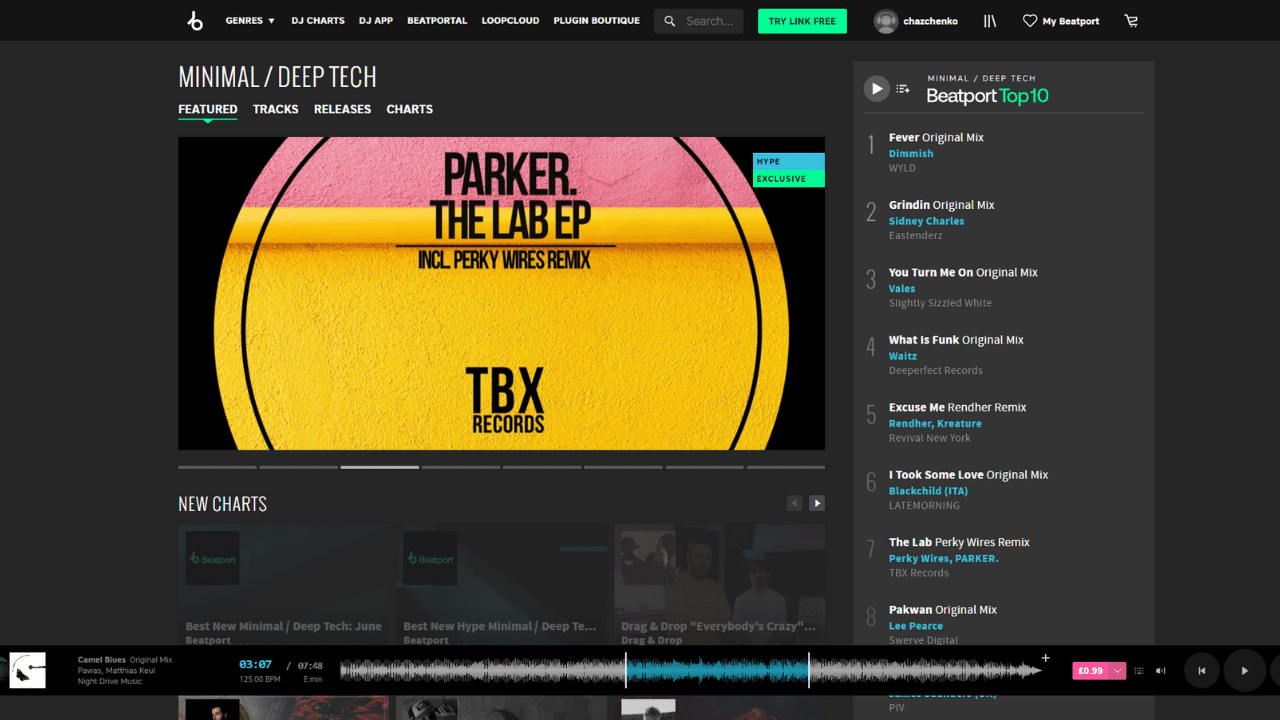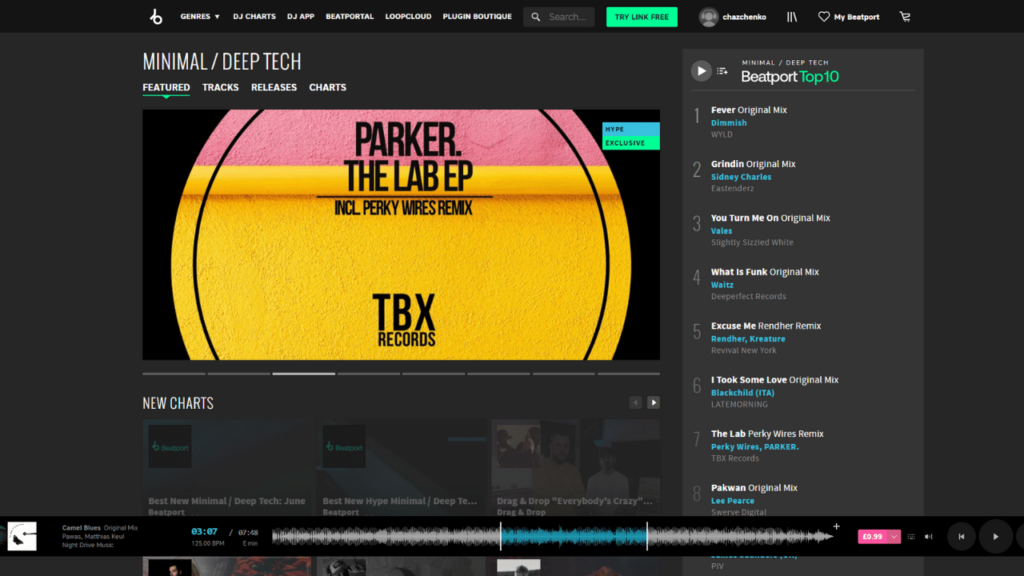 Type: Online record store
Free or Paid: Paid
Beatport is a service that offers curated EPs and albums from labels for mainly house music. Their LINK subscription service offers you integration with your DJ software of choice.
It exists since 2004 and has three different tiers of subscriptions.
Beatport allows you to download higher quality file formats, and they also have a top 100 track chart section that compiles lists from other DJs. A great way to discover music.
11. Bandcamp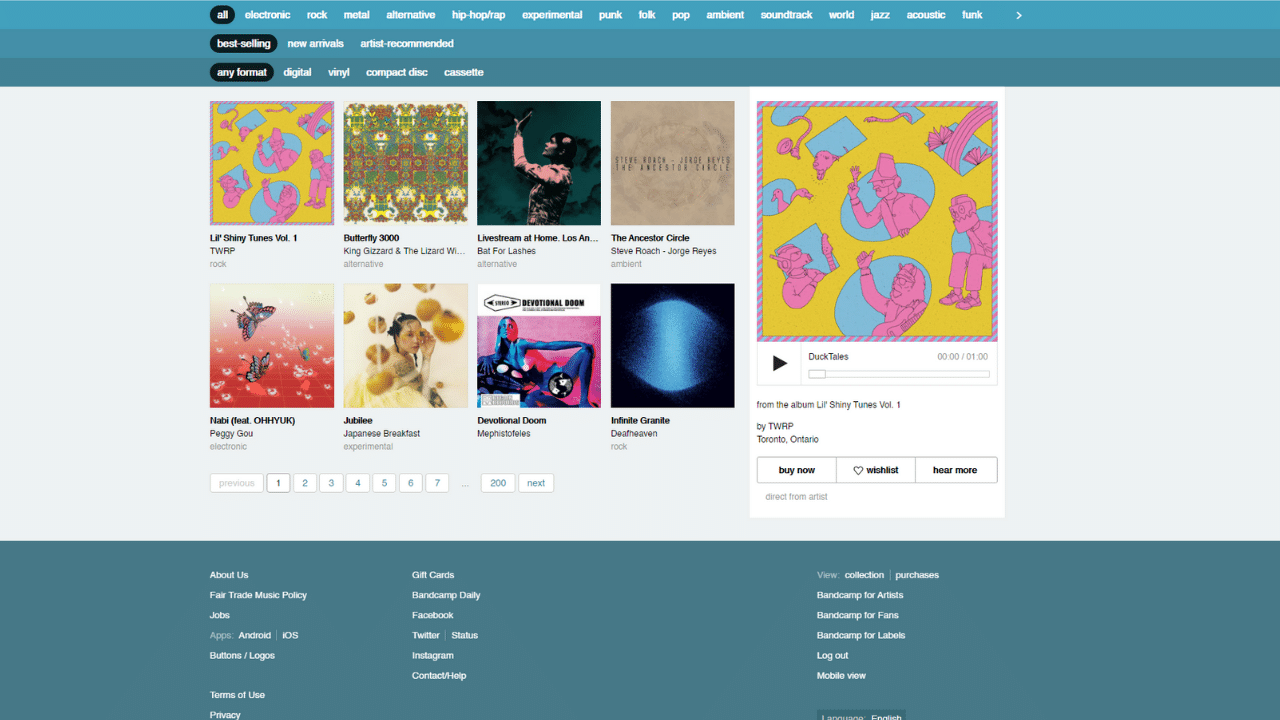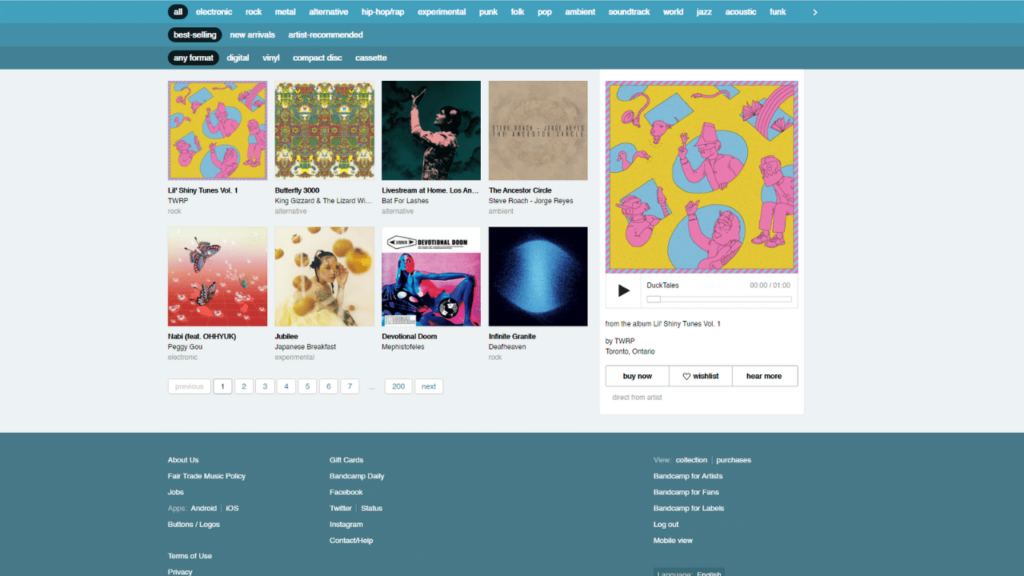 Type: Free site
Free or Paid: Free
Bandcamp is a music website that allows anyone to upload and sell their own digital music, including artists from all around the world. Artists can also decide to either sell their music or give it away for free.
Bandcamp is an easy website to use. The home page lists several featured artists, genres and top sellers. You can also search for music by name or artist in the search box on the right-hand side.
How to get free music on Bandcamp
To legally download free DJ music on Bandcamp, the first thing to do is sign up for a "fan" account. Then search by artists with tracks or albums that have a "Name your price" tag next to the Buy button. These let you specify how much you want to give the artist—which includes zero!
12. Amazon Music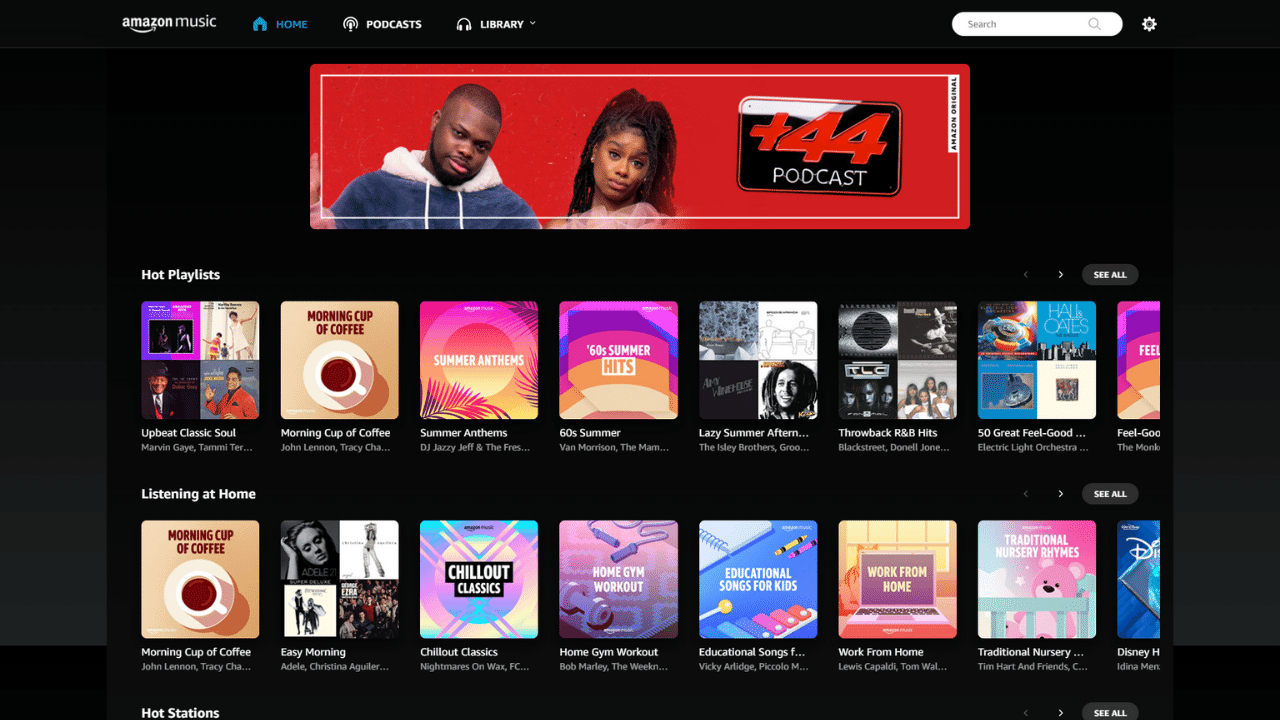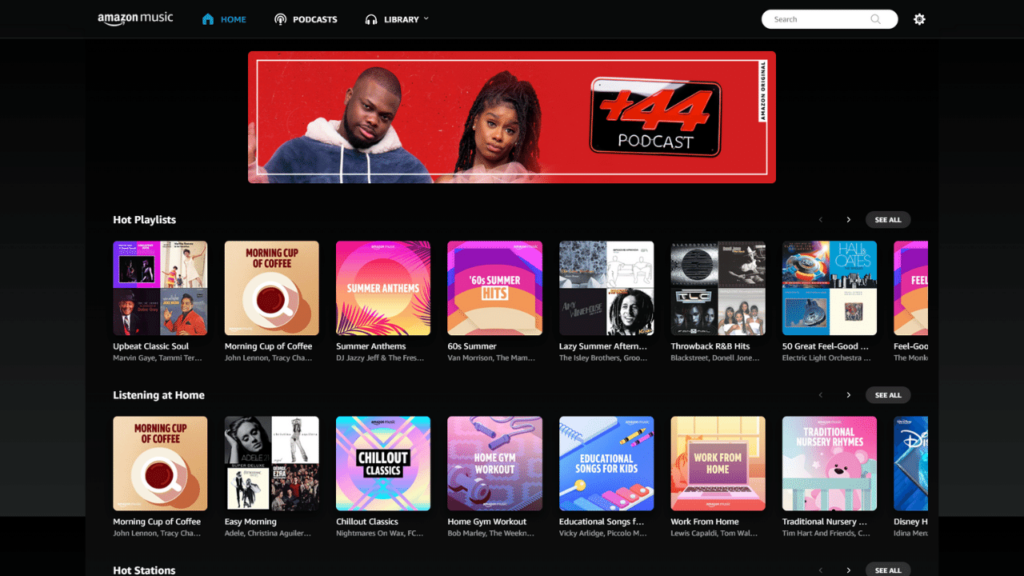 Type: Streaming service
Free or Paid: Paid
Amazon Music has a huge catalogue of songs. You can find almost any genre and artist you want, with over 70 million tracks to choose from! Amazon's music library is the perfect place for people looking for their next favourite song or artists.
You can find almost any genre and artist you want on the site. It uses a familiar interface that fits right in with what everyone else has been using for years.
You can download free songs. However, do not rely on Amazon for free music as they're not great.
13. Jamendo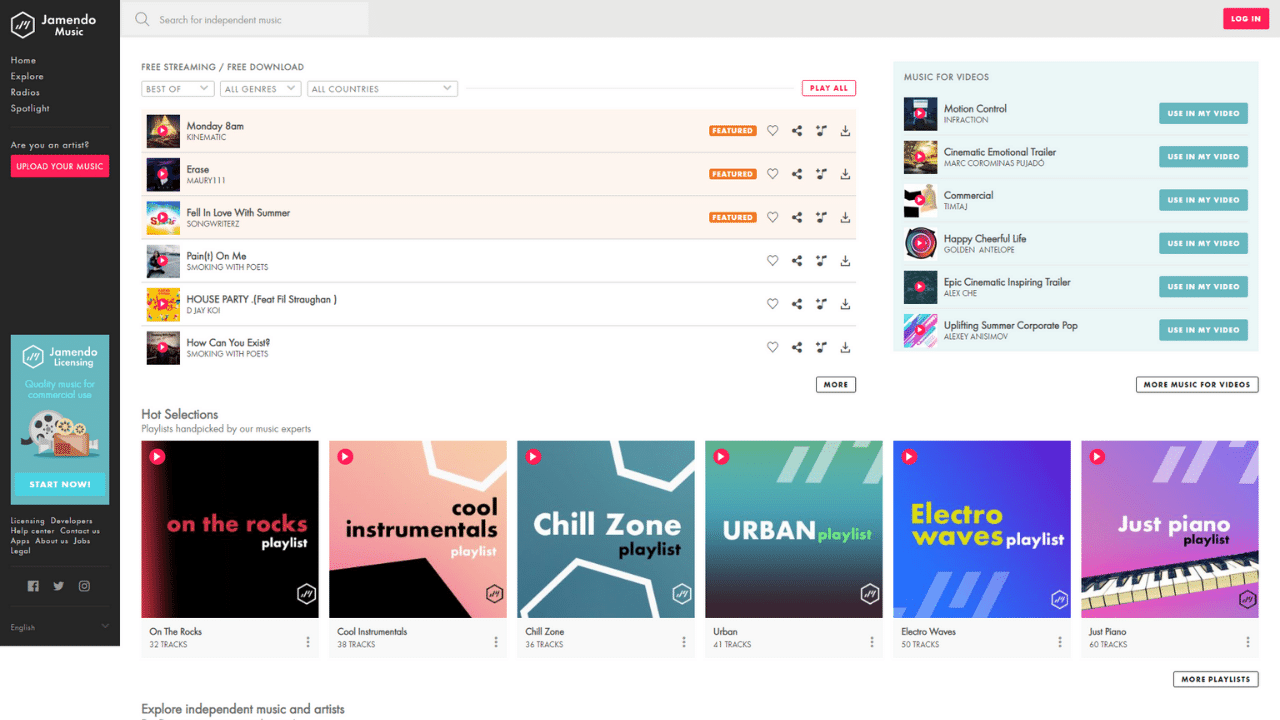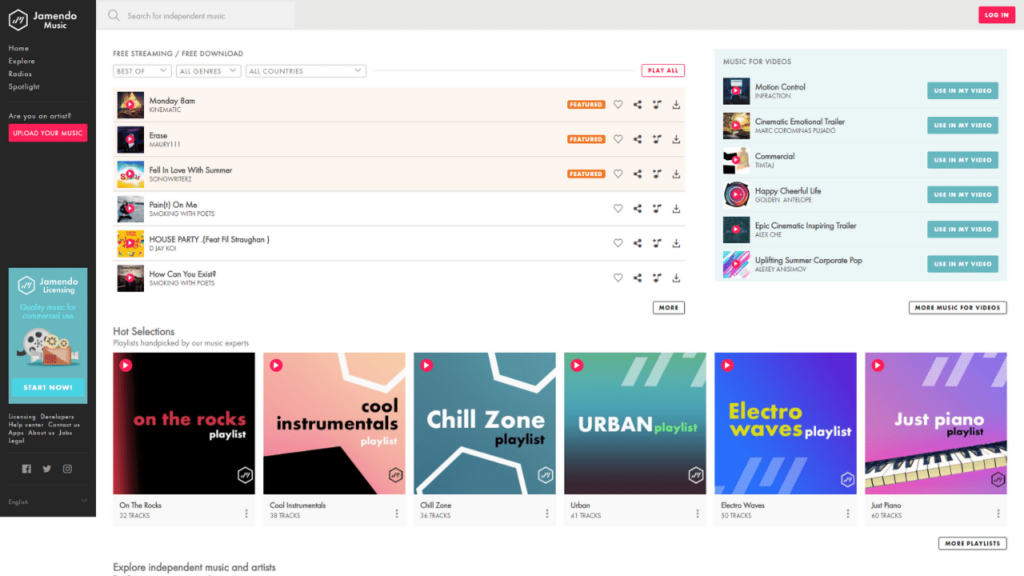 Type: Free site
Free or Paid: Free
Jamendo is a platform that lets you legally download free DJ music from independent artists. It's like Bensound but with fresher features.
With Jamendo, you can explore the variety of different styles in music that are available to download for free.
The Explore section is a great place to start by going through all the various musical genres and filtering your search based on what type of mood or vibe you're looking for!
If house music sounds like something up your alley then click #electronic Community from within this page and see which songs best suit your preferences with Creative Commons licensing allowing use during DJ sets!
14. NoiseTrade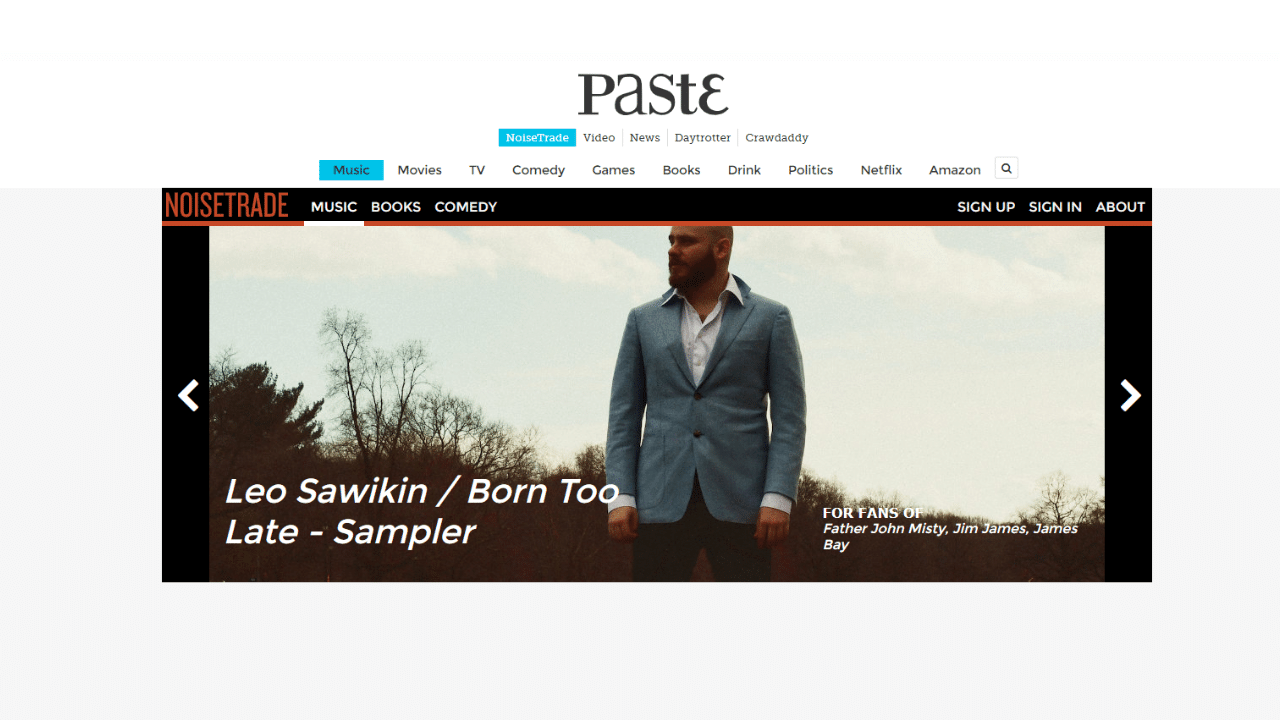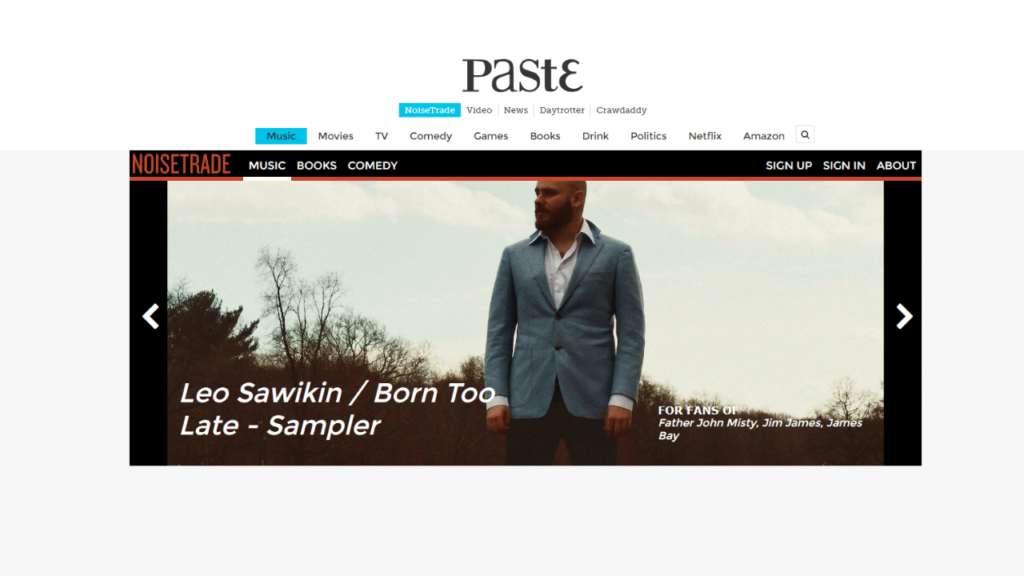 Type: Free site
Free or Paid: Free
Noisetrade is a website that artists use to give away free music. You'll need to sign up with your email address and zip code to get the tracks.
This site has provided me with some of my favourite music from artists I might not have heard otherwise.
However, don't expect free downloads to be DJ music-worthy.
15. Soundclick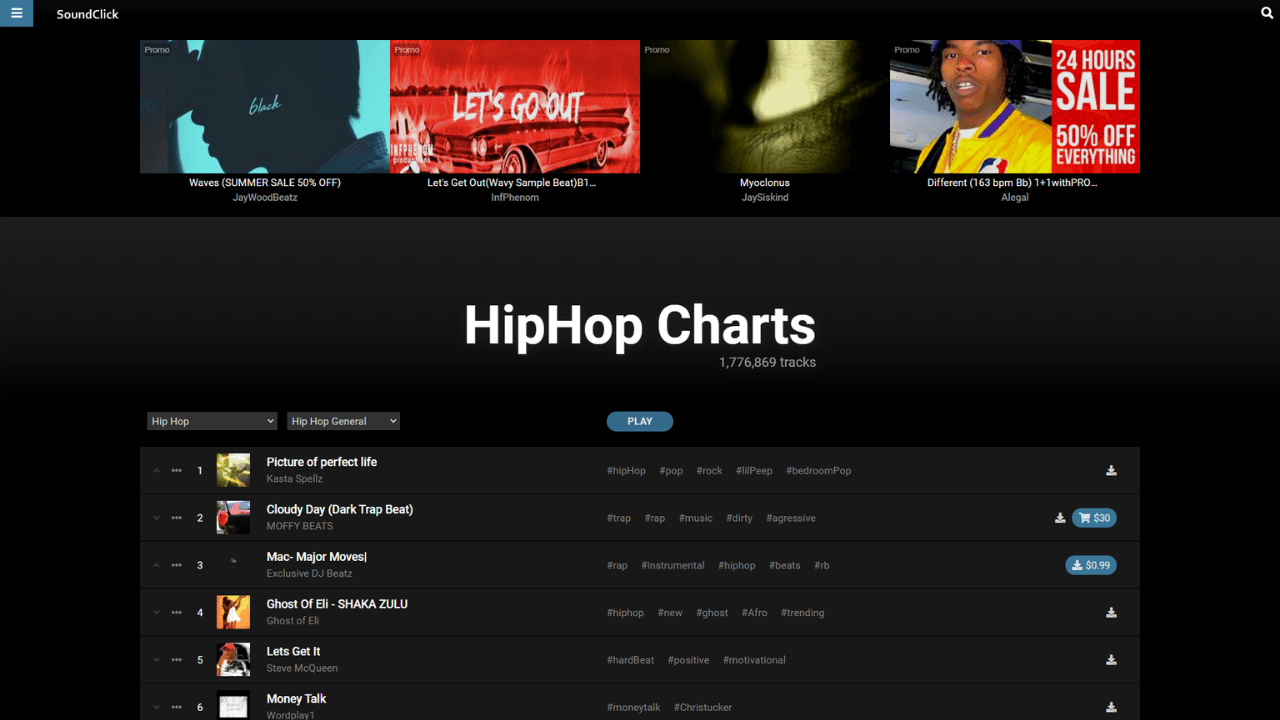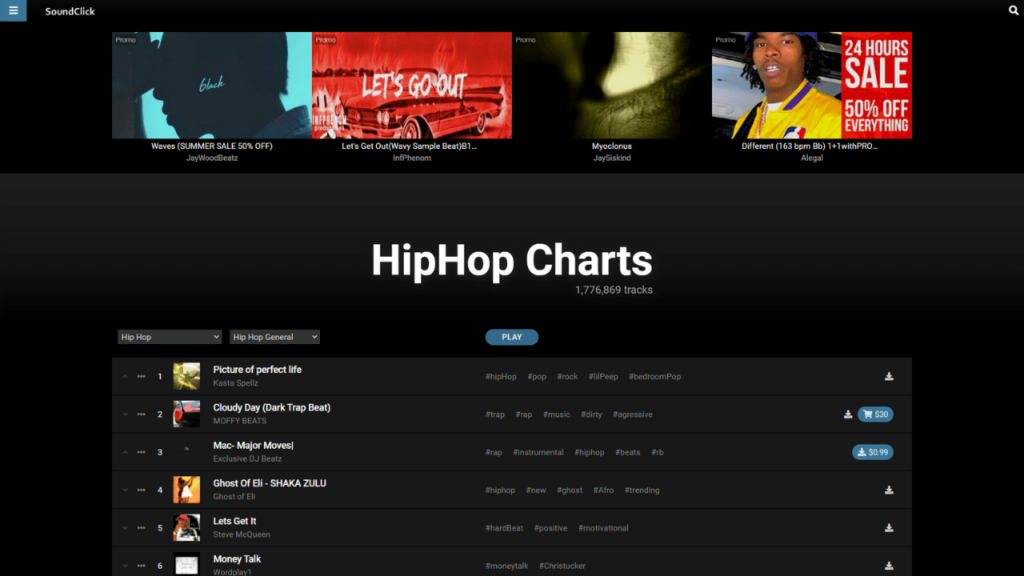 Type: Online record store & offer free downloads
Free or Paid: Both
SoundClick was originally meant for bands to release music. But as the internet became more popular, it morphed into a site where producers could sell their beats online.
For those looking for hip-hop instrumentals or DJ tracks from bedroom musicians, SoundClick is an excellent place to download free samples and loops that is free of any royalties.
16. Apple Music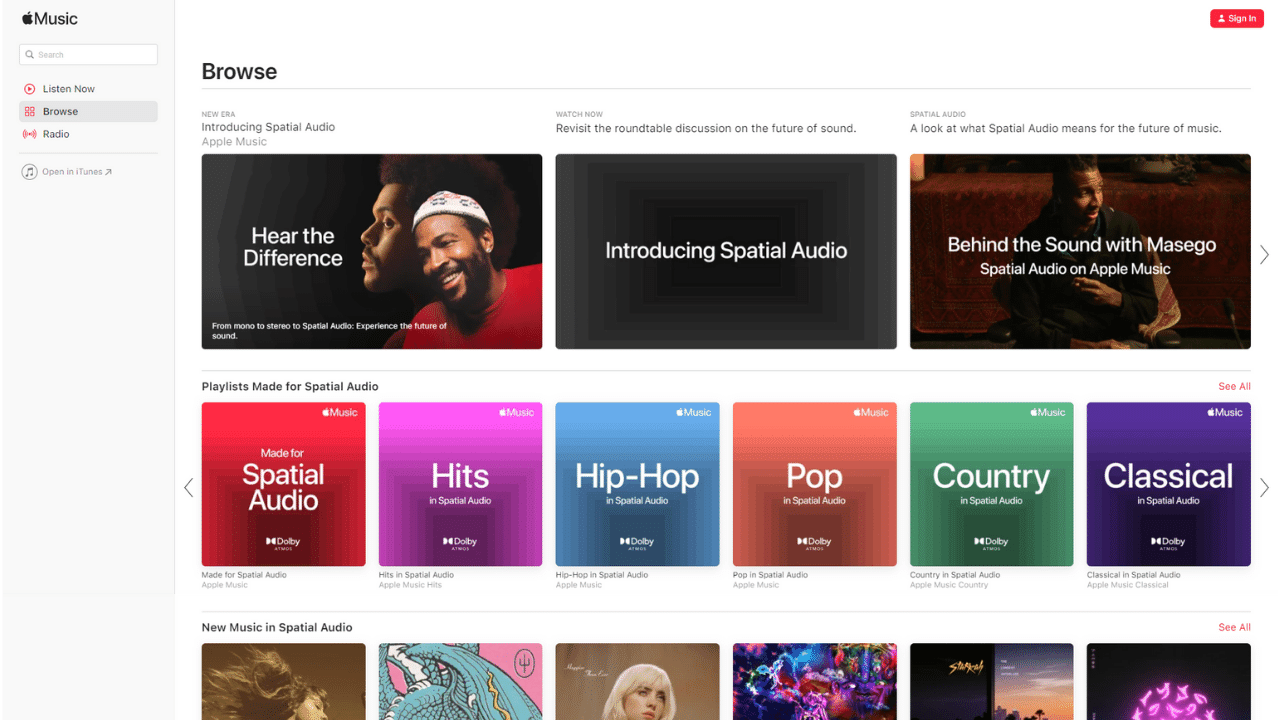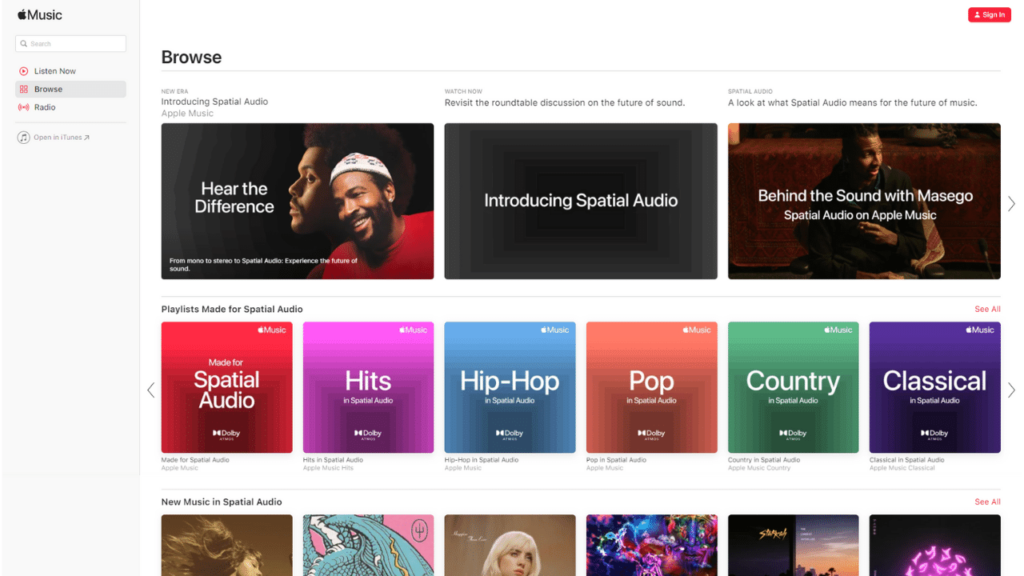 Type: Streaming service
Free or Paid: Paid
As most people will know, this is an obvious choice as a paid music streaming service. Users can download songs and can even connect the service with DJ software like Rekordbox or Serato Pro on a laptop. You'll need to connect the software with your iTunes account.
Apple gives you access to 75 million songs for a relatively low subscription, and you can easily search for tracks based on new releases and by genre.
16. Traxsource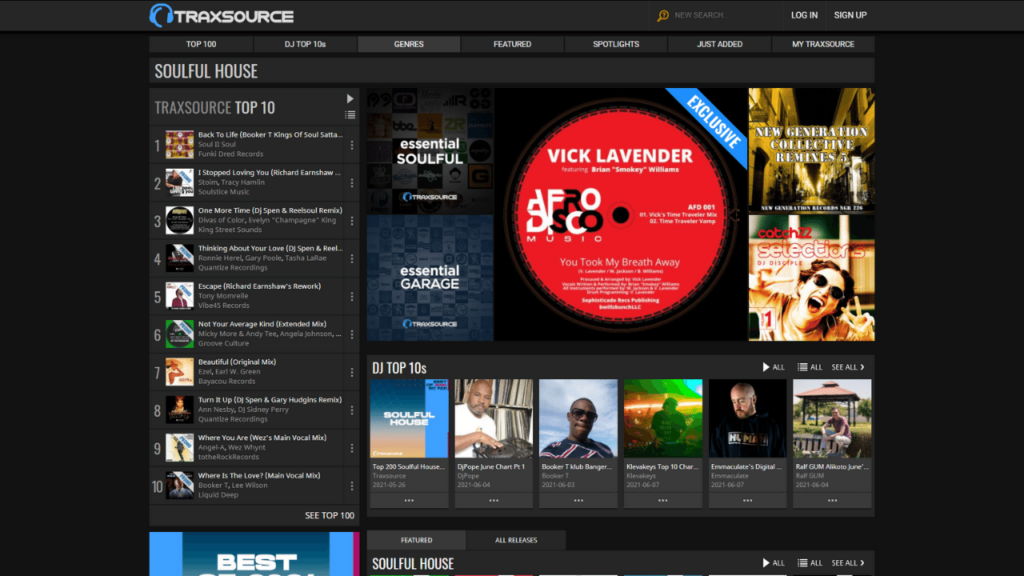 Type: Online record store
Free or Paid: Paid
Being one of the world's first online music stores for DJs, Traxsource is a digital music distribution platform that delivers the latest in dance and urban sounds from independent record labels. They offer a large variety of genres from around the world, including deep house, techno, nu-disco, minimal and more.
The platform is similar to Beatport in that you can preview tracks before purchasing, search by genres, or by seeing what's trending on the genre-specific charts.
Traxsource offers free membership but all songs need to be bought. Once you've purchased a song, you'll be able to download it as many times as you want.
17. ReverbNation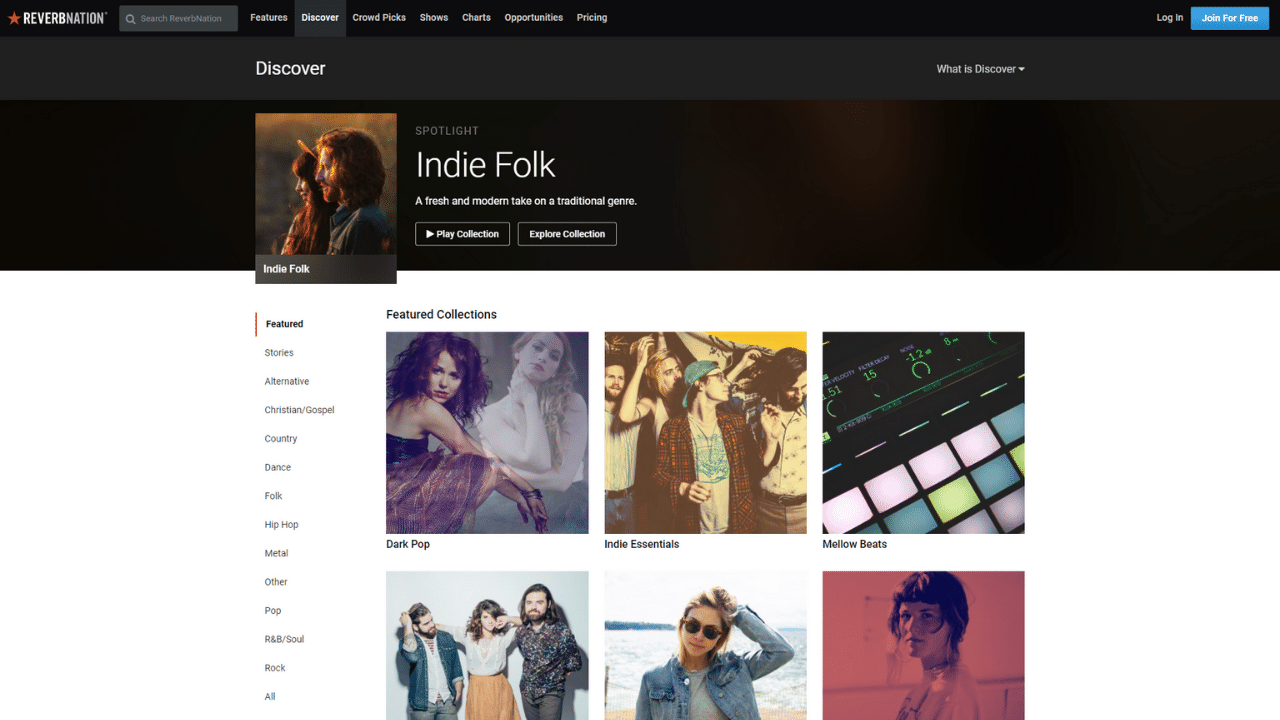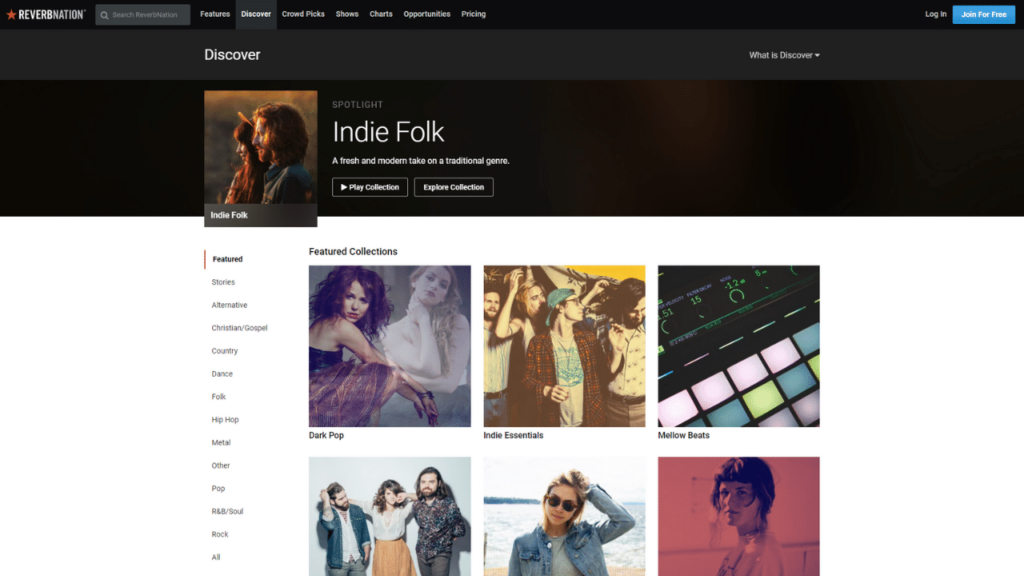 Type: Online record store
Free or Paid: Both
ReverbNation was a long-standing site for music enthusiasts back in the 2000s, and while it's not as popular now you can still find some great tunes from artists who released their work on this platform.
ReverbNation has been around since 2006 – practically an eternity ago! It all started with developers looking to make MySpace more musician-friendly by adding features that would appeal to them too. But they have since pivoted to being a social media network exclusively designed for bands, DJs, producers and other musical creatives like yourselves!
How to get free music on ReverbNation
After signing up for an account, head on over to the "Discover" tab and access these playlists. You can go through the songs in this playlist and see which ones have a free download option by looking at their ReverbNation music player!
It's easier to get noticed by other DJ/producers if you take the time to sign up and reach out. To help your chances, join mailing lists of any artists that you like here on ReverbNation and build rapport with them because our community is smaller so it's more personal!
18. Last.fm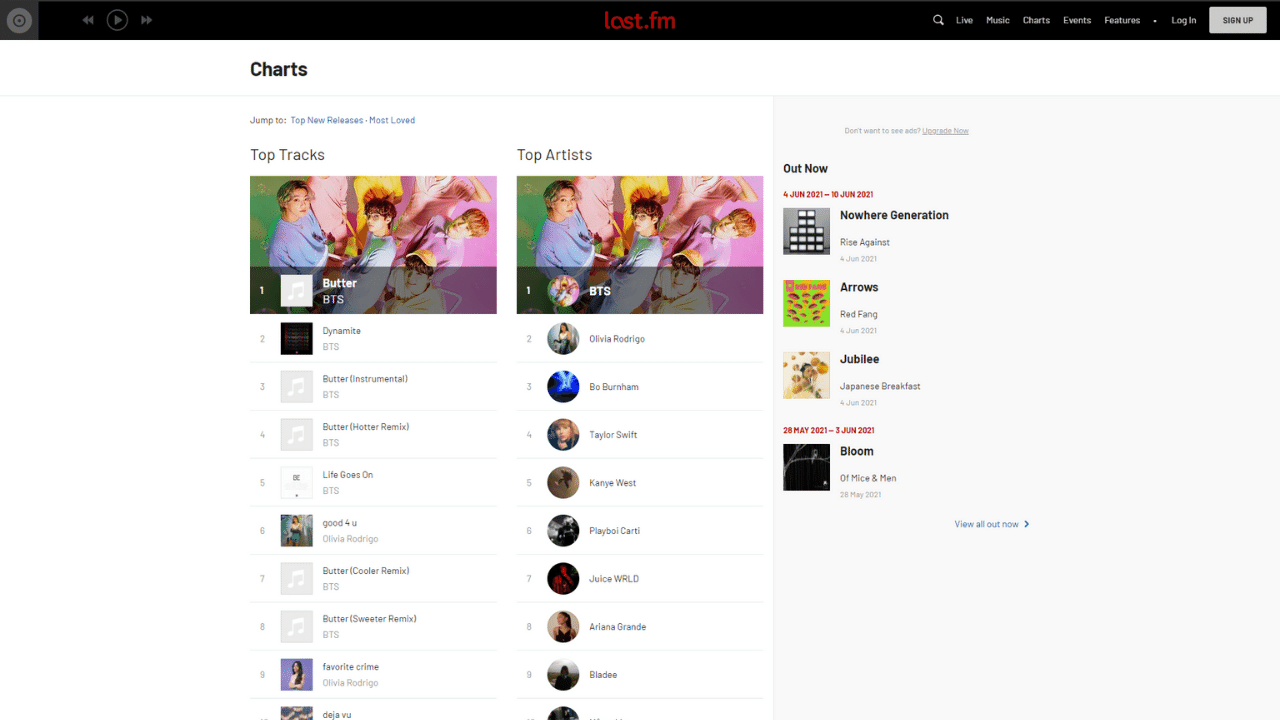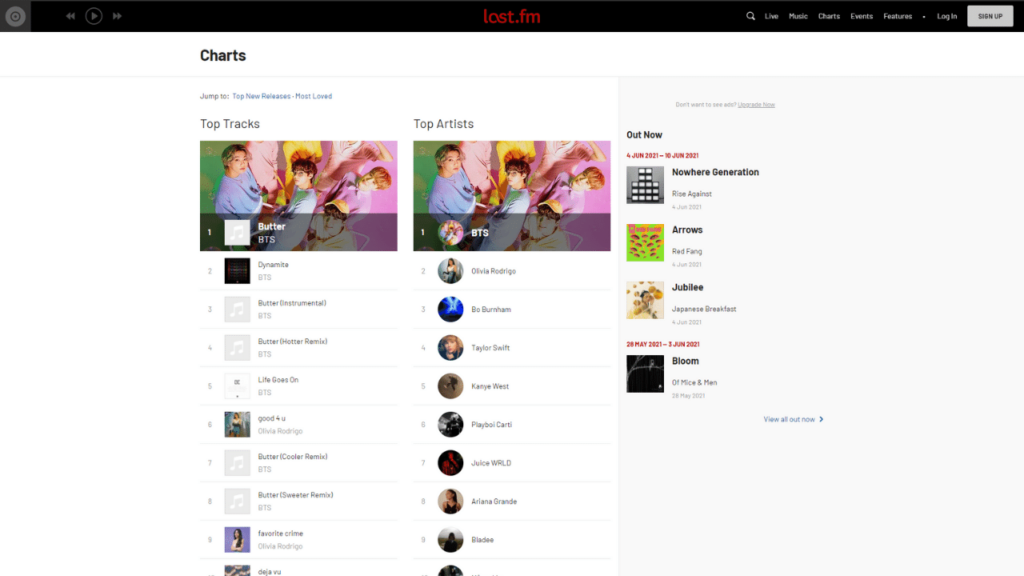 Type: Online record store
Free or Paid: Paid
Last.fm was a revolutionary music discovery service that also gives you recommendations based on the artists and songs you like. It's not just for finding new tracks though; it offers free downloadable DJ mixes of all types, too!
Last.fm was created in 2002 as an internet radio station with its user-generated charts. You make your own chart with what songs are popular or trending at any given time.
But nowadays Last.fm no longer has its old "radio" anymore – no more live DJs are playing 24/7 over live streams (that ended back in 2014). So now they're mostly pulling YouTube videos instead: still good stuff but don't expect some groundbreaking music for your next set.
19. Free Music Archive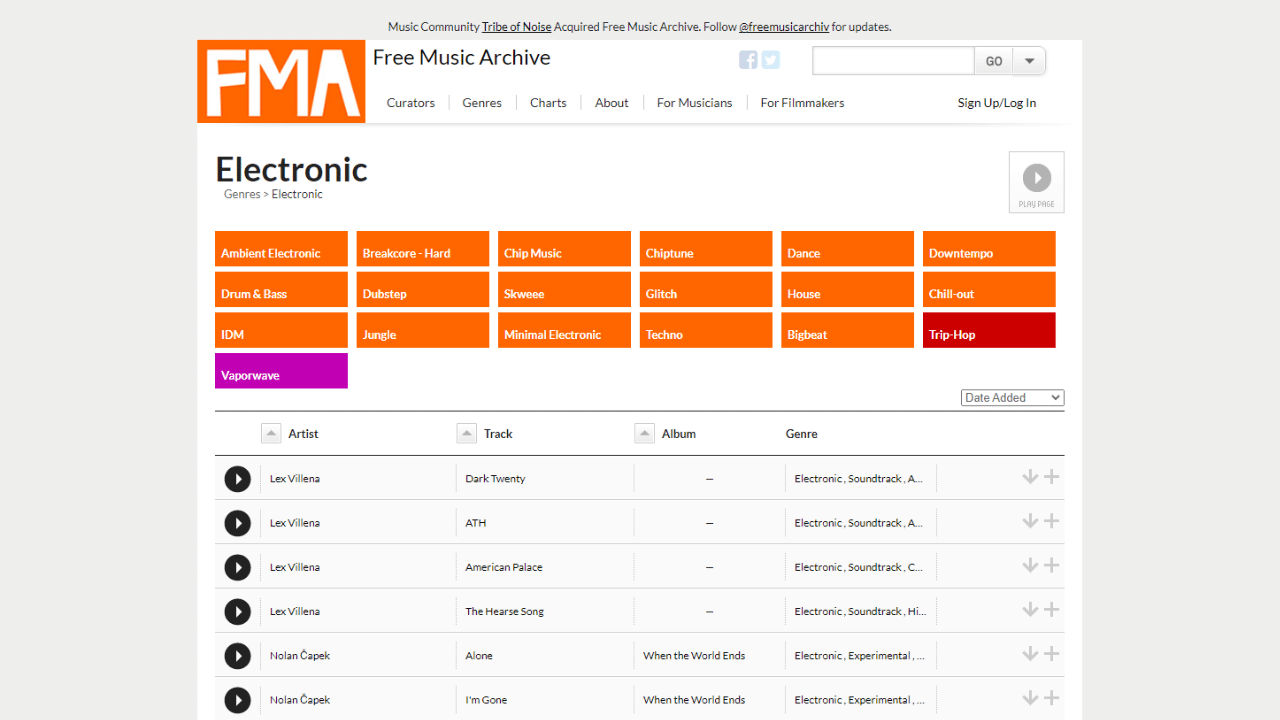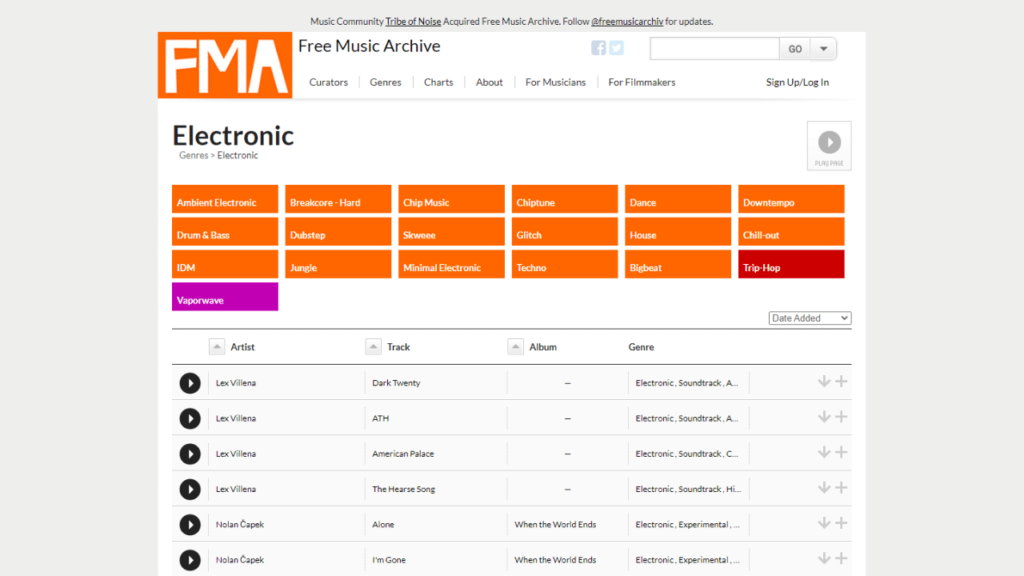 Type: Free site
Free or Paid: Free
FMA is a legal website that offers free DJ music for use in sets. You can even chop the tracks up and sample them to create beats or productions, depending on which license you download from it. It has thousands of songs spanning various genres including electronic, hip-hop, experimental plus its own charts keep track of what's popular this week so you never miss out!
FMA is an online repository of royalty-free music, it can't be used for commercial purposes. However, it's possible to download tracks and use them for commercial purposes as long as you have a copyright license.
20. Bensound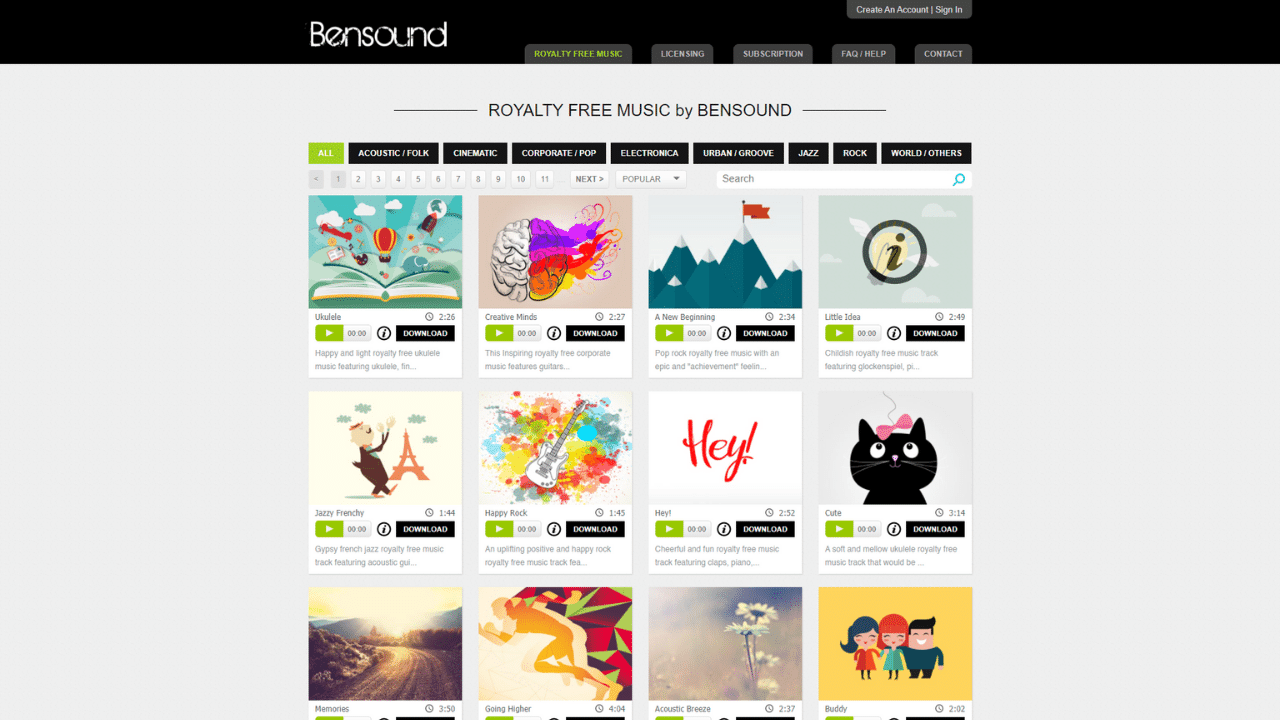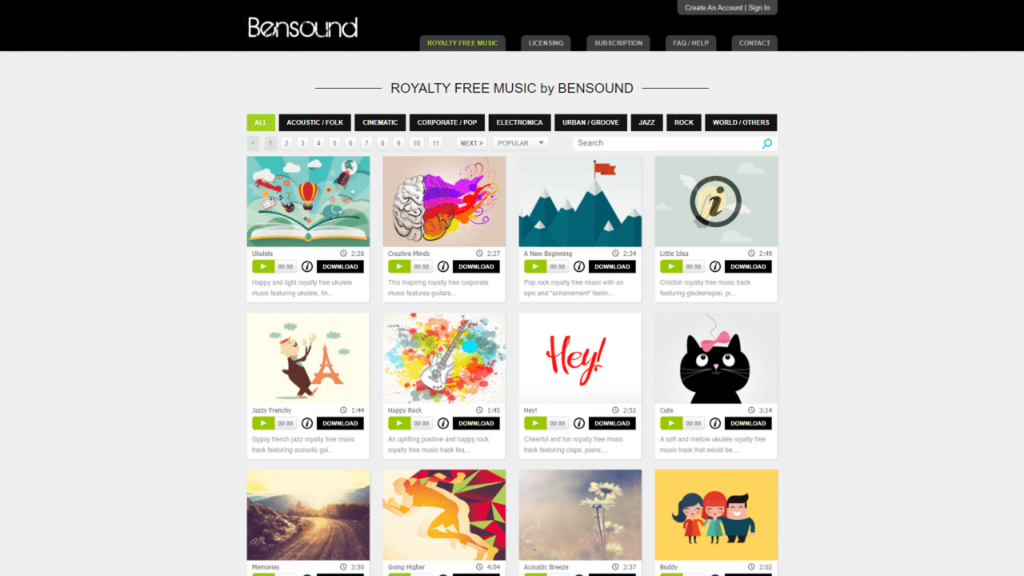 Type: Free
Free or Paid: Free
Bensound is a site that provides royalty-free music for a wide variety of content creators. The tracks are free and can be used in DJ sets or mixtapes and online content such as YouTube videos.
However, because it mainly caters to video producers or music supervisors who need background music instead of a song specifically for their project, you may have trouble finding the right type of track here if your library consists mostly of songs intended to play during gigs.
21. CCTrax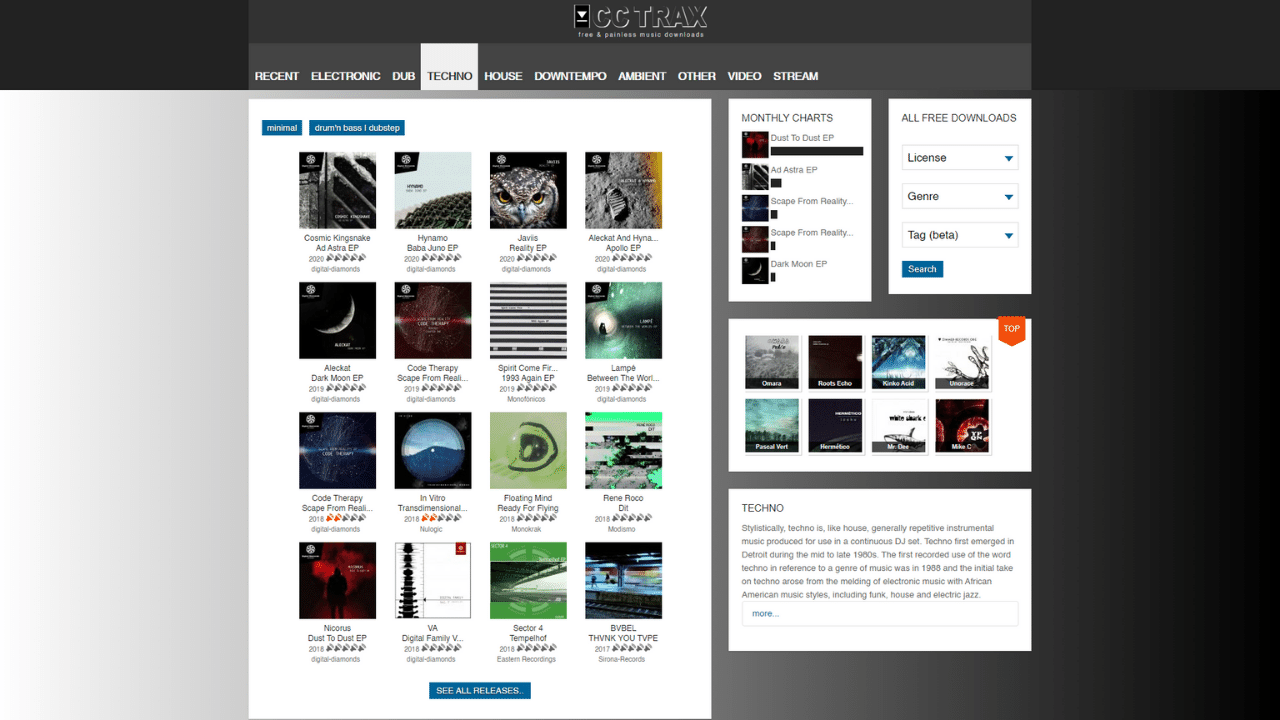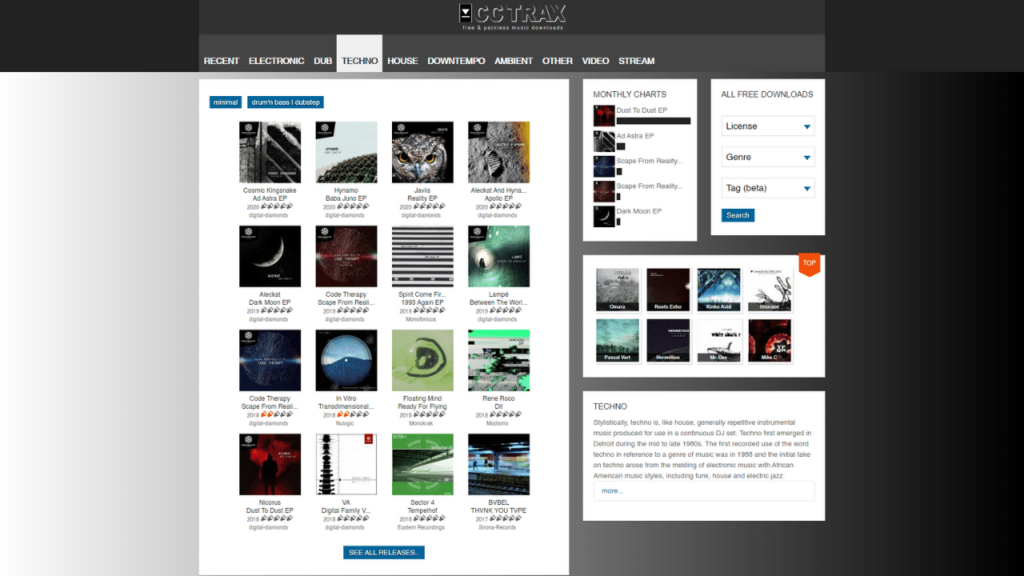 Type: Free
Free or Paid: Free
CCTrax is a website that provides free music downloads with various Creative Commons licences. This means you can legally download songs on the site, but varying degrees of usage are allowed depending on what type of licence was assigned to each song by the producer.
CCTrax is a great place to find electronic music that you won't hear on mainstream download stores. They have everything from house, techno, dub and even experimental so there are definitely gems out there for those looking beyond the standard fare!
To start your search at CCTrax click on "Pick Your Genre" which will take you to their homepage page with links organized by genre. From here it's easy as pie to find what you're looking for since all of the releases come complete with both ratings and reviews from other users who may know something about these genres better than most people do!
22. Junodownload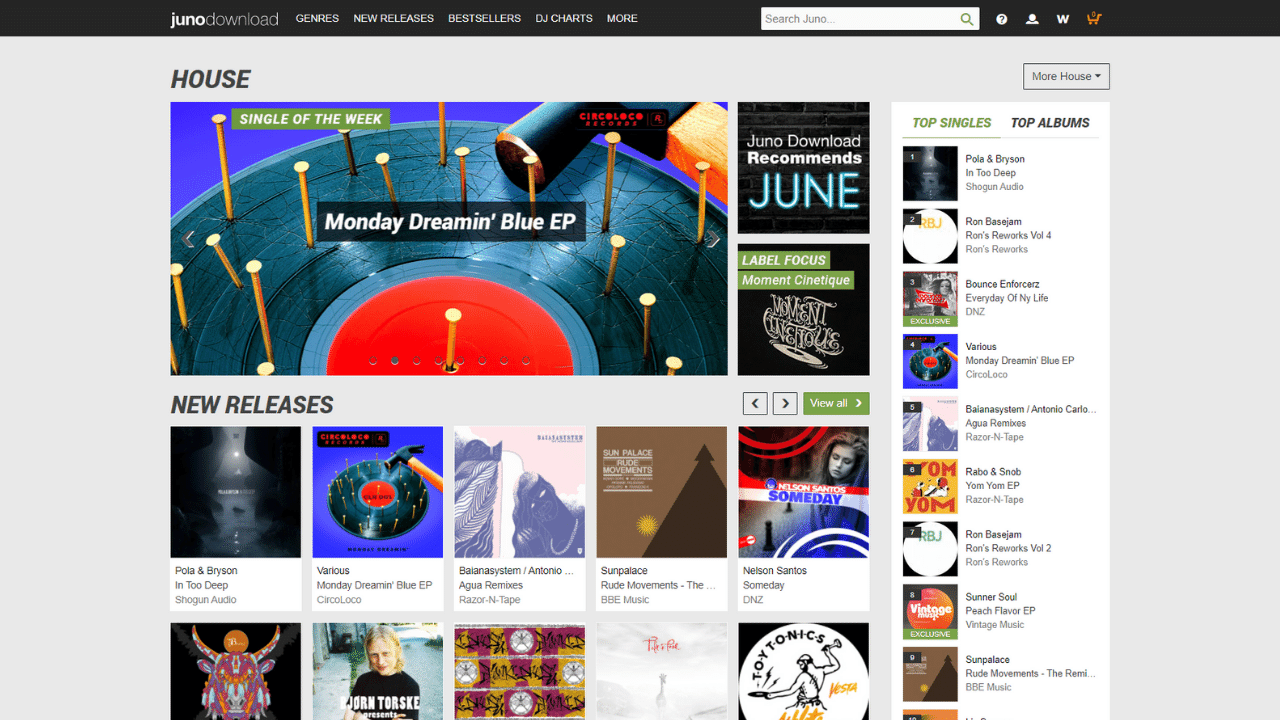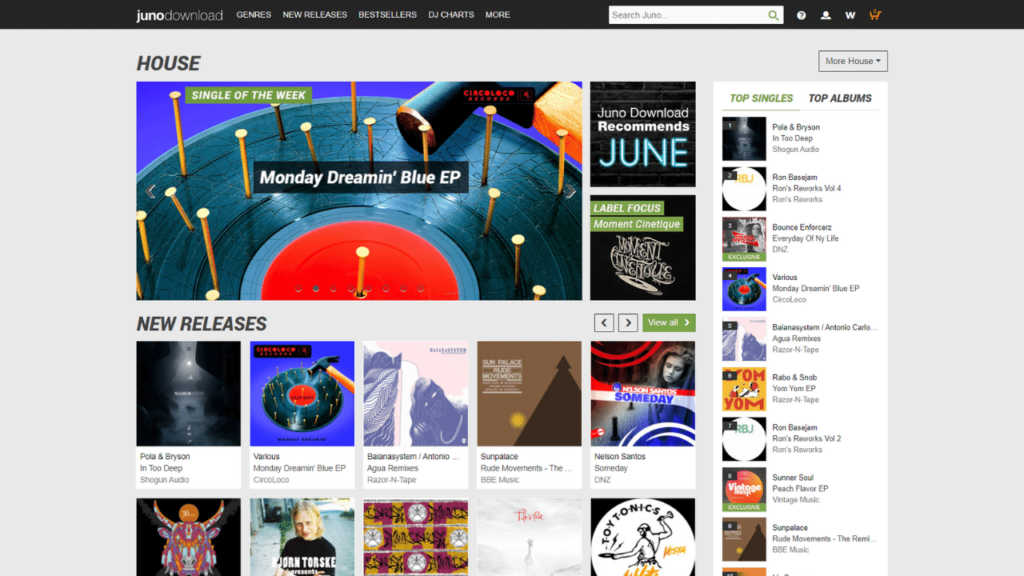 Type: Online record store
Free or Paid: Paid
Junodownload has an extensive library and is well known among DJs, so you know they can be trusted when looking their site over.
You can buy or download tracks with ease thanks to the user-friendly interface that Junodownload offers on its website.
If you're not sure about purchasing something from them, don't worry, they allow you to preview the song before purchasing (Similar to Beatport and Traxsource).
The extensive, curated collection of music that you can download in bulk is really the best thing about this site. Their top list and genre sections are very robust to help with your search for new tracks as well.
23. Facebook Pages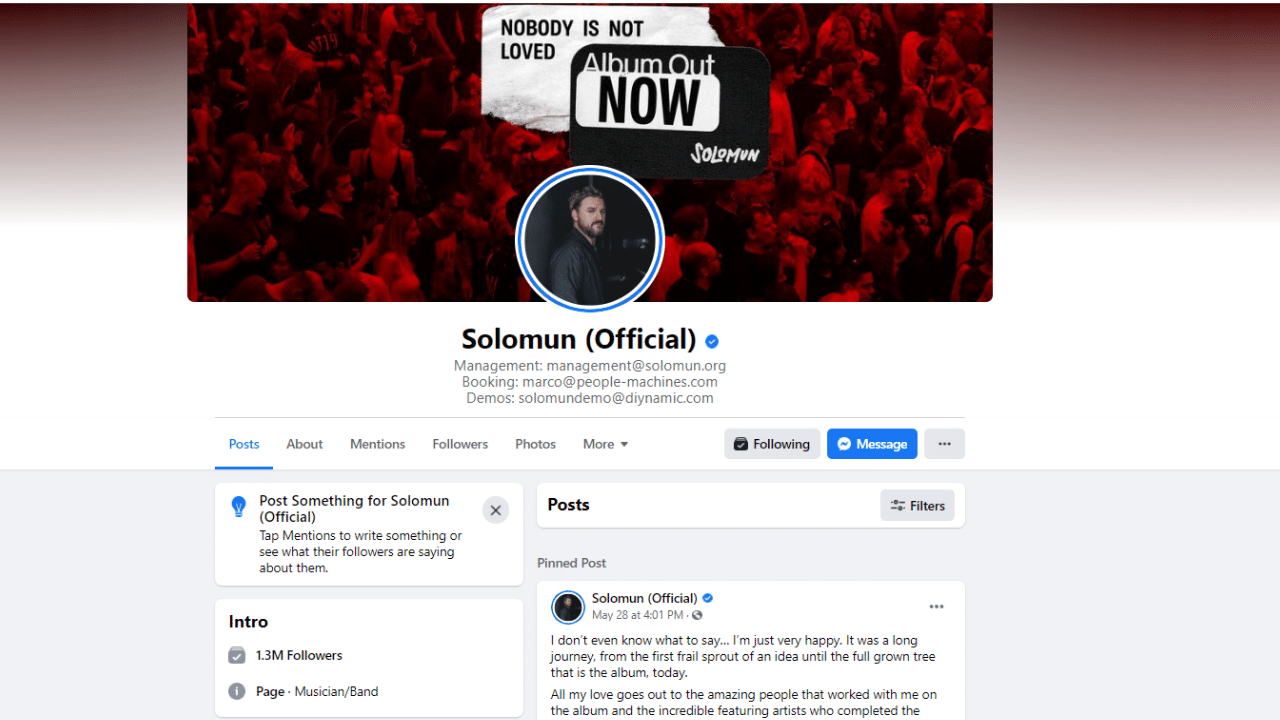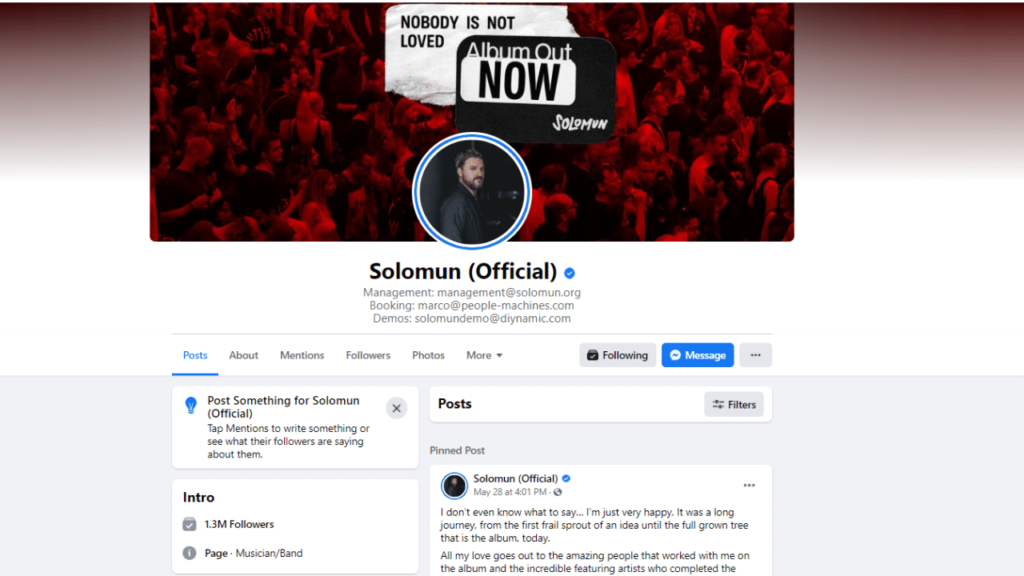 Type: Free
Free or Paid: Free
Yes, you heard that right. The music industry is always evolving, and this is one example.
If you go to one of your favorite music label or DJs' Facebook page, chances are they might be offering free downloads.
You see many famous DJs are also music producers, and in many cases, they run their own labels. While in return for signing up to their promo mailing list, they will often upload music that you can easily download.
24. YouTube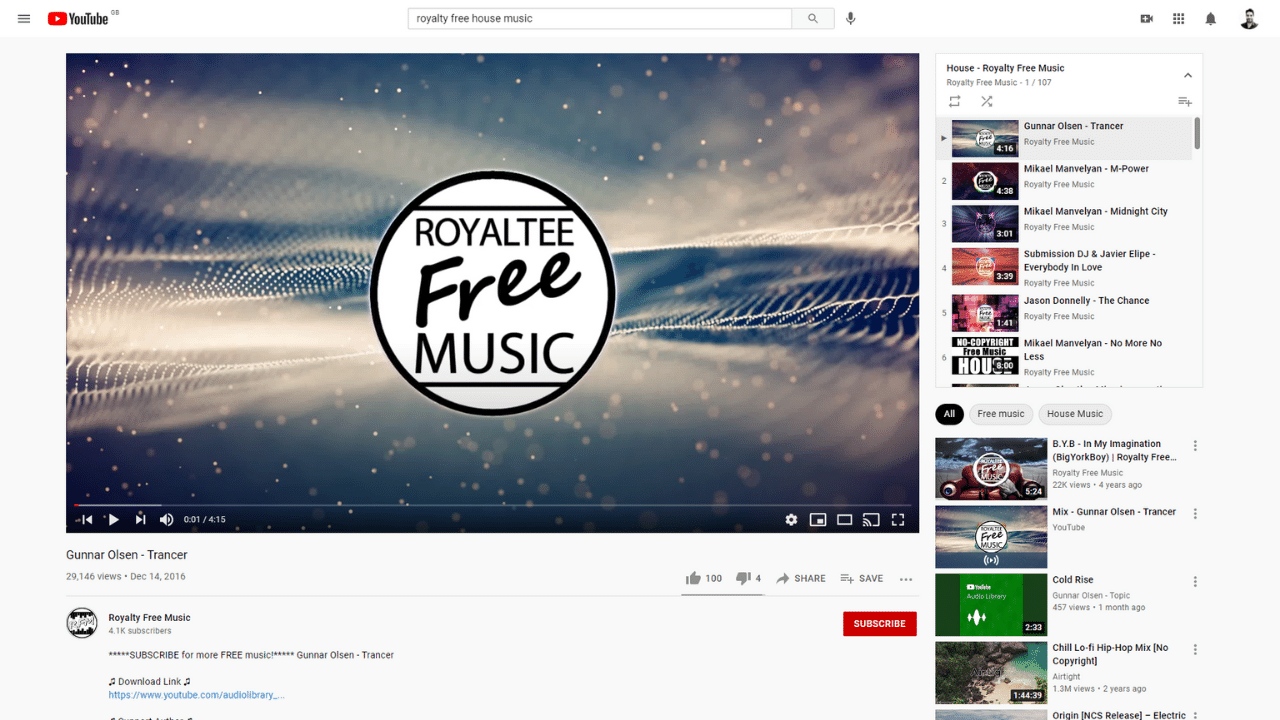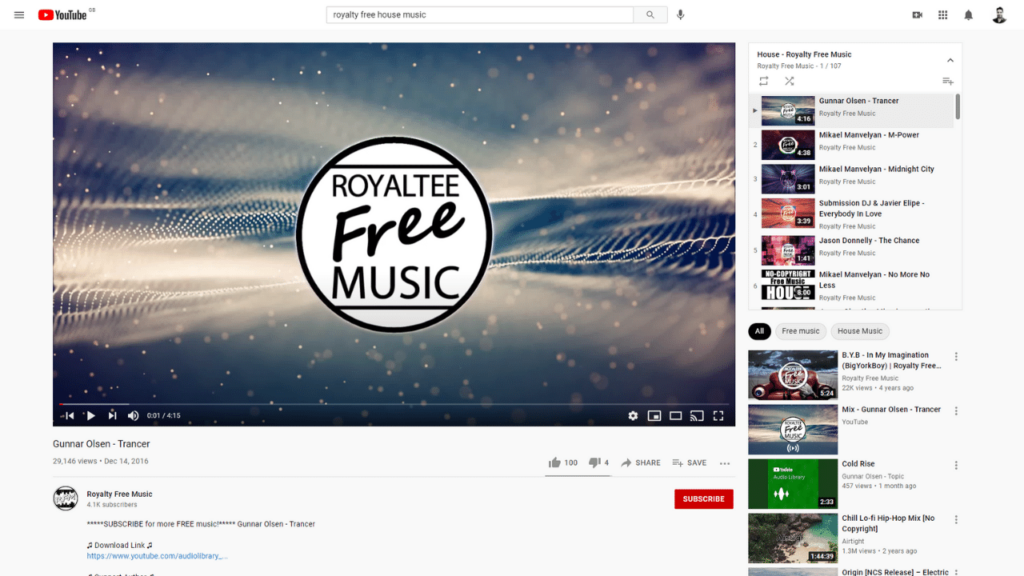 Type: Free
Free or Paid: Free
While most people use it for browsing music videos, channels or artists are offering free music downloads.
How Do You Get Free Music on YouTube?
You can find free music on Youtube by using the search bar for your favourite record labels' channels. Quite often they have these channels set up for giving away their own music.
They'll also run contests giving away free stuff, and promos designed to help promote them similarly to the way it is done on Hyppedit.
Try searching for a label on YouTube now.
Final Thoughts
When it comes to building a huge library, we recommend subscribing to a DJ pool. You can get everything you need in one place and save time looking for different websites that DJs use to get their music.
Have any other recommendations? Let us know below or on our social media channels.
And remember, we also want to mention the importance of not ripping your favorite songs illegally off YouTube (it's still illegal!) so make sure you're always downloading mp3s at 320 kbps or higher.
If this guide was a great starting point towards building your music library, then do check out our guide on how to organize your music library.