When creating a performance-worthy set, you rely on your music library almost 100 percent to find the gems that compliment your creativity. However, finding such gems is not that easy as we DJs tend to have a tonne of sounds, tracks, samples, and more in our music library.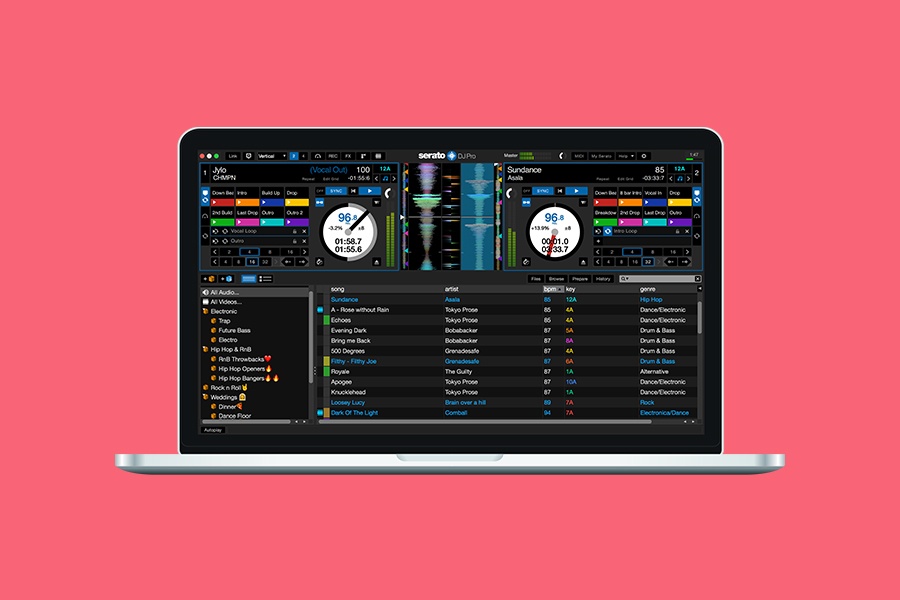 That's why organizing your music library is very important and should be done periodically. It has many other benefits that can improve your overall DJing experience.
Let's learn more about the importance of organizing your DJ music library and the best way to do it.
Why Is It Important to Organize Your DJ Music Library?
While Vinyl and CDs are quite a different kind of hassle when it comes to organizing, the digital copies of music are not any different. DJs around the world prefer using digital storage as it enables them to carry more songs and tracks around with them.
This is one of the main reasons why most modern DJing devices come with digital storage device compatibility.
It is very important to have a well-organized music library because it helps you find a particular track easily and focus more on mixing and DJing. With a well-organized library, you can find a song, beat-match it, and prepare a suitable transition for it.
The lesser time you spend looking for tracks the more time you have to focus on your performance and create a perfect transition.
With a substantial amount of time on your hands, you can do a lot of things like setting loops, adding extra elements, or effects that make your set sound enjoyable.
Furthermore, you also need to keep your library updated with the newest tracks while also keeping some of the classics. With an organized library, it will be much easier for you to decide which tracks you want to keep and the ones that are not needed anymore.
When you spend time organizing your music library, you also spend time with the music. You need to listen to each track that's in your library. This will help you pick out the best parts from a particular song and include them in your set to make it more groovy.
Apart from all these benefits, organizing a music library can be helpful from a security standpoint too. You can create backups of your latest sets and tracklists or put them in a single folder.
It can save you a lot of time when you want to copy files for the show. With a centralized location, you find the tracks and samples you need for your set quite easily. All you have to do then is copy the files and paste them into your USB drive.
Tools For Organizing Your DJ Music Library
One of the best ways to keep your DJ music library in check is by editing the metadata of each track. However, before we get to the technical part, let's find out which software suits you the most for managing your library.
Since metadata editing takes a lot of time, having software with some automatic or inbuilt settings can be of great help.
iTunes
Normally DJs who use iPads, Macbooks, and other Apple Inc. devices rely heavily on iTunes. This is due to the existing structure the software offers from the very start. But, if you're already an iTunes user with a playlist; consider your work half done.
The majority of DJing software that are available in the market today most of them work well with iTunes. To make the best use of this situation, we recommend that you make some additional settings for the software.
iTunes is programmed with a configuration that tries to arrange your library and music automatically. However, relying on iTunes for organizing your library might not be a wise decision.
MP3Tag
This software comes in handy when you're ready to edit the metadata of the tracks in your library. Since this software works only on Apple devices, Windows users can use MetaBliss that offers similar functions.
MP3Tag features the bulk editing tool that offers a great advantage. The feature allows you to update the metadata of tracks in large numbers and also rename files. It can save you a lot of time when editing data.
Moreover, the renaming and metadata structure of the software is compatible with all the other software and devices.
DJ Software
Most DJ software provides you with an additional option of tagging the tracks. This offers more information than a generic ID3 tag. Such options can be very helpful when it comes to organizing your music library.
However, there is one drawback that you need to keep in mind when using this kind of tagging system. As the software generates the tagging data, it gets stored on your computer in a file.
If you copy the same file to a USB drive the additional data will not be visible.
Therefore it is best to use both in combination and make library management easy. You can use MP3Tag for renaming the tracks in large numbers. Then add extra information with the help of the DJ software.
In some cases, DJ software analyses the tracks in your library to provide the data that relates to BPM and Key. After analysis, this data is stored in the file's metadata.
There are times when the DJ software can make errors like detecting the BPM wrong when there is a small variation in the track. In situations like these, you will have to make the changes yourself.
Mixed In Key
This tool can help you sort your files while adding data about the song's Key and an energy rating. The tool also suggests suitable cue points that help you mix the track smoothly. You might have to modify some information based on your preferences.
At times the app might list a track to have a high energy rating but it is better to check it manually before including it in the set. A software might not be able to reproduce the same results as a person.
Mixed In Key is a very helpful tool and can save a lot of time. Especially, when you just want to rename your files for easy management.
Platinum Notes
Platinum Notes is a great software that you can use before adding music to your library. It can normalize the audio of your tracks and maintain a balance to the loudness levels.
How To Organize Your DJ Music Library
This is the most important part. Organizing a music library can be an elaborate task especially if you have tonnes of tracks and sounds. Moreover, it has to be done systematically to make sure everything is sorted properly and you have a track of everything.
Here is a simple process you can follow to organize your music library more efficiently and faster.
Editing The Core Tags
With all the tools and software at the ready, next, you can focus on editing the filename and metadata of the tracks. Make sure your files have a consistent name structure, this makes it easier to find them.
Here's where you can start using the MP3Tag tool to edit the filenames. With its ability to rename the files in bulk. The tool is quite light but yet it is powerful enough to edit their data in large numbers.
To begin the process, start by entering the metadata of your music files. You will find this data in the ID3 tag of the file.
Here are things that you need to edit within the core data area of the files. Also, the things that can enter in these fields.
Title
The title is the most important tag of a music track. Normally, the name of the track is present, but due to multiple transfers or downloads, the name often gets distorted. It mostly happens when you're trying to add the name of a featuring artist for eg. (feat. Rapper or Pop artist).
The best way to avoid complications is to refrain from adding the artist's name in the metadata section. You just need the beat while mixing. Moreover, many different songs sound similar or have the same name such as remixes.
You can keep the remixes in a separate folder but we suggest you rename the remixed track with the word remix in brackets. For eg. Lil' Nas X – Old Town Road [David Guetta Remix]. Since some songs come with subtitles that are often written in round brackets, using square brackets will make things a little easier.
Artist
Adding the artist's name to your track's metadata can help you find a specific track made by the same person or bands quicker. If two artists have collaborated on a track, you should know the name of both individuals.
There is a separate composer field that you can use to add the names of additional artists. But, it's simpler to add the names of the artists together in a single tag.
Year
The year tag tells you when the song was released. There are times when the year can be a problem. Some tracks are found in compilations or many years after their actual release date. Also, tracks with missing dates can complicate things a lot.
You can write the date in the year tag in any way you like. Whether you just write the year or the entire date, month, and year. For instance, Kendrick Lamar's Humble Skrillex Remix shows the release date as "2017-09-22" both in the tag and filename.
Since most DJ software shortens the date for convenience it is better to follow a simple date format such as above. Or you can just keep the year of release of a track that will be visible in other software and applications.
Album
This metadata tag is used for mentioning the name of the artist, band, or a compilation that created the track. You can also use this tag for writing the name of the release i.e. the name of the track or the name of the compilation. For instance, 'Hip-hop Club Mix Vol. 2'.
Naming the album tag properly will ensure that most of the mixes are tagged as a group and contained accordingly. You have the freedom to name the album tag based on the name of the compilation or a single track.
No matter how you name the album tags, make sure there is consistency in the structure. This will also help you in sorting your music library.
Track
If you're planning to play an entire album or some tracks in a sequence, the track metadata can be of great help. Since it only allows numerical values, you can use it to number the tracks in consecutive order. Apart from this, the track metadata does not have any other use.
Genre
The genre entered by the music store might not always be accurate. This can further lead to confusion and even cause blunders while mixing. Therefore, editing the genre manually is very important for DJs.
As a DJ having the ability to dissect between the different genres and subgenres is quite common. This enables you to play a diverse set.
However, it is not always easy to determine a track's genre just by listening to it. This is due to the changing musical styles and the countless evolutions over the years.
If you listen to a particular genre with one track that was released recently and the other 10-20 years ago, you will find significant differences between them.
Since this is the music library we're discussing, it doesn't matter if you name the genres precisely. As long as you're able to differentiate between two tracks, it won't be a problem for you at all.
After all this, there is still one factor that you need to be careful about i.e. Consistency. If you create too many subgenres, organizing your library will be nothing less than solving the devil's maze.
On the other hand, having very few genres will mix a lot of styles, and choosing the best fit for your set will become all the more difficult.
So whenever you're creating genres, make sure that you divide them by their main genres first and then move on to creating subgenres.
BPM
It is also known as the tempo of a track, you will find the BPM of a track in iTunes. However, this tag is commonly overshadowed when a track analysis tool is used.
Normally, making changes to this tag shouldn't be your problem. But, when you are mixing a track you need to know its BPM.
When a particular track has a breakbeat made of drums or dubstep, the tempo is often determined inaccurately. Make sure to check the BPM of such tracks manually before you consider including them in your set or sort tracks according to their BPM.
If you prefer using tracks of a certain style or genre you will be familiar with the common BPM range of these tracks. So if any track has a that is above or below your preferred BPM range, you will be able to spot it quickly.
For instance, if you're familiar with using tracks or sounds that fall in the range of 120-130 BPM, a track with a BPM rate of 110 or 135 will be easily distinguishable.
Key
For DJs who pay a lot of attention to the harmony of their tracks, the key tag can be very useful. To make sure you get the key right you can use tools like Mixed In Key that analyze your track and determine the accurate key of the sound.
Alternatively, you can use software like Traktor and Virtual DJ to find the key automatically. Having a key metatag for your tracks can be very helpful at the time of mixing.
Rating
Ratings can be used for multiple purposes, but most DJs prefer using them for representing the track's energy. This gives you information about the effect a particular track can have on your set.
However, it is not a wise decision to use the rating tag for denoting power, you can write about the track's power in the comments tag. The best way to make the most out of this tag is using it to get comparative information about the quality of the track.
One of the best ways to use this tag is to mark the track's popularity or your preference of using it in a set for a live audience. This will allow you to find your favorite tracks to create a set or a playlist quickly.
You can use two stars for a track that you find average and one star for sounds such as intros, random beats, and melody, or vocals. Three stars will be apt for a good track. A four-star rated track should be something you like. Whereas, you can reserve the five-stars rating for a track that you think is one of the best.
You don't need to use five stars for a super rare track. Your playlist is made of songs you like and there is a great chance that you consider a lot of the great classics. So don't shy away from giving full ratings to the best songs in your music library.
Date Added vs Release Date
A lot of people get confused when they see separate rows for these two tags. So it is essential to understand the difference between them before using them.
Keeping a musical timeline will help you in playing the newest tunes to your audience. Or find tunes that are popular among them such as upfront tracks.
If you get confused between the new tracks and the songs that you've added to your library, it may cause a huge blunder in your show.
The Year tag and Release Date go hand-in-hand. They both provide information about the time when a particular track was made available for the general masses. It is common for DJs to download a track during an ongoing gig to complete a request. These songs might be a few years old too.
However, when organizing your music library you need to be careful with such tracks as they are not technically new but are not popular among people.
Considering this, you can keep both fields in mind and use them accordingly to manage your library. Doing so will help you get the best out of your music library and create a set that sounds fresh and classic.
It might not be right to rely on just one of them as there might be many tracks that would have been released in the same year or the same date. This can make your searches even longer.
Comments, Description, Grouping, and Composer
If you're an iTunes user, you will find other fields that you can edit to clear and organize your music library. Remember that you have to come up with a consistent way of naming the tracks and classifying their use.
The Comments tag allows you to put your thoughts about the track in the metadata. You can describe its structure, what is special about it, the components used in the track, and more. This will help you recall what is special about the track when creating a set.
You can use the comment tag from other applications such as Traktor.
Whereas, the grouping tag is suitable for creating a cluster of tracks or add a different meaning to the track's definition. Apart from these, iTunes offers metadata editing for fields like composer and description.
The type of software you use enables you to use varying tags. For instance, Traktor users have a comments 2, producer, and remixer metadata field. If you have sufficient information to fill the metadata, these tags can be very helpful.
Some of these tags might have to be edited manually. Also, most of these tags might not appear in other software. Therefore, using the most common tags is the best thing to do.
Conclusion
DJing should be effortless and enjoyable. Thus, organizing your library can be one of the first steps you can take towards making DJing easy for you.