Let's check out the best DJ mixers on the market. Feedback tells us the number 4 is the most popular choice so far, but which will you choose?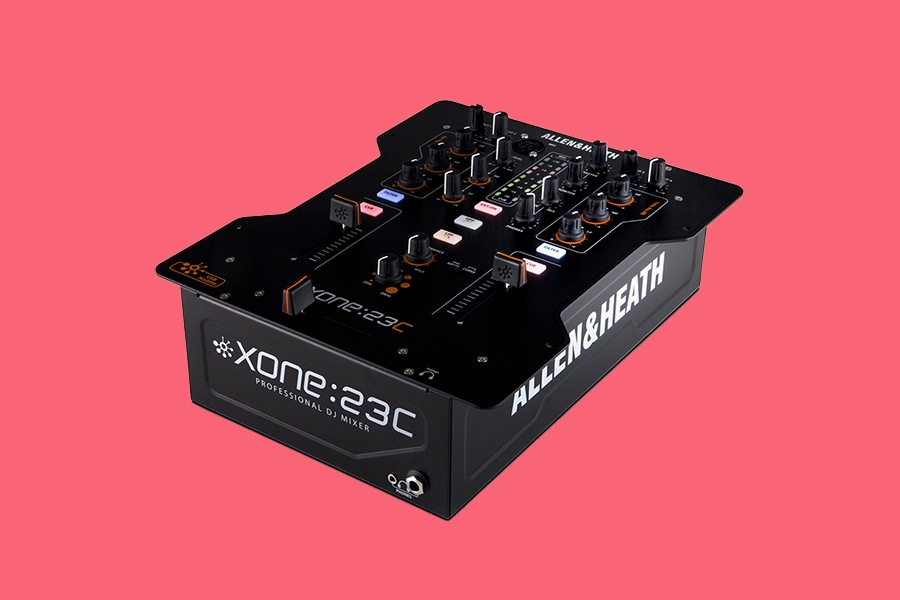 Finding the best DJ mixer to suit your needs can be tricky. With a long list of manufacturers offering a bunch of different models it's hard to know where to start. I've put this list together so you can skip all of the shopping around.
This list contains the most tried and tested mixers on the market to ensure reliability. I've also taken owners reviews and the number of sales in to account. Plus, I've personally owned 2 mixers on this list and used at least 5 of them. This gives me a better knowledge of the mixer than just doing online research. It doesn't matter what level you're currently at, this list is for everybody
If you're looking for the best DJ mixer you'll find some great options in this list. But you may want to read all about choosing the best setup first to get an idea of your own requirements.
But if you're more experienced you'll want something feature packed so I've found a list of mixers just for you.
This list is in no special order, every mixer comes highly recommended depending on your skill level and needs. If you want the best DJ mixer you'll find it here. Let's get to it!
Editor's Top 3 Recommendations
Best DJ Mixer for Beginners
Pros
Excellently built for beginners serious about DJing
Inherited from the the DJM-900 NXS2 model
Comes with Sound color & beat effects
Supports DVS setup
Rekordbox compatible
Cons
Currently there is no booth output
Pros
Great sound quality & build
Goes nicely with a set of DJ turntables or CDJs
Faders very sturdy
Strong analog faders
Good output options
Cons
Phono Inputs are slightly on the quieter side
Best Premium Mixer for Pro DJs
Pros
Perfect for advanced DJs to level up to the max
6+2 Channel layout
2x USB connections
6 stereo inputs and outputs
Powerful with 96kHz/32-bit processing
Compatible with Traktor Scratch Pro 2
Dual VCF filters for a powerful new effect
2x independent headphone cue systems for back-to-back performances
Dedicated booth outputs with 3-band booth EQ
Cons
Not beginner-friendly
Expensive
Very big - not suitable for small spaces
What is a DJ Mixer?
The term DJ mixer is a general term used interchangeably with words like an audio mixer, mixing console, or soundboard, but all mean the same thing. It refers to an audio mixing console for manipulating and controlling multiple audio signals coming in from different channels.
Even though most people associate DJ mixers with their ability to make seamless transitions between songs, the consoles are more than just that. They have equalization and effects controls for tweaking audio frequencies to produce audio that is easy to listen to and makes sense.
Why Do You Need a DJ Mixer?
To understand why you need a DJ mixer, you need to know what the console does. As explained above, the DJ gear takes in audio from different sources, manipulates it, then outputs a single signal.
Therefore, if you are DJ, turntablist, sound engineer, or music producer, you need the console to perfect your sound output for on-stage performance, music studio recording, in TV and radio studios, etc.
If you're looking for an all-in-one alternative, you can opt for a standalone DJ controller instead. Check out our full guide on the best DJ controllers on the market.
What Features to Look For in a DJ Mixer?
If you want to get the perfect DJ mixer to suit your mixing needs, consider these features.
Digital Compatibility
Digitally compatible mixers are not necessarily digital, but they enable you to make the most of the available DJing software and applications. It is almost impossible to mix entirely without using any digital device, so consider this factor by checking things like USB interfaces for laptop connectivity.
DVS
DVS stands for Digital Vinyl System. If you see a DJ playing with turntables and a computer, that is DVS.
However, the system does not play records from the vinyl directly. Instead, the vinyl has an analog signal printed into it called a timecode, which the mixer can read, convert, and transfer to the computer as a digital signal.
The computer then assigns a digital record to the vinyl signal and controls it in response to your mixing action or the speed at which the turntable is turning the vinyl.
Most experts agree that DVS is better than CDJ due to the manual and natural process they bring into digital DJing, which is true. Also, they look way cooler than CDJs.
Therefore, if you want to experience the benefits of DVS, there are three systems to consider, which are Serato, Traktor, and Rekordbox. Look for these before buying the unit.
Connectivity: Inputs & output Options
When considering inputs, think of how many instruments you need to hook up to the mixer. How many mics do you need? Do you have a drum kit? If you have a band, you will most probably have to connect all these items simultaneously, so pick a mixer with more inputs and channels than you need.
After manipulating and controlling the input signal, the result usually goes out via a stereo output. It can be 3-pin XLR, TR jacks, or RCA master outputs.
However, the stereo output is not enough. Look for a monitor feed, an independent headphone output, AUX sends, communication channels, etc.
An independent headphone jack is a particularly crucial audio interface because it allows collaborators, other DJs, or performers to set up their mix without interfering with your performance.
Channels
Channels refer to the number of signal paths that take audio into the mixer, and they are usually less than the number of inputs. The more the number of channels, the more the inputs you can connect at once for easy mixing and get diverse, high-quality audio.
As a beginner or learner, you can start with a two-channel mixer so that you master the mixing first (EQ, FX, and crossfading). However, if you are an expert, get a mixer with at least four input channels.
Software
Some units are the official mixers for DJing software like Serato, and even though this makes them the best DJ mixers for unlocking all the features that such software provides, there are limitations. In most cases, the unit will only be compatible with that specific software.
However, other mixers are more universally compatible, which gives you the freedom to use others like Native Instruments Traktor Kontrol and Rekordbox.
Effects
While most DJ mixers come with an equalizer and filter, some high-end models have effects settings to let you add your personality and creativity to the track. The more the number of effects, the better it is for your DJ mixes.
Durability
Mixing is a demanding task and it exerts a lot of pressure on the console. For this reason, you should pick one with a durable construction consisting of a sturdy metal frame and casing.
On top of that, the faders and paddles should have metal reinforcement and a contact-free magnetic system to withstand excessive movement, especially if it is a battle mixer.
Durability
The best DJ mixers vary in features and this creates a corresponding big gap in pricing. High-end models with multiple channels, effects, multiple inputs & outputs, and more, are usually expensive. If you are a professional DJ, you might want to consider such superb mixers as upgrades.
However, if a beginner DJ, stick to a simple mixer with an affordable price tag at least until you learn how to use the controls.
Purpose
Do you intend to use the mixer to play live mixes, record, or both? Look at the features to support these functions. Do you want a unit to fit into your existing DJ setup? Check for compatibility. Do you intend to use the console during tours? Compactness and durability are key here.
For training as a beginner, a simple unit with two channels will do. Consider the purpose of the mixer, then pick one that fits your needs.
Different Types of DJ Mixers
DJ mixers come in different styles and it is impossible to classify them in a single category. They can fall into one or more of these types.
Scratch DJ Mixer vs. Regular DJ Mixer
A scratch DJ mixer or battle mixer is specifically suited for scratch DJs because it focuses more on the crossfading function. Most DJ mixers have the cross-fading function built-in, but in scratch DJ mixers, it is more robust to give them the ability to cut scratch and transition between two records quickly and with precision.
The mixers are also simple with few knobs and buttons because scratch DJs don't need to make lots of edits to the audio frequency.
However, regular mixers have regular cross-fading functionality and all the controls you would expect on a mixer. They are ideal for beginner DJs because it is vital to learn all the functions of a mixer before picking one that is suitable for your line of specialization.
Digital vs. Analog DJ Mixer
Because they use digital signal processing chips, not analog circuitry, digital mixers are compact and flexible consoles. They take in the analog electrical signal and convert it into numeric data, which makes it possible to split the audio into different frequencies and organize it in DJ software.
With such circuitry, digital DJ mixers provide sophisticated in-line dynamics, channel equalizers (graphic EQs), and effects, while being less noisy compared to their analog counterparts. Additionally, their inputs are not linked physically to the channels, so you can control several inputs using a few faders by arranging them in layers.
But what is the catch? For starters, there is the cost. They are more expensive than analog mixers. Most importantly though, veteran DJs, sound engineers, and audiophiles prefer their warm and natural analog output, which results in superior sound quality because there is no digital conversion.
There is also the advantage of a simple signal flow. Unlike a digital mixer, the analog type has its inputs hardwired to the channels, so all the sound processing is in-line. If you are doing live sound mixing, this kind of control gives instant visual feedback, which makes it easy to troubleshoot any signal flow problems quickly.
However, they are bulky and their lack of an onboard computer means you might have to add on outboard graphic equalizers, effects, and compressors to mix at technically demanding shows. They can also be noisy due to electrical interference.
What Is a Rotary DJ Mixer?
DJ mixers usually have a set of knobs for controlling the equalizer and effects, and faders for volume control. However, rotary mixers use knobs for all controls. Instead of pushing a button up and down or sideways, you will have to twist all controls into your desired setting.
Benefits? A rotary mixer is more compact and gives you finer control over your parameters. It is faster to use faders to go from minimum to maximum, but not easy to adjust to specific values or move gradually. Knobs give you more finesse, which is what most DJs and audiophiles look for today.
Top 9 Best DJ Mixers in 2022
1. Allen & Heath Xone 23C
First up is the Allen & Heath Xone 23, and the Xone 23C that we'll get to shortly. This is a 2+2 stereo channel mixer that means you can actually plug in and control 4 inputs. The Xone 23 features a simple but intuitive design perfect for beginners to intermediate and mobile DJ's. This is an an affordable, touring-grade build quality, general-purpose DJ mixer.
Features
As a 2 + 2 channel mixer with dual phono and line inputs, the Allen Heath Xone:23 still packs in the pro features required to DJ in a booth. They include the analog Voltage Control Filter (VCF), which provides resonance control, low & high pass filters to control the tone's loudness.
Even though the mixer has two faders, each of the inputs (line and phono) features an independent level control, which enables you to up to four sources simultaneously in your mix. There are also dedicated stereo send and return channels for linking to external effects hardware.
1/8 and 1/4-inch headphone jacks make it possible to cue using a wide variety of DJ headphones, and there is a dedicated stereo out for capturing your mix in a recorder plus an independent stereo booth output.
However, you might have to open up the Allen Heath Xone 23 to get DVS support.
Pros
Renown analog VCF
Independent level control for inputs
Dedicated stereo send and return channels
1/8 and 1/4-inch headphone outputs
Cons
DVS support is not readily available
2. Pioneer DJM-250 MK2
The Pioneer DJM-250 MK2 falls into the same category as the Xone 23, and appeals to a wide range of DJ's, but particularly for beginner DJs. I was lucky enough to be able to fully test and review this mixer, you can see the full DJM-250 MK2 review.
Best DJ Mixer for Beginners
Inherited some of the professional features of the popular DJM-900NXS2
Includes Magvel crossfader and sound color FX filter
Straightforward controls, a clear layout, and dedicated 3-band isolators let you scratch and mix instinctively.
Built-in sound card lets you connect the mixer to your PC/Mac and use Rekordbox DJ to perform with CDJs
You can hook up the djm-250mk2 to Turntables and use Rekordbox DVS setup
94 dB distortion: < 0. 005 % (line)
3 band EQ/ISO range: -∞ +6 dB
FX: filter inputs
3 line (RCA), 2 phono (RCA), 1 mic (1/4 inch TS jack)
1 USB B port outputs, 1 Master (XLR), 1 Master (RCA)
2 headphone monitor (1/4 inch jack, mini-jack)
Features
Most mixers have multiple controls, buttons, and knobs that can be very confusing, especially the battle mixer type. However, the Pioneer DJ DJM – 250MK2 is an entry-level mixer that has few knobs and faders, so it is not as intimidating. It is also affordable and has two channels, making it perfect for beginners.
If you want to try scratching, the unit has a clear layout that leaves the lower half free to perform such moves. Since the technique is demanding, the mixer has a contact-free magnetic system that can handle millions of movements without degrading and two metal shafts to reinforce the fader knobs.
You can also take advantage of the Rekordbox DJ low-latency DVS control for smooth and intuitive scratching. The mixer supports Native Instruments Traktor Kontrol as well, to enable you to scratch using digital records stored in your computer.
When mixing, 3-band isolators give enough precision to produce smooth lows, mids, and highs, or to get rid of each frequency range. However, there are no booth or monitor outputs.
Pros
Affordable
Easy for beginners to use
Clear layout
Rekordbox DVS and Traktor Kontrol compatible
3-band isolators
Cons
No booth and monitor outputs
3. Rane Seventy-Two
The Rane Seventy-Two is a premium DJ mixer built for scratch DJing (battle DJing) and club mixing.
Best DJ mixer for Scratch DJs
Full Featured and Built To Last Solid steel construction, Dual die cast aluminum FX paddles with 180 degree rotation and Rane US engineered superior, class leading audio quality
Focus on your Performance, Not The Laptop 4.3inches touchscreen for moving wave display, X/Y FX control, song selection and user customizations
Unrestricted Performance Dual FLEX FX engines, Stacked Serato DJ FX with internal post fader FLEX FX and chain integrated Serato software effect control
Add Some Flair To Your Mix 16 Akai Pro MPC performance pads w/RGB backlight and 14 pad modes
Ready for Anything Full on board Serato DJ Pro transport/pad control, unlocks Serato DVS with Serato's Official included Control Vinyl included; also ships with Serato Pitch 'n Time DJ expansion
Features
Designed with leading turntablists and built by professional engineers, the Rane Seventy-Two defines what happens when true DJ artistry meets sound engineering technology.
The scratch mixer utilizes the full power of Serato DJ Pro software, stacking the extensive effects of the software with dual Flex FX engines to ensure you get unrestricted performance and enhanced sonic manipulation.
Additionally, it has a built-in 4.3-inch color touchscreen that lets you focus on your performance, not your laptop. You can use it as a standalone mixer because the display makes track navigation and selection easy, while also visualizing the waveforms and showing the performance adjustment settings.
All these features make it the perfect battle DJ mixer. To add to that, battle DJing is very demanding and the unit has a solid construction to meet the performance expectations. The frame is solid steel while the casing and FX paddles are all aluminum. You also get a session in/out control for battle teams.
However, the mixer is expensive and it can be a bit difficult to use by beginners due to all the FX.
Pros
Stacks Serato and Flex FX
Built-in 4.3-inch color touchscreen
Durable build quality
Session in/out for battle teams
Cons
Expensive
Not ideal for beginners
4. Pioneer DJ DJM-900 NXS2
Best DJ Mixer Advanced DJs
Features
With its studio-quality, 96 kHz/64-bit digital signal processor, the Pioneer DJ DJM – 900NXS2 takes advantage of enhanced dithering technology and a low jitter clock to ensure you get a natural, warm analog sound.
On top of that, it features improved pre-amp and output circuits to reduce analog noise, resulting in crispy, professional sound.
Each of its four channels features six studio-quality sound color FX, which include dub ech0, noise, filter, space, crush, and sweep.
There is also a large X-pad on the right that you can use to introduce 14 different beat FX to your sound. You can adjust the parameters using a single finger, then view the selected FX on the large OLED display.
In addition to the four phono inputs, the DJ mixer features USB connectivity via two USB ports, so you can connect your turntables or two laptops.
The USB soundcard allows stereo signal input/output from four ins and five outs simultaneously and will load the settings automatically to your computer when connected for you to make the configurations.
The only downside is that the unit is not compatible with Traktor DVS.
Pros
A studio-quality digital signal processor
Noise reduction circuits
Studio-quality sound color FX
Large X-pad with 14 beats
Two USB ports with stereo I/O
Cons
Not compatible with Traktor DVS
5. Native Instruments Traktor Kontrol Z2
A tough club mixer that excels alongside CDJs and turntables.
Great DJ Mixer For Scratch DJs
Features
As the world's first DJ mixer with 2 + 2 channels, the Native Instruments Traktor Kontrol Z2 brought onboard the concept of having two full remix channels and two standalone channels, plus innofaders on a sturdy aluminum chassis.
The two remix deck channels give essential controls for improvising records on the go, while built-in Macro FX controls enable you to combine multiple effects to express your skills using a single-knob action.
There is also a Flux mode that helps you keep track of time when juggling cue points or doing a track and fx loop.
All these are part of the full version of the latest Traktor software (Scratch Pro 2), and they have intuitive controls (Flux mode and Macro FX) for easy use. Most of the buttons are backlit to further simplify use and give precise visual feedback even when mixing in a dark club.
On the downside, since the Native Instruments Traktor Kontrol Z2 is an in-house product, it is only compatible with Traktor DVS.
Pros
Two remix deck channels
Macro FX controls and Flux mode
Runs on the latest full version of Traktor DJ software
Backlit buttons
Cons
Only compatible with Traktor DVS
6. Pioneer DJ DJM-450
Versatile DJ mixer with a professional layout and a perfect partner for the PLX-1000.
Perfect Mixer with DJ Turntables
Professional layout, mixing on the DJM-450 feels instinctive thanks to the layout design, which inherits traits from the DJM-900NXS2 professional mixer
Smoother mixing, the EQ lets you balance the high, mid and low frequencies on every channel
Pioneer's robust Magvel faders ensure smooth control over long-term use
Free rekordbox DJ license key bundled with this mixer
Features
The Pioneer DJ DJM-450 is one of the best DJ mixers because it adopts a professional layout based on the Pioneer DJ DJM 900NXS2, making it very intuitive. Not only does it look professional, but it also has a powerful 64-bit digital signal processor that incorporates dithering technology to produce superior sound quality.
Therefore, whether you are digital DJing or playing from analog sources, the result will be the same, which is exceptional sound quality.
A set of eight professional effects give you the freedom to add a creative touch to your mixes, while a 3-band EQ lets you play with the high, mid, or low frequencies to smoothen out your mix.
The unit features an independent mic section where you can use the AUX and microphone inputs simultaneously. As for the faders, they have a robust build quality with metal shaft reinforcement and a contact-free magnetic system to maximize durability. On the downside, there is no booth output.
Pros
Professional, intuitive layout (inherited from the Pioneer DJ DJM 900NXS2)
A powerful 64-bit digital signal processor
Eight professional effects
Independent mic input section
Durable faders
Cons
7. Numark M6 USB
Best DJ mixer with computer integration.
Best DJ Mixer with Laptop Setups
Versatile, Feature Packed – Four-channel DJ mixer featuring must-have mix essentials for any DJ setting from weddings to clubs, parties to practice setups
Connectivity Covered – Multiple phono, line and mic inputs, plus master (RCA), record (RCA), booth (RCA) and headphone (1/4-inch stereo) outputs
Mix Control - Four channels outfitted with a replaceable crossfader, dedicated channel level faders plus slope controls; Three-band EQs on each channel and dedicated cue controls
USB Connectivity - With its seamless plug and play USB connectivity for Mac and PC, M6 USB lets you mix in music from your laptop or record your sets to virtually any audio recording application
Made-To-Move, Style Driven Design – Sleek, robust and ultra-portable design with radiant LED monitoring facilities included
Features
The Numark M6 doesn't have the word USB in its name for no reason. It offers seamless USB integration with MACs and PCs, resulting in plug-n-play recording to virtually any track recording software on your computer.
Apart from USB, the mixer has all the connectivity options you would need for DJing at a party, club, or wedding. These include phono, line, & mic inputs, booth, record, & master RCA outputs, and 1/4-inch headphone stereo outputs.
In between the inputs and outputs are four channels, each with a level fader, 3-band EQ, slope controls, and cue controls.
All these features fit in a rugged, compact, ultra-portable steel chassis. However, the unit lacks built-in effects.
Pros
Seamless plug-n-play USB computer integration
Multiple connectivity options
Dedicated channel EQs
Rugged, portable design
Cons
8. Allen & Heath XONE:96
A legendary club classic DJ mixer destined to showcase your creativity and exceed the demand for back-to-back performances.
Premium Pick for Pro DJs
Perfect for advanced DJs to level up to the max
6+2 Channel layout
2x USB connections
6 stereo inputs and outputs
Powerful with 96kHz/32-bit processing
Compatible with Traktor Scratch Pro 2
Dual VCF filters for a powerful new effect
2x independent headphone cue systems for back-to-back performances
Dedicated booth outputs with 3-band booth EQ
Features
As one of the most popular analog sound DJ mixers, the Allen Heath Xone:96 has a familiar 6 + 2 channel layout consisting of four stereo & two mic input channels, plus a built-in 32-bit soundcard with two USB ports for connecting two laptops simultaneously.
Add to this the two dedicated FX sends plus four auxiliary stereo input channels and you get a comprehensive connectivity structure that is ideal for any performance rig.
The six main channels have input selectors which you can use to switch between the USB ports, mic, return, or phono inputs. Each of the four stereo channels has a 4-band EQ (hi, hi-mid, lo-mid, and lo) to help shape the sound, while the mic inputs have a 3-band parametric EQ to help you create high-quality audio with a superior sonic experience.
Two analog filters introduce a new crunch setting to the mixer, which enables you to include some harmonic distortion in your tracks.
The Allen Heath Xone 96 also features two independent headphone monitoring systems that enable other live performers, DJs, or collaborators who will be performing before or after you to set up their mix without interrupting your show.
Another important feature is that the unit supports Traktor Scratch Pro 2, as well as DVS control over this software. However, you don't get any effects, but there are two dedicated FX sends.
Pros
Familiar channel layout
4-band and 3-band parametric EQ
Crunch harmonic distortion
Two independent headphone monitoring systems
Traktor Scratch certified with DVS control
Cons
Very expensive
Not beginner-friendly
9. Reloop RMX-90 DVS Digital DJ mixer
High-performance digital club DJ mixer for Serato DJ Pro.
Budget Option for Serato DJs
Features
Although it looks like an analog DJ mixer, the Reloop RMX-90 has a digital architecture, so it allows you to have a digital vinyl system in an analog-style.
Such an architecture means you get extensive adjustment possibilities, such as 12 studio-quality beat FX, a sound filter & bi-polar filter with high pass and low pass, and a 3-band equalizer. Two digital displays show the parameter changes and simplify adjustments.
The unit unlocks Serato DJ Pro software in full, giving you DVS control plus advanced Noisemap technology, which works hand-in-hand with the 24-bit USB line to deliver accurate record manipulation and low latency playback.
Included in the package are two Serato Noisemap control vinyl records to help you start using the mixer straight out of the box.
The downside? Since it is digital, navigating the multiple menus can be challenging, but you will get used to it after some time.
Pros
Digital architecture with extensive settings
12 studio-quality beat FX
Unlocks Serato DJ in full
Mixer setup includes two Serato vinyl records
Cons
Multiple menus to navigate
Conclusion
So your mission to find the best DJ mixer is complete. We've gone through the best of the best and you'll now know which one to choose. Thanks for checking out this article!
Once you have the best DJ mixer you can come back and learn all about how to use a mixer.