As a DJ you might have found yourself in a position where buying equipment becomes more of a crucial need rather than a desire. Most of the DJs find themselves in this position when they are looking for the best budget DJ controllers.
A DJ controller certainly gives several advantages when compared to digital software, but owing to the high price tag most DJs prefer the latter. While affording a specialized DJ controller can be tough, it is easier to get a budget one.
The thing about budget DJ controllers, is some of them do their job well and come with functions that can add a touch of advancement to your set.
To help you we have created a list of the best budget DJ controllers that you can buy online.
Editor's Choice
Best all-round option if you're looking start with a leading industry manufacturer
Reasons to Buy
Good value
Easy transitions to bigger & better pioneer DJ models
WeDJ app for learning to mix
Works with Rekordbox
Negatives
No built-in audio interface
Runner Up
A great option for aspiring beatmakers
Reasons to Buy
Has an awesome drum machine emulator
Vocal effects with a mic input
Serato compatible
Negatives
Slightly more expensive due to the drum and vocal effects features
3rd Choice
A super cheap and cheerful controller for the occasional house party.
Reasons to Buy
Cheap
Easy to use
LED lights which makes it fun
Negatives
Lights might be seen as a gimmick
Feels like a toy
Top 8 Best Budget DJ Controllers
1. Numark Party Mix II DJ Controller
Numark is a quite renowned name among DJs. The company has a vast array of DJing equipment that falls in the budget range and offers unrivaled performance. Its Numark Party Mix DJ Controller II is the cheapest and widely preferred controller in the market.
Complete Algoriddim djay and Serato DJ System
Great for absolute beginners
2 DJ decks of control, built-in audio interface and plug and play USB connectivity for Mac, PC and iOS
DJ Lighting FX and built-in LED DJ light show syncs to your DJ mix
Performance pads with 4 DJ pad FX: Effect, Cue, Loop, and Sampler
Filter knobs and Pitch Sliders on each DJ deck
Library controls for browsing / loading tracks
Stream all your DJ music through Serato DJ Lite (Included) or djay Pro AI (SoundCloud, Beatport Link, Beatsource Link & TIDAL)
It falls around the price range of $100 and can be a great grab for DJs who have just started. Its exceptional durability makes it a perfect option for long-term investment. You can use this controller to play in small scale events and also practice to create a killer set.
The USB connectivity enables you to connect the mixer to any computer so that you can mix different tracks. Moreover, it comes with the Mac and PC compatible industry-standard Virtual DJ LE software for mixing tracks and creating a set.
It has a simple plug and play system saves you time and helps you stay on your toes. Apart from this, you get features like looping, sampling, trigger software, and mixing that give you more freedom when editing tracks.
With eight color-coded pads and different modes, the mixer is more suitable for varied djing operations. The controller has a ¼ -inch headphone jack for listening to the tracks as you mix them.
For a cooler appearance, it comes with a built-in lighting setup that functions like disco-lights and is an incredible way to set the mood.
Pros
Dazzling Light Show
On-Board Audio Interface
Mix Control
Style Driven, Ultra-Portable
Serato DJ Lite Included
Cons
Comes with only 2 bands of EQ
2. Numark Mixtrack Pro FX
Numark DJ controllers never fail to meet the expectations. They are used by both professionals and beginners, as they are with loaded features and high-performance capabilities. One such controller from the company is the Mixtrack Pro FX, an upgrade on the legacy Numark Mixtrack Pro III.
Complete Serato DJ System – DJ Controller for Serato DJ Lite (Included)
2 deck & 4-deck options available
Built-in 24-bit audio interface and plug and play USB connectivity for Mac and PC
Large 6-inch touch jog wheels great for scratching, beatmatching & precise cue placement
5 quick-launch FX with dual paddle triggers; dedicated instant loop controls; eight performance pads per deck to access cues, loops, fader cuts & samples
Streaming capability also available (with Serato DJ Lite)
Mixtrack Pro FX is a great product in the affordable range. The controller is incredibly lightweight and is suitable for DJs who are always on the move. It is easy to be baffled by the exceptional abilities of the Mixtrack Pro FX.
To begin with, it is super easy to use with all the controls placed in a convenient position and labeled precisely. It has appealing and highly responsive jog wheels that make scratching and cueing music a lot more fun.
The mixer has 100mm pitch sliders for making pitch adjustments and changing the track's tempo. There are dedicated filter knobs on the controller that gives a filtered effect to your tracks whether you are recording them or playing at a party.
Adding or queuing songs to your set becomes very easy with the intuitive multi-function touch strip as it lets you access your song library and tracklist. This is very helpful and comes in handy when you are performing and don't want to meddle with your laptop.
The controller bundle includes Serato DJ intro which is a great DJ kit for beginners. To use it for mixing, you just have to plug the controller into your Mac or PC. It comes with a vast array of functions and features that can make your track sound better.
Pros
Dedicated filter knobs
Touch strip for track search
Included audio interface
Very affordable price
Cons
Faders and knobs are susceptible to breaking
3. Pioneer DJ DDJ-200 Smart DJ Controller
While there is a long list of DJ controllers that are said to be the best for entry-level DJs, but nothing beats the quality and convenience offered by the Pioneer DJ DDJ-200 Smart DJ Controller.
Compatible with apps such as Pioneer DJ WeDJ, Algoriddim Djay, MWM Edjing, Rekordbox DJ
2-channel built-in mixer
Streaming capability with your favorite services such as SoundCloud, Spotify, TIDAL and more
Bluetooth connectivity available
Performance pad FX
Built-in tutorial feature
Transition FX
Phrase Sync
Editor's Choice for beginners with a budget
This controller gives you full control without having to make any changes to the controller or its settings. You can plug the controller in your laptop or PC for mixing and use the different functions for making other adjustments to your set.
Even though it has so many benefits and features it falls in the affordable price range of $150-$180. It connects with several devices such as phones, tablets, Mac, or PC and gives you the freedom of creating your set on the go.
There are loads of effects and transitions in this controller that you can use to make your track dance-worthy. You can use the Pad FX to add a rhythmic effect to your track, or you can use the faders for a smooth transition.
It is hard to get over the fact that it comes with built-in speakers at this price range. You can use it with different devices, headphones, or play it aloud to listen to the tracks or set while creating them.
The controller also comes with a split sound feature that lets you keep playing the set from speakers, while you can listen to the cue via headphones. You just have to attach the cables to the different ports.
Since most of the DJs have trouble switching between 2 tracks and end up ruining the set, to which the company has added the Phrase Sync feature that aligns the position of the two tracks by analyzing them. This makes the track switch sound natural.
Pros
Compatible with different apps
It has 3 EQ bands
Compact construction for enhanced portability
Created for beginners and amateurs
Cons
Applications are not entirely free
4. Roland DJ-202
As we climb the higher price range, you can expect DJ controllers to give you advanced features and unrivaled performance. We have included the most popular sound equipment manufacturer Roland on our list owing to its high-performance DJ mixer DJ-202.
It comes with two input channels that allow you to connect more than one device to the controller. Moreover, it comes with four-deck support that is powered with a USB. It is compact and lightweight in design and comes with an easy-grab design for portability.
It pairs with a lot of mobile applications that give you the freedom to create excellent sets while you are on the road. You can use it for different kinds of events such as house parties, clubs, beat battles, and more.
The DJ-202 comes with advanced plug-and-play connectivity that does not require any additional configuration which makes it perfect for the DJs who are always on the move. It has excellent sound output as it has high-resolution audio hardware that when coupled with 24-bit/48 kHz can produce incredible sound on any system.
In addition to the above features, DJ-202 is Serato DJ enabled that comes included in the bundle price of $300. With DJ-202 and Serato DJ, you can create a new set, sample beats, trigger hot cues, and do a lot more things to create exceptional beats.
The DJ-202 can be of great help for creating music as it comes with legendary drum patterns in the TR kit. The drum sounds include pattern-909, pattern-808, pattern-707, and pattern-606.
Pros
Comes with separate gain and bi-pass filter controls
It has transport controls and trigger pads
The mixer has the advanced feature for Serato DJ upgrade
Cons
The pitch sliders are small in size
Headphone output could have been better
No Booth or AUX output
5. Hercules Inpulse 300
Self-learned DJs face a lot of challenges when it comes to djing. The most dreadful problem they face is finding the right source of information. Hercules DJControl Impulse 300 solves this problem with ease at a budget price.
This budget-friendly controller can help you in learning new things and get pro at djing. It has all the essential tools and effects that can help you mix and create awesome sets.
Beginners take time to get familiar with mixers, and without guidance, it can take even more time to understand the use of all the buttons and knobs. However, this controller comes with light guides that indicate the right time to press a button and make the track sound better. It can be deactivated later when the use of every button and knob is clear.
BPM plays a crucial role in djing, and knowing how to match the BPM of a track with the right timing is a pro move. But for beginners, the Hercules DJControl Impulse 300 has BPM indicator arrows that glow when the BPM of a track needs to be adjusted.
Most of the time entry-level DJs face the problem of offbeat sound; this usually happens when the beats of two different tracks are not timed well. No need to worry, as beatmatching is a nightmare for pro DJs too. You can learn and nail beatmatching with the help of Hercules DJControl Impulse 300 with its beat align arrows.
If you have just started DJing and planning on taking professional assistance, you can rely on the Hercules DJControl Impulse 300. Its DJUCED has comprehensive djing tutorials that can teach you right from the basics.
Pros
It has extensive features that make djing easy
Comes at a low price
Superior quality
Touch-sensitive jog wheels
Suitable for beat matching
Cons
6. Native Instruments Traktor Kontrol S4 MK2
It can be hard to find a DJ mixer in the affordable range that comes with all the essential features and gives you a great sound output. But there's hope, as Native Instruments Traktor Kontrol S4 DJ Controller is one of the few DJ controllers that have hardware and software in perfect harmony and fit in the category of budgeted controllers.
For starters, it has an incredible set of jog wheels that are designed to provide high-resolution output and are constructed using aircraft grade aluminum plates.
It comes with a four-deck mixer and a built-in 24-bit sound along with professional features that every DJs desires. The newly introduced Traktor Kontrol S4 is the best in class DJ system that is designed to provide an excellent DJing experience.
The S4 combines all the premium features of the mixer and the smart interface with Traktor PRO 2 software with remix decks. It has the flagship NI control surface that comes with new features.
This mixer provides you instant feedback with full, color-coded, bright RGB triggers for cue points, samples, and loops eliminating the need for looking at the computer.
For live remixes and creative layering, the controller features a dedicated section for Remix Decks. Since both software were designed by the same group, the seamless integration of Traktor S4 and the flagship software Traktor Pro 2 is quite evident.
To ensure you don't fall short on anything the controller has track decks, remix decks, instrument inputs, and the ability to add CDJs and turntables.
Pros
Features a sleek design for good looks
Offers visual feedback
Best way to upgrade from older versions
Plug and play feature
iPhone Compatible
Cons
Controls are crammed next to each other
Haptic Engine could have been better
Lacks XLR balanced outputs
Tips For Finding Cheap DJ Controllers
DJ controllers come with numerous tools and features that make them suitable for performance and creating music. Companies that manufacture these controllers charge you for every feature, tool, and software they provide. This is where you need to make a smart move.
You don't need all the features that are included in a mixer. If you are a beginner, by the time you reach the level for a particular tool, the mixer will get obsolete, or there will be some other advanced software around for that tool.
Here are some essentials and non-essentials that you need to consider when buying a DJ controller.
Essentials
Built-in Software
Most of the controllers come with built-in software these days. You need to check for the software that you get with your controller, as complex software will leave you confused and make it hard to use.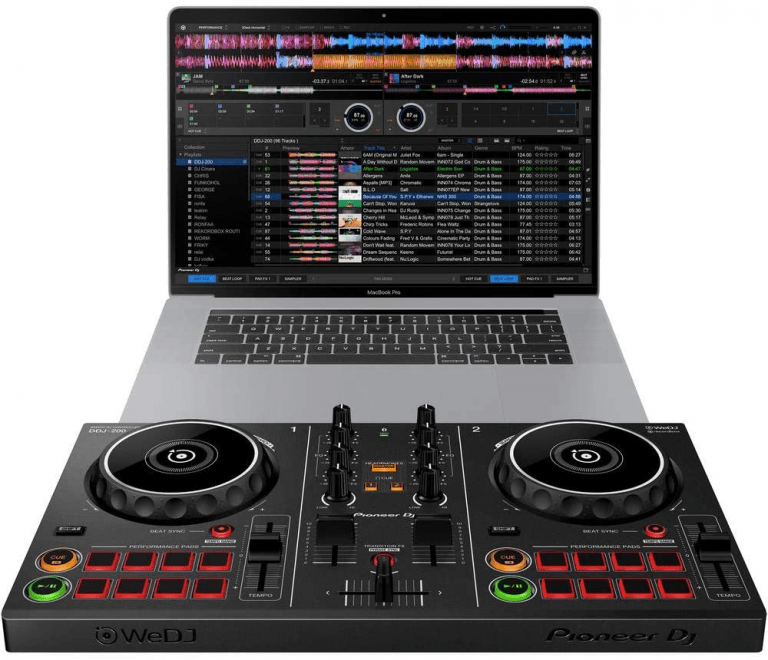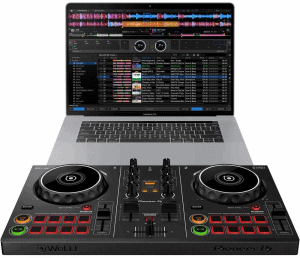 You can get the information about the software on the company's website, or you can refer to other mediums. Or you can check for online reviews about the controller's software. If you feel the software is understandable and easy to operate, you can go ahead with your purchase.
Connectivity and Ports
Mixers do not always come with ports to connect your devices, some of them come with audio jacks that can make your work even more stressful. There is no problem with audio jacks, but carrying multiple wires can get inconvenient.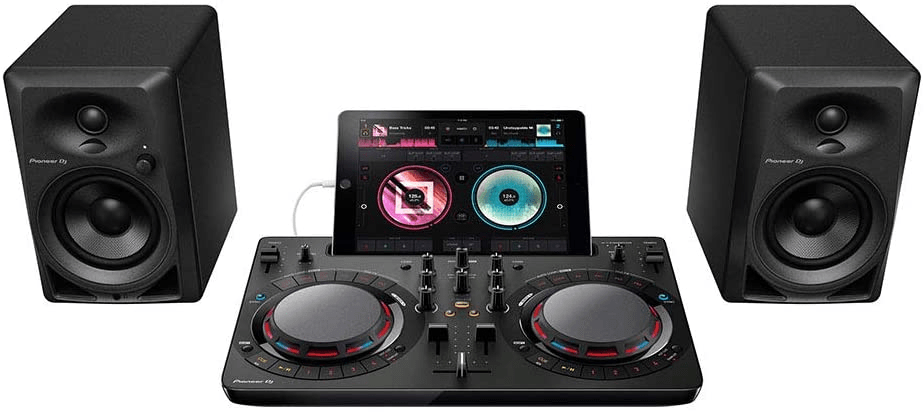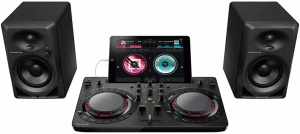 Check the controller for both input and output ports that can let you connect it to other devices. Most of the modern mixers come with a USB port that connects it to Apple devices and PCs.
Features and Functionalities
It is normal to get overwhelmed by the series of knobs, buttons, and sliders which is quite common in advanced controllers. You need to focus on getting a DJ controller that offers you convenience and should work with the necessary applications.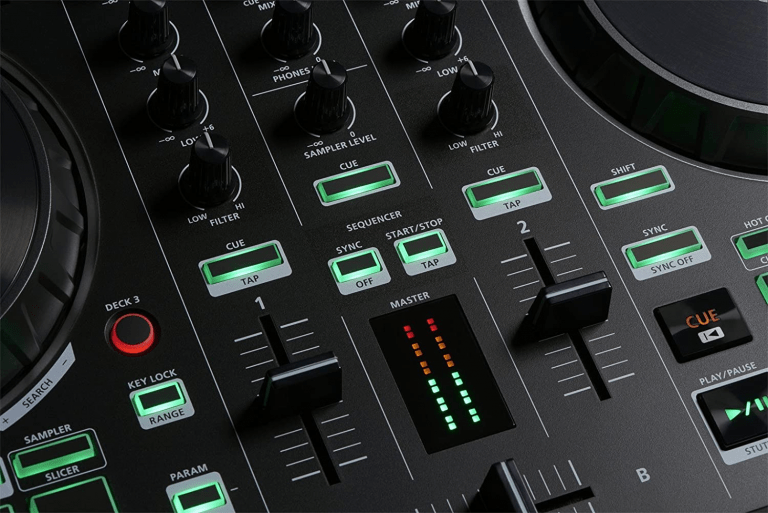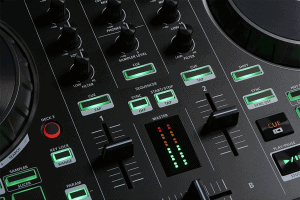 Before you go on to purchase a DJ mixer you need to learn basic features, such as mixer, jog wheels, pitch faders, crossfaders, and more.
Once you find the mixer with the necessary features, the next thing you need to look for is the right size. Avoid mixers that come with buttons that are too close, as it puts you at the risk of accidental clicks that can ruin your sets.
Non-essentials
Unnecessary Lights
There are many illuminated buttons and areas on a mixer. Many of these serve a major purpose such as indications and signals, but some companies tend to overdo it with lights and introduce it as a new feature.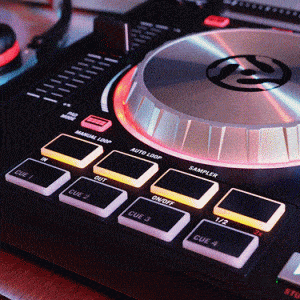 Apart from the mixers that have lights and indicators that have an educational purpose, it is not wise to choose a DJ mixer just for the lights.
DJ software
If you are a beginner, you don't need to worry about owning a DJ software, as most of them come with only a year's validity and will expire by the time you master the basics. Even if you clear your basics in six months, you will have very little time to learn and make the most out of the software.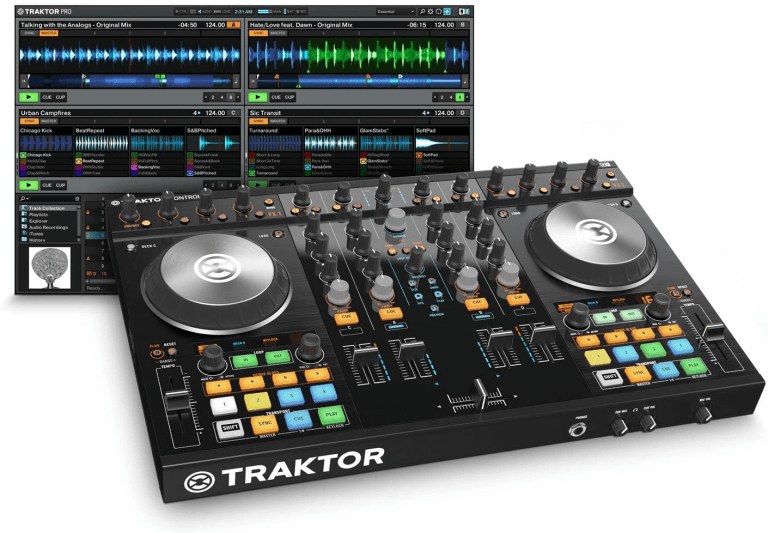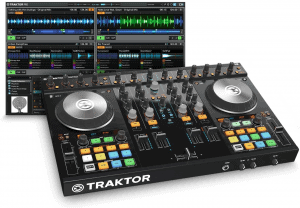 An ideal solution would be to look for a DJ mixer that does not leverage its price on the software but offers you tools and features without affecting your budget. Once you get a good controller, you can take your time to learn all of its basic aspects and after you have mastered them, go for the trial version of the software.
Stylish knobs and sliders
Stylish knobs and sliders are used by DJs to make their equipment stand out at various gigs and events. Though they might not influence price to a great extent, they should not be considered as a USP. You can buy these stylish knobs and sliders later from online websites.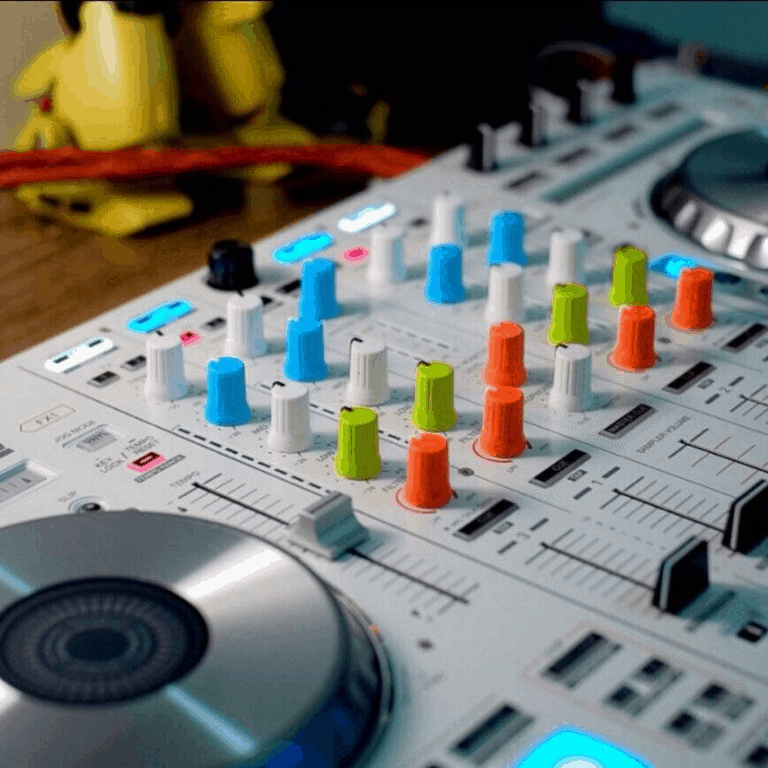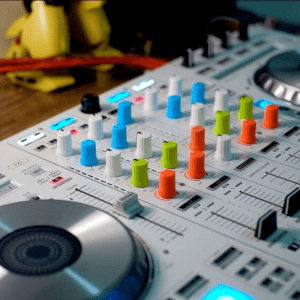 $300 vs $1500 DJ mixers
Most DJs perceive high-end mixers can enhance their performance and give them an upper edge as compared to the low budgeted ones. For the most part, you can perform a lot of the same mixes as somebody on a $1500 DJ mixer. However, there are some drawbacks to a cheap DJ controller.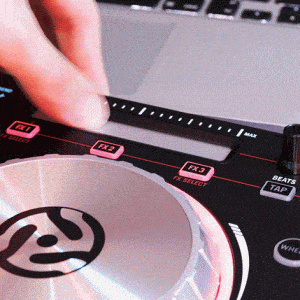 Build
Companies that manufacture DJ equipment, always focus on making the product strong and durable. High-end mixers are made from premium grade materials from the base to the knobs. Budget mixers have a strong base too, but the quality of some of their parts can be doubtful. Because of this, you may want to be careful when traveling with your DJ equipment. Consider using a DJ case to protect them when you go out.
Compactness and travel convenience
High-end mixers comprise numerous features and tools due to which they are larger and heavier to carry. Budget mixers, on the other hand, come with fewer tools and features which enable them to stay light and give the DJs the benefit of convenience.
Ease of use
You don't want to be struggling with your mixer trying to find a way to use it best. While $1000 mixers come with a huge plethora of functions, they can give beginner DJs a hard time. The numerous buttons remain unused for a long time, till they find out how to use that particular function.
Low-end controllers come with fewer functions that are suitable and essential for entry-level DJs which makes them easier to use.
See how DJs perform impeccably with a $150 DJ Controller and $4,600 DJ Gear, watch this video:
Software compatibility
Not all entry-level DJs need audio mixing and editing software which is why most of the budget-level mixers are not compatible with most of the sound software like Serato DJ, Rekordbox DJ, Traktor DJ, etc.
If you're not limited by budget, consider choosing from our list of the best DJ controllers overall. We include some budget picks and some picks for those people who have cash to burn!
Conclusion
Budget DJ controllers make a great addition to your DJ booth, and to choose the right one, you just need to keep the essential features and benefits in mind. For beginners, a good entry-level DJ controller can help find their niche or create a unique style.