We check out the top 6 best DJ controllers for beginners and run through each of their features. Feedback tells us that our number 5 is by far the most popular, but which will you choose?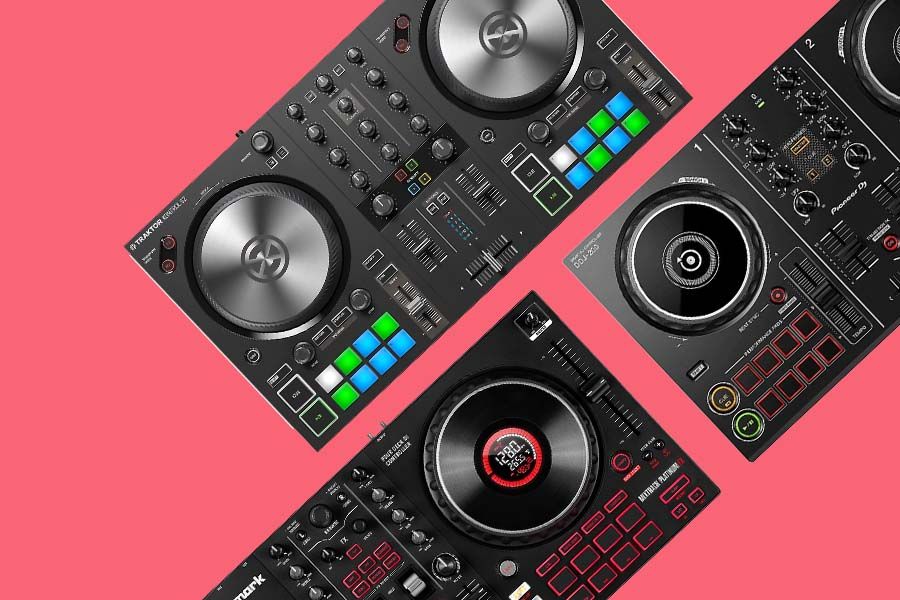 There's so much selection when it comes to DJ controllers, and knowing which one to buy can be difficult for beginners. To make things easier for you I've put together a list of the top 6 DJ controllers for beginners.
Before you buy a controller you should know exactly what type of DJing you want to do. Every controller has something different to offer so this is important.
For example, some controllers require a computer to operate. You link the two using the USB ports, and then use software to select your music. Or you could get a stand alone, all-in-one controller. This will not require a computer, instead you can play music from USB devices, and sometimes CD's.
If you're going to be doing most of your DJing at home you might find that using a controller with a computer is fine. But if you are an aspiring mobile DJ that will be gigging you may think twice. Do you really want to take your brand new Macbook Pro to a bar full of sweaty ravers? Hell no!
Other things to consider are things like built in effects, microphone inputs, terminals to link up turntables/multi players etc. And remember, in a few months you could have the basics of DJing mastered. So do you want a controller with a few extra features that can grow with you? There are lots of things to consider, so we'll list all of the stand out features of each DJ controller to help you decide.
This list of the top 6 DJ controllers for beginners is in no particular order. I've either owned, demoed, or reviewed eight of the controllers listed to give a true opinion on the controllers. The other two are based on popularity, amazon reviews, and feedback personally voiced to me by owners. You will know the best possible controller options available after reading this list.
Top 6 DJ Controllers for Beginners
1. Pioneer DJ DDJ-200
Why We Love It
"Overall this is a controller that will certainly grow with any beginner. Once you combine software into DJing you are opening a ton of possibilities, and Rekordbox DJ is one of the best"
The Pioneer DDJ-200 is a beginner friendly controller that will be used in conjunction with a computer/laptop. It's not going to overwhelm you with more buttons than you can fathom, but there's still enough features to keep you busy after learning the basics.
The DDJ-200 is mapped to work perfectly in conjunction with Pioneer's Rekordbox DJ software. The controller comes with the free version of the software called, and comes with a ton of features.
The mixer section offers a 3 band EQ but no VU meters. For the latter, you'll need to rely on Rekordbox for that. However the basic EQ setup should still help you to learn the important art of EQ mixing. There is no browse knob or two load buttons. This means you'll need to load tracks onto either decks via your laptop and DJ software.
Overall as an absolute beginner, this is the cheapest way to get started on the very basics. However, if you're a quick learner, I expect you to want to upgrade sooner. For that, I recommend checking out our full guide on the best dj controllers for DJs of all levels.
2. Numark Mixtrack Platinum FX
The Numark Mixtrack Platinum is a little different to the previous controllers as it has the ability to operate as a stand alone unit. This means you can plug it into a power source, connect some active speakers and begin mixing. You won't need a laptop, but if you would like to use it with software this is also possible.
You can plug in a USB device such as a thumb drive, mix from CD's, or of course a computer. If you don't want to risk taking an expensive laptop along to a gig the Mixtrack Platinum could be a great option. This could make it a good choice for mobile or house party DJ's.
Something else that will appeal to aspiring mobile DJ's is the microphone inputs. Firstly there is a microphone input located on the front of the unit. This has its own 2 band EQ and volume control. But there is a second microphone input on the rear that is controlled by the third (centre) channel. So you'll have a 3 band EQ, gain, and a line fader to use on the microphone! This third channel can also be used for and aux input by switching it over at the top. So you could plug in a separate audio source like a phone or an effects machine.
Unfortunately there are no built-in effects available with this unit so you would have to link up an effects machine to the aux input. Or you could plug it into a laptop and trigger them with the software. Not ideal if you like the idea of playing with effects and triggering them with the hardware. So this may only appeal to DJ's that don't need the latest tech and geeky functions.
The jog wheels are very nice, they're big, touch sensitive, and can be used in scratch mode. This means you'll be able to cue the beat, scratch, and spinback the track. Or with scratch mode disengaged the jog can be used for pitch bending to help with beatmatching.
The CD players have a slot drive rather than trays which is great to avoid damage, they also load very fast. You'll have a full display of your track information in the digital readout, and BPM counters. A pitfall is that there's no waveforms on the digital readout to see a view of your tracks breaks etc. So if you don't know your tracks very well you may struggle with mixing them.
Overall this is a good unit, aimed at the beginner/budget mobile DJ. It's very basic and will cater for the basic needs of a DJ. If you want a cheap, good value all-in-one controller, that doesn't have all the flashy modern tech, this could be for you!
Choice number four on the top 6 DJ controllers for beginners list is a controller that offers some very cool options…
3. Native Instruments Traktor Kontrol S2 Mk3
Why We Love It
"Overall this controller is very sturdy and well built, and should last you many years. It comes with a free copy of Traktor Pro so you're ready to mix out of the box. Beginners will love it"
This controller is a little different from what we've seen previously in this list. First off, it's built by Native instruments and is purpose built to work perfectly with their software. It will work with Traktor pro on a PC/Mac, or you can download Traktor DJ to link it up to your iPad/iPhone. If you do decide to use iOS, your device will also charge as you are mixing. This means you could easily do a full gig using just the Traktor Kontrol S2 and your iPad/iPhone!
This controller is very minimal in appearance but it still offers plenty of really cool features. There's dedicated loop sections on each deck that lets you create auto/manual loops, and move them around a track. You can also save these to the performance pads to return to them later. This could be an attractive feature for aspiring performance DJ's, but we're not done yet…
There's FX control so you can assign any effect from the Traktor software and control their parameters. And on the mixer section you can also control Traktor's remix decks. But you can only use the remix decks if you are using it via a PC/Mac.
Remix decks are separate decks inside the software that contain lots of different sounds, samples, and loops. You can trigger each one individually to add a different flavour to tracks that you play. So this is yet another attractive quality for performance DJ's.
The mixer section is minimal but gives you everything you need, along with a nice loose crossfader and tight channel faders. The jog wheels work great and are very finely-calibrated for precise cueing and scratching. And as you guessed by now, I love the pitch sliders simply because they have plenty of travel. As mentioned earlier, this is important for beginners to learn the ever important skill of beatmatching.
Overall this controller is very sturdy and well built, and should last you many years. It comes with a free copy of Traktor Pro so you're ready to mix out of the box. Beginners will love it, and it will grow with you as you progress onto bigger things…
Perhaps performance mixing? You could even plug in a Traktor Kontrol F1 to give you more control over the remix decks. Lots of things scream performance mixing when looking at the Traktor Kontrol S2, and the video below shows off some of these features.
4. Roland DJ-202
Why We Love It
"a nice controller, well suited to beginners that would like some extra goodies to play with. And it comes in at a great price considering all of its features"
The DJ-202 is Roland's entry level DJ controller that packs plenty of features for beginners, and at a great price. This controller will be used in conjunction with a laptop and comes with the Serato DJ lite software. As we mentioned earlier, Serato DJ lite is very basic so expect to pay a little extra after purchase for the full software.
The mixer section offers a nice basic layout with two channels that can control up to four decks. Simply drop tracks on to the third and fourth deck in Serato and switch the controller over for full control. This won't be a function to mess with as a beginner, but it means the controller can grow with you.
There are trims, and 3 band total kill EQ with filters on both channels to help you create smooth mixes. And at the top of the mixer section there's a library search knob with load buttons. This lets you load your tracks without dragging and dropping via the software.
The sequencer controls in the centre are used to activate and control the DJ-202's built-in drum kit. Using the performance pads you'll be able to trigger some of the drums that Roland made famous. There are drum kits from the TR-909, 808, 707, and the 606 machines with eight sounds in each. These are super fun, and you don't have to have a track assigned to the controller to use them. Using the performance pads you can also set loops and hot cues, and you can throw in samples which are chosen inside Serato.
Up above there are two large touch sensitive jog wheels that aspiring turntablists will love. They're a little heavier than the usual jog wheels you find on basic controllers, but they're nice. You can scratch, cue, spinback and all that good stuff, and you can also use them in slip mode for pitch bending.
At the top there's an FX section that lets you control effects that are chosen inside the Serato software. Here you can add up to three effects at a time and have full control of their parameters.
Two little pitfalls are the small pitch faders which I always dislike. As you've noticed by now these are pretty standard on basic controllers. They work OK but it's always going to be harder to beatmatch with shorter faders. Secondly is the full plastic shell, which is good for weight saving, but it makes it prone to damage. Mobile DJ's should be aware of this, and it would be advisable to buy a carry case to protect the unit while transporting. If you're just using this at home the plastic shell shouldn't be a problem.
So overall a nice controller, well suited to beginners that would like some extra goodies to play with. And it comes in at a great price considering all of its features.
We're at number five and next up we have another Pioneer controller that will look very familiar! But this time it's had a serious upgrade.
5. Pioneer DJ DDJ-400
Why We Love It
"If you like the idea of performance mixing this will definitely appeal to you. These pads let you control hot cues, Pad FX, Slicer, and Rekordbox DJ's own Sampler"
Next up on the list of the top 6 DJ controllers for beginners is the Pioneer DJ DDJ-400. You'll notice how similar it looks to the DDJ-SB3, and in some ways it is, but it also has some unique features.
First off, this controller is not mapped to Serato DJ. Instead the DDJ-400 works alongside Rekordbox DJ software, and is suitable for beginners as it offers you more than enough features without it being too overwhelming.
We won't go into too much detail about the DDJ-400, we've saved that for our full review which you can check out below.
Related guide:
6. Numark Mixtrack Pro FX
Why We Love It
"This is a nice basic controller with an easy learning curve that will not overwhelm beginners…But it still has plenty to offer "
The Numark Mixtrack Pro FX comes in at an amazing price making it very popular as a start-up unit. Its clean and basic layout appeals to beginners that want a simple controller to learn the basics of DJing. The controller is bundled with Serato DJ Lite to get you off to a start. But bare in mind that you'll need an upgrade to Serato DJ Pro for the full functions. Or you could use the controller with free software like Mixxx!
The first thing I noticed about the Mixtrack Pro 3 is the long pitch sliders which are unusual on basic controllers. As previously mentioned I have never enjoyed beatmatching with short sliders, so these are perfect. The first time I used this controller I had no problems getting the mix perfectly beatmatched with the 100mm sliders.
Something else usually seen on higher priced units is the touch strip along the top of the deck section. This is really cool and is known as the strip search. By sliding your finger along the strip you can control the parameters of effects that have been chosen in the software. These effects are assigned to the buttons below the strip. You can also use the strip while holding shift to easily scan through the track currently on that deck.
Another stand out feature are the shiny metal jog wheels, these are pretty big for a small controller at 128mm. They're very responsive and are great for scratching, they also work great alongside Serato DJ Pro.
Once you've mastered the art of beatmatching and mixing, the performance pads will keep you busy. You can add loops, auto loops, cue points, and you can even assign samples to spice up your DJ sets. This is great for beginners as it gives you something to progress towards after mastering the basics.
This is a nice basic controller with an easy learning curve that will not overwhelm beginners. But it still has plenty to offer which will ensure you won't outgrow it to quickly.
Final Thoughts on the Best DJ Controllers for Beginners
Thanks for checking out this list of the top 6 DJ controllers for beginners. Every option on this list was chosen very carefully, you can rest assured that you now know the top choices out there! If I was to start again from scratch I'd do anything for a list like this to help me out.
Now all you have to do is boil it down to the one that really stands out and ticks all of your boxes. Let me know which one you chose!
You'll enjoy my full review of the controller I'm currently using, the Pioneer DDJ-1000 here, which will be more suited intermediate or advanced DJs.
When you've chosen your favorite controller you'll need some good headphones. Check out the TOP headphones on the market along with a full buyers guide to DJ headphones.
If you haven't learnt what it takes to become a DJ, I recommend checking out my guide on how to become a DJ.
If you need help with mixing check out my article on mixing > HERE. This is by far the fastest route to learning all you need to know about DJing!
Learn all about using your controller and it's functions > HERE
And find out how to set cues and hot cues and what they are > HERE
Happy mixing!