The barrier to entry to becoming a DJ has never been lower. While before, you had to carefully assemble multiple different pieces of equipment, nowadays DJ starter kits are making a rise. The best DJ starter kits are the perfect introduction for beginner DJs.
Related Article: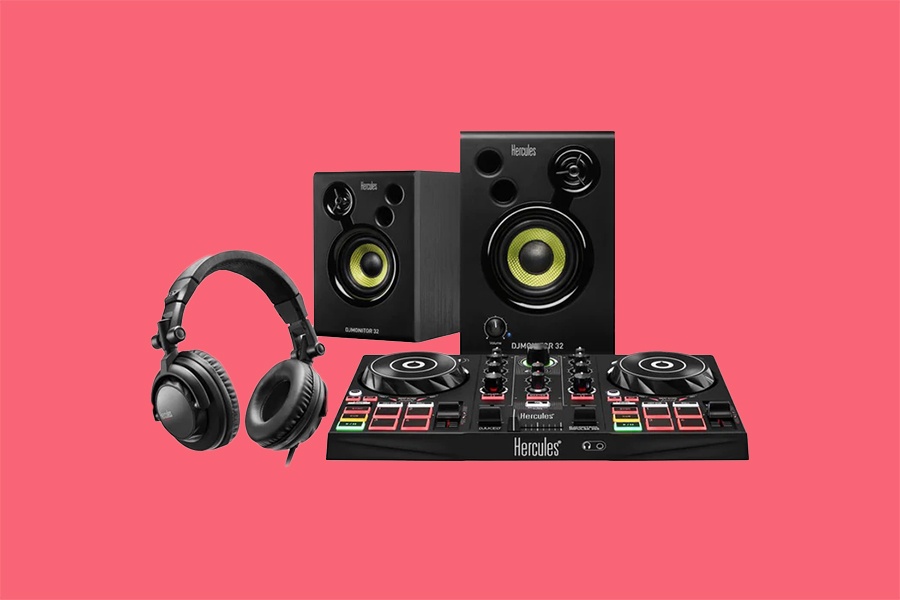 The introduction of EDM has created a large influx of teenagers and adults vying to make it as a DJ. To cater to the needs of these users, every manufacturer is working hard to grab their attention.
Earlier, DJing equipment used to be assembled similar to that of a PC. A DJ or a producer could pick their preferred products, make sure they all worked together, and then assemble the final DJ Setup. The problem with this approach is multiple:How do you choose the best pieces of equipment?
How do you choose the best pieces of equipment?
Does this DJ controller work with this software?
Do these speakers work well with this controller?
As you're trying to read through pages of technical specifications, it's easy to get overwhelmed.
At DJingPro, we believe in providing sound guidance to our readers. And so, we've taken it upon ourselves to help aspiring DJs hit the deck without any hassle.
What is a DJ Starter Kit?
A DJ Starter kit is an combination of different music equipment required for djing. These include controllers, decks, audio interface, speakers, sound card and a software. A good quality DJ Starter Kit will have two or more essential features that can help you produce quality sounds.
What's included in a DJ Starter Kit?
A Starter kit has all the essential equipment required to DJ live. Apart from the controller, you'll get speakers, headphones, audio interface, and assorted wiring. Bundled together, you'll also save some money on the different parts.
If you're into scratching, you'll need to pick a kit that offers durable decks. However, if you just want to mix live, and use basic effects, you can do that with an entry-level controller and a laptop using software such as Serato or Rekordbox.
DJ Starter Kit vs Assembling Kit
A DJ starter Kit is different from an individual controller. As a beginner, if you don't want a tailor-made starter kit, you can combine different products together. For instance, you can pick a controller from Pioneer and pair it with Yamaha speakers.
However, as a beginner, it can be a headache. DJ Starter Kits represent a low cost and easy way to get into DJing. If you're on the fence about DJing, I would highly recommend a DJ starter kit instead of spending $1000s and assembling your own equipment.
Who are DJ Starter Kits for?
DJ Starter Kits are for people who want to learn how to DJ. This can be for traditional scratching or the modern-day controller mixing with extended tracks.
Starter Kits are designed for beginners who don't want to get too technical and nitpicky. If you're looking for the absolute fastest way to get started DJing, choose a Starter Kit.
The quality of starter kits produced today can stand tall in any professional setting. They can easily transcend the cost-barrier, and help deliver quality performance. People who are interested in mixing music, and want to take it to the next level – a DJ starter kit will help you do so.
Whether you want to take it up as a career or just as a hobby. A Starter kit will help turn an ordinary boring night into a proper weekend. With quality sound, great features, and controlled frequency, you can simply focus on getting your mix right.
Things to consider when buying DJ Starter Kits
Before you go on and spend a single penny on any equipment, read this section. It will help you consider various factors before you invest in a DJ Starter Kit.
DJing Style
The first question that you need to ask yourself is 'What type of DJ do you want to be?'. There are plenty of DJing styles. If you know the style you want to follow, identifying the right gear will get simpler.
For instance, if you want to be a turntablist. You want equipment with a good controller and great jog wheels. Since, you'll be practicing scratching, small jog wheels aren't going to help your case. You want durable jog wheels and an excellent crossfader that can help you scratch without any hassle.
If you're into modern-day mixing, remember that you'll often need to deal with multiple genres. Your emphasis should be on controllers with pitch detection. Moreover, you will need good software that can automatically detect the BPM, and help you transition from one genre to another. Thus, choosing a controller with tagging tools will be crucial.
Lastly, if you're fond of pads, samples, and effects, you'd want a controller with excellent pads. These will allow you layer tracks simultaneously and will help push the creative envelope.
Quality Controller
Every beginner DJ needs to be able to access EQ range. A good EQ range will help you manage 'Low', 'Mid', and 'High' frequencies seamlessly. A quality controller will enable smooth mixes.
Besides you'll need a cue/master output for headphones. When djing, you hear the transition through your headphones. Thus, it's quintessential to choose a product that allows you to preview the upcoming track along with what's playing currently.
A mixer section ought to have good faders and pitch modulators. These knobs will help you alter the tempo as per your track selection. For instance, if you're playing a Brooks track at 126BPM and want to transition to Blasterjaxx track at 128BPM, the process needs to be seamless.
Most starter DJ controllers will also have sync features that will help align the BPM of the track for great beat matching.
Sound Card
One of the most important features that you need to check is the soundcard. Does the controller in the starter kit come with a soundcard? If yes, then cool. If not, you might need to invest additionally to get a soundcard.
The best DJ controllers in a starter kit come with a 24-bit sound card. These help deliver pristine audio clarity. Using these, you can send sounds directly to your system.
As a beginner, you can choose whether you want your laptop to carry the load or your controller. It's advisable to let your controller do the heavy work so that it can send audio signals with clarity.
Software
As a beginner, the software in these controllers won't make a massive difference. However, for information purposes, there are three main softwares – Serato, Traktor, and Rekordbox. Each of these pieces of software is amazing and will help with basic and advanced tasks such as track selection, mixing, and pitch manipulation.
Now that we're aware of the basics, we can dive into the best DJ Starter Kits available online.
Best DJ Starter Kit for Beginners
Hercules DJ Starter Kit including SERATO Lite
Hercules is the brand that revolutionized the bundle djing kits in the past few years. Its rise led to Pioneer creating its own entry level kits. If you're looking for a kit that offers complete value for money, you should opt for the Hercules DJ Starter kit.
The DJ kit features club-oriented controllers along with noise-blocking headphones, and powerful monitors. The entire kit is lightweight, and thus portable. It's perfect for smaller venues and perfect for beginners. It has all the essential elements including cue keys to help mix the music on the go.
In addition to the basic features, it also has effect pads and frequency control system to help transition beautifully.
The Hercules DJ Starter Kit is the best value for money kit for beginners.
Based on personal experience, I loved the efficient jog wheels. Even at this price, the manufacturer offers touch-sensitive jog wheels that aid great playback. In addition to that, you get a pair of high-quality monitors. With an enclosure comprising thick 6mm MDF, 7.6cm woofers, and dual bass ports, you get good output.
Pioneer Pro DJ Bundle Starter Kit (With Speakers)
The Pioneer Pro DJ Bundle Starter Kit is a slightly premium option. However, it outperforms Hercules and can be used in a professional setting making this kit the next natural step up from the Hercules console.
This starter kit comes with DDJ-400 along with DM-40 Set and HDJ-X5 headphones. Aesthetically, the console is similar to the legendary CDJ-2000NXS2, and DJM-900NXS2.
With this kit, you get an integrated sound card along with the Rekordbox software. It's ideal for beginners looking to plug-and-play via USB cable.
Pioneer DDJ-400 works great with both MacOS and Windows. If you're using it with Mac, make sure your system is updated to Mojave at least. For Windows, you'll be fine with 7, 8.1 or 10.
The most compelling part of this kit are desktop monitors. With Pioneer, you will get excellent audio output. For remote set-up, these monitors have bass reflexes that help deliver rich, and tight bass.
In addition to these equipment, you get an excellent headphone. The HDJ-X5 is amongst the best over-ear DJ headphones in the market. This allows you to hear and mix clearly. You can cue your tracks effortlessly.
The jog wheels, cue buttons, and FX will help enhance your creativity. If you're just starting out, this starter kit features tutorials. These are specifically designed for beginners. Herein, you'll find basic setup and control videos.
My favorite feature in this starter kit is the long pitch fader on the controller. If you want to master beat matching through your ear. This feature will help you enormously as you progress.
HERCULES DJControl Inpulse 200 Compact
The DJControl Inpulse 200 Compact is yet another entry-level starter kit from Hercules. It comes with DJUCED DJ software that is perfect for beginners. If you're a novice DJ or just want to play at home, this starter kit is worth the investment.
In terms of controller and software, the Hercules DJ Inpulse comes with DJ Control Starlight and the Serato DJ Lite. The console is lightweight and is ultra-portable. It comes with a 24-bit/44.1 kHz audio interface that helps generate quality output.
Hercules DJControl Inpulse 200 has a compact design. Similar to the starter kit, this one too has touch-sensitive jog wheels. However, for the extra money that you pay, you get features such as Intelligent Music Assistant (IMA).
Consider this to be like a playlist within software that suggests music based on the event. This is an excellent feature for beginners trying to set the mood during the initial days.
If you love effects, and samples, you'd love the Hercules DJControl Inpulse 200 as it comes with multi-colored performance light pads.
As for cables, and accessories, you will get dynamic Samson SR360 headphones to cue music. Besides, you will get 2 RCA male Y cables along with a microfiber cloth for cleaning.
Numark Mixtrack Pro FX
The Numark Mixtrack Pro FX does not essentially classify as a DJing kit. But I've included this in the list as it's a great controller for beginners. You can easily pair it up with Numark sound monitors, and you're good to go.
The Mixtrack Pro FX features an updated design. Numark has come a long way from the flimsy hardware and has truly built a quality product for beginner DJs.
This particular model is amongst the best Numark Controllers in the market. It features 3-band EQ and performance pads that are extremely responsive. Besides, you get touch-sensitive jog wheels and knobs that work effectively. Even as a beginner, you'll be able to add and manipulate effects easily.
As for software, the Numark Mixtrack Pro FX comes with Serato DJ Lite. It has a built-in soundcard/audio interface.
This allows you to plug your interface directly into the unit. By doing so, you no longer have to rely on your computer for the sound output.
Similar to Pioneer's controller, the Pro FX comes with long 100mm faders. Yet again, this is a great feature for beginners learning to master beat matching using their ear. The only downside to this controller is that it comes with Serato DJ Lite and might require an upgrade if you decide to use Serato DJ Pro.
Recommended Speakers with Numark Mixtrack Pro FX
Personal Verdict
Having tested all four of these starter kits, I believe the Pioneer Pro DJ bundle to be the best product. That's because when you transition from beginner to an intermediate DJ, this kit will be able to deal with the workload.
Hercules on the other hand has two excellent products. These are great for beginners who want to learn the basics within a year or two. If you're tight on budget, Hercules DJ Starter Kit including SERATO Lite is the ideal kit for you.
Lastly, if you have some knowledge of assembling your equipment. You can opt for Numark. Pair it up with quality monitors and a noise-cancelling headphone, and you're good to go.