When you are DJing in front of an audience, there are a lot of things that you need to keep in mind if you want to become their favorite. The way you perform, your beats, your interaction with the audience, and the way you move; everything you do, creates a long-lasting image in their mind.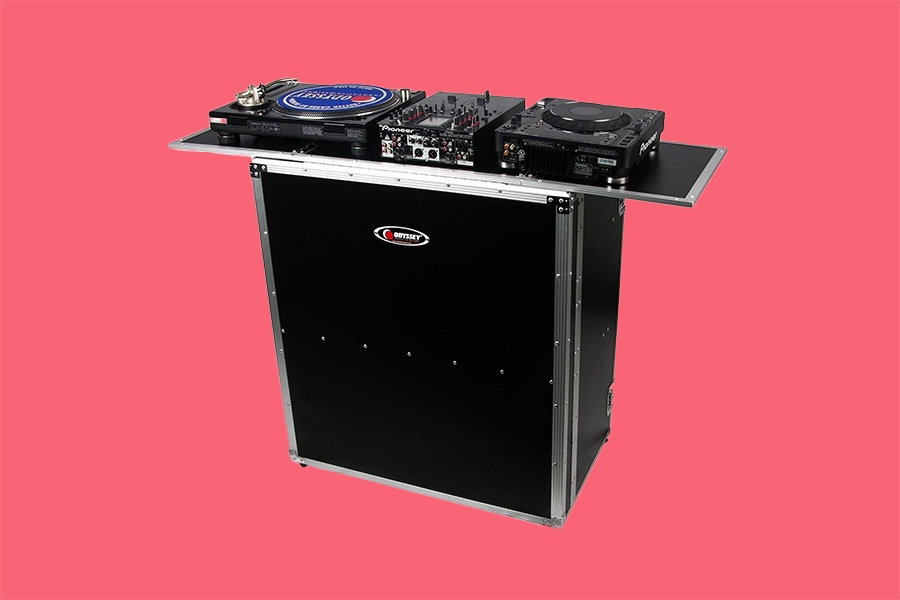 Best DJ Tables – Quick Summary
| Image | Product | Our Thoughts | Price |
| --- | --- | --- | --- |
| Our Top Pick | Harmony Case HCDJSTANDT Compact Fold Out Portable DJ Workstation Table | Great for all DJs. The table has a sturdy construction and can handle a considerable amount of weight. Owing to its small size, the table can be taken anywhere easily. | Check Prices |
| Budget Option | | Great for beginner DJs. The Deeyjayled TBH is a perfect pick if you are new to DJing and use only a few types of equipment. It has a smooth tabletop and comes with handles for enhanced portability. | Check Prices |
| | | Great for mobile DJs. Neatly designed top that gives an elegant look. And, the legs of the tables can be adjusted to different heights. | Check Prices |
| | | Great for small DJ gigs, raves or concerts. It is an ideal choice for gigs and music concerts as it can hold speakers and keyboards easily. | Check Prices |
Do you need a DJ Table?
To cast a positive image, you need to be comfortable in your booth. With all the equipment organized and placed at an arm's reach – You must be comfortable. You can't keep battling the wires and knobs and perform at the same time. Here's where having the right DJ tables gets important.
A DJ booth has a plethora of equipment that are required during the performance. And trying to fit all of them on a table can get difficult at times. This is why you need a DJ table that keeps all your equipment in one place and makes performing convenient.
DJ tables are not like your regular furniture. Most DJ tables can be categorized into two categories:
Folding tables: These tables come with folding functionality which makes them portable. They are normally used for temporary setups.
Stands: Stands are either detachable or permanent setups. They have different parts that have to be assembled for usage. Stands don't offer the benefit of portability but they are more suitable for long-term use and permanent setups.
Considering the extensive usage of the table, you need to make the right choice when buying one. Even though folding tables are popular and widely used by the DJs, they tend to become inefficient over time.
Best DJ Tables: Our Top 5 Picks
1. Harmony Case HCDJSTANDT Compact Portable DJ Workstation Table
As mentioned above the table has a sturdy construction and is easy to carry. However, the Harmony Case HCDJSTANDT has a lot more to offer. The table can hold up to 100lbs and the side snaps can prevent your equipment from falling.
The table has interior shelf support that can be used for keeping light equipment. It is made from black laminate ply and the edges are reinforced with aluminum along with screws and nuts made of steel.
When open the table has 54″W x 37″H x 19. 5″D dimensions and when closed it measure 33. 25″W x 36. 5″H x 4. 25″D. The entire table weighs around 48lbs which adds its portability factor. The Harmony Case HCDJSTANDT is an ideal option if you perform with a lot of equipment.
Pros
Sturdy and can hold a lot of weight without breaking.
It takes very little space and can be customized as desired.
Reasonable Price.
Cons
It can bend a little from the sides due to turntables.
Assembly might be an issue for beginners.
2. Deejayled TBH Universal Fold Out DJ Table
A perfect table for beginners, the Deejayled TBH packs some amazing features too. The table is designed to offer ample space along with portability which makes it convenient for transport.
To protect it from damage, the table has Heavy Duty Chrome Steel Impact Resistant on the Corners. It is designed as an ATA-300 Style Durable Transport Case, a Heavy Duty Professional Style that meets the Industry's Recognized Impact Standards making it Ideal for Safe Travel.
Deejayled TBH comes with an open edge that enables you to stack the multiple units of the table and features a handle for lifting it up. The dimensions of the table are around 37.82 x 22.26 x 4.73 inches and it weighs 23.7 pounds.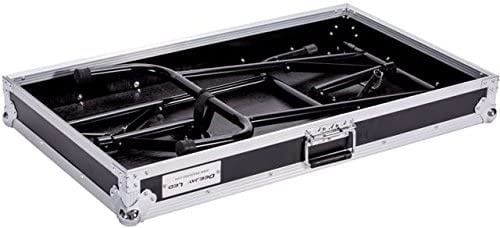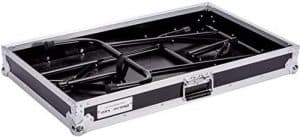 Pros
It comes with chrome steel and impact-resistant corners.
The corners are heavy-duty ball and have stacking dimple on the bottom side to allow stability and centering when it has to hold multiple units
This DJ table has all the features that make it ideal for easy and safe travel.
Cons
The legs can't be extended and therefore it is not possible to adjust the height of this DJ table.
The stability issue may occur if the units are not placed properly on the table.
3. Odyssey CTBC2060 Carpeted Folding Dj Table With Adjustable Leg System:
Another durable and sturdy table from Odyssey designed with a touch of innovation to make the lives of DJs easier. The Odyssey CTBC2060 offers ample space to the DJs to place their systems.
The table has a carpeted surface that prevents the instruments from slippage. Moreover, it comes with a pre-tapped port for cables which can help you maintain a clean look when performing.
It comes with a folding leg system that enables you to adjust the table's height from 28 inches to 38 inches. It also comes with a strapped handle which makes it portable. Odyssey measures 60 x 20 x 38 inches and weighs 29 pounds that make it easier to carry.
Pros
The table comes with a strap for handling ease.
The leg is foldable and the height can be adjusted from 26 to 38 inches.
There is a pre-tapped hole to act as a port for cable runs.
Cons
Adjusting the leg would require some extra work.
4. Quik Lok Multi-Purpose Stand (WS-650):
As the name suggests, Quik Lok Multi-Purpose Stand (WS-650) can be used for holding almost anything. The sturdy construction can hold huge speakers cabinets about 48 inches and heavy keyboards.
It comes with 8 different adjustment points which enable you to adjust the stand to any height and angle. Quik Lok WS 650 comes with height adjustment spring-loaded knobs which helps you to adjust the height of the stand by just pulling the knob.
The entire stand weighs around 2.5 pounds and can be folded into a 'T' that reduces to the dimension of 29.2″H X 24.6″W. which makes it super portable. The Quik Lok WS 650 is perfect for holding DJ coffins, CD rack systems, CD/Record cases and rack cases.
Overall this DJ table is perfect for professional DJs who need a lot of space and equipment while performing.
Pros
The DJ table has a Quik Lok spring-loaded security knob that holds everything securely.
The table is foldable and makes a "T" shape for easy transportation.
The height can be varied and tilt angle adjustments can also be made.
Cons
Not the best choice for people who have started DJing recently.
Ideal DJ Table dimensions
There is a lot of debate over the same in the DJ world. Sometimes it is the size of equipment and some times the number of essential equipment that can make a difference in the size of the table. Professional DJs prefer to keep a safe approximate number of the kits they might use for a gig.
To see the different equipment used by a DJ for a gig, you can watch this video here:
When it comes to deciding the height of a DJ table, there a lot that comes into play rather than just some plain number. There are factors like ergonomics, endurance and border space that contribute to the size of the table.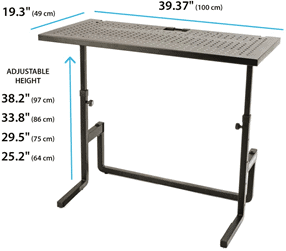 To avoid fatigue and mishaps you have to consider your elbow angle when standing in front of a DJ table.
The average elbow is 41inches from the ground when standing and if you want to keep it as close to a right angle you have to subtract the distance with the height of the equipment i.e. 4inches which brings us to the average height of 37inches.
If you are a beginner and only use more than a 2-decks and a single 19inch mixer set up, a 5-6 feet wide table will be optimal for you. For professionals who use 4 decks and a 19inch mixer, a 7 feet wide table would be perfect.
The dimensions of the table can also differ according to the body measurements of the DJ.
How to make your DIY DJ Table
If you find the above-mentioned tables expensive, you can try building a DIY DJ table at home. Yes, you can build your own DIY table. You just have to be clear about the dimension, functionality, and the purpose of the table.
To begin with, you can buy a normal table or make one using some pieces of wood. In this part you have to be careful about the dimensions it will later affect the other factors. Once you have your basic table ready, you can come to functionalities.
If you want your DJ table to have a storage unit you can create one right below the table, or place a rack or small cupboard under it. To make the setup permanent, you can drill some holes into the ground and fix the table. But if you are planning for a mobile set up you might have to work with things like Velcro or suction cups.
To watch how to make your own DIY DJ table watch this video:
Conclusion
A DJ table can be a great addition to your list of equipment. You can buy one from the list above or take a trip to the store to make one for you. I hope the information in this blog helps you choose a better DJ Table. If you have any queries or suggestions, please feel free to share them in the comment section below.