In this blog post, we will compare Rekordbox and Serato DJ software. Rekordbox is made by Pioneer DJ Corporation while Serato is made by Serato Ltd. Rekordbox is a newer software that has been gaining in popularity, while Serato has been around for many years. We will look at the features of each software and how they differ.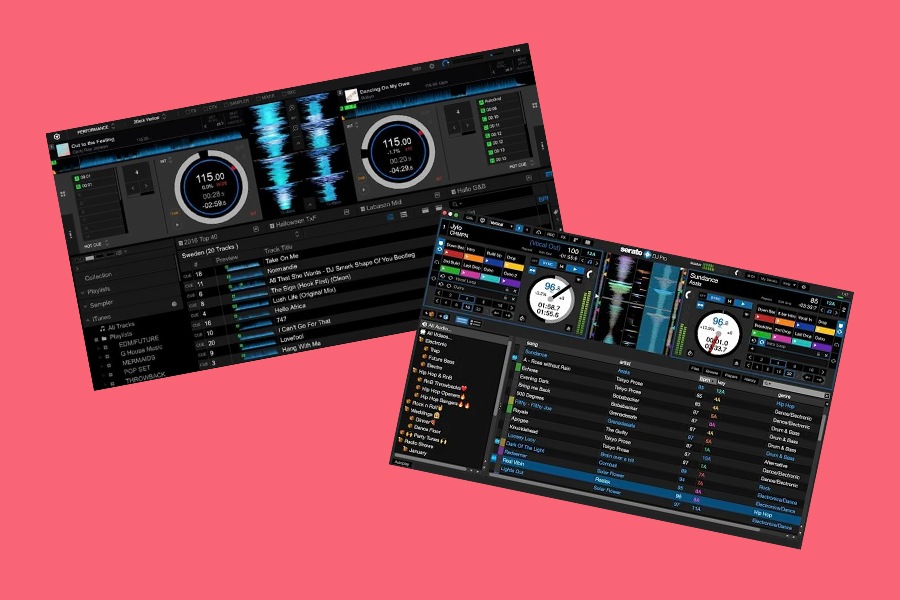 History of Serato DJ Pro
Serato has existed since they released their first product in 1999. In 1997, co-founder Steve West was a University of Auckland student learning to play bass guitar on the side. Steve wanted to slow down complicated bass solos without altering the pitch. Frustrated with the sub-par tools available at the time, Steve set out to write an algorithm that would do just that. And so, Serato Pitch 'n Time was born.[toc]

Since then they have continued to update and release new software.But when their main software (Serato Scratch Live)started to take off, they realized there were still inherent problems with your every-day DJ setup, like the declining quality of in-house turntables.
Seratopivoted to developing an all-in-one DJ compact controller system where you could plug in and start DJing straight out of the box. In January 2008 Serato ITCH launched with its first supported hardware controller, the Vestax VCI-300.
As professional digital DJing grew, so too did the demand for entry level software. In September 2011, Serato DJ Intro was born. In 2013 Serato launched Serato DJ – the evolution to Serato Scratch Live and ITCH – in conjunction with the Pioneer DJ DDJ-SX. This was Serato's first step to a unified piece of software across the whole product range and introduced a new interface to Serato users.
Finally, in 2018 Serato's flagship products, Serato DJ and Serato DJ Intro, became Serato DJ Pro and Serato DJ Lite. DJs can now mix two tracks together with just their laptop, have a limitless music library, and a crisp, high-resolution interface.
History of Rekordbox
Against the long history of other popular dj software, including Serato, Rekordbox hasn't been around for as long. In 2009, Pioneer DJ partnered up with Mixvibes, a french company known for being on the vanguard of dj software creation since 1999, to create their own music management software.
The launch of Rekordbox coincided with the launch of the highly popular CDJ-900 and CDJ-2000, being the last one a staple on most dance clubs around the world for the last decade. Being a proprietary software, Rekordbox was meant to be used from the start only with Pioneer DJ hardware, something that to this day is the norm.

Like Mixvibes own staple software Cross, Rekordbox was built around a high-quality audio engine that could be used with new and revolutionary features at the time, like loops and hot cues.
Alongside the release of the mobile version in 2012, the major update Rekordbox has seen was with the release of its 3.0 version in 2014. The update gave the software a more streamlined and intuitive interface, improved import and export capabilities, and most importantly, a 2 player mode. A year later, Pioneer released their first All-in-one controller, the XDJ-RX, which included an LCD screen with the Rekordbox software, letting anyone dj without the need of a laptop.
This year with the release of their 6.0 version, Rekordbox took the example of other dj software like Serato and started to charge its users using a monthly subscription, in contrast with the lifetime license plan they had before. Another important update has been the release of a cloud saved library that anyone could use across their different equipment.
Although it is proprietary software, to this day more than 10 years since it was launched, Rekordbox has become an industry standard, used by amateur and professional djs all around the world.
Things to Look for in a DJ Software
When looking for a DJ Software these are the most important aspects you should keep in mind:
User Interface
When using a DJ software, having a clean and easy to read UI is essential. This way you won't get lost or frustrated trying to navigate and find something specific in the middle of a set.
Here you can see the user interfaces of Serato DJ Pro and Rekordbox DJ side by side. More have similar layouts with two prominent dials and a music selection library underneath. I do think Rekordbox's UI is a little more intuitive for beginners.
It takes a little to get used to the Serato DJ Pro user interface. But it can be very powerful once you learn to quickly navigate it.
Budget
This comes down to your own personal budget and DJ aspirations. If you are just starting out and want to get the hang of the basics, you could try both Serato and Rekordbox for free. You won't have access to all the features, but you probably won't need them all at first. A good option is buying an entry level controller that includes a Software license.
You can also download a totally free DJ software like Mixxx or Virtual DJ.
Serato DJ Pro Pricing

Rekordbox Pricing

One thing to note here is that you can easily purchase a lifetime subscription to Serato DJ Pro while you will have to pay monthly for Rekordbox. Want to continue Djing for multiple years (like most of us)? Rekordbox will probably cost you more in the long run than Serato DJ Pro.
Hardware compatibility
Some controllers only work with a specific software so you should consider this if you already have a controller or if you are looking to buy one. You can first choose the software that you feel the most comfortable with and then buy a controller that fits your needs or vice-versa.
Here it is: The major difference between Serato and Rekordbox is that Rekordbox ONLY works with Pioneer DJ hardware.
Expansion Packs
Some software, like Serato, offer expansions which give the user even more features. If you feel like you might need them in the future, you should consider buying the basic software and then buying expansions.
Serato vs Rekordbox: Main Similarities&Differences
Rekordbox only works with Pioneer DJ software.
The first difference is that although Serato could be used with a wide variety of controllers, including some made by Pioneer, Rekordbox exclusively works for Pioneer DJ hardware.
Rekordbox has better metadata handling/collection capabilities
Both pieces of software have extensive library management options, but for a more in depth metadata handling you would have to go with Rekordbox.
Serato DJ Pro has a lifetime license – Rekordbox does not.
With the release of Rekordbox 6.0, both softwares now use a monthly subscription service with different price tiers: a free one, a basic one for 9.99 USD and a more complete one for 14.99 USD with different functions. You can still buy a lifetime license for SeratoDj Pro at 129 USD, something that you cannot do with Rekordbox if you want to use its latest version.
You can sync your entire music library to the cloud with Rekordbox
Also a new feature that comes with Rekordbox, at least its pricier tier, but still is absent on Serato is the ability to have your library cloud synced.
Both softwares give you the option of connecting your Soundcloud accounts and iTunes library, beyond that SeratoDj Pro can connect to Tidal and Rekordbox can connect to Beatport.
Serato vs Rekordbox: Which one to Choose?
Being so similar in the way they are used, their intuitive interfaces and wide array of features, there's no way you could be making a wrong decision by choosing either SeratoDj Pro or Rekordbox as your software of choice.
It boils down to the type of hardware you have access to or think you could use in the future:
Serato gives you the choice of using products from a variety of brands while Rekordbox is stuck to Pioneer DJ equipment. Which Pioneer DJ hardware is the industry standard in the world of clubbing and professional djs if you want variety, you should Serato not Rekordbox.
Both options are great and you will not be disappointed with either of them.
Personally I prefer to use Rekordbox since it came with a really good entry level controller (DDJ 400) and I was able to later play on CDJs since I was already familiar with that ecosystem. Most clubs will use some sort of Pioneer equipment so that is a big advantage.
I also prefer Rekordbox since it has a lot more library features than Serato.
However, you will be locked to that ecosystem and the Pioneer brand, so you might want to try both and decide which one works best for you.