No other brand understands the world of sound like Mackie. For years the company has created products that are tailored to provide DJs, sound engineers, and music producers the sound clarity that impresses the audience. That's why today we are going to talk about their flagship product, a Mackie CR3 review.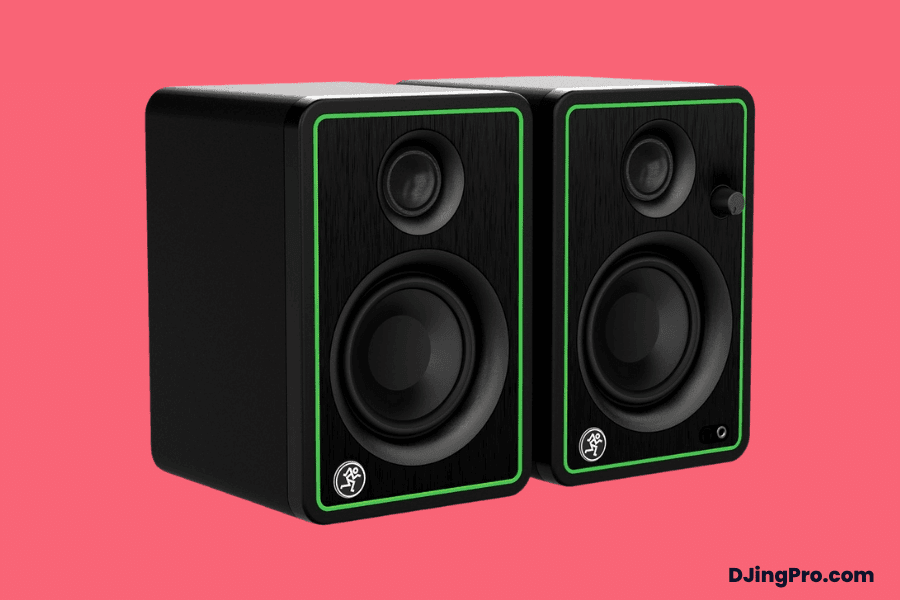 Mackie's huge lineup of products comprises some of the world-class speakers that enhance the way your music sounds when played. The crystal clear output of Mackie speakers is hard to find in any other brand.
Similarly, its Mackie CR3 is a widely known sound monitor and is preferred by DJs who are looking for affordable options. It belongs to the C Series of the company's lineup and is designed with some interesting features that make it a better alternative.
| IMAGE | PRODUCT | Our Thoughts | Price | |
| --- | --- | --- | --- | --- |
| Best Value | Mackie CR3 | The affordable price does not affect the sound quality offered by the Mackie CR3. It has a compact size which makes it a suitable choice for DJs with a small setup and those who prefer quality sound over high volume. | $80 – $110 | Check Price |
Mackie CR3 Overview
The affordable price does not affect the sound quality offered by the Mackie CR3. It has a compact size which makes it a suitable choice for DJs with a small setup and those who prefer quality sound over high volume.
To see how the Mackie CR3 is set up, you can watch this video:
Mackie CR3 Features
Sound Quality
When it comes to the best speakers, nothing matters more than the pristine sound quality. As DJing requires speakers that play the sound clearly with every note defined crystal clear, these studio monitors can give you satisfactory results.
Considering the size i.e. 3-inches, these speakers are really good. Most of the time small speakers play the sound quite flat or emphasize one sound frequency such as mid or treble. However, this is not the case with the Mackie CR3.
The Mackie CR3 produces mids and highs incredibly well and enables you to detect the minor problems in your tracks and fix them before you hit the floor. However, you might have to compromise on the bass a little. If you really want to rock heavy bass, I'd recommend adding a subwoofer system that will complement the sound of these speakers.
You can hear some notes very clearly which can be a huge advantage for DJs and music producers. These speakers come with quite loud sound production capacity as compared to regular computer speakers.
Mackie CR3 does not compromise on clarity on any sound levels. You will get good and clear sound at both minimum and maximum levels.
Build Quality
Companies often compromise on the build quality of affordable speakers in the quest to make them innovative and competitive. But, as a DJ you need to pay special attention to the build of the speakers even if they're only going to be used in your home setup.
The Mackie CR3 monitors have been built by combining many superior grade materials that give it the ability to withstand impact and shocks to an extent. The speakers are highly suitable for transport and give you the freedom to use them anywhere.
They are coated with 3-inch polypropylene that makes them super durable and gives them the ability to bear heavy impacts with ease. Polypropylene also keeps the speakers light so you don't have to worry about heavy speakers weighing down your bag.
To generate incredibly clear sound, the company has added .75″ ferrofluid-cooled silk-dome tweeters in every speaker. The ferrofluid in the tweeters works to reduce distortion by centering the voice coil in the magnetic gap.
Below the polypropylene coating, the casing of the speaker is made from high-quality wood. The naturally acoustic wood aids in producing non-resonant sound and keeps the musical vibrations to a minimum. It makes the Mackie CR3 sound monitor a better alternative against plastic counter-parts.
Even though these speakers are composed of multiple materials, consider the sub $100 price point. They might not be able to offer similar durability as compared to the expensive alternatives. It is recommended that you treat your speakers with care so that they can last longer.
Mackie CR3 Specifications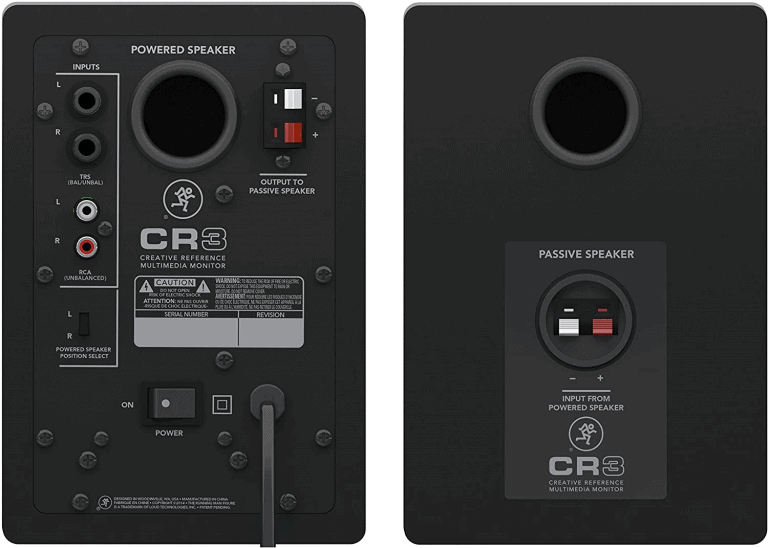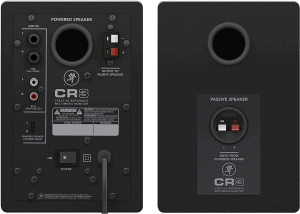 The construction of the speakers makes them suitable for room performances and near field listening. Its high-quality components can produce high and low levels of sound for a long time without affecting the performance.
Frequency
It has a frequency response of 60hz-20Khz, the huge frequency spectrum enables the speaker to produce exceptional sound quality and clear sound. Though these speakers come with a 97dB capacity, they are quite loud. In the case of Mackie CR3, you can say good things come in small packages.
Connectivity
To help you connect it with the various devices the Mackie CR3 sound monitor comes with different audio input options such as 1/4″, 1/8″, and RCA. It also has a headphone jack in the front so that you don't have to connect it to the mixer or your computer.
Cables & Compatibility
Finding cables to connect to a sound monitor can be a huge challenge. Even after you find the cables, their compatibility can be another issue. To save you from this ordeal, the company has included all the necessary cables in the package.
Performance
Another thing that most DJs are often concerned about is the vibrations produced by the speakers. This can affect the performance in many ways especially by creating a distraction. Fortunately, the Mackie CR3 has isolation pads that curb the vibration and help produce better sound.
As mentioned above the speakers have a wooden casing, to be precise Mackie has used MDF (Medium-density fibreboard) for the speakers. It is an engineered wood and lighter than most of the wood options.
Design
Fit for DJs and suitable for daily use. Mackie CR3 has a wonderful design that is both unconventional and attractive. It has an elegant look with all the accentuations and muted colors. If it's not the specs, the amazing appeal of the speakers will keep you gripped.
To give the speakers a punchy design, the box has been covered with a matte vinyl coating that contributes to the appealing look. The vinyl coating also makes the surface water-resistant which can be a great win for clumsy DJs.
For a lively appeal, there are green colored accents around the tweeter and woofer. The color used for accentuation is almost as bright as radium and is quite great at grabbing attention. Mackie has used the same hue to illuminate the knob when the system is turned on. However, the lights are not too bright, to distract you while working or blind you temporarily.
The speakers measure 3-inches and due to their compactness, they can fit anywhere. You can keep them on your record shelf or next to your computer. They blend in the surroundings quite well but still make an impact with the vibrant color.
Inputs
For DJs, inputs are a pretty serious affair. They need a speaker that has different types of inputs for connecting the multitude of DJ controllers, subwoofers, and more.
Fortunately, the Mackie CR3 has got you covered. It has a lot of input options that can be hard to find in this range. While not all inputs might be useful for DJing, a lot of them can add a lot of convenience to your music composition process.
You have the headphone jack at the front which is quite helpful in terms of connecting your headphones quickly. The headphone supports a 3.5mm jack, so you can plug your normal ones to check the sound.
It also has an AUX input right next to the headphone jack and it lets you connect external devices for audio output. You can use the AUX input to connect devices such as mobile phones, and even DJ controllers.
The speakers have both balanced and unbalanced options at the back that let you connect it to your system or controller. It comes with RCA, TRS, and passive speaker ports that let you connect the different devices.
It has a left to right switch on the back too. You can choose the main output speaker with this switch. Both speakers come with a passive speaker out that can be used to connect them to external speakers for more sound.
This also gives you the freedom to place the speakers in different spots to get a dynamic sound range. With the speaker switch, you can not only not change the sound output among the speakers but also change the volume control from left to right and vice-versa.
Our Mackie CR3 Review & Thoughts
Many factors make the Mackie CR3 a great steal for DJs and music producers.
Firstly, it is priced affordably which is a major advantage for DJs who are on a string tight budget. Secondly, the quality of sound produced by these speakers is quite commendable which is a much sought-after feature among DJs. Lastly, the premium quality construction lasts very long and promises you a long playtime.
Its several connectivity options can add to your convenience and let you connect a plethora of devices to the speakers.
All of these qualities combined can make this sound monitor a great investment.
To get a hint of Mackie CR3's performance, you can watch this video comparison between CR3 and CR4.
Pros
The impeccable sound output is the most prominent quality of these speakers. They are ideal for home or studio use. Owing to the crystal clear and accurate sound, these speakers make them incredible for editing. It has a balanced and natural sound which is best for post-production checks.
It has a dimension of 8.2 x 5.5 x 6.2 inches. Due to this fit anywhere on the bookshelf or even in the DJ booth. It also makes the device highly portable and easy to carry around.
These speakers offer you lots of connectivity methods such as 1/4-inch, and 1/8-inch. You can connect these studio monitors to numerous devices.
Affordability is the biggest benefit of these studio monitors. They offer great value for money by outperforming in every aspect of sound and design. It can be hard to find such wonderful speakers in this price range and with these many features.
Cons
The only problem with these studio monitors is sound output. Considering that they are not designed to offer power but accuracy, choosing them should be based on requirements.
Conclusion: Is the Mackie CR3 Worth It?
Mackie CR3 is a great speaker for DJs and perfect for a home setup. If you want a pair of speakers to listen to your mixes as you're refining them, these are the perfect choice.
| IMAGE | PRODUCT | Our Thoughts | Price | |
| --- | --- | --- | --- | --- |
| Best Value | Mackie CR3 | The affordable price does not affect the sound quality offered by the Mackie CR3. It has a compact size which makes it a suitable choice for DJs with a small setup and those who prefer quality sound over high volume. | $80 – $110 | Check Price |