JBL needs no introduction, as it is one of the leading sound equipment manufacturing companies in the world. The company has a reputation for creating speakers, headphones, and sound-related equipment that are of exemplary quality, capable of providing stellar performance.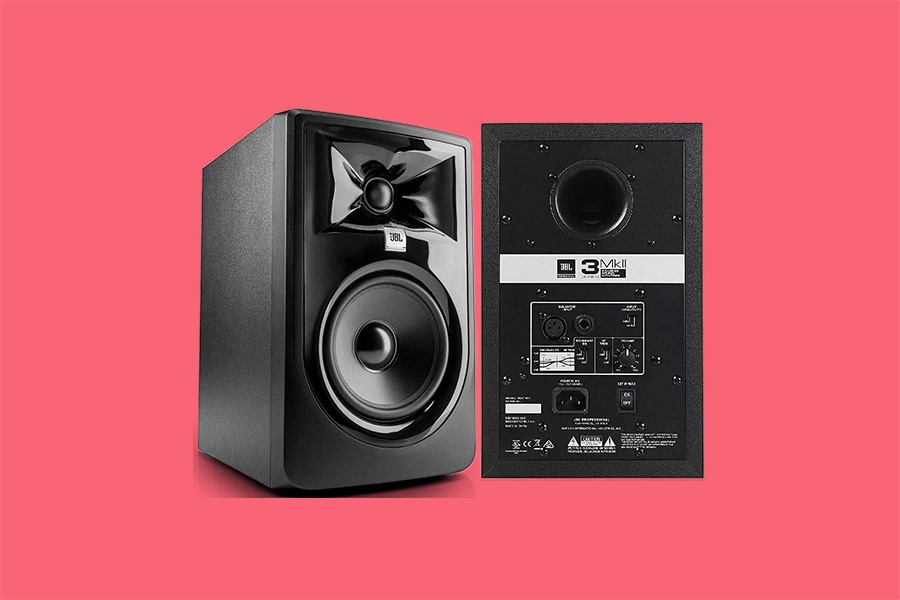 When it comes to speakers, the company has a vast array of impeccable sound producers that have qualities ranging from wireless, high battery life, multiple input points. These abilities make the speakers suitable for multiple uses.
With the idea of creating the most functional speakers that are perfect for professional use, JBL has created the 305P MKII. The two-way studio monitor has numerous features that can be of great use for DJs.
JBL 305P MKII: Overview
JBL 350P MKII belongs to the extensive lineup of the studio and professional equipment of the company and is the latest product. It lives up to the legacy of its predecessors by providing clear sound.
To see how the JBL 305P MK II works, you can watch this video:
Even though the speaker has a small size, it does not compromise on the quality of the sound and can please both casual listeners and audiophiles. It has numerous innovations that prove it to be the best alternative against its competitors.
Generally, studio monitors come with quite a hefty price tag. The JBL 350P MKII belongs to the affordable price range and does not burn a huge hole in your pockets. It falls at an easy price range of $129-135, so if you are looking for the best speakers for DJing without breaking your bank, this is one of them.
JBL 305P MKII: Features
The JBL 350P MKII is made of advanced components that contribute to giving the user a wonderful experience. It has numerous features for DJs that make it a worthy addition to your gear.
JBL 305P MKII: Sound
The entire point of buying a studio monitor is to get sound that is better than conventional speakers. When casual listeners purchase speakers they are easily impressed by the loudness and multiple control functions offered by the speakers. Well, audiophiles and DJs are a bit different.
Audiophiles look for clear and crisp sound-producing speakers so that they can enjoy their songs to the fullest. DJs on the other hand, need profound and beat defining sound to analyze their tracks and find the fixable errors. Here how JBL 350P MKII helps all of the above.
JBL 305P MKII uses the company's Image Control Waveguide for phenomenal sound distribution and output. The technology allows you to produce a sound that is wider than most conventional stage monitors.
Its ability to cover a larger area works best for large-sized studios. Since the sweet spot is broader, you will get the best of your sound in long distances too. If you have been using a near-field speaker till now, this speaker will want you to get a replacement.
Speakers and studio monitors in this range do offer pretty impressive highs and mids but when it comes to lows things tend to get messy. Budget speakers come with poor quality construction which is designed to produce two of the three main frequencies properly.
JBL has avoided this mistake, which could have cost them a lot of loyal customers. Instead, the company has added extra efforts to perfect its low-frequency response and enable the speakers to produce powerful bass.
These speakers are an excellent pick for DJs who are into genres that rely heavily on bass. However, they do not offer overbearing bass like other commercial speakers but compensate for it with a pleasant balance of all frequencies.
For DJs, the JBL 3050P MKII can be quite satisfactory in terms of sound as it can maintain good mids and highs while mixing.
Overall, these speakers do not generate flat sound frequencies which is a common problem with speakers in this range. Due to its major emphasis on the low-end frequencies, it may not be able to satisfy the demands of hardcore audiophiles.
Unlike other budget speakers that tend to start blaring at high volume, JBL 350P MKII has an undistorted output. So if you are planning to use it for a small house party, you can expect zero sound problems.
There is but one problem with this speaker i.e. a hissing sound. When it is played on low volume, the speaker produces a hissing sound which can be a little problematic for DJs.
JBL 305P MKII: Build Quality
JBL is one of the oldest sound equipment manufacturing companies with a legacy of 70 years. In due course of time, the company has earned a reputation for producing equipment that is great in terms of built quality and lasts longer.
The company has used the same finesse and sheer craftsmanship in creating the JBL 305P MKII. It is made of high-quality components, that enable it to perform excellently and have a longer life as compared to the previous models.
The speaker weighs a little over 10 pounds (4.5kgs) which is standard for a speaker of this size and these many features. Its considerable lightweight fosters portability and makes it suitable for transit. You can take these speakers to your events and gigs.
To make the speaker strong and durable, the company has made the casing using quality materials that keep them safe from incidental damage and bumps.
JBL has preferred to go with wood with this model. It is made from 15mm quality MDF that is lightweight and strong. For an aesthetic appeal, the company has covered the speaker with matte PVC which also makes it water-resistant.
Speaker vibrations can be painfully annoying for DJs and they can also be distracting while working. To reduce these vibrations, the company has added an Injection-molded structural ABS baffle to the speakers.
Most speakers tend to break after playing music on high frequency for long durations. To avoid this from happening the company has added a 25mm superior quality HF driver. JBL has used a soft dome model to filter high frequency in this speaker.
JBL 305P MKII: Specifications
The reason why the JBL 305P MKII trumps its competitors easily is due to the varied components installed in it. To deliver the best sound to its customers, the company has added components that are normally found in the high-end models.
One such component is the double-flared port that generates a deeper bass which is a much-needed feature for DJing and music composition.
Owing to its size, it is a perfect match for a medium-sized studio but you don't have to worry about the sound distribution as it can generate clear sound in a large-size room too.
Normally studio monitors have to be plugged into the amplifiers to get power to generate sound. This is not the case with the JBL 305P MKII, it comes with a Bi-amplified power configuration and can be connected to a power source.
Even though the speaker is quite small, finding the right space for it can be a tough task. You cannot keep it on a bookshelf or your PC table as it can take up a lot of space. In such a scenario, you can keep it on a separate table or buy a small stand to keep it mounted.
The JBL 305P MKII has a large frequency range of 43Hz-24kHz and a frequency response of 49Hz-20kHz. It is among the largest frequency spectrum in this price range.
This wide frequency range covers high, mid, and low frequency seamlessly and lets you hear every detail and notes. However, it may not be as great as the other expensive speakers in the market but the difference is hardly noticeable until they are played together.
As mentioned above, this speaker is much louder as compared to the other brands in the market. It has been engineered to produce sound as loud as 108dB. When on its highest volume setting the speakers can be too loud for a medium-sized room and sufficiently loud for a large one.
People often face problems with sound clarity when they play the JBL 305P MKII in large rooms. A simple solution to this problem is to add good quality subwoofers with the speakers. But, if you are looking to cover a large hall or a field, it is recommended to buy speakers of larger capacity or the higher version.
JBL 305P MKII: Tuning Options
Not every studio monitor comes equipped with tuning options. They play an important role in the amount of sound that is played by the speaker and perceived by the listener. The lack of tuning options can affect the way you keep your speakers.
Tuning options enable you to adjust the trim of the speakers either high or low based on your requirement.
JBL 305P MKII comes with two types of sound tuning options i.e. boundary EQ and High-Frequency Trim. There are three adjustment levels for both tuning options. The studio monitor also has a visual representation of how to adjust the tuning levels and get the desired output.
For instance, if your speaker is placed against a wall, you will have to trim the bass to a lower level. And if your studio has a lot of reflective surfaces, then you will have to adjust the highs to get better sound output.
With tuning options like these, you can place the speakers in different ambiance and positions. Moreover, these settings can help you get the best sound output in all kinds of settings.
JBL 305P MKII: Design
For some DJs, the design of their equipment matters a lot as they feel that it should match the aesthetic appeal of other equipment in their booth. While others only care about the value that these studio monitors add to their gear.
The aesthetic appeal of the JBL 305P MKII is subjective. Some find it appealing and some do not.
It has a very basic design with no unconventional accentuations that are attention-grabbing. It comes in a smooth shiny plastic finish. While being flashy, the studio monitors don't have the show-off kind of appeal.
These studio monitors look very different from all the other options on the list. They have a very subtle look and don't distract you while working. The shiny plastic might need a little extra cleaning effort as it catches dust too soon.
Moreover, you also have to handle the problem of fingerprint smudges as they become more visible due to the glossy surface. The shiny surface of the speaker can be cleaned with a soft microfiber cloth to get rid of the dust and smudges.
JBL 305P MKII: Inputs
Inputs are important for DJs as they allow them to connect their various devices to the speaker to get sound output. Therefore, it is essential to check the number of input ports and jacks that are included in the speaker.
The JBL 305P MKII does not have an extensive array of input ports for connectivity. It has only two connection ports i.e. the XLR or 1/4-inch TRS. This lets you connect to a controller, mixer, PC or laptop, and more.
JBL 305P MKII: Our Thoughts
Every DJ has his or her preference when things are related to the art of DJing. The preference gets even specific when it comes to choosing speakers, as a major part of their composition process is based on the kind of speakers they have.
To see how to install the JBL 305P MK II, you can watch this video:
Owing to the excellent and wide sound frequency range and the loud volume level, the JBL 305P MKII can be a great steal. It is reasonably priced and equipped with advanced technology that can make these speakers perform excellently.
It can also save you a lot of money with its robust and long-lasting body. It can withstand scratches and bumps with ease.
The speaker performs with consistent sound quality even after being played for quite a long time. While other studio monitors tend to have a complex installation process, the JBL 305P MK II is very easy to set up and use.
On the other hand, some speakers come at a lower price range and claim to offer a plethora of features. Most of them are built poorly while others make you compromise on the essential aspects of sound.
Since the JBL 305P MK II is committed to last longer than other speakers, choosing it can also help you save to buy a better and advanced one or get other equipment for your booth.
The studio monitor works best with high-quality sound files and a good amplifier.
You might also want to take note of the size of this studio monitor before buying it. Even though it is only 5-inches in size, the speaker can take up a lot of space in your living room or studio. So if you are short on space we recommend you buy one that is smaller in size.
When looked at from a broader perspective the JBL 305P MK II is a great product from the company just like its headphones and Bluetooth speakers.
Pros
The sound monitor is made using PVC which makes the JBL 305P MK II durable and lightweight at the same time.
For baffles, the company has used ABS a material similar to plastic and gives the speaker the structure and protection to the interior.
The sound monitor weighs only 4.73 kgs (10.43lbs) and can be pretty lightweight to be placed on the studio shelves or tables.
Powering the speakers can be a problem as some of them require high power voltage. However, the JBL 305P MK II uses 100 – 240VAC (±10%), which means it can be plugged into any outlet.
With the JBL 305P MK II, you don't have to worry about magnetic interference with the system. The studio monitor has been constructed with a magnetic shielding that protects it from any kind of sound interference. It also protects from getting damaged.
The JBL 305P MK II has a sleek design and the ports have been placed in a convenient position to make sure that the user can access them easily. It has been designed just like a high-end studio monitor.
To complete the look and functionalities JBL 305P MK II has ports and flips to tune the sound.
Cons
Though the studio monitor has been designed to look like a high-end studio monitor, JBL 305P's design could have been better.
A lot of studio monitors in this price range come with a bass booster feature that can help you with processing the bass line of your songs.
Conclusion
DJing speakers have to be special and different from the conventional ones. They need to be able to define every note of the sound that you produce on your system. Studio monitors should also be able to connect with different DJing devices.