When you leave the bedroom to start playing gigs you'll soon realise that you need to start packing a few extras. This post contains the top 16 DJ essentials to pack before every gig!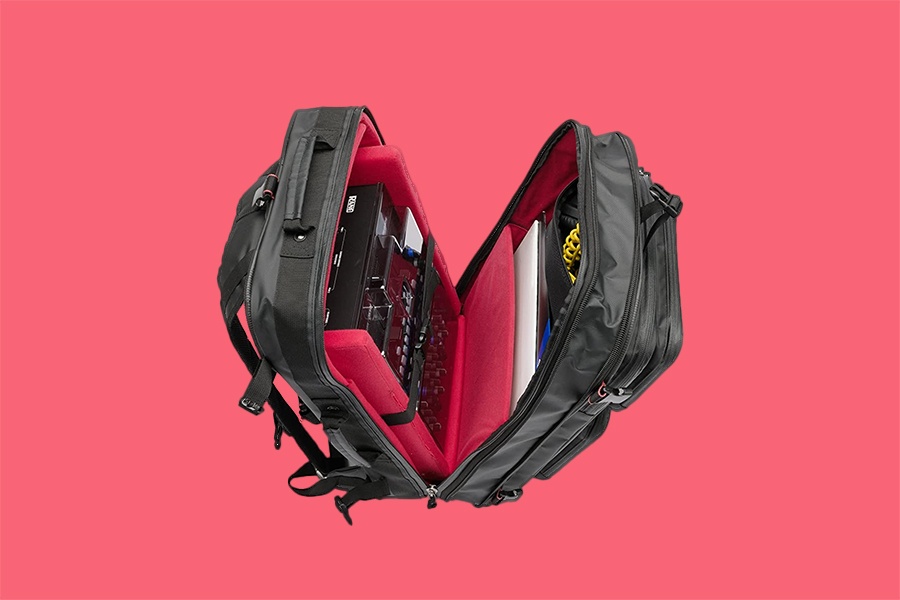 A good DJ will be prepared for easy changeovers, breakdowns, and even the worst case scenario, which will eventually happen! These DJ essentials will ensure you're ready with an easy solution when this nightmare gig arrives.
DJ Essentials Checklist
Before we get to the list here's a little tip so you never forget to pack any of these DJ essentials. Make a list of all of the items, save it to your computer, and print it out. Keep it in your bag and use it as a checklist while you're packing for your gig.
You can tick off each item as you pack it to ensure you have everything you'll need. Without a checklist you're guaranteed to forget something so use this tip and get it right every time.
1. Gig bag
The first thing you'll need is a decent bag to safely carry all of your DJ essentials. Multiple pockets and compartments are important so you can quickly find the items that you need during an emergency.
I recommend a bag that has been specially designed for DJ's like the Magma Riot pictured above. These bags have padded compartments with internal safety straps to keep equipment safe during transport. You'll also find plenty of pockets to keep items separated making them easy to find. They're super tough and made to handle all of the abuse a busy DJ will put them through.
I've used one for 2 years now and it's been great, check them out on Amazon here > Magma Riot DJ Gig Bag.
Our Favorite DJ Bag
2. Extension plug socket
This is something that's often overlooked but has saved me many times in the past. I've turned up to clubs ready to set up and found that the current DJ is a socket hog! He'll have his controller, FX, launchpad, laptop, phone, and iPad all plugged in leaving no space for my equipment.
If you pack an extension cord you can set up everything ready for a smooth hand off. This keeps the crowd and club owners happy, and makes things a whole lot simpler and stress free for you.
Our Recommendation
3. Backup USB drives
No matter how much money you spend on a thumb drive, if you use it enough it'll eventually break. If you don't have a backup the party will stop and you'll have a very unhappy crowd to deal with.
I carry my main USB drive and two backups which are all loaded with lots of different music genres. I'll also store a few small mixes on each drive just in case there's an equipment problem that takes a while to rectify. It's very unlikely that all three will break on the same night, but if you feel the need to carry more then go for it!
Our Favorite USB
4. Power adaptors and cables
When you're packing hardware it's easy to leave your cables and Power adapters behind. If you leave them plugged in at home you'll be hard-pressed to find any suitable replacements at the club. Always unplug cables and pack them at the same time as the hardware they belong to. It's also worth getting yourself a backup power adapter as these have suddenly quit on me in the past.
5. Extra USB cables
You already know that USB drives can suddenly stop working, but USB laptop cables can also break without warning. Any cable that is being flexed will eventually break, the plugs can also wear out. If you're using a laptop or controller then these are essential so you'll definitely need a backup.
I use higher quality braided cables that keep the outer in good condition. I find these cables are more rigid which also prevents the cable from flexing, therefore protecting the inner. Always carry two backups in your gig bag.
6. Flashlight
Whatever venue you play at the chances are it'll be super dark, especially in the DJ booth. There's nothing worse than searching through your gig bag in the dark, especially in an emergency when you need an item quickly.
Keep a flashlight on a lanyard strapped to the top of your bag where it's easy to find and you'll never struggle in the dark again. A flashlight will also make setting up easier, it'll also come in handy when repacking your bag after the gig.
Get yourself a small LED flashlight, these take up little space but they're super bright, and the batteries last ages.
7. Headphones
Headphones should be at the top of your DJ essentials checklist, you'll always need them but they're easy to forget. When you're using them at home it's really easy to leave them on your mixer after you've finished practising. If you have some spare cash it's a good idea to buy a second pair that always stay in your gig bag.
If your headphones have a removable cable it's also a good idea to take a spare. This is another cable that can suddenly quit on you due to constant pulling and flexing.
Check out the best headphones on the market HERE
Our Favorite DJ Headphones
8. 1/8″ headphone plug adaptor
There's nothing quite like the humiliation of turning up to a gig with headphones that don't fit the mixer.. Yes, I've done it! Always pack at least two adaptors, these things go missing all the time.
Tip. If you find yourself stuck with no adaptor check all around the floor in the booth as DJ's loose these every night. I've found loads of them kicking around so this could save your butt!
9. Earplugs
If you haven't played your first gig yet you probably won't realise just how much you have to turn up the headphones. This is unavoidable as you simply wouldn't be able to hear what you're doing over the high volume of the main sound system. This is why a pair of musicians earplugs are essential for every gig you play.
There are some great purpose built musicians earplugs available that are perfect for DJing. You don't have to spend a fortune as you can get some great cheap reusable earplugs like downbeats. These DJ friendly earplugs can be comfortably worn under your headphones to filter harmful frequencies.
Our Favorite DJ Earplugs
10. Business cards
If people enjoy your set they might want to hear more! You'll get requests for business cards during and after your set, so always carry a pack with you. These could end up in the hands of promoters, club owners, or other DJ's, and will ultimately lead to more work.
Make your cards stand out from the rest and add your DJ name, contact details, and social media accounts. You could make your own or use sites like Vistaprint or Moo to print your cards and deliver them to your door.
11. Pen and notepad
A pen and notepad can come in really handy for many things. If you speak to other DJ's or promoters you'll want to take their contact details and email address. If they aren't as well prepared as yourself with business cards then you'll need your notepad.
Keep a page dedicated to other DJ's and another for promoters, and so on. This is much better than storing numbers in your phone as they'll just get lost amongst the other hundreds of numbers; And also label each contact well so that you remember where you met the person.
A notepad will also come in handy for jotting down requests from the crowd. When multiple people are asking for requests while you're busy mixing it's really easy to forget what they asked for. Take a note of the track and drop it into the mix when you're ready.
12. Bottled water
DJing in hot clubs can be exhausting and keeping up your fluids is important. The last thing to add to your checklist is a bottle of water as you won't be able to leave the decks to get a drink from the bar. Neglecting the fluids and letting dehydration creep in can make you feel rotten and really mess up your mixing.
Don't replace the water with alcohol as your mixing will definitely suffer. Wait until you have finished playing before enjoying a nice cold beer at the bar!
DJ essentials round-up
Now you're prepared with this list go ahead and print it out and keep it in your gig bag. Don't neglect any of these items as the day will come when you'll need all of them. You'll now be well prepared for your next gig but if you can think of any more DJ essentials let me know so I can add to the list!
If you haven't played your first gig yet you can get some great tips HERE. And find out how to read your crowd perfectly, control the atmosphere, and always get the crowd pumped up HERE.