When you are looking for upgrading your DJing equipment, the only thing you should focus on is getting maximum quality for the price. Since, quality comes with a price, garnering a booth full quality gear is nothing short of a challenge for DJs.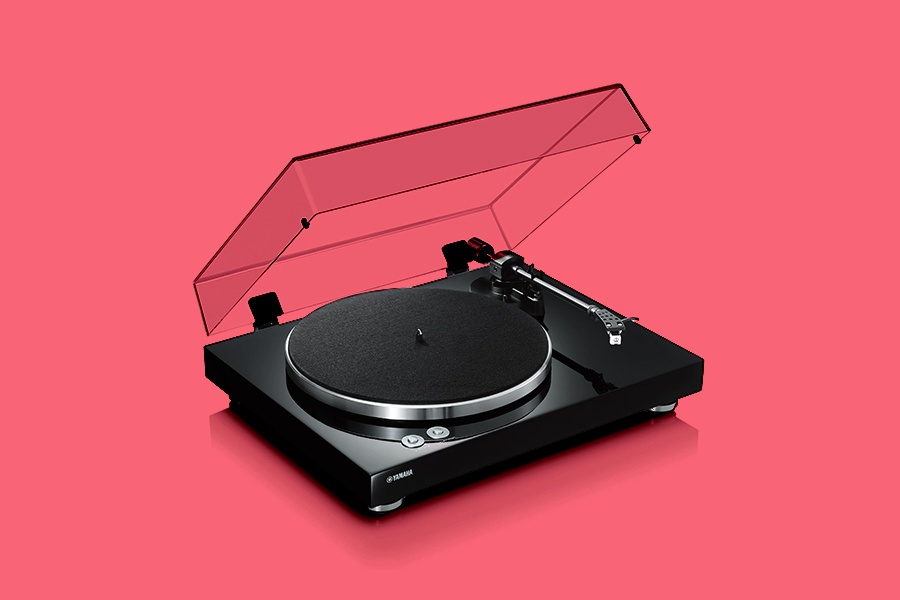 Among the many pieces of equipment such as a DJ laptop (link), DJ controller (link)that occupy a DJ's booth, a turntable plays a particularly vital role. Its use depends on your DJing style which also influences the type of turntable you buy. While turntables are notoriously famous for being expensive, we have fished out some of the best turntables for DJSs for under $500.
| IMAGE | PRODUCT | Pros | Cons | |
| --- | --- | --- | --- | --- |
| Best Overall | Yamaha TT-S303 | The sturdy cabinet is designed specifically to reduce vibration | No Bluetooth | Check Price |
| Best Value | Audio-Technica AT-LP1240-USB | Stable rotation and multiple speed adjustment make it suitable for pro DJing. | No cartridges included | Check Price |
| | Fluance RT81 | Comes with an Audio-Technica cartridge for precision and long-lasting durability | No digital connectivity (no USB port) | Check Price |
| | Pro-Ject Debut Carbon (DC) | Its precision belt drive and synchronous motor make it accurate and does not speed up, slow down, or change pitch. | No USB capabilities or connectivity. | Check Price |
| | Denon DP-300F | Easy setup, perfect for beginners. | Some complaints about catridge quality | Check Price |
| | Crosley K200 | Bluetooth connectivity and RCA outputs for connecting to different speakers. | The cartridge and stylus are only ok. | Check Price |
| | U-Turn Audio Orbit Plus | Precise tone-arm combined Ortofon OM5E cartridge for accurate sound | Lacks compatibility features such as USB or Bluetooth. | Check Price |
| | Sony PS-HX500 | Intuitive Recording software | Built-in phono stage holds it back | Check Price |
| | Pioneer PLX-500 | USB for PC/DVS connection | None | Check Price |
| | TEAC TN-400s | High-torque motor to power up your record playing experience | No Bluetooth capability | Check Price |
Top 10 DJ turntables under $500
The trick to picking the best turntable for your booth at an affordable price is to understand your requirements and find the turntable that can satisfy them. You need to look for turntables that have the necessary components that might make DJing easier for you.
Without further ado, let's take a look at the top 10 DJ turntables that you can buy for under $500.
Yamaha is quite renowned for creating superb sound equipment that are used across various industries. The company's superior quality turntable, the TT-S303, shook the DJing world owing to the amazing features and an unbelievable price.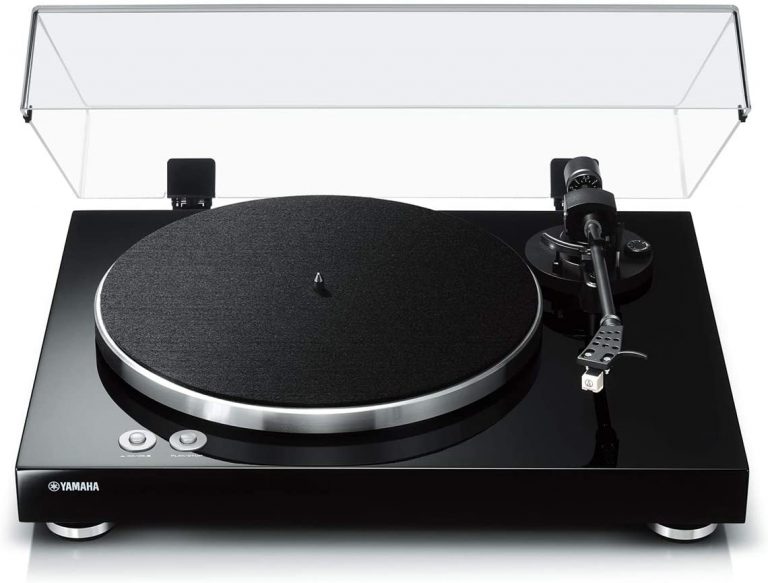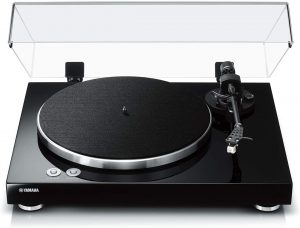 The turntable features a phono EQ amplifier which enables you to connect it with a line input on an amp without a phono stage or even active speakers (link). You can also switch it to phono output mode to pair with an amp or a receiver.
To reduce vibration, the company has incorporated a belt drive under the platter. It comes with a stable tone-arm that adds to the quality of tracking offered by the needle as it can detect any sudden movement on the vinyl.
For stable rotation and reduced disturbance, the company has added a DC motor at the center of the turntable.
Pros
The sturdy cabinet is designed specifically to reduce vibration
Accurate tonearm does not hinder in pitch or speed
Comes with high-quality preamp
Cons
No Bluetooth
No USB option to rip audio from vinyl
Audio-Technica is known for its fabulous innovations that have taken the music industry by storm at times mostly high-quality DJ headphones. It is also known for manufacturing some of the best turntables that can outperform the ones created by other brands.
Fortunately, the company has also created a stellar cheap turntable for DJs: the 'Audio-Technica AT-LP1240'.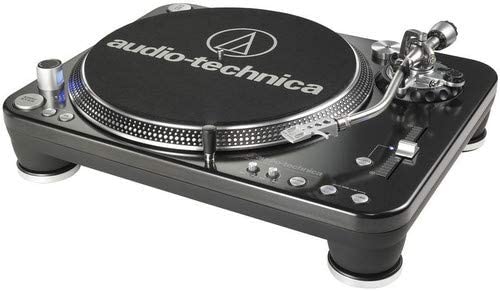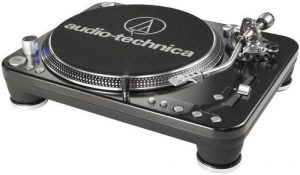 AT-LP1240 packs some of the best features that a DJ can expect at such a low price. It has a powerful motor that generates high torque and guarantees superior performance even after prolonged use.
The deck can be operated with different buttons such as start/stop and brake control adjustment. It also allows you to toggle the playback speed of 33/45/78 RPM. It also comes with a forward/reverse functionality and variable pitch control.
To see how the AT-LP1240 works, you can watch this video:
To ensure smooth playback the company has incorporated a balanced S-shaped tone-arm. It is enhanced with hydraulically damped lift control, anti-skate, height adjustment, and lockable rest for seamless performance.
Pros
Stable rotation and multiple speed adjustment make it suitable for pro DJing.
Can be connected to the speakers directly using the switchable pre-amp
USB functionality enables you to rip audio to your computer with ease and is great for archiving or converting old records to MP3.
Strong build, anti-resonant platter, and dampening mat reduce buzzing.
Cons
If you are looking for the best sound quality equipment with a touch of class, the Fluance RT81 is the perfect option for you. The system consists of all the impressive features that can make your DJing experience better.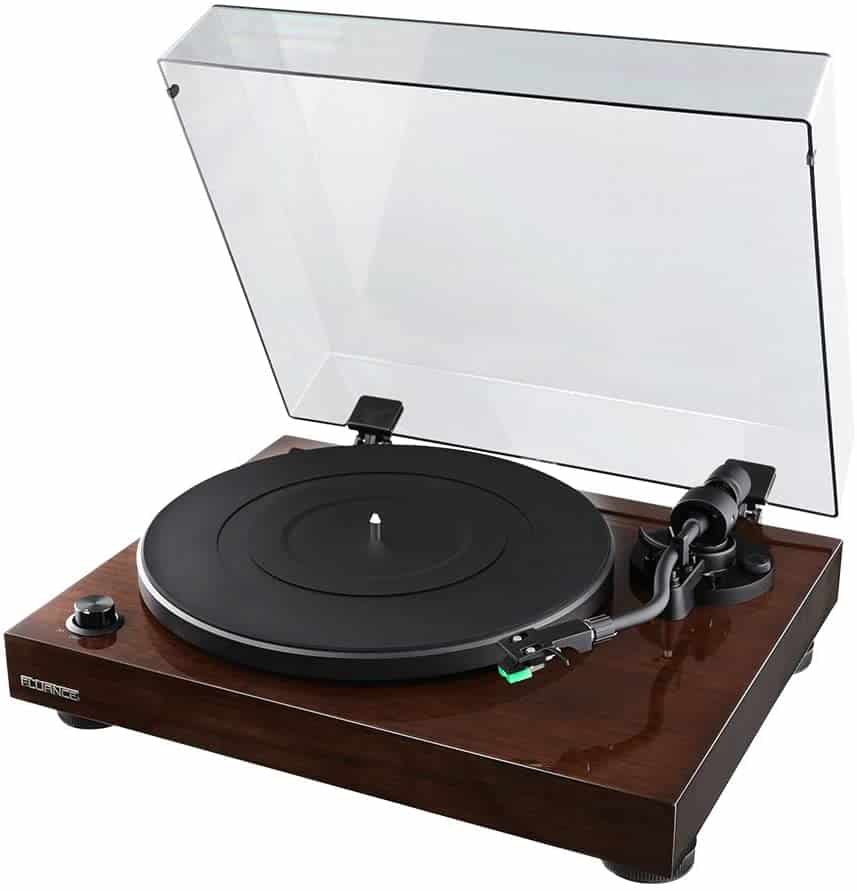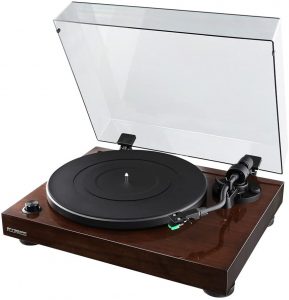 Fluance RT81 has a powerful DC motor that works with an excellent belt drive system. The platter of the system is made aluminum while the turntable is made of rubber that great offers traction while scratching. It rotates the vinyl at 33 1/3 RPM and 45 RPM which enables you to load different types of records.
The incredible balance and adjustable counterweight of the S-shaped tone-arm produce superior quality sound. Moreover, the sound is enhanced by the Audio Technica AT95E stylus that rests on the grooves of the vinyl with a mere 2.0 grams tracking force.
You can connect the turntables with the in-built phono and line switchable preamp through a gold-plated RCA connector. For aesthetic value, the turntable features a high gloss walnut finish and made of MDF. It also comes with a tinted dust cover that protects the important components of the turntable.
Pros
Comes with an Audio-Technica cartridge for precision and long-lasting durability
S-Type tonearm for increased accuracy
Great looking walnut finish with no vibration or distortion.
Cons
No digital connectivity (no USB port)
Audio fidelity not as high as other models.
The first Debut turntable was launched in year 1990s and became a revolution for the hi-fi industry. Pro-Ject has been improving the Debut turntables ever since making them better and advanced with each new model.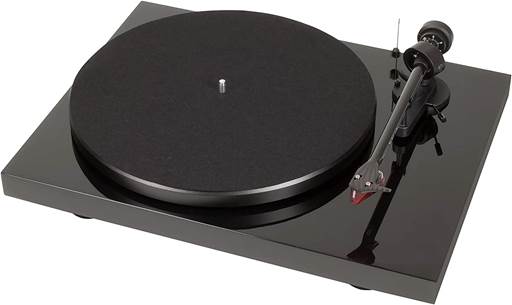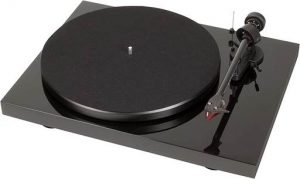 Its latest models include features like a Carbon-tube tonearm which adds stiffness and eliminates unwanted resonance. To improve sound quality, the company has increased the platter size and added more weight.
The most important of the Debut Carbon (DC) is the approved belt-drive design that aids in offering a low sound-generating AC motor. It has an excellent quality motor decoupling which uses TPE-dampening and gets rid of the unwanted vibration.
Meanwhile, the ultra-precision frequency DC-driven AC generator makes the platter rotate faster and with improved stability. The cartridge has been replaced with Ortofon 2M Red for audiophile vinyl use. For a seamless spin, the platter has been made from 300 mm metal and comes with a felt mat.
Pros
Impressive, sturdy, and accurate carbon tonearm.
The record player stays very sturdy with no buzz owing to the weighted platter and padded bottom
Its precision belt drive and synchronous motor make it accurate and does not speed up, slow down, or change pitch.
It comes with an Ortofon 2M red cartridge for excellent sound reproduction.
Cons
No USB capabilities or connectivity.
The cartridge is not removable
Denon is a very popular name among DJs as the company has a lot of DJing products in its line-up like the Denon MC4000 2-channel DJ controller. In this range, the company has a wonderful turntable that has some incredible features- DP-300F.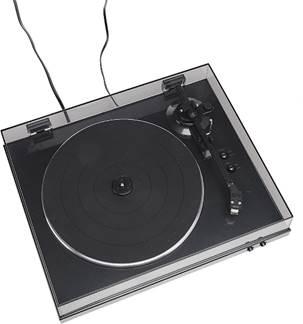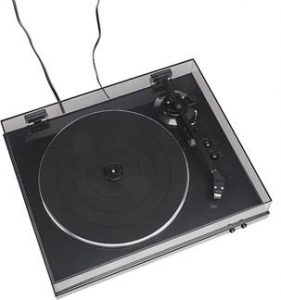 The DP-300F features a heavy base construction that absorbs the vibration like magic and gives you stellar performance. It comes with a newly designed tone-arm which has a removable shell and makes cartridge replacement simple.
It comes with an automatic startup feature that starts the turntable at the touch of a button. After a record is complete, the tone-arm returns to the armrest gently to prevent any damage to the stylus or the record.
The turntable has a DC servo motor and a belt drive system that can go up to the speeds of 33 1/3 or 45 rpm. Its MM cartridge enables you to play the record on your hi-fi system as soon as you connect it. You can use the built-in phono EQ to connect the player to an integrated amp or a receiver that lacks a phono input.
Pros
Easy setup, perfect for beginners.
Fully automated playback.
Retro styling.
Quality built-in phono preamp.
Cons
Cartridge quality not good
No USB recording.
This turntable is widely known for its unique features that deliver excellent performance and make DJing a lot easier. The Crosley K200 is one of the first turntables by the company that comes with a direct drive motor bringing the record up to speed faster without compromising on the sound quality.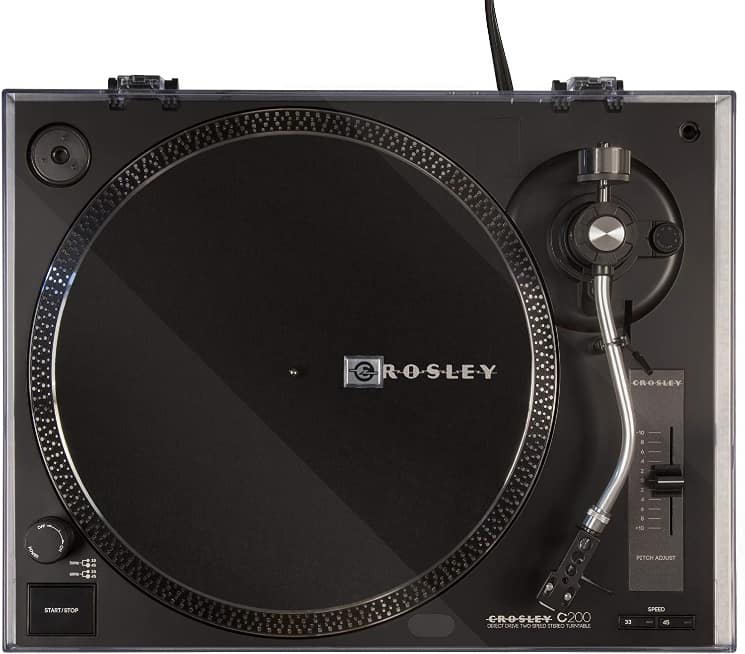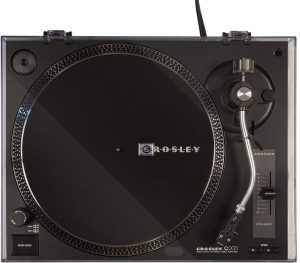 It features a built-in 30-watt power amp which can be found in other turntables in this range but the most remarkable feature of the K200 is the Bluetooth connectivity which lets you connect to the speaker without using wires.
The K200 comes with another awesome feature i.e. the precisely adjusted moving magnet At-3600 cartridge from Audio-Technica. This cartridge enables the turntable to generate clear sound while keeping the grooves from damage. You can change the cartridge to one of your choices.
It comes with an S-shaped tonearm that can be adjusted for perfect balance using the adjustable counterweight. The turntable was designed with style and engineered to offer amazing performance using direct-drive technology.
Pros
Bluetooth connectivity and RCA outputs for connecting to different speakers.
Includes a slipmat which stops any vibration or jolts
Tone-arm has an anti-skate function and is very accurate.
Cons
No USB option
The cartridge and stylus could be of better quality
The company was started as a Kickstarter campaign and aimed at producing better plastic audio system options in comparison to the ones that are mass-produced by big brands. When you take look at Orbit Plus, you can say that company has pretty much achieved its target.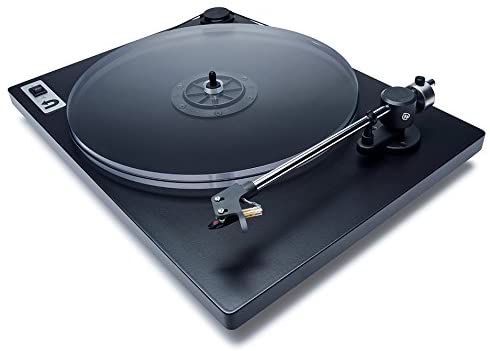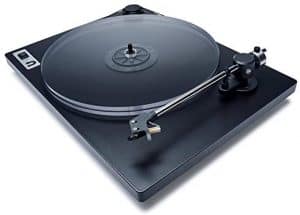 U-Turn Audio's Orbit Plus is a great option for beginners who want to listen to vinyl tracks and get an idea of how to get accustomed to the vinyl system. If you are an intermediate DJ, there are some impressive features in the system that can make this purchase worthwhile for you.
The entire turntable is assembled by skilled craftsmen by hand, this is to ensure that you not only receive sturdy products but also products that are tested. It comes with a straight OA2 gimbal tone-arm that uses precision bearings for smooth movements.
The arm comes with an anti-skate preset and an adjustable counterweight. Furthermore, at the end of the arm, there is an Ortofon OM5E which is known for its balanced and neutral sound profile. You can connect it to any powered speaker or amp using a built-in Pluto Phono Preamp.
Pros
High audio fidelity
High standard of design and manufacture.
Precise tone-arm combined Ortofon OM5E cartridge for accurate sound
Pluto preamp lets you plug the turntable into speakers via RCA
Comes with a dust cover.
Adjustable counterweight for use on uneven surfaces.
Cons
Lacks compatibility features such as USB or Bluetooth.
Poor quality belt.
If you want to up your game with big brands at this price range, you can try the Sony PS-HX500. When it comes to features there are many things in this turntable that will make it hard for you to resist your temptation.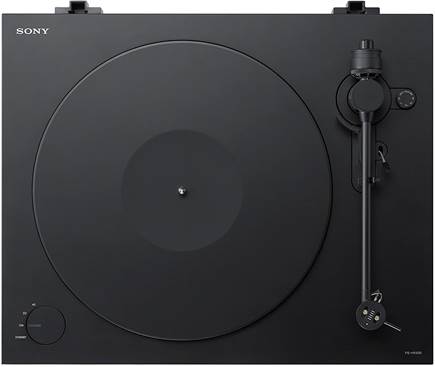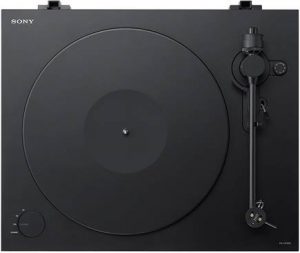 If you are already a performer, this turntable can be a great investment as its light and compact body can let you take it anywhere you want to. Moreover, the slick black appearance makes it look like a premium product.
The company has redesigned its tone-arm for the PS-HX500. It features an integrated shell that is more durable and works really well in stabilizing the cartridge. This enables the turntable to generate focus more on the superiority and dimensionality of sound produced.
It comes with an inbuilt Phono EQ that supports both phono and input lines. This enables you to play songs through an integrated amp or external phono EQ. You can connect the turntable to your laptop by installing the supplied software and edit or record songs with ease.
Pros
Intuitive Recording software
Nice build quality
Upgradable
Cons
Built-in phono stage holds it back
Hi-res recording sounds sub-par
Pioneer is one of the few audio equipment manufacturing companies that are dedicated to creating products that can be used by DJs too. The company has introduced some amazing turntables that make a perfect choice for DJing, however, the only turntable available at this price is the PLX-500.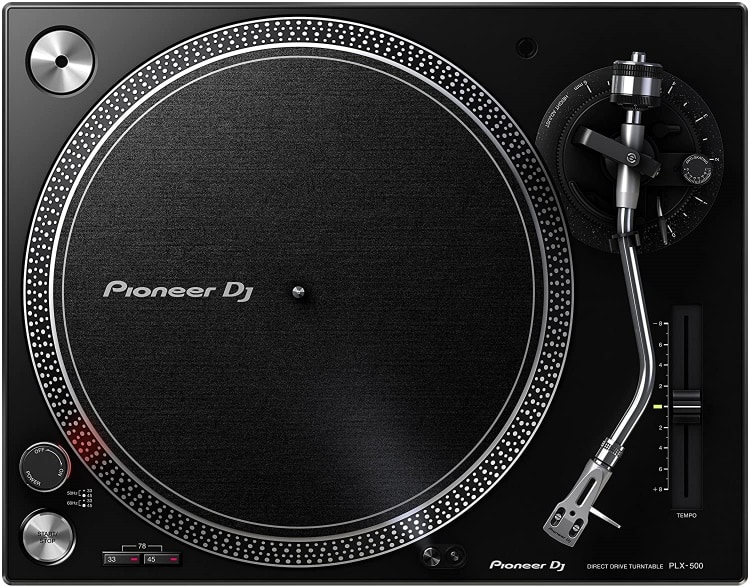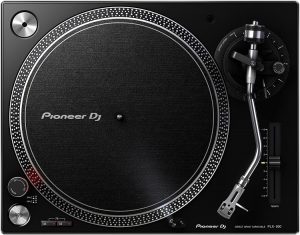 You can say that the PLX-500 is a mini version of the PLX -1000, but it has more features as compared to its expensive alternative. You can start counting its features with the power Servo-type direct drive 3-phase brushless motor that generates speeds of 33⅓, 45, 78 RPM, and lets you play all kinds of vinyl.
It comes with a super low 0.15% WRMS wow and flutter that plays the vinyl with almost no sound. The system starts within 1 sec at 33⅓ RPM and stops with the help of the electronic brakes incorporated inside.
You can use the PLX-500 for mixing and scratching as it can be connected to a laptop for recording the beats you create. Moreover, you can use it with Rekordbox DVS by coupling it with an RB-VS1-K Control Vinyl.
Pros
Cheap for Pioneer
USB for PC/DVS connection
Excellent components
Great build quality
Cons
This particular turntable carries more aesthetic value but can be a good option DJing too. It comes with a three-speed operation of 33-1/3, 45, and 78RPM that plays all kinds of records with great stability.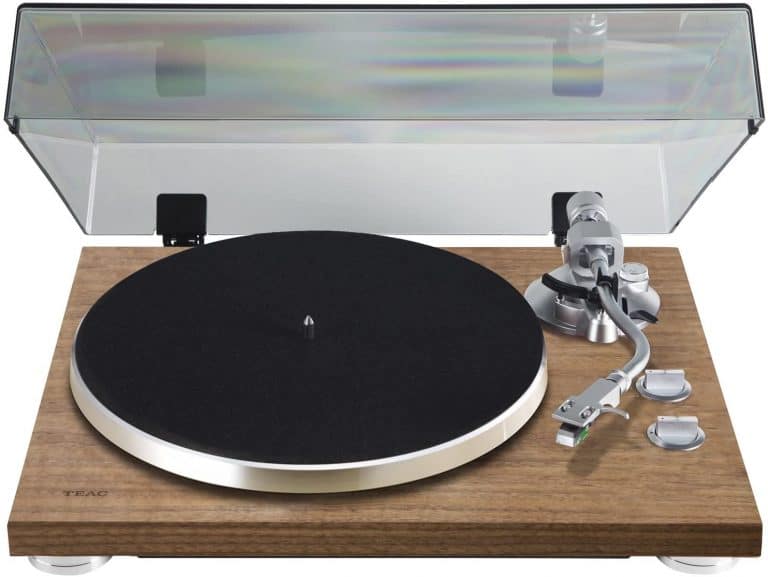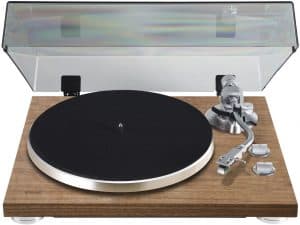 The turntable comes with a high-inertia aluminum die-cast platter that runs on a high torque DC motor using a durable Neoprene rubber belt. TN-400s supports both kinds of phono and line-level output, enabling you to play vinyl with or without a phono equalizer.
It has a USB port which can be very important for DJs as it allows you to transfer the tracks to your PC and help you archive your vinyl collection.
Pros
Built-in preamp
High-torque motor to power up your record playing experience
High fidelity sound
Three-speed operation
S-shaped arm
Cons
Do expensive turntables sound better?
This question may have crossed your mind numerous times as you are looking for a more affordable alternative. However, as mentioned above you need to understand your requirements to make a perfect choice.
While expensive turntables often do sound better owing to their construction and different components incorporated in it. There are other factors that can influence their performance and utility too. Here are some of the factors to weigh in deciding between a cheap DJ turntable versus a more expensive DJ turntable (link).
Weight
The weight of a turntable contributes to many performance factors such as vibration absorption, stability, and disturbance. High-end turntables are heavier and bigger while the affordable ones are lighter and come in smaller sizes.
In this respect, you may not want a more expensive DJ turntable. If you're a mobile DJ who likes to have their turntables with you wherever you go, I would go with something like the PLX-500. Affordable and light enough to carry around with you in a hard case (link to Amazon), the PLX-500 is perfect for mobile DJs who prefer turntables.
Platter
Entry-level turntables have platters that are made of steel and have a felt mat on top to reduce vibrations. This combination enables them to produce decent quality sound. On the other hand, high-end turntables have platters made of MDF (medium-density fiberboard) wood with a layer of vinyl on top. This enables them to produce clearer and distortion-free sound.
Motor
The motor used in high-end turntables are higher-quality and have an suspension with heavy damping ring. This makes high-end turntables more resistant to vibration and aids in producing clear sound.
Belt
Affordable turntables have a sub-platter under the main platter. On the other hand, most higher end turntables are belt driven.
Tone-arms
The tone-arms that are used in high-end turntables are made from carbon fiber and are known to have higher endurance. Affordable turntables have tone-arms that are made from metal and offer a similar amount of durability.
Electronic Speed Controller
Even though the speeds offered by some of the turntables at this range are impressive there are some turntables that require manual intervention when changing speed.
Interested in learning more about the difference between a high end turntable and a more affordable one? Watch the video below.
Conclusion
High-end controllers may feel like a blessing, but you can find a great turntable for under $500 dollars. Cheap DJ turntables are an option – you just have to realize that you will be sacrificing some sound quality and specific features to save money. If price isn't a consideration, read through our list of the Best DJ Turntables to see all of your options.
Have you used any of the turntables on this list? Let us know what you think about them in the comments below!