Cut-throat competition has really brought the best out of audio and video production companies.
With most products today, you can find three-tiers for every product – entry-level, mid-range and flagship. Nobody wants to buy the cheapest dj controller they can find (If you do though, check out this article on the best cheap dj controllers!).
Today, I'm going to talk about a great, solidly-built controller: the Denon MC4000.
If you're a DJ searching for a great DJ controller to take your gig to the next level, Denon MC4000 is a great professional controller that can help you do so.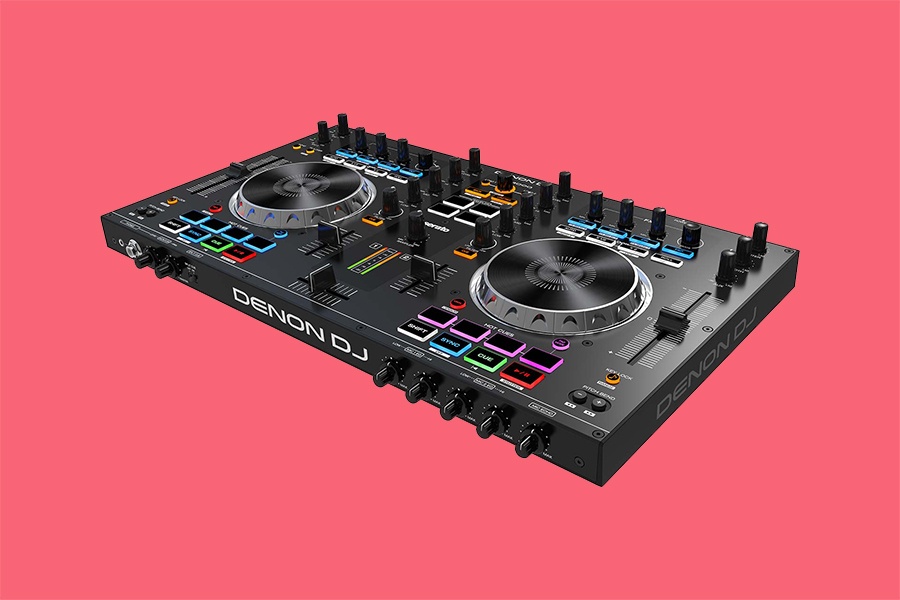 | IMAGE | PRODUCT | Our Thoughts | Great For | |
| --- | --- | --- | --- | --- |
| Our Top Pick | Denon DJ MC4000 | It's one of our most recommended DJ controllers for a reason. It's amazing, affordable, and comes with plenty of features at a LOW price point. | Mobile DJs, DJs on a budget, Beginner DJs | Check Price |
Denon MC4000: First Impressions
The moment you unbox the unit, you'll realize that Denon MC4000 really means business. It looks professional and with the overall design and functionality, you simply can't ask for more. The dark metal top makes the unit quite sturdy.
The bottom, as well as the side design, is made of plastic which reduces weight throughout the unit and makes it a great pick for the mobile DJ.
Denon MC4000 Video Review
Don't want to read anymore? Watch a video from our friends over at DJ City reviewing the Denon MC4000
Denon MC4000: Features & Functionality
MC4000's controls carry a no-nonsense approach. The moment you see the controller, you'll picture a mobile DJ in mind with residency in a small to the midsize club. What I love about Denon is that it doesn't take the fancy route and doesn't go all-in with the entry-level products. It just gets the basic right and MC4000 is a testament to that approach.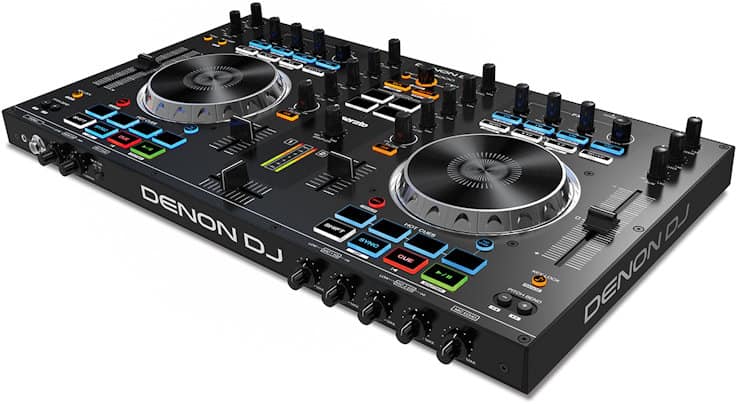 Two-Channel Controller
The MC4000 has been a tremendous purchase thus far. This is as good as it gets when you're searching for a on-budget two-channel controller. Some people are complaining about it lacking four software channels but to be realistic, for the price the MC4000 is perfect.
While I did not conform to the online community's opinion about the number of channels, I was disappointed with MC4000's lack of key control features such as 'Full Slip Mode', and 'Slicer'.
Pads
There are two sets of eight pads under the jog wheels.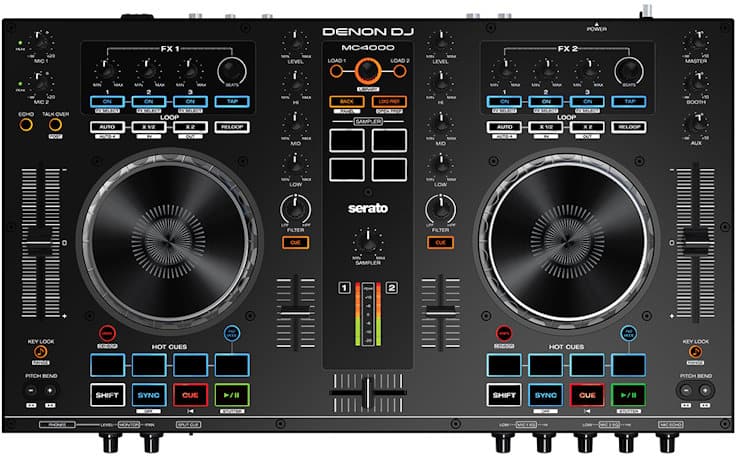 Of the eight pads, only the upper four are related to the performance features. The bottom four are for transport, sync and to shift controls.
Using the pad, you can access controlling features such as a cue loop mode, loop role, and partial slip. As mentioned earlier, Denon MC4000 does lack a full slip functionality.
Looping
Auto Looping
You can loop tracks using the four buttons above each jog. You have the option to use 'Auto' to enable a loop similar to the current loop that you've set in the software. So, based upon how you read beats, you can leave them for four or eight bars.
Doing so will allow you to engage with one button and manage the looping function with a single click. There are certain shortcuts that you can use to activate the four-beat loop regardless of the length set in the software.
Manual Looping
A developer simply can't ax the manual feature given the freedom and individuality it provides. Using the Auto loop is never an option for many DJs and they tend to perfect the manual shifting.
Using the manual loop feature you can use exact points using the jog wheels. If you're well-versed with music production and song structure, you're more likely to love this feature.
FX
Since the Denon MC4000 comes with Serato, you have the standard three FX pots which include – on/off buttons, Shift to Select and the Beats Knob for FX duration.
There's a tap button for manually entering the length. Using the panel, you can switch Serato's extra panels on and off. So, if you don't need FX and a sampler, you can make use of the panel to get rid of it.
Gains
Each channel obviously has manual gain. There's a three-band EQ along with a filter knob on each channel. Then there are channel faders that are sturdy yet smooth. The MC4000 isn't your traditional scratching controller but having a nice and loose crossfader can be handy if you ever feel like entering the A-Trak mode.
There's an on/off key that you can use to increase the pitch fader range using the shift button. You'll be able to switch to a Vinyl mode and be able to implement the on-off cycle between the scratcher and the jog-wheels. So nudge towards the edge and scratch at the top without any issue.
Pitch Sliders
Here's where I noticed the first major bug. I'm not sure if it's an engineering oversight or a firmware bug but there's a slight issue. When you've set the pitch range to +/-8%and you move the slider all the way down, it functions well. However, when you do so with +4%, you'll notice that the number is not halfway between 0% and 8%. Thus, the pitch-shifting might not be extremely accurate. But once again, it's not a deal-breaking flaw by any means.
Library Section
I've always been a fan of Serato's expansive library. And with Denon MC4000 I had expectations that were fulfilled. The stepped rotary encodes for scrolling, and deck load buttons really make the controller feel premium. The insightful prep section allows you to open and add tracks without needing to resort to the keyboard.
Cue Mix and Split Cue Controls
I really appreciate the user-oriented approach and the practicality implemented in this controller. Since I mainly use headphones, I often tend to rely on Cue Mix knob for beat-matching while transitioning. MC4000 with its Cue Mix along with Split-Cue makes it headphones friendly. Old school pros who tend to mix their own way can make use of the pitch bends. So it's a win-win for both amateurs and pros.
Inputs and Outputs
Denon MC4000 being a budget controller doesn't have anything extravagant to offer. As mentioned earlier, it is geared towards mobile DJs.
Having said that, the connectivity is impressive. How? You get 2 mic inputs with volume control and EQ options for each mic.
You get an XLR as well as RC master output along with booth output. If you're in need of a backup sound source, you can also make use of the RCA aux input. Finally, there are two headphone outputs of 3.5mm and 6.5mm respectively.
Denon MC4000: Specifications
Denon MC4000 Controller Specifications
Controller Style
DJ Controller with Audio Interface
Number of Decks
2-deck
Channels
2-channel
Jog Wheels
2 x Jog Wheels. touch-activated
Pads
8 x Hot Cue and sample pads
Faders
2 x Volume, 2 x Pitch
Cross Fader
Standard
Mic Inputs
1 x XLR-1/4″ combo, 1 x 1/4″
Inputs
1 x Dual RCA Stereo (aux in)
Outputs
2 x XLR (master out), 2 x 1/4″ (booth out), 1 x Dual RCA Stereo
Headphones
1 x 1/8″, 1 x 1/4″
USB
1 x Type B
Audio Interface
24-bit/48kHz
Effects
Onboard echo
Looper
Yes
Software
Serato DJ Lite
Compatibility
Serato DJ Pro, Tractor 2 (via .tsi files), Virtual DJ 8, Algoriddim Djay Pro
Power Supply
5V DC 3A power supply (included)
Height
2.7″
Width
19.9″
Depth
12.3″
Weight
13.2 lbs
Price
$
Denon MC4000: Pricing
The Denon MC4000 given that it's an entry-level controller is priced slightly higher than its competing models in DDJ-SB and DJ-RB range.
However, you get a 50% coupon code for Serato DJ Pro and which means you'd be saving approximately $60 from this deal. This makes the entire package sweeter.
Denon MC4000 vs Other DJ Controllers
Want to see how this stacks up in terms of price, build quality, and overall customer happiness with other DJ controllers. Read through this article on the best DJ controllers in the market today to make sure you choose the best one for you.
Denon MC4000: My Final Thoughts
I've been in love with this baby beast since I first bought it. I constantly recommend it to friends who are looking to get into the DJ business and I believe it's one of the best DJ controllers.
Denon MC4000 offers great value for money and packs all the great features that you'd expect from a premium entry-level DJ controller.
Its steady build along with handy design and input/output capabilities make it a perfect controller for a mobile DJ.
| IMAGE | PRODUCT | Our Thoughts | Great For | |
| --- | --- | --- | --- | --- |
| Our Top Pick | Denon DJ MC4000 | It's one of our most recommended DJ controllers for a reason. It's amazing, affordable, and comes with plenty of features at a LOW price point. | Mobile DJs, DJs on a budget, Beginner DJs | Check Price |