Honestly, every time I see a DJ using turntables in a club, I always just marvel. Turntables are perhaps the coolest thing in a DJ's booth. And while modern controllers come with different turntables, there's something magical about the old vinyl turntable. One of the oldest pieces of equipment used by DJs, their use can be traced back to the early 70s. So what are the best DJ turntables I hear you ask? Let's take a deep dive.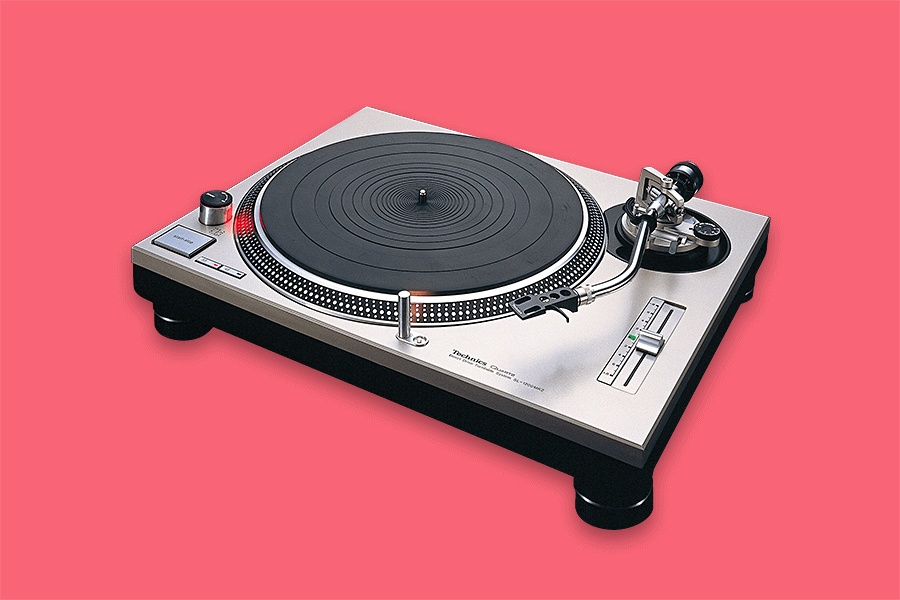 | IMAGE | PRODUCT | Pros | Cons | |
| --- | --- | --- | --- | --- |
| Best Overall | Technics 1200 Series | High-torque adjustment for quick start-up | Can be hard to find | Check Price |
| Best Value | Audio Technica – ATLP1240 USB | 33, 45 and 78 RPM selectable | Can be on the higher end | Check Price |
| | Pioneer PLX-1000 | Class brushless motor and other electronics | No innovative features | Check Price |
| | Pioneer PLX-500 | USB for PC/DVS connection. Cheaper than the PLX-1000 | Motor downgraded from the PLX-1000 | Check Price |
| | Reloop – RP8000S | Digitalized controller with extra functions | None | Check Price |
| | Numark – TT250 USB | Classic design, USB enabled and inexpensive | | Check Price |
| | Audio Technica – LP120 USB C | 33, 45 and 78 RPM modes | Not the best for battle DJs | Check Price |
| | Reloop – RP7000 Quartz Driven Direct Drive | Wide pitch-range coverage | None | Check Price |
| | Stanton – ST150 Digital | Super strong exterior | Heavy compared to other turntables | Check Price |
| | Pyle PLTTB1 Professional Belt-Drive Manual Turntable | Records play at a speed of 45 rpm and can easily operate the equipment due to a start/stop switch. | Cheaper – less features than higher end turntables | Check Price |
History of Turntables
In the initial years of DJing, radio personalities who used to play phonograph records were known as Disc Jockeys. This led an impetus to the rise in the use of recorded music for dance and parties. British DJ Jimmy Savile was the first DJ in the world to hold a live dance party in 1943.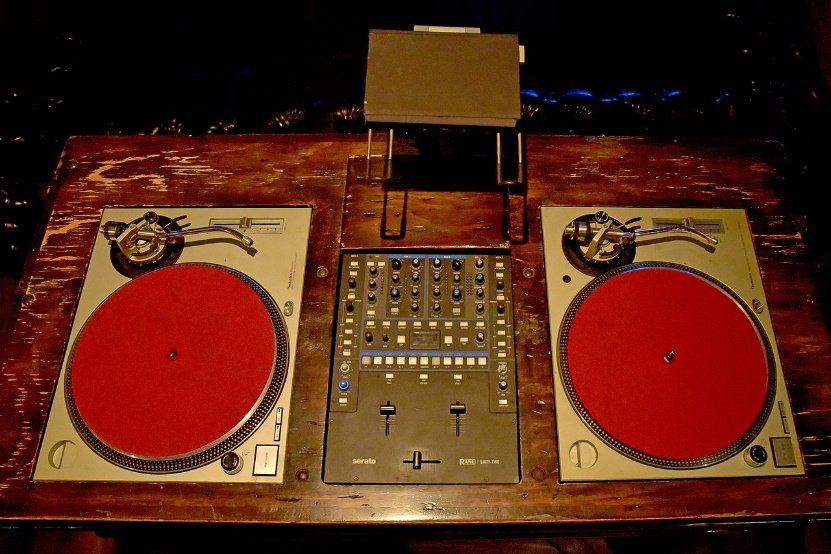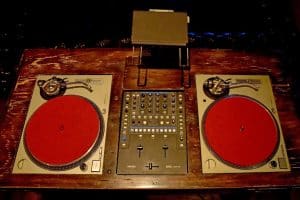 Among the many things that were used by Jimmy Savile that day, a turntable was a major part of his equipment. Four years after the dance party, he welded two turntables together to create the world's first DJ console.
Turntables became the most important instrument used by DJs and the basic version invented by Jimmy Savile was modified innovatively to create other versions of turntables. Then came the era of direct-drive turntables.
The direct-drive turntables were introduced as a replacement against belt-drive turntables that were considered as unstable for turntablism and mixing. First, direct-drive turntables were invented by Shuichi Obata, an engineer at Matsushita (now Panasonic), in Osaka, Japan.
Newer versions of the turntables eliminated the belt and added a motor to directly drive a platter where the vinyl record rests. In 1969, Matsushita launched the first-ever direct-drive turntable in the market and named it the SP-10.
Turntables later established a culture called 'Turntablism' and its foundation can be attributed to the Jamaican based DJ Kool Herc. He introduced turntable techniques from Jamaican dub music. Later, he created new techniques that were made possible by the direct-drive turntable technology of the Technics SL-1100.
Around the year 1992, the music industry witnessed the introduction of digital music systems such as the MPEG-1 standard, which was later modified to form the MPEG-1 Layer-3, popularly knowns as MP3.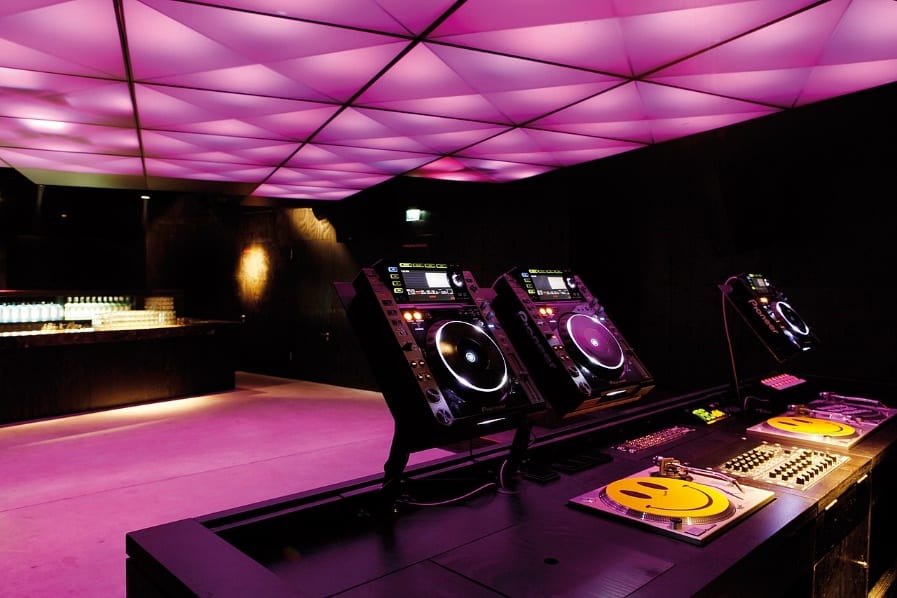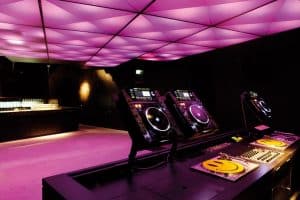 While almost every DJ around the world prefers and relies on digital turntables owing to its low price and portability, vinyl turntables are still prominent in the DJing scene. Even though they are used by elite or old school DJs their ability to perform is still lauded by DJs.
Vinyl records are respected for their superior sound quality and their emotional value. However, they are now being used by beginners or expert level DJs for practicing scratching and creating a new style combination respectively.
DJ Turntables: How to Choose
In the era of digitally produced music, holding onto vinyl records may seem like emotional mania for people who are unaware of its importance in DJing. Of all the means that were used for DJing in the past, vinyl outlived them all and still has its prominence.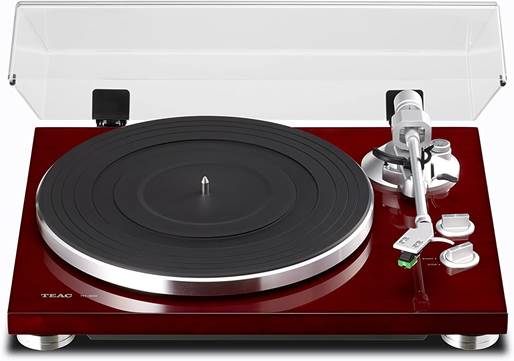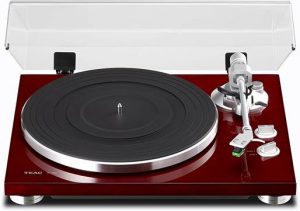 The surge in the sales of the vinyl has helped them make their way back to the world of DJing. Vinyl skills are also commended as the paramount of DJ quality, and the way it sounds while allowing creative spontaneity makes them a creative alternative.
Vinyl is also the most preferred format for scratchers and mixers. DVS has also contributed to the resurgence of vinyl as they offer a combination of flexibility of digital formats with the unparalleled feel and style of the turntable.
The superiority of vinyl decks can be understood with the number of features they come with. Let's take a look at them to get a better understanding of a vinyl deck system.
Motor/Drive
Vinyl decks have a very powerful motor at the center of the deck that spins the vinyl discs. To ensure that the vinyl keeps spinning continuously and countless times, the motor needs to be durable, powerful, and hardwearing.
Most of the modern vinyl decks have brushless motors that perform better even while wearing out and degrade much slower than their brushed counterparts.
Arm
The deck arms bent in two ways i.e. into an 'S' which is used in classic designs such as Technics or straight. While there is no certain evidence that proves either one of them superior to the other,
Most users around the world confirm that straight arms are better for scratching while there are others who testify that there is no significant difference.
Platter
The Platter's main function is to carry the vinyl and therefore, it has to be straight and balanced with absolute precision. A well-balanced platter will offer the best output and offer incredible performance throughout.
Controls
A vinyl deck has many different control options apart from its mechanical components. Here are a few of them.
RPM
The RPM denotes the number of rotations completed by the deck in a minute. Modern decks have 33 and 45 RPM, but they can go up to 78 RPM for older vinyl.
Pitch
A pitch fader is used to adjust the tempo and the pitch of the track.
Pitch Range
The pitch range lets you adjust the pitch of the track with precision range or wide range. Sometimes the pitch range can be adjusted at a precision range of 8% or below, or it can be adjusted to the wide range extending as far as 50% in some cases.
Start and Stop
Some of the popular vinyl decks have two pairs of buttons to support both horizontal or vertical deck positioning.
Top 10 DJ Turntables
To help you choose the best DJ turntable, we have compiled some of the best DJ turntables that are available in the market.
The best DJ turntable overall and preferred by DJs around the world for years, the Technics 1200 DJ turntable has been around for more than 11 years. It's reign as the top turntable for DJs is almost unchallenged – it's just universally accepted as the best choice if you're a DJ who want's to start using vinyl decks.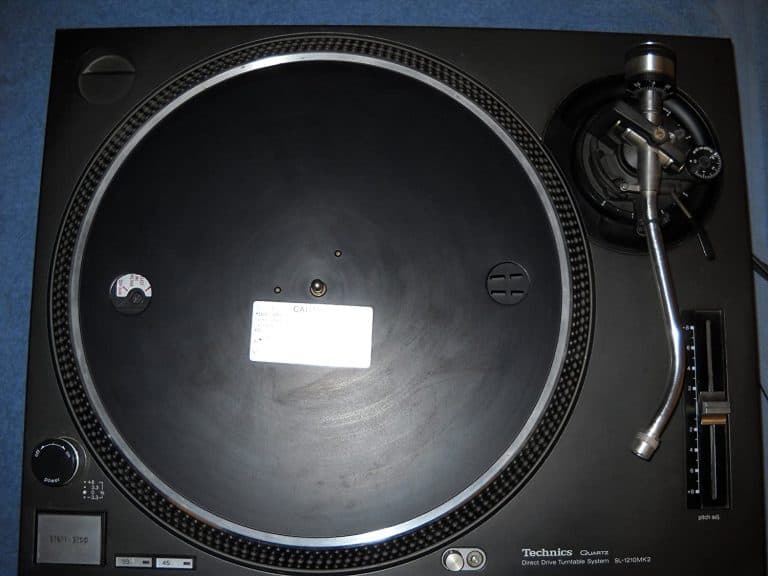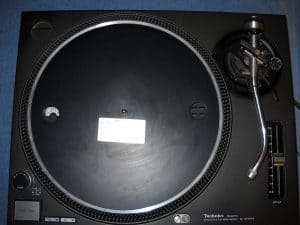 To begin with, the Technics 1200 series features the Quartz locked direct drive manual turntable that offers stable speed and rotation. The low-mass tone-arm 33-1/3 and 45 RPM reduces resonance and reduces the wearing down of the vinyl and keeps them intact.
It also comes with a quartz-locked variable slide-type pitch control (±8%) to give you control over the pitch and speed of the vinyl. The most remarkable feature of the turntable is the quick startup and 1 quick braking which can be very helpful during gigs.
The low wow and flutter percentage of 0.01% WRMS produce very low sound distortion when using vinyl. Newer versions of Technics 1200 come with a pop-up stylus simulator that lets you find the cueing spot when it's dark (very common when DJing).
Among the many other features, the Technics series have strobe light illuminators on the plate that indicate the accuracy of the RPMs help DJs beatmatch between the different decks. Other features of the Technics 1200 series include a gimbal pivoted tonearm with vertical tracking angle adjustment and an aluminum die-cast cabinet.
Pros
Keeps the vinyl intact
Strong build
High-torque adjustment for quick start-up
Cons
Discontinued so can be hard to find
The increasing rise in the popularity and demand of vinyl turntables captured the attention of many companies which turned to manufacturing newer vinyl turntables. However, the Pioneer PLX-1000 stood head over heels above the rest – owing to its extraordinary features.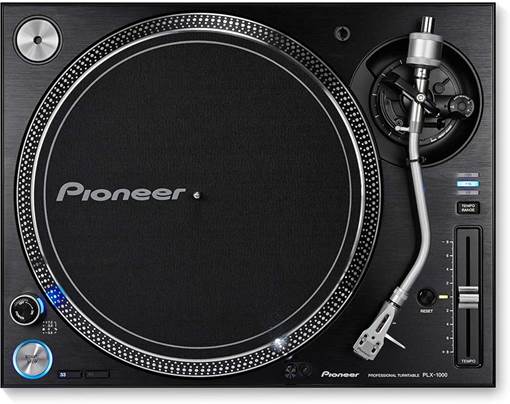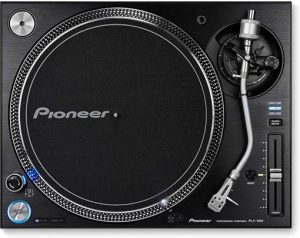 It has been referred to as the 'Beast' by the DJs who tried the system. The PLX-1000 has been modeled similar to the Panasonic Technic range and it redefines turntablism with the superior finish, extremely durable components, and unique layout and finish.
The machine packs a high-end brushless motor that produces high-torque and has been finely engineered for durability and prolonged use. You can connect it using RCAs, either directly to phono ports on mixers or interfaces if you have a DVS.
It also comes with multi-pitch tempo control that enables you to adjust the pitch in a range of +/-8, 16, or even 50, allow for extreme pitch variation.
Pros
Looks awesome
Class brushless motor and other electronics
Wide range pitch faders
Minimalist and familiar design
Cons
Pioneers PLX-1000 was aimed at the high end of the turntable market for DJs. The PLX-500 is more of a midrange turntable. While the sound quality is still superb, this turntable truly shines on the price – it's much less expensive than the PLX-1000.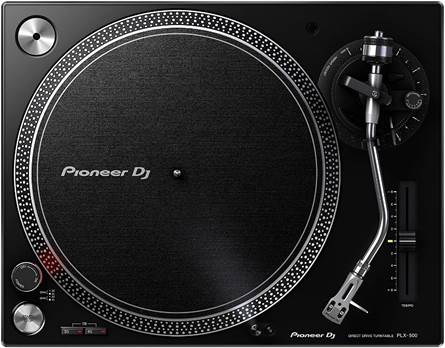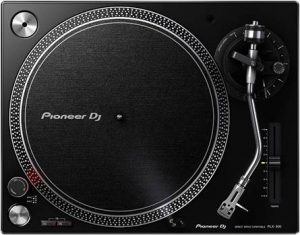 The PLX-500 came with a lot of features but at the expense of some production quality. It comes with a USB that enables you to record your files. Additionally, if you use a DVS you can use it to connect to Rekordbox.
Compared to the PLX-1000, the sound quality is slightly worse but to be honest, only true audiophiles will even notice. For most, the PLX-500 truly shines with its cheaper and more affordable price. Because of it's price, this is a great DJ turntable for beginners and intermediate level DJs.
Pros
Inexpensive
USB for PC/DVS connection
Excellent components
Great build quality
Cons
Motor downgraded from the PLX-1000
Reloop has been attributed to creating high-end and the most innovative DJ tech which also helped the brand gain increased recognition. The company has produced one of the finest turntables that are known for its superior performance – the Reloop RP8000S.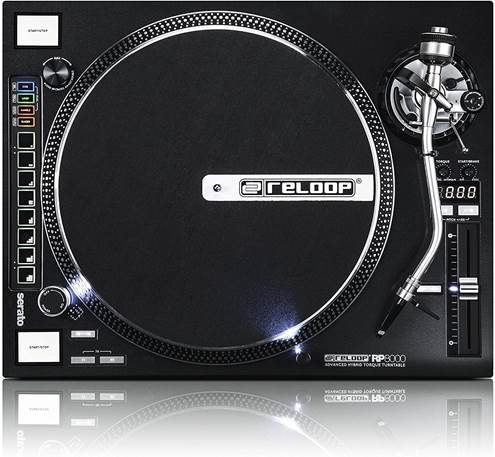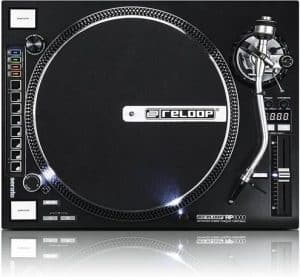 The most unique thing about this turntable is the amalgam of the components that make it a better alternative than other turntables in the market. It has a straight arm that enables improved tracking and catches any sudden movement made on the deck.
RP8000S is a USB compatible deck and has its cue, sample, loop, slicer controls that can be used with DJing software like Serato DJ. This particular feature makes it easier for vinyl DJs or scratchers to use CDJs or controller decks.
To make it more convenient for DJs, it comes with a USB port that can be used to connect 4 decks at once. DJs can also scroll through the music directly from the deck using the rotary encoder and the screen on the system shows the necessary information about the track.
Pros
Digitalized controller with extra functions
Tempo display
USB tether mode
Optimized for Serato
Cons:
Numark is always a great choice for great mid-range and budget DJ equipment that offers remarkable value. The company's TT250 USB is a basic deck that comes with a powerful motor. This motor provides direct power to the platter which can be great for DJs who are into vinyl DJing or scratching.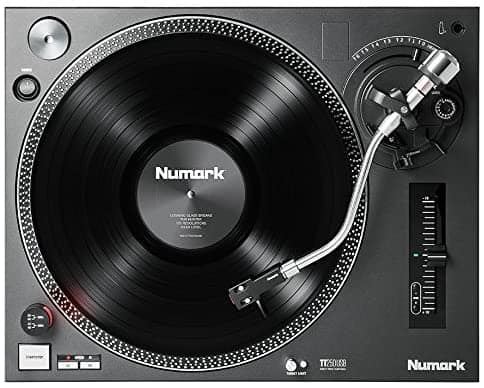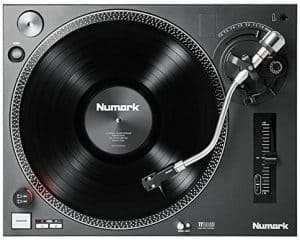 The turntable has been given all the necessary components that make it convenient for DJing. It comes with a classic pitch-fader and good quality needles while the arms, feet, and platter height are designed to be adjustable.
It comes with an innovative feature which is a USB connection that lets you convert vinyl to digital files with bundled software. This makes it an ideal alternative for a multi-purpose deck for hifi and DJing.
TT250 features a remote port that is compatible with a mixer and enables automatic vinyl play when the fader is triggered on the mixer.
Key points:
Inexpensive
USB enabled
Classic design
Audio Technica is a prominent name in the sound and DJ industry. The brand is known for manufacturing exceptional headphones that are used by RJs, DJs, and even in recording booths. To an extent its product line to turntables, the company has introduced the LP120 USB C.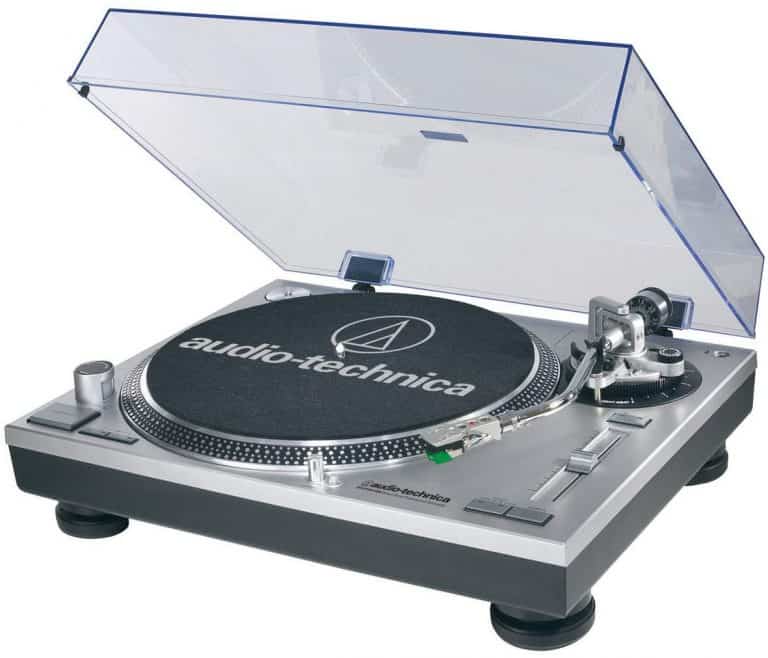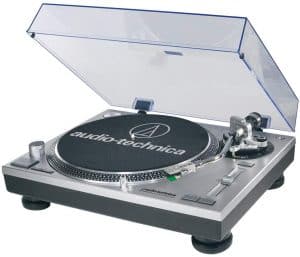 This Audio Technica turntable for DJs is an advanced turntable system that combines commercial hifi features like USB recording with components that are strong enough for DJ use. The deck's recording feature is enabled through Audacity Production Software that comes bundled.
LP120 also plays at the old school 78 RPM is perfect for older vinyl. It uses its pre-amp to plug directly into the speaker equipment that does not have phono/line level switches. The deck combines a high-end, strong, and durable motor with some great features.
It features a pitch fader that can be adjusted between +/- 10 or 20 percent for mixing vinyl at different tempos. The package comes with cartridges, needles, and heads.
Pros
33, 45 and 78 RPM modes
USB recording with bundled software
Classic design
Wide range pitch fader
Cons
Not suitable for battle DJs
From the top line of Audio Technica, the ATLP1240 is one of the best turntables that any DJ could come across. The company claims that the system has been designed very well and was tested to the limits for long term durability and robustness.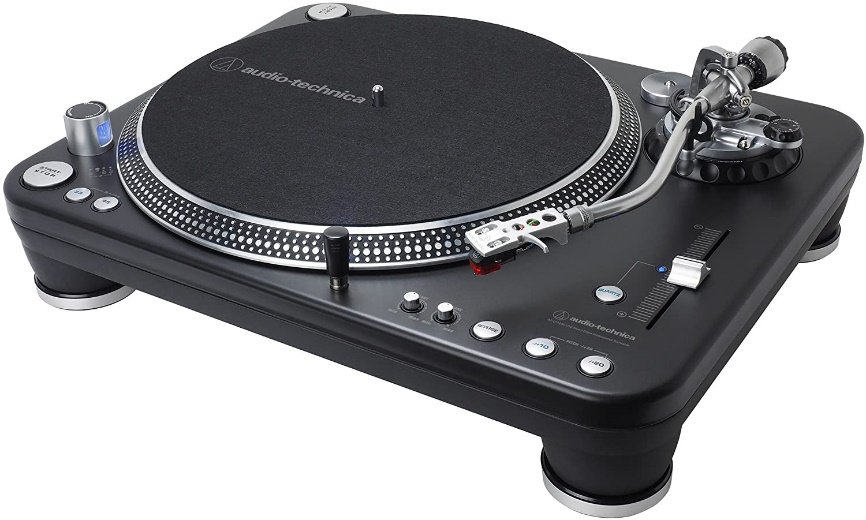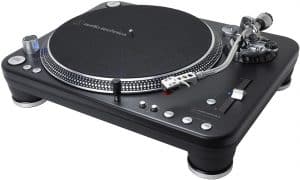 The system is created to offer optimal performances even if you use it as a hifi turntable and for the toughest DJ tasks.
It gains power from a very strong high-torque motor while the entire body is made from steel and aluminum and it comes with an aluminum platter. It has some amazing pro features that have made it very popular among DJs.
ATLP1240 has features like target light, a pitch-control slider that can be used for precise beatmatching at tiny increments, a quartz lock for bypassing pitch control entirely till zero percent.
The deck works across 33, 45, and 78 RPM and can play all kinds of vinyl. It comes with two start/stop buttons and adjustment controls. DJs can position the deck vertically for battle-mixing or scratching. It has a built-in phono amp that enables direct attachment to equipment which doesn't boost the signal to line.
To make it even better, the company has added a USB output port for a vinyl/digital conversion.
Pros
Exceptional build and components
33, 45 and 78 RPM selectable
Faders designed for DJ use
Dual start/stop for battle mixers
Cons
This deck combines all the innovative features offered in the other products from the company. This is why it considered a super-streamlined, highly regarded, and extremely well-built deck for pro use.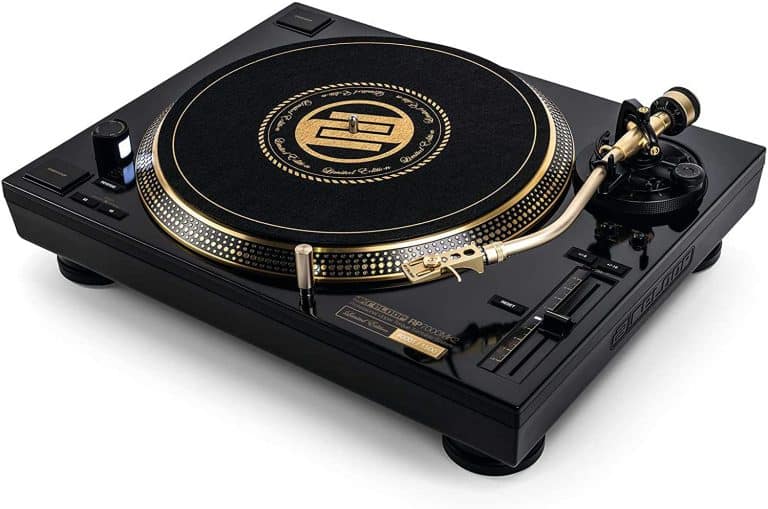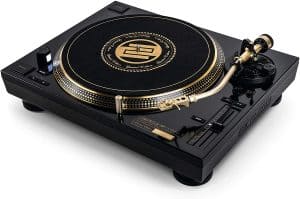 The design of the product is very similar to the original Technics SL-1200 this makes it a perfect choice for many. It also comes with a highly accurate digital pitch-range that covers 8, 16 and 50 percent ranges for precise and extreme pitch bending.
RP7000 comes with a dual start/stop which is perfect for battle/scratching positioning and its break speed is adjustable between 0, 2, and 6 seconds. It has a safety on/off button that can help prevent accidental turn-offs.
The pitch slider is very smooth and has a quartz lock button that enables it to get at 0%. It has line amps that allow it to connect straight to mixers without phono inputs.
Pros
Wide pitch-range coverage
Dual start/stop
Ideal for precise or extreme pitch bending
Smooth Pitch Slider
Cons
Since it was first released in the year 2005, the Stanton-ST150 has been a tough competitor against Technics as a pro-level turntable. Even in those times, the Stanton-ST150 featured reverse switch and large-range pitch shifts.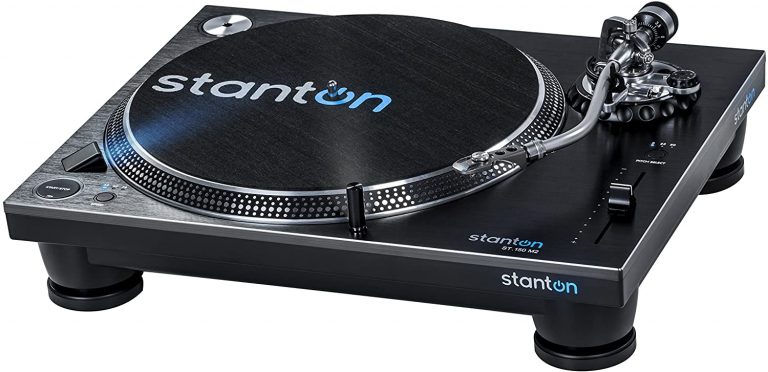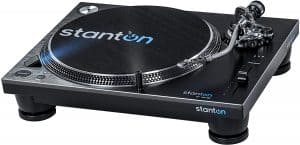 The notable components of the Stanton -ST150 Digital included super-strong motors, extremely durable arms, platters and feet, and a super-strong exterior. It has features like dual start/stop buttons, 33, 45, and 78 RPM rotation settings and easily replaceable target lights.
Stanton-ST150 Digital comes with great quality cartridges and needles that are often missing in the decks sold by popular brands.
Pros
Exceptional deck
Simple but high in performance
Super strong exterior
Cons
If you are looking for a decent turntable that can save you a great amount of money, you can consider the Pyle PLTTB1 Professional Belt-Drive Manual Turntable. It is a great setup for beginners who are looking to explore the aspects of mixing, beatmatching, and scratching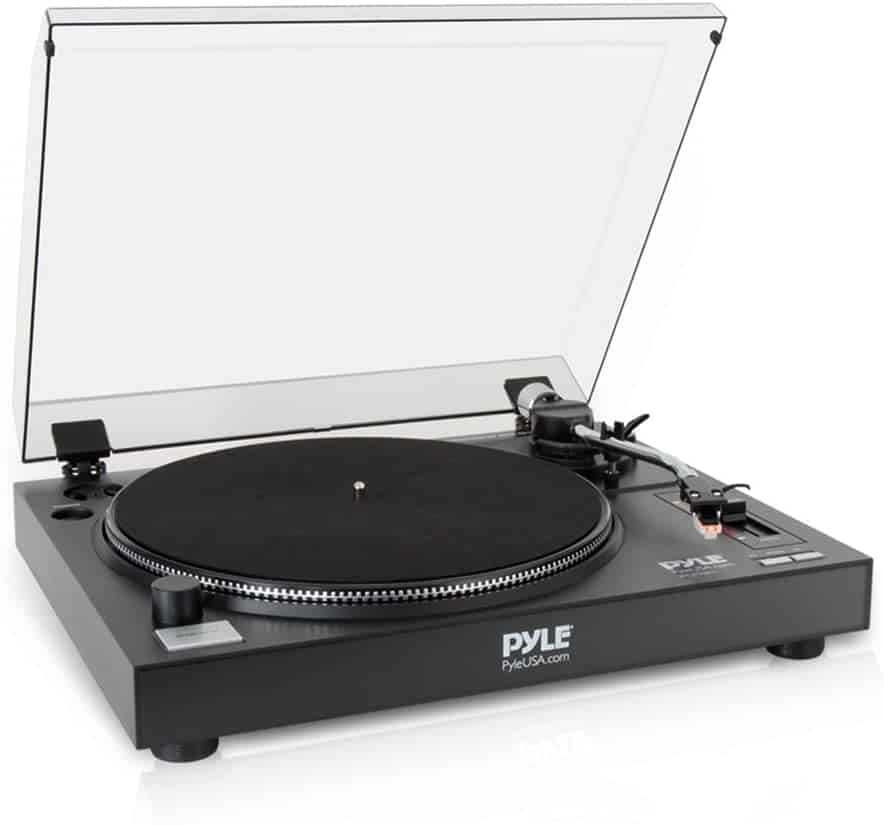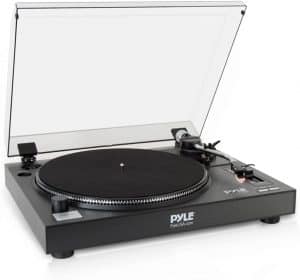 Its components include essentials like pitch control, some strobe light illumination, weighted tonearm, dust cover and it comes with both the cartridge\stylus so you can start using it as soon as you open the box.
Even though it is a budget-friendly alternative it offers incredible quality and can last longer than other products in its price range. Another great quality of the Pyle PLTTB1 turntable is portability. Owing to its small size and lightweight it can be carried around easily.
Pros
Records play at a speed of 45 rpm and can easily operate the equipment due to a start/stop switch.
Has strobe light illumination and outside edge markings for exact speed adjustments.
Ideal for beginners because it is simple and very user friendly.
The product is affordable
Cons
Not meant for professionals
Not as many features as in higher end turntables
How to Find the Best Turntable for DJing
DJing equipment has to be chosen carefully due to two main factors.
Most DJ turntables have very expensive. Prices of $500 and up are common for high quality turntables – although we do have some cheaper options available above.
Choosing a bad turntable will not only make your mixing sound bad but can impact your performance during a critical moment in a mix.
These are some of the essential features that you need to look for in a DJ turntable:
Budget
Budget is the most important factor that has to be considered when buying a turntable. There are some great quality turntables that cost around $250 – $300. Instead of simply getting the cheapest DJ turntable, I normally recommend you don't spend less than $100- $150. Anything below that and it will (generally) be crap. Since high priced turntables come with better features and quality, it is recommended that you save more to invest in a better turntable.
Connections
Every turntable is designed differently and therefore has different connecting options. Most of them connect to a computer or a laptop, while others are designed to work with DJ controllers. Before purchasing a turntable, you need to envision the kind of setup you are going to use it with.
The most common connectivity options include RCA, USB, and 3.5 mm.


One Turntable vs 2 Turntables
It is not necessary that one turntable might suffice for different DJing needs. If you are planning to enter a versatile style of DJing, you might need a comprehensive setup involving more than one turntable.
If you are looking for a turntable to help you learn scratching or sampling with some vinyl, you can choose to buy one turntable. However, if you are planning for using turntables for some gigs or want to mix and mashup tracks you will have to get two.
Additional Gear
Turntables are not the only thing that is used for DJing. There are other equipment like DJ mixer, some DJ headphones (link), PA system, platters, cases, DJ turntable cartridges, records, record holders, or more.
Hence, you need to plan your budget to accommodate all the necessary gear so that you can create music easily and without any hindrances.
For more information on how to choose your first DJ turntable, you can watch this video.
Conclusion
DJing is a fun art form and an awesome profession. The amount of equipment it entails may seem daunting but with patience, you can get the type of equipment you need to create amazing beats.
I hope the above information helps you make a better decision when purchasing turntables. If you have any queries or suggestions, you write them in the comments.