If you are a professional DJ, there might be a few things from the set that are really close to your heart. And alongside your DJ console, speakers, and portable lights, you are in love with one thing – Your Laptop. As a music producer and a DJ, this is the one gadget that you won't trade for anything.
A laptop to a DJ is similar to JARVIS to Tony Stark.It helps a DJ create new beats, set for the shows, and try different software that can keep him ahead in the game. Since a laptop is so close to every DJs' heart, it needs to be well protected during performance.
While at the start of your DJ career, you may go without a laptop stand, you'll start wishing for one almost immediately once you start playing gigs.
| IMAGE | PRODUCT | Pros | Cons | |
| --- | --- | --- | --- | --- |
| Top Pick | CRANE Stand Classic Universal Stand for Laptops | Made of top-quality steel and has a sturdy construction | Weak nylon carry bag | Check Price |
| Great All-Around | Ultimate Support Hyperstation QR Hyper Series Stand | Sturdy construction made from die-cast aluminum | Clips can scratch laptop if not carefully placed | Check Price |
| | Numark Laptop Stand Pro | Solid and high-quality construction | Poor zipper construction on bag | Check Price |
| | On-Stage LPT5000 Laptop Stand | Ideal for daily DJ practice | Requires some assembly | Check Price |
| | Pyle PLPTS35 Folding DJ Gear Stand | Bottom shelf for convenient storage of accessories and additional gear | Rotation function can't be locked into one position | Check Price |
| | Samson LTS50 Laptop Stand | Pin Lock and latches keep the stand steady | Can become wobbly requiring screwdriver to fix | Check Price |
What is a DJ Laptop stand?
A laptop is too dear to a DJ to be left at the mercy of some table setup by the organizers. To which most of the DJs around the world use a laptop stand. It is a stand mostly made of metal which supports your laptop and keeps it at an easy height for you.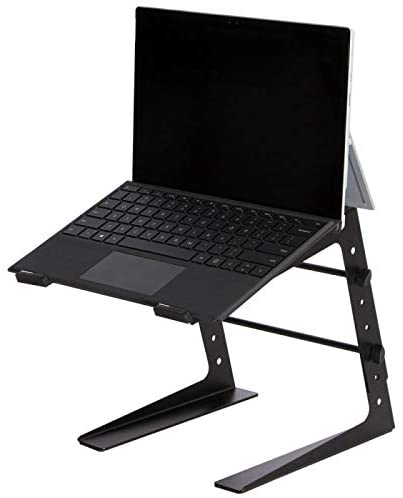 Is a DJ Laptop Stand Necessary?
Necccesary? No it's not. But will you want one? Yes, absolutely. A good DJ laptop stand adds a ton of value to your DJ setup. Pair it with the perfect laptop, and you've got a great DJ setup.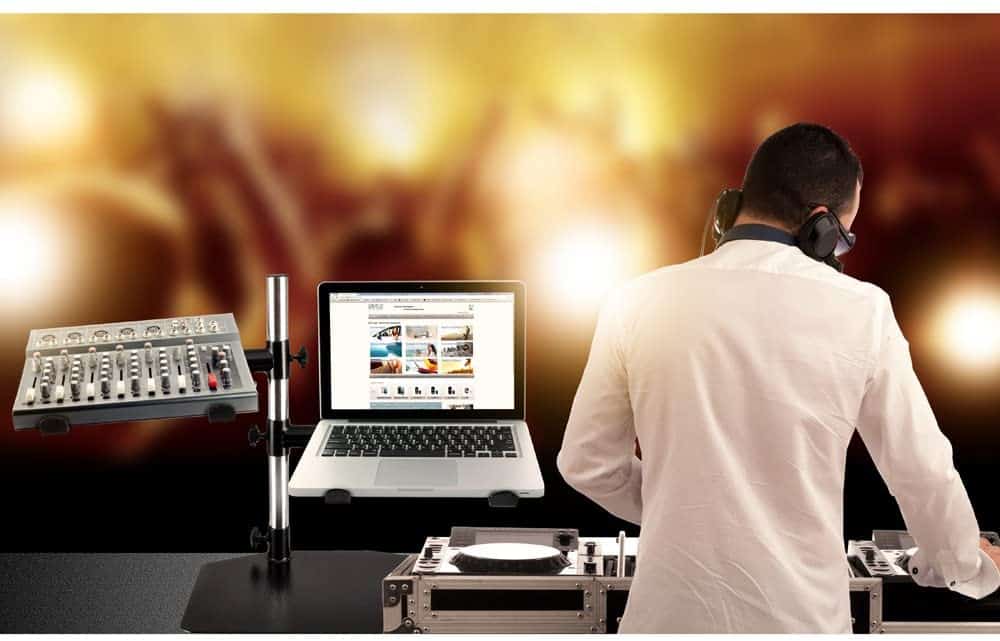 The perfect laptop stands for DJs play a very important role in a DJ booth in that they keep your laptop in the right spot and safe at every gig.
We're all aware of the constant movement DJs make during a gig. The absolute last thing you want to do is accidentally knock over your laptop while you're trying to get the crowd hyped up.
At times, the wrong move can quickly lead to a disaster with an unattended laptop. With the right laptop stand for DJs though, your computer will stay safe and secure – protected against accidental bumps and jostles.
Another benefit of a laptop stand is that your laptop will be closer to your chest or eye level. This is essential if you want to keep tabs on the crowd while also monitoring your music. Nobody wants to stay hunched over their laptop all night.
Types of DJ laptop stands
It is not very hard to find a DJ laptop stand, as there are many companies that are in this business for decades. Moreover, there are different types of stands available in the market that can be an amazing addition to your booth.
Here are the different types of DJ laptop stands that you can choose from:
Metal/Steel
A DJ is no stranger to the rough traveler life. Moving from city to city and sometimes even country, a DJ needs to have a portable and mobile setup. For many DJs, a good-quality metal or steel DJ laptop stand can be a great one-time investment.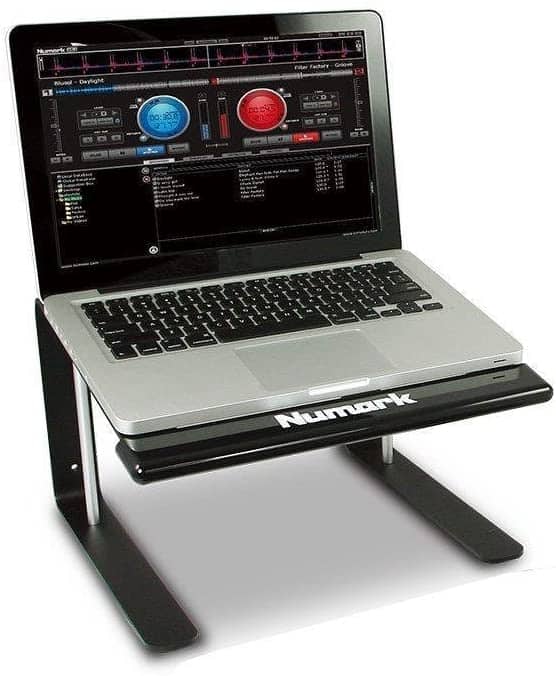 A Metal/steel DJ laptop stand tends to be more durable and holds up amazingly against the rough gif life. However, the only drawback of a metal/steel stand is that they are typically heavier and can add a little extra weight to your mobile DJ setup (link).
Two-Tiered Laptop Stands
A convenient booth or DJ table can add life to your gigs but with all the amount of mixers and machines around a convenient booth can seem like a far-fetched idea. However, with the advent of two-tiered DJ laptop stands, things are starting to turn around.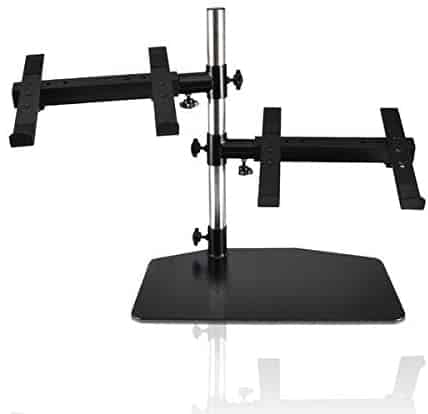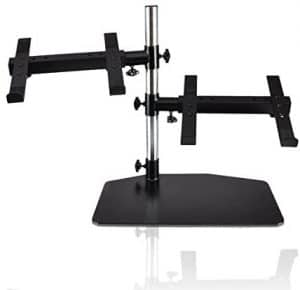 A two-tiered laptop stand not allows you to mount the laptop but also allows you to mount other devices like mixer, drum machine, etc. The advantage of having machines at arm's reach can help you perform better and gives you access to every machine within arms reach.
Free-standing
As mentioned earlier, DJs are always on the move and have to make sure that their laptop and the stand goes with them. In such cases, a metal stand will only add more weight to your luggage and any other type of stands may take up a lot of space in your bag.
You need a portable and light laptop stand that can accompany you on your journey. And a free-standing laptop stand is the answer to your problem. A free-standing laptop stand comes with adjustable legs that can stand stably on any surface.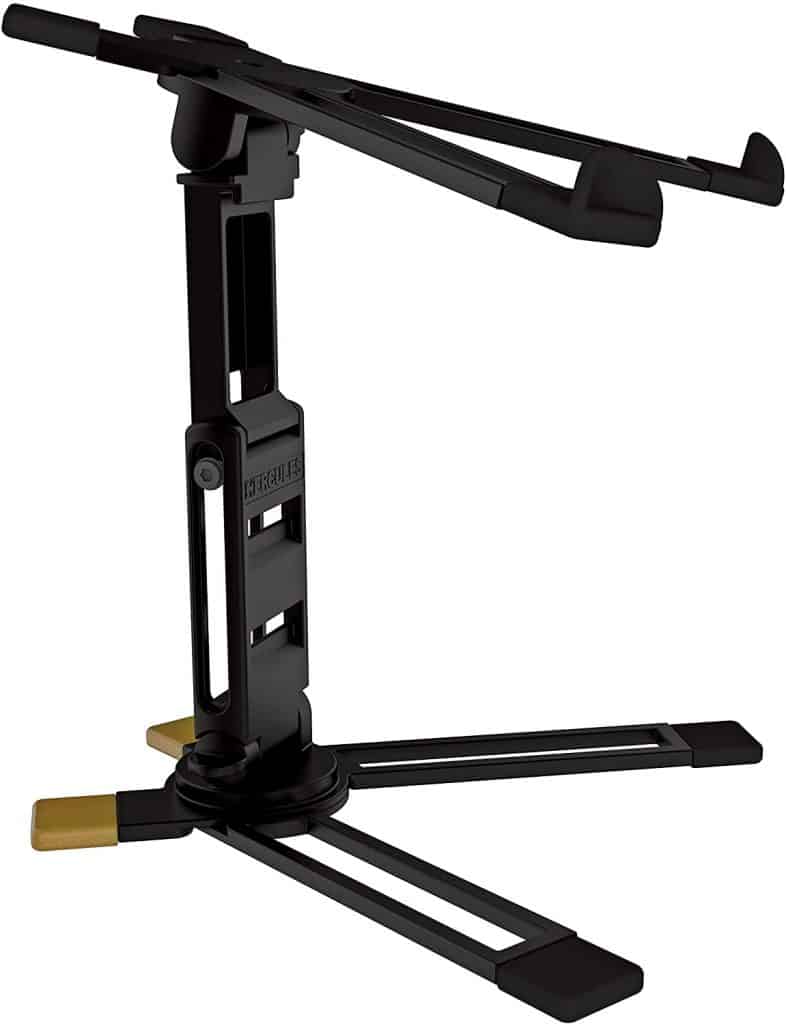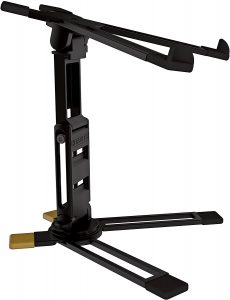 The rubber legs have grips that keep the stand firm on the table. That's not all; free-standing laptop stands are foldable, easy to set up and can fit virtually anywhere. They're also pretty affordable compared to the other options we have listed.
Desk-Mounted
These are the most common laptop stands that are used by DJs around the world and they can have simple or complex construction. They are primarily made of metal or steel and have a clamping mechanism that fastens them to the table.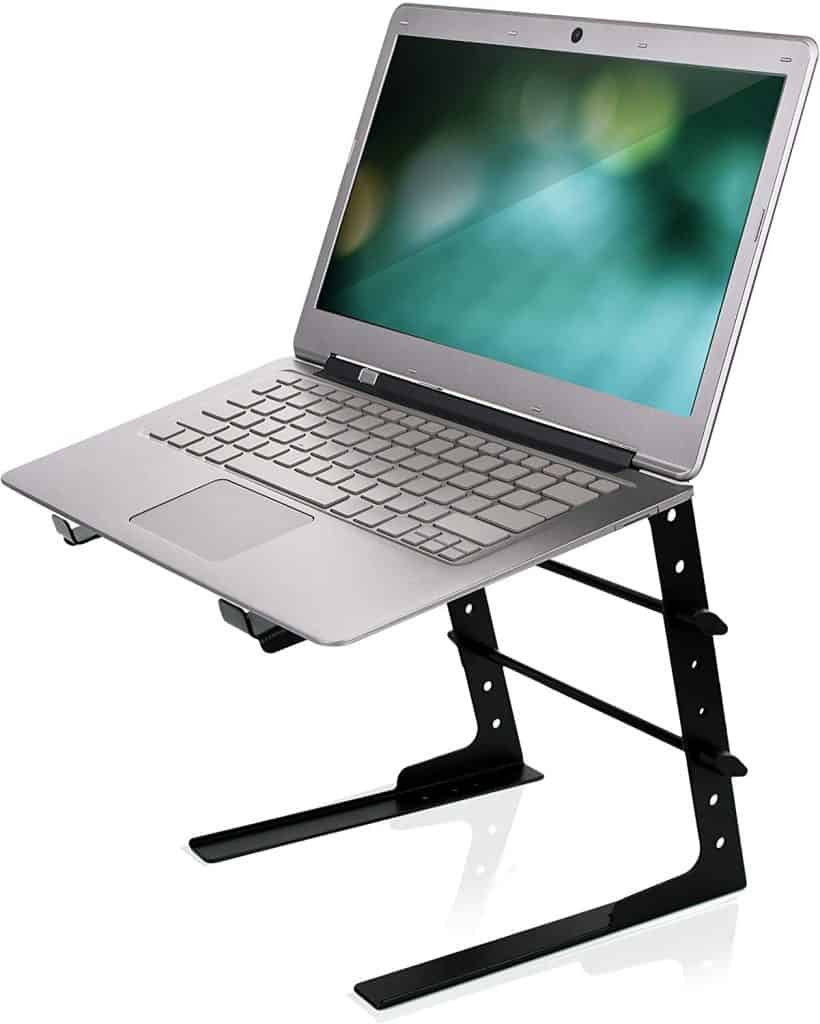 Since these clamps are stuck both over and under the table, the stand only requires a little space for the clamp holders. The more expensive DJ stands come with height adjustment extensions that can be used to set the stand at a comfortable height.
One advantage of desk-mounted laptop stands is that you can optimize the space in your booth to reduce clutter and ensure every piece of equipment as a spot on your table.
Top DJ Laptop Stands
If you are ready to reach your pockets and spend some cash on a laptop stand, you need to make sure that you spend it in the right place. To make it easier, we have compiled a list of the best djlaptop stands that can get you great value for money.
1. CRANE Stand Classic Universal Stand for Laptops
At number #1 we have a Crane Classic, a very popular choice among DJs. The company's proficiency in making DJ laptop stands speaks for itself as these stands go off the shelves in a jiffy. Moreover, the company makes stands that look elegant and have a sturdy build.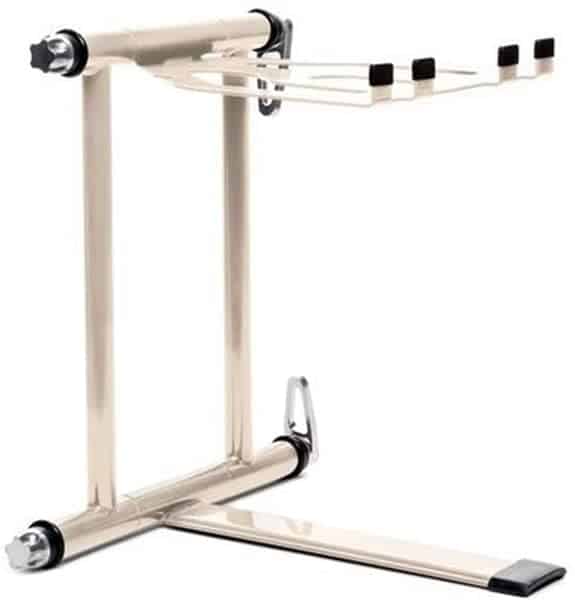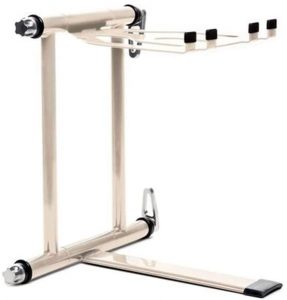 The Crane Stand Classic Universal Stand is a secure and adjustable design with great tension knobs and locking levers. It has a sleek construction that sits well when slotted under the mixer or deck. Lastly, it weighs only 3.5 pounds and can easily fit in a bag pack.
Pros:
With 13.8 x 13.2 x 1.5 inches it can easilyhold a 13 or 15" laptop
Incredible design and color options
Made of top-quality steel and has a sturdy construction
Easy to fold and unfold.
Lightweight (3.5 pounds)
Adjustable with cam locking levers also features tension knob mechanism for the position, height, and angle adjustments
Ergonomic design that meets the OSHA safety and health standards
Z position offers the best stability and C position offers maximum height
Works best for laptops, midi devices, tablets, projectors
Reasonable price
Cons:
The nylon carry bag that comes with the stand is not strong enough.
The Classic Universal Stand from Crane is essential for DJs who are looking for an easy to carry, stable, sturdy, and ergonomic DJ laptop stand.
2. Ultimate Support Hyperstation QR Hyper Series Stand
If you are looking for a laptop stand that offers unmatched durability then the Ultimate Support Hyperstation QR Hyper Series Stand is an optimal choice. Its unconventional design makes it strong as well as attractive. The stand is designed to offer easy usage and keep your equipment safe.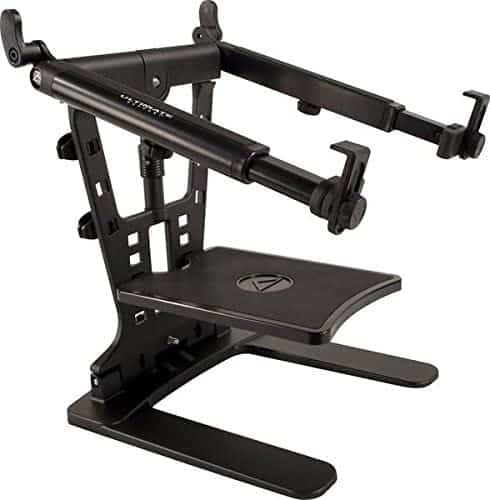 Its state-of-the-art adjustable design offers innumerable positioning options and strength. It is a great investment for DJs who want a durable solution.
Pros
Fast and easy mounting owing to the QuickRelease center post
Added T-stand for stable tabletop mounting
Telescopic arms for keeping the laptop in place – they can be adjusted in different size and angle to get the best fit and view
Easy to fold for hassle-free portability and storage
5 x 24 x 13 inches and 6.8lbs
Sturdy construction made from die-cast aluminum
Cons
The adjustment knobs could be a little hard to turn when fine-tuning
The clips cause a scratch on the laptop it not used with caution
The portable, durable, and versatileHyperStation QR is best for any DJ. Its die-cast aluminum stand is simple to fold and unfold and keeps your laptop secured and at an angle that is comfortable for you.
3. Numark Laptop Stand Pro
This list wouldn't be complete without the Numark Laptop stand pro. No matter the intensity of the party, this strong companion will keep your laptop safe. Its simple design is among the most commendable features as it offers a sleek and elegant look.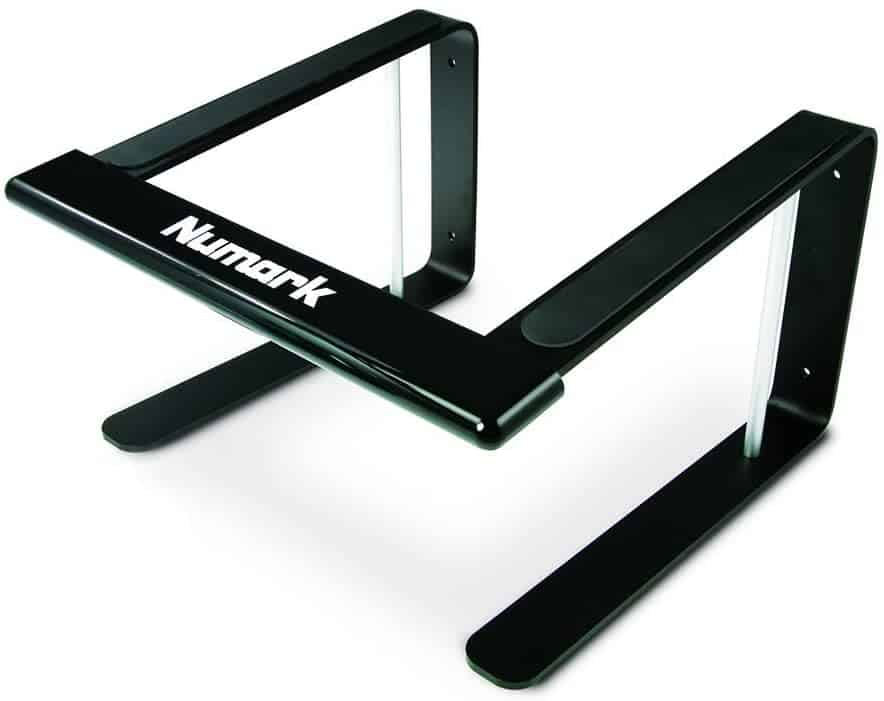 Pros
Solid and high-quality construction
Secure laptop placement owing to the top, inner and bottom rubber pads
Can be mounted on a wall for DJ booths or studio
A convenient protective case for enhanced portability
12 inches of elevation
Can easily fit a 15" laptop or projector
Cons
Zipper of the bagdoes not close completely
The Laptop Stand Pro is one of the best offerings from the company. The easy setup and lightweight constructions make it suitable for continuous gigs.
4. On-Stage LPT5000 Laptop Stand
If you don't want to get involved in complex mechanisms or unconventionally designed stands you can go for the On-Stage LPT5000. It is a simple concoction that is designed to keep your laptop safe and at the right spot.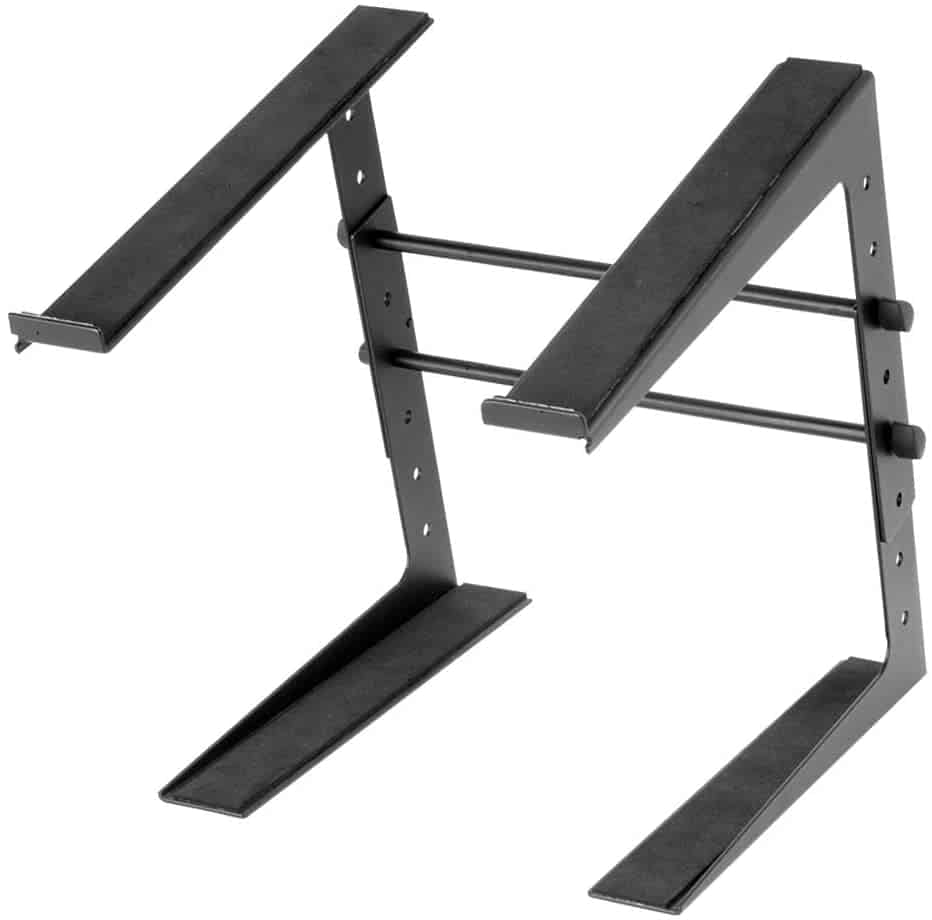 The On-Stage LPT5000 has a light body and can extend up to a reasonable height of 10 inches. Its quick setup makes it suitable for almost any type of gig you go to.
Pros
Very affordable
Easy height adjustment in 4 positions from 6.3 to 10.9 inches
Can hold a laptop, controller, or other equipment up to 8 lbs.
The angled plate is 9.25 x 10.8 inches
Simple, innovative and durable design
Light and portable
Great value for the money
Ideal for daily work on a desk for a comfortable and ergonomic working position and less clutter in the workspace
Cons
It needs some assembling when using for the first time
Not as versatile as other laptop stands
On-Stage LPT5000's reasonable price makes it more preferable among the DJs. Moreover, it offers a convenient and ergonomic angle which makes work pain-free and comfortable. The strong metal used for its construction is reliable and safe for constant travel.
5. Pyle PLPTS35 Folding DJ Gear Stand
A durable built, simple design, and a small tray in the front to hold wires, mixers or headphones are the key qualities that make Pyle PLPTS35 a masterpiece. It has a sleek and simple construction that facilitates laptop, iPad, turntable and more.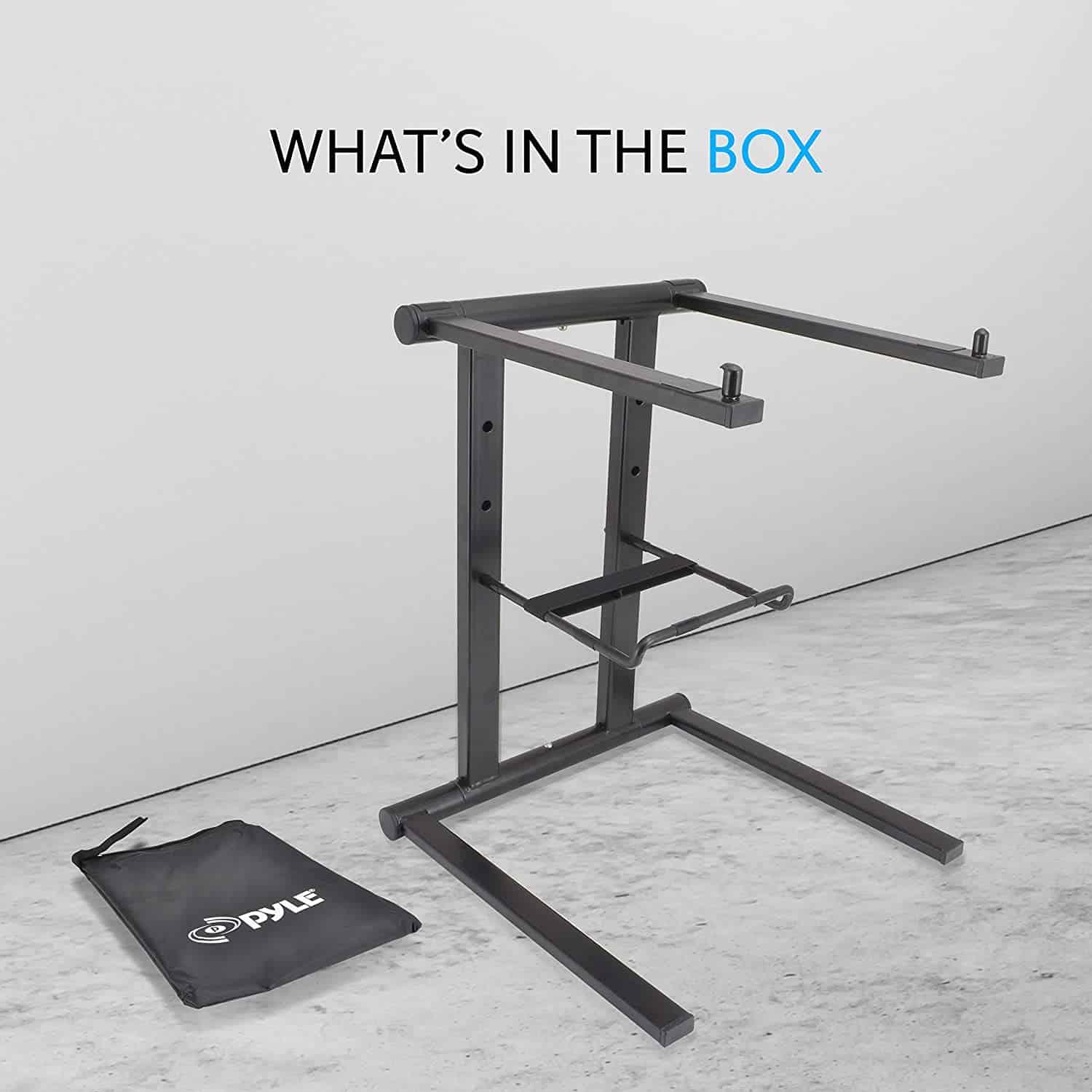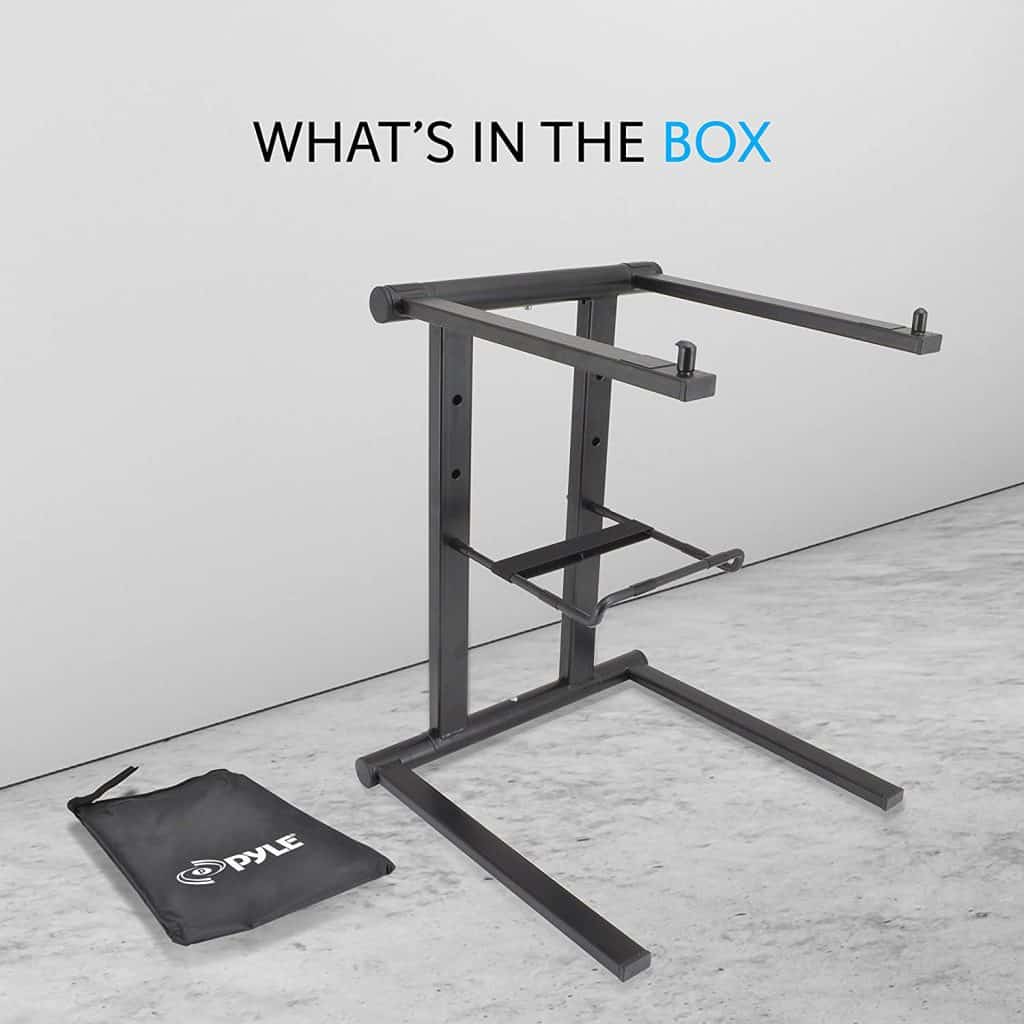 It is among the few affordable stands that can be adjusted in both C and Z shapes. It has been designed with Anti-Slip Legs to prevent any slip or falls.
Pros
The plate is 9.6" x 8.5"
The laptop plate can swivel in both directions
Comes with a bottom shelf for convenient storage of accessories and additional gear
Very compact – it is just 10.2 x 9.8 x 1.2 when folded and weighs 3.3 lbs.
Easy to fold and fold
Comes with a sturdy travel case
Available at an affordable price
Cons
The rotation function of the plate cannot be locked into one position
The thick legs can make it difficult to fit it under other gear on the set
The Pyle PLPTS35 is a good option if you are looking for a compact and durable laptop stand. You can also carry it to different places as it comes with a carry bag.
6. Samson LTS50 Laptop Stand
From Desk-clampers to wall-mounters we have now reached the tripods. Tripods are widely recognized as device holders and we now Samson LTS50 a laptop holding tripod. A durable substitute to the desk-clampers the Samson LTS50 is suitable for gigs or studio usage.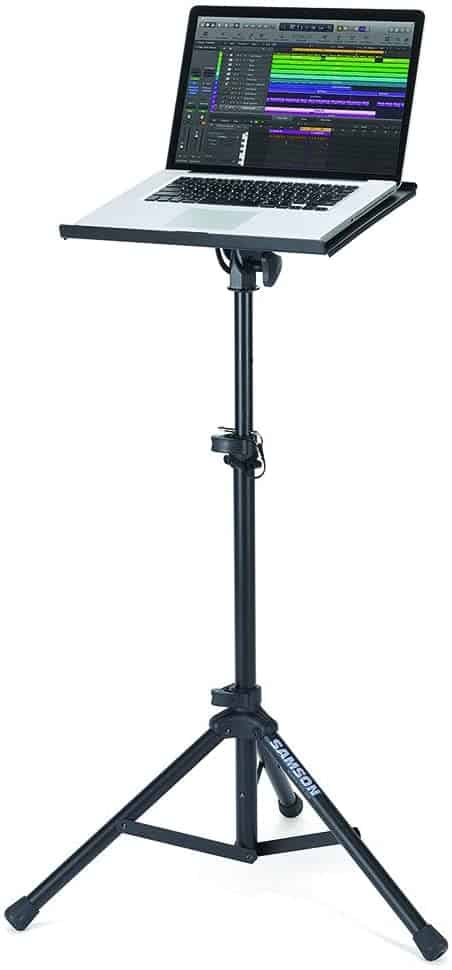 The Samson LTS50 comes with multiple adjustment points the can add to the height of the stand. To prevent any type of falls, the tripod comes with rubber grips at the feet.
Pros
The Tripod comes with a silicon matt on the 15 x 11-inch plate to keep the laptop safely in place
Adjustable plate for comfortable use and optimal viewing
Increased safety with the pin lock and locking latches that keep the stand steady at all times
Height is adjustable up to 30 to 47 inches
Robust steel construction yet lightweight and portable
Rubber feet to keep the tripod stand in place even during intensive use
Cons
The plate becomes wobbly overtime and needs to be fixed with a screwdriver
Samson LTS50 is perfect for DJs who struggle to find the equipment that reaches their height. Made from superior quality materials and designed for comfortable use the Samson LTS50 will surely become an irreplaceable tool.
What to look for in a DJ Laptop Stand
Now that you have made up your mind to purchase a DJ laptop stand, it is important to know the right keys that you have to strike to get a DJ laptop stand that lasts long. To find out how to choose the best DJ laptop stand, you can watch this video:
Here are some things that you need to look for in a DJ laptop stand:
Ergonomics
Comfort and convenience are crucial for productive work hours. Hence, it important to have an ergonomic DJ laptop stand. Since you are planning on performing and creating your upcoming sets while relying on a stand, you need to ensure that it keeps you comfortable during those long hours.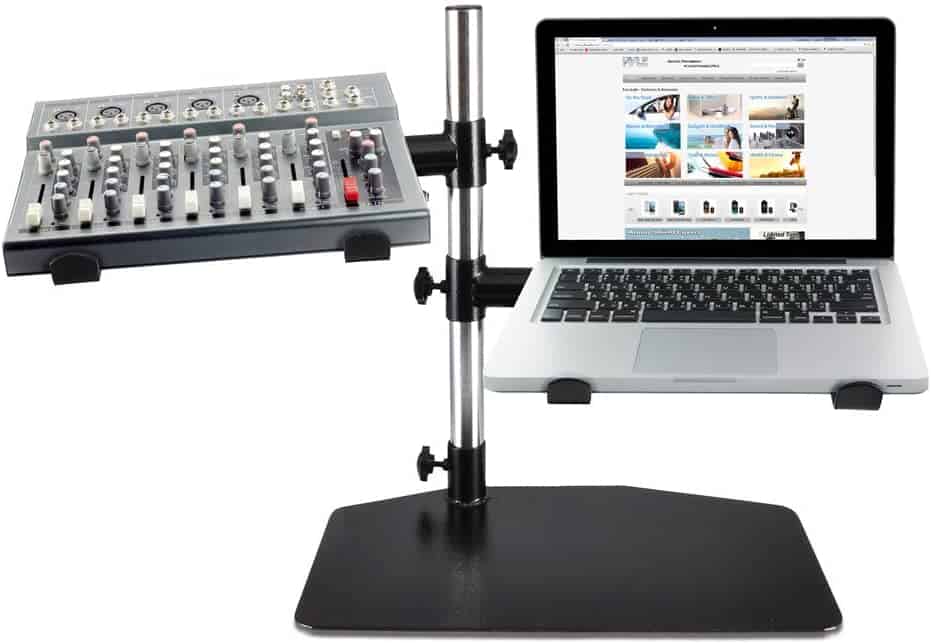 When buying a DJ laptop stand, the most important thing you need to check in terms of ergonomics is space, setup and height.
You need to check if the stand will fit in your boot or will it take too much space and push other equipment far away. As you are always on the move, you need to make sure that the stand should have an easy setup and dismantle process.
The last and most important factor is height. A laptop stand that makes you stoop down to reach the keys is a big no! You need to find a stand that reaches an acceptable height.
Portability
When looking for a laptop stand, don't just consider the benefit of lightweight in terms of portability. It is better to look for a laptop stand that can be dismantled for easy portability. You can look for stands the fold into smaller sizes or the ones that can be dismantled and carried around in a bag.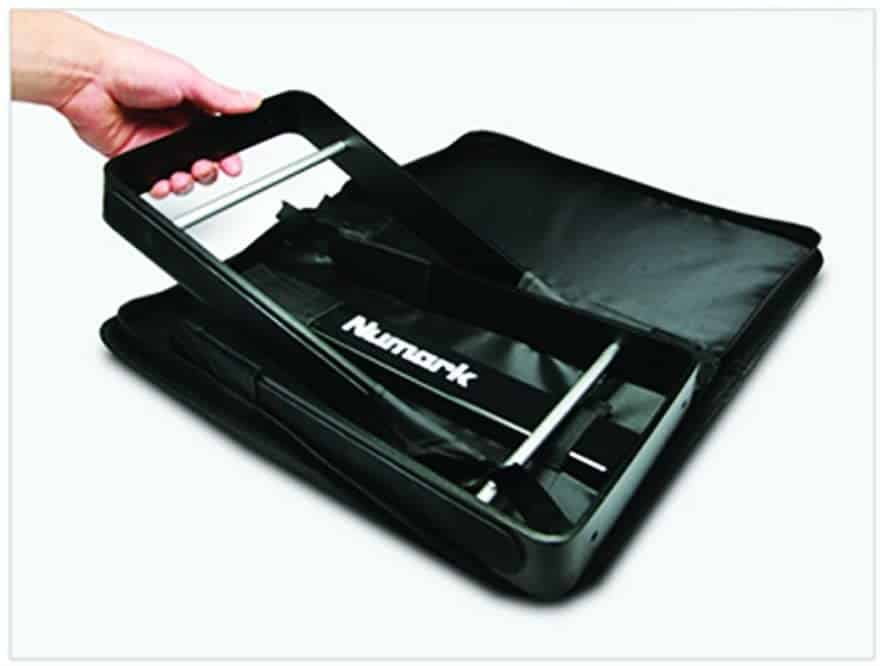 Adjustability
Normally laptop stands are adjustable but you need to find a stand that matches your height or adjusts to it. You need to check whether you are able to touch the different keys and perform other operations easily.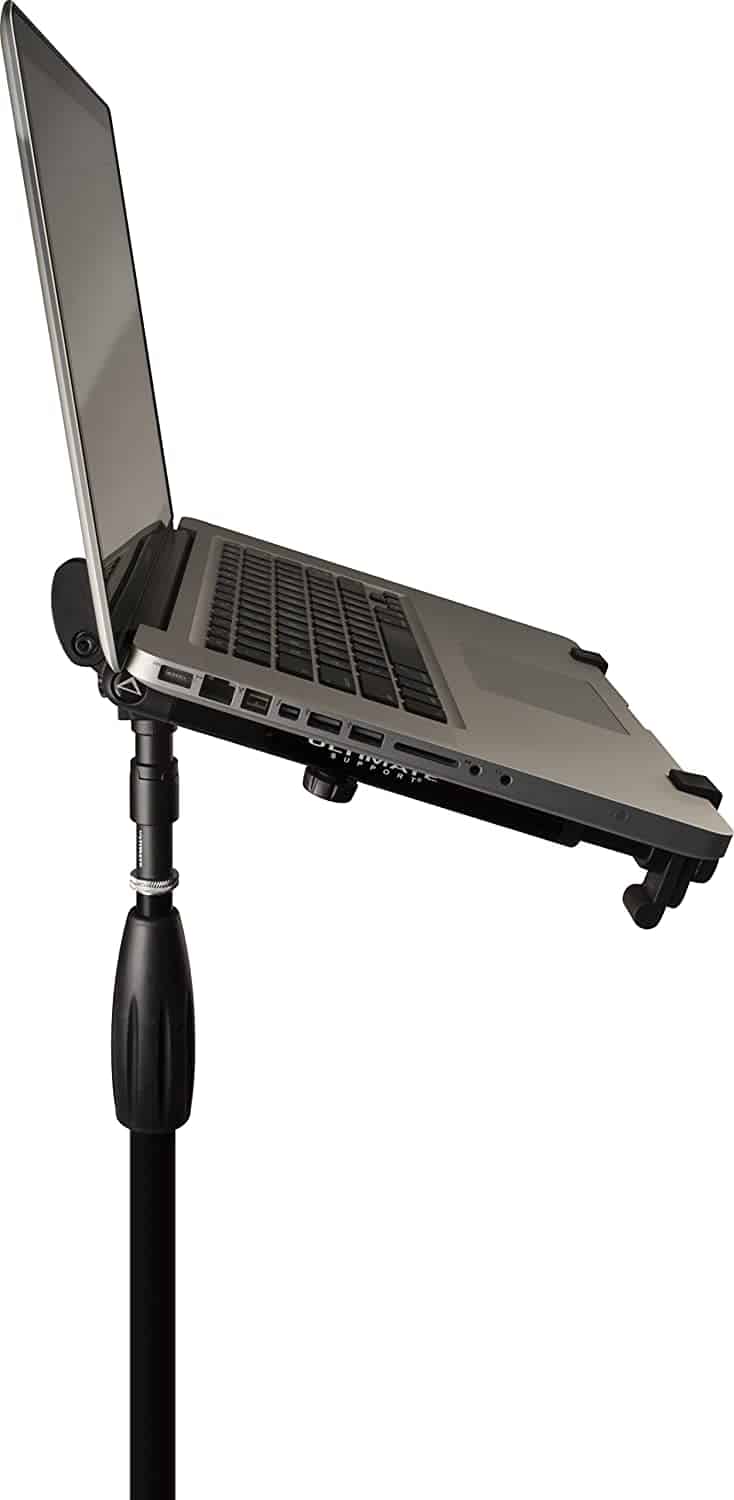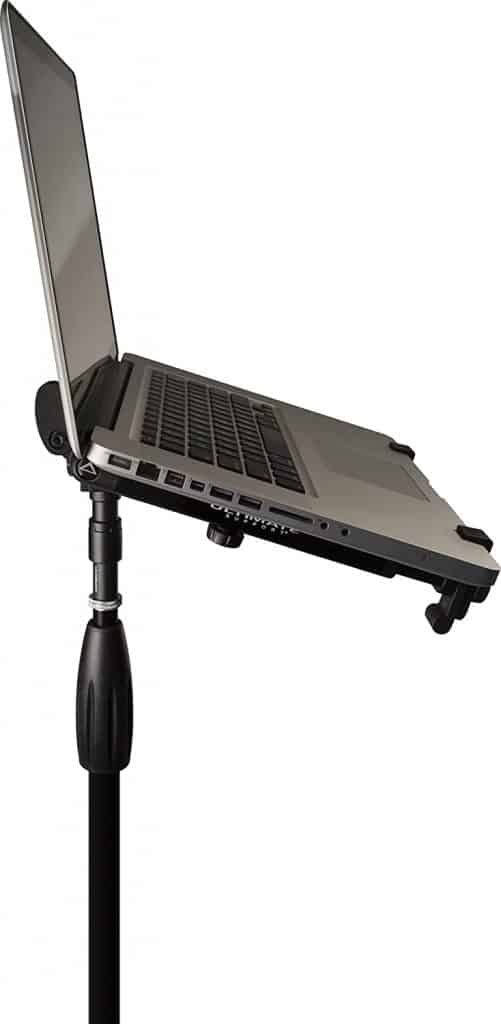 You should also check for the different angles that the stand can turn or move. As there might be instances where you would want to look at the screen from a certain angle but due to the inability of the stand to move, you have to keep moving around the booth.
Best DJ Laptop Stands: Conclusion
As you can see it is important to have a DJ laptop stand while ensuring that it meets the necessary parameters. I hope this article has helped you learn and understand about laptop stands and will enable you to make an informed decision. If you have any queries or suggestions you can write them in the comments.