Although it has been more than a year since their launch, the Native Instruments Komplete Audio 1 and 2 are both solid choices in terms of entry level audio interfaces. In this Komplete Audio 1 review, we'll go through the pros and cons of this piece of equipment and how it stands out – even in a market where it seems there's little competition to be had against ubiquitous industry giants like Focusrite, with its awarded brand of Scarlett equipment.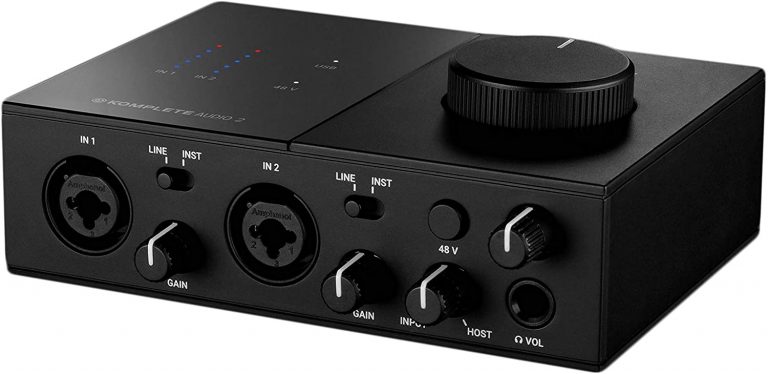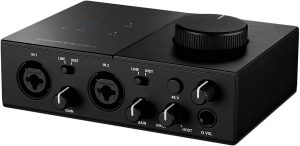 Native Instruments is a Berlin based company, known for over 20 years for its now commonplace digital instruments and dj and production software such as Traktor and Reaktor. In recent years they have also ventured in the hardware side of business with their Maschine and Kontrol lines of dj controllers, MIDI keyboards and sequencers. With the launch of the Komplete Audio 1 and 2, released in April 2019, and the more professional Komplete Audio 6, released in 2017, Native Instruments can now boast of being one of the few brands with such an extensive array of products for both the consumer and pro markets.
Komplete Audio Features
Both the Komplete Audio 1 and 2 can record audio with no noticeable lag in 24-bit resolution at up to 192Khz, being on the upper end of the budget segment of audio interfaces, and both feature direct monitoring, although the Audio 1 only has this feature in its headphones output, in contrast to the Audio 2, which features it both in the headphones and main outputs.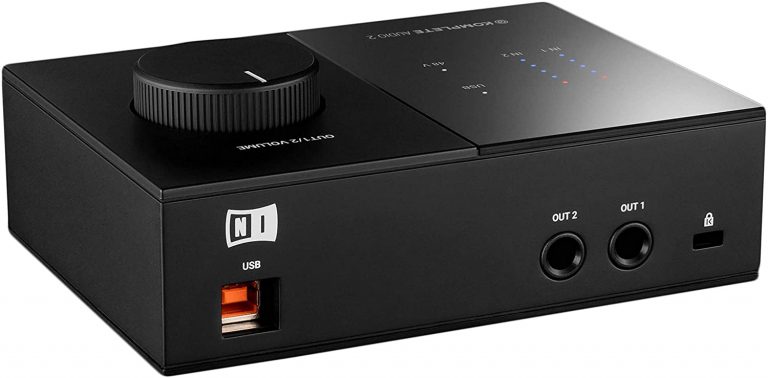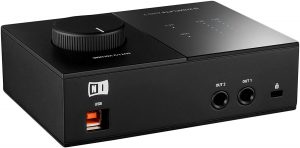 This has to do with one of the main differences between the 2 interfaces, while the Audio 1 has dual RCA outputs, the Audio 2 comes with dual jack outputs for people with a more professional studio setup in mind.
The other main difference between them comes in the way of inputs, both of them have 2 inputs but the Audio 2 is more flexible, featuring dual combo jacks that can both record in stereo. Meanwhile, the Audio 1 has one XLR and one jack input for mono recordings.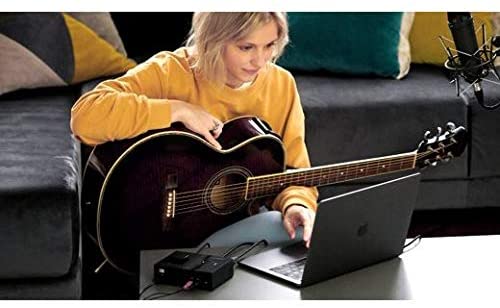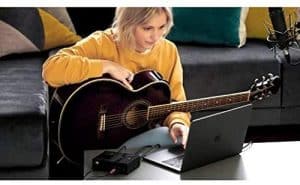 Besides these two major differences, both interfaces have, on the front, gain knobs for each channel, an input/host balance knob, line/instrument switches (just one in the Audio 1), a 48v phantom power switch for condenser microphones and a headphones volume knob. On top there's a large volume knob and 2 simple LED level readouts, and on the back, besides the dual outputs, there's a single usb port to connect the interfaces to your computer with the bundled cable.
The construction, while plasticky, feels sturdy and durable, even if it doesn't feel as durable as some of the competition's interfaces with metal bodies. On the contrary this could also be a plus if you take into account, that along with its small compact size (5.51 x 4.62 x 2.04″ / 14 x 11.73 x 5.18 cm), these interfaces are very light (12.7 oz / 360.0 g), and as such, both are extremely portable.
Komplete Audio Review: Accessories/Software
Another reason you might want to get either the Audio 1 or 2 is the software bundle that is included in your purchase.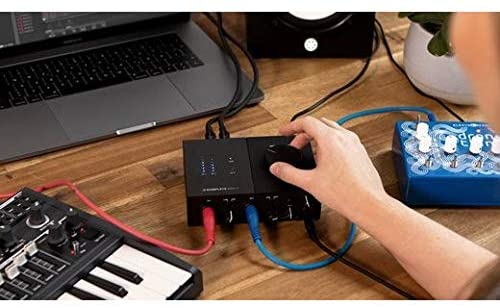 Both interfaces are bundled with the lite version of Ableton Live 10, Native Instruments own Maschine Essentials, the Monark synth, a Komplete Start bundle, REPLIKA, PHASIS and SOLID BUS COMP effect plugins, and two months access to the Native Instruments online sound library, sounds.com.
This bundle might not look like much, but if you take into account that for the $109USD and $139USD that you will pay for the Komplete Audio 1 and 2, respectively, you will also get at least $500USD in software, it is truly a bargain.
Our Final Thoughts
With either choice, Native Instruments brings to the table affordable yet powerful audio interfaces with a good amount of options. These are ideal for a musician/band that is looking to expand their capabilities and record their music in higher quality in an affordable manner.