No matter which event you go to, if there's music there are lights. Lights used in a party or an event have a distinctive purpose that plays a vital role in a DJ's performance. This guide looks at the best DJ lights you can buy today to illuminate any dancefloor.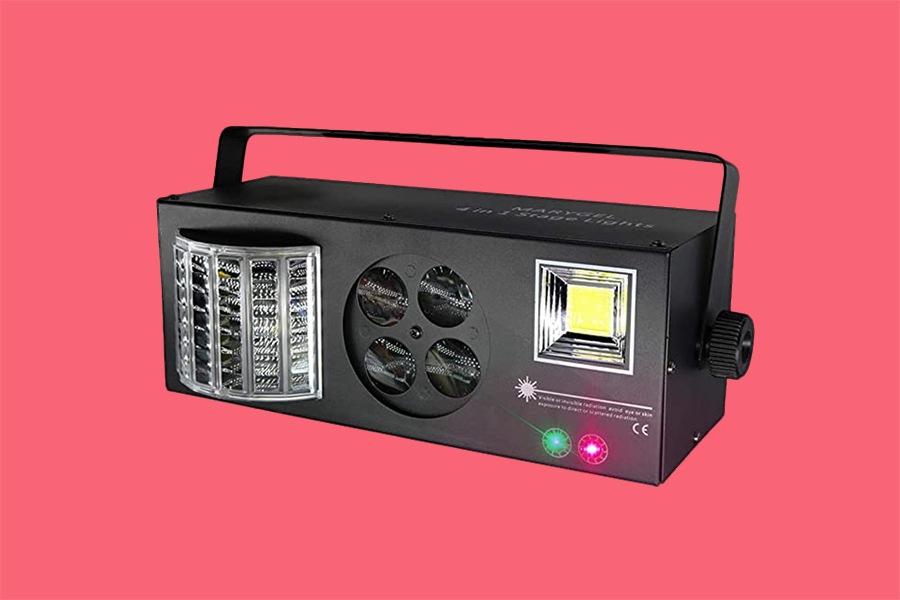 As a DJ, you need to have comprehensive knowledge about the different types of lights and their uses. With the proper information, you can use these lights to your advantage and make your show lively.
In some cases, the lighting setup organized by the organizers might not be as appealing. Therefore, it is better to have your lighting setup that supports your music. You can choose from several options to add to your kit or you can refer to the list below.
Top 10 DJ Lights
When buying lights that complement your performance, there are some essential parameters that you need to consider. You have to keep the venue, event type, stage setup, light type, and more in mind before finalizing the lights.
To make it easier, we have divided our list of best light options based on the parameters mentioned above.
Best DJ Laser Lights
The Chauvet Scorpion RGB is powerful and the best DJ laser light that comes at an affordable price. Adding this high-performance DJ light to your show can make it a lot more interesting. It has several awesome aerial light effects to keep your crowd entertained and keep the groove on.
It offers wireless connectivity that allows you to control the light and its variations. The company has made a remote control which gives you the advantage of controlling the light from anywhere with ease.
You can make the best use of this device by coupling it with other lights with a Master/Slave system or a manual mode. It also comes with a sound activation mode that changes the light varies according to the beat.
The Chauvet Scorpion RGB can be controlled in large numbers with a DMX controller.
There are other models from the company in the same RGB segment but the Scorpion Dual RGB is brighter than the basic model. Another difference is, it projects multi-colored lights that can create a mesmerizing effect.
The company has added its signature Dual RGB FAT BEAM™ that lets you create dramatic effects in the air. It emits beams that are powerful enough to be visible through fog or haze.
Its fully programmable design gives you features like rotation, pan, zoom, full-color mode, and deformation.
Pros
Comes with red, green, and blue laser diodes
It has a professional metallic casing
Durable and lightweight
Cons
Remote has to be purchased separately
American DJ Stinger II
The American DJ Stinger II introduces you to a whole new world of lighting possibilities. It offers you three-in-one effects by combining an advanced UV LED wash feature.
The machine produces powerful red/green laser rays and multi-colored moonflower effects that enable you to create a captivating light show.
Many of its features are taken from the Stinger I such as the 3-FX-IN-1 mobile friendly fixture that lets you create varied effects.
The Stinger II has added the six 5W hex-colors LED lights that have the essential RGBA colors along with White and Pink. It also has a powerful 30mW red and green laser that works in sync with the eight UV 3W LEDs to enhance the atmosphere.
Apart from the three-in-one effects, it comes with a highly durable stepper motor technology for precise positioning and fluid movements. With this advanced motor, you can move the light in both rapid and smooth movements during the show.
There are 15 pre-set colors that you can choose from to match the ambiance of the event. Besides, the light has exceptionally flexible control modes. The Stinger II gives you options like Sound Active and DMX-Control for light control. However, you can buy a wireless remote to control the light seamlessly.
Pros
Numerous effects to choose from
5 preset color options
Long-lasting LEDs bulbs
Remains cool even after being used for hours
Cons
Expensive for multiple units.
Best DJ Lights For House Parties
The SOLMORE LED DMX512 is a great option if you're planning for a budget setup. It is a wonderful piece of lighting equipment that is loaded with features that can breathe new life into your house party.
It has 4 control modes that let you control the light beam emitted from the machine. You can choose from DMX512, Sound activated, Strobe Lighting, Master/Slave, Hopping, and Auto Play. The sound control mode works according to the rhythm of the music being played in the venue.
With the sound mode on, the light's pattern changes and flickers according to the rhythm of the music.
The SOLMORE LED Party Lights multifunction stage light effects can be activated by an IR remote. There are different colors such as Red, Blue, Green, and multicolor that can be set by the remote or DMX.
You can project the light to the ceiling, wall, and floor with the SOLMORE LED Lights. The lights can fill an entire room helping you create an ambiance within no time.
The lights come with a sound activation feature that can turn on strobe lights. It lets you create a disco effect that is suitable for clubs, pubs, birthday parties, and small parties.
SOLMORE LED Party Lights are made of premium metal casing and have a built-in cooling fan that keeps it running for a long time. Furthermore, the metal casing is durable enough to withstand abrasions and pressure.
Installing the SOLMORE LED Party Lights is very easy. It is very light and just needs to be plugged into a socket to start functioning. You can mount it on a light stand to illuminate a party.
Pros
Comes at an affordable price
Made from durable and strong materials
Can be controlled with DMX, voice, and sounds.
It can sync with any music
Cons
Has only Red, Blue, and Green color.
The BETOPPER RGB LED lights are a set of professional LEDs. A set of these lights comprises 6 green, 6 red, and 6 blue LED par can. You can use them with different modes such as hopping, fade, Master/Slave, DMX, multi-channel, and more.
You can adjust the brightness and speed of these lights with a remote controller, backup adjustment, or a DMX controller.
These 18 par lights are made of strong and high-quality plastic. Owing to their durability, you don't have to worry about bumps or shocks while traveling. To make it safer for use, the company has added fans that keep them cool all the time.
Equipped with these fans, the lights can go on for the entire day.
The DMX stage lights are designed with a double bracket that comes in handy at the time of installation. These brackets are made from durable aluminum and they have a compact and portable design. This makes it easier to carry the lights around.
It has a 360-degree rotation design with a hole that makes it easier to hang it from the truss, keep it on the ground, or hang it on a wall.
Apart from house parties, you can use the lights in churches, theaters, pubs, bars, mobile DJ gigs, dance parties, and more.
Pros
Lightweight, portable, and compact
It lets you create many shades
Superior quality color mixing
Cons
The cooling fans are a little noisy
Among the various lights used by DJs for an event, black lights have a special place. These UV lights are normally used to create a groovy atmosphere as their slightly dull but glowing hue keeps it light and dark at the same time.
The DragonX Professional UV light is the perfect fit for this job. It comes at a low price but offers great quality and performance. Most users refer to it as non-true as it strikes a balance between fast heating UV lights and slow heating LEDs.
However, it comes with an in-built cooling fan that has been engineered to produce no sound. This keeps you from worrying about the disturbing sound that can distract you while working.
The beam produced by the DragonX Professional UV light spreads in a small area at a 30-degree angle. It is lower than the required amount of light to create a wash effect. Therefore, if you're planning to install these lights, it should be somewhere near the booth or on the stage.
It does have a sound-activated mode but it's best to use the master-slave function. The light comes has an adjustable flash rate and a linear dimmer. You can also change the settings of the lights with a DMX controller.
The fading effects produced by the lights are incredibly smooth. It also flickers less than other lights. With the help of its yolk design, you can mount it on the floor stand or hang it on the wall.
Pros
It has smooth dimming
There is little to no flicker
Comes with a double-yolk design
Precise focus
Cons
The wash effect is weak
Sound-mode is not powerful enough.
Best Sound Activated Lights
The Marygel 4 in 1 light is one of the best sound-activated lighting systems in the business. It combines different lights that create patterns and effects to give any track a dramatic appeal.
There are lighting options like Sword Butterfly lights, Four Eyes Pattern lights, White Strobe Lights, and Red and Green Effects lights that you can choose from.
It has a knob on both sides with handles that can be removed or adjusted as per requirement.
Marygel 4-in-1 light supports remote control, DMX mode, and most importantly Sound-Activated mode. The sound-activation mode works well only when the music is loud enough to reach the sensors. You can keep it near the closest loudspeaker in the booth.
This lighting equipment is also perfect for house parties and karaoke nights. The bright colors shine brilliantly and can change the ambiance efficiently. The RGBWY light and stage flashlight combined can create pleasing effects. However, the strobe lights cannot be turned off.
Marygel 4 in 1 light has in-built cooling fans that keep the lights cool and increase the lifespan of the product.
The complex lighting effects of the Marygel 4 in 1 lighting system are very simple to operate.
Its light source comprises 100mw red beam lamps and 30mv green lamps, 30mw strobe light, 6 3w RGBWYP butterfly patterns lights, and 4 RGBW patterns rotate lighting. The light is powered by a power cable.
Pros
Get 4 types of lights with a single purchase
The system is easy to use
It has very vibrant colors
Cons
The strobe lights cannot be turned off
House parties need light setups that are portable and small but still powerful enough to light up the room. The MOSFiATA has all the necessary features that make it the perfect house party light setup component.
These powerful LED PAR lights are designed to utilize the in-built macros one color at a time. It comes with a remote control that enables you to control the light modes and variations. The remote is sensitive enough to emit signals from a considerable distance.
You can use quick flash without a separate strobe light. This one of the rarest features found in products of this category. The full-color fade done by the MOSFiATA Par lights is a spectacular sight.
The light has some pretty awesome color combinations. However, these color combinations are limited and they are suitable for specific color washes. It also has a sound activation mode which is very precise.
MOSFiATA Par lights offer high levels of brightness when only one color is used. Just like other lights on this list, these come with cooling fans too. The fans do get noisy at some point, but it helps in getting rid of the heat and keep the lights cool.
Since it has 36LEDs and 1-watt full power LED, you can expect some impressive wide washes and smooth color mixing. The MOSFiATA Par lights use the built-in color macros such as 6xRed/ 6xUV/ 6x White/ 6xAmber/ 6xGreen/ 6xBlue, one color at a time.
Pros
Produces strobe without flash
High brightness for single color
Suitable for most DJ events
Offers amazing color mixes by using advanced optics
Cons
Not suitable for outdoor use
Not a good option for filming
Best Under $100
This is a great option for DJs looking for a temporary replacement for their lights or who need a spare light for backup. It has a significantly low price but that does not affect its performance at all.
To begin with, Roxant Pulse comes enclosed in a metal casing that enables it to deal with all kinds of shocks and abrasions. At this price, Roxant Pulse Ultra has advanced features like sound activation mode. The light changes the strobe rhythm and pulse according to the beats played in the room.
Roxant Pulse Ultra offers a 50,000 hours LED lifespan. The light does not overheat even after prolonged use.
There are a total of 108 mini LED lights that shine brightly and have the ability to light up a room pretty well.
It is very easy to operate the Roxant Pulse Ultra. Apart from sound activation, the machine can be operated manually for speed control. There are different operating modes such as Standard mode, Clockwise, Counter-clockwise, and Fast Sound Active mode.
Each of these modes makes the light function differently. You can use the lights settings creatively to put up a great light show.
Pros
Affordable price
Can be used for multiple purposes
Easy to install and use
50,000-hour lifespan
It can be activated manually or with sound
Cons
It has only one type of effect
These are premium quality earplugs that not only block the sound but also change the way you listen to it. The earplugs are equipped with the technology that maintains the quality of the sound that you want to hear naturally.
Red & Green Stars/Dots Patterns; Wavy Galaxy Full Color LED Light.
IR wireless remote-controlled/AUTO/Sounds activated
Easily install using the wall mount
Ideal for DJ, Band, Bar, Pub, Club, Roller skating rink, KTV, Family party, Birthday, Celebration, Wedding, Festival, Mall, Store, Shop and other places
It comes with several features that include the ability to switch between different modes conveniently and change patterns with simple remote control. The remote controller has a simple design with labeled buttons.
The lightbox is equipped with a sound activation mode to change the patterns according to the music.
SUNY Party Laser Light has a lightweight design that makes it easier to carry around. It has a handle with a hole in the center to hang it on from the ceiling.
It has an intelligent cooling fan that removes heat from the machine giving it the ability to run for a longer period. Furthermore, the aluminum body also contributes to keeping the body cool.
SUNY Laser Lights have a wide selection of effects that can be used during the show. You can choose from 24 different patterns and designs to light up your show.
Pros
User-friendly
Strong and lightweight
Comes with impressive colors options
Affordable
Cons
What's better than a small light at an affordable price that can light up an entire room with ease? RIUKOE LED Par Lights are a DJ's dream come true. Apart from the incredible price, the light offers several features that are hard to find at this price range.
Even though the light is small in size, it uses 12 8W RGBW 4 in 1 LED to generate higher lumen output. Its sleek design fits all kinds of events, shows, parties, and DJ gigs.
It features multiple smart control modes that can be used to control the light. You can use the DMX 512, Auto, IR remote, and Master-Slave. RUIKOE also offers you the benefit of sound activation control, which is unusual for this price.
There are no cooling fans in the light which makes it 100% quiet while being used. In terms of cooling, the machine relies on its aluminum shell that works efficiently to rid all the heat.
RIUKOE LED Par Lights do not compromise even the light produced from the machine is rich in colors and sufficiently vibrant. This is a result of high-quality LED beads and carefully selected 40-degree lenses. Furthermore, its customized mainboard gives you a balanced and rich color than conventional par lights.
Pros
Silent and powerful
Suitable for all kinds of events
Durable aluminum body
Multiple control modes including sound activation
Cons
Light changing settings can be confusing for first-time users
Frequently asked questions
Is buying DJ Lights worth it?
Lights are an integral part of a DJ's equipment as they help in creating the needed vibe for the event, so yes they are important. Considering that lights can have a massive impact on a person, combining your music with apt lighting can give your audience a pleasant experience.
What is a PAR Stage Light?
These are the most common forms of lights used by stages and theatres. PAR stage lights are simple and encased cylindrical tubes that come with a reflector to dilute the light shining from them.
Normally, PAR lights have a body made of steel and aluminum. The light gets its oval shape due to the cylinder and reflector added to the machine.
What types of DJ lights are there?
There are a plethora of lights that you can find in the market these days. However, the most common types of lights include scanners, lasers, party lights, retro lights, PAR lights, LED Strobe lights, and more.
What is a gobo?
A Gobo is like a stencil for lights. It is made of metal and placed at the front of the light so that the beam forms attractive shapes and patterns.
How to control DJ lights?
Based on the latest innovations in the lighting industry, there are various ways to control lights. DMX control, sound activation, daisy chain, console, remotes, and laptops are some of the popular ways to control lights.
Where is the best place to hang a stage light?
The best place to hang lights on stage is a pipe or on a truss. Lights should be placed in a way that their display and clamps face towards the wall. In some scenarios, you position the lights at the front of the house.