Have you ever seen a DJ on top of a stage where it seems like his booth is changing colors with the music? That's called a DJ Façade and they are the hottest trend sweeping across DJ performances. But do you even need one? Today, we're going to explore the space and I'm going to provide you with my best DJ façade choices.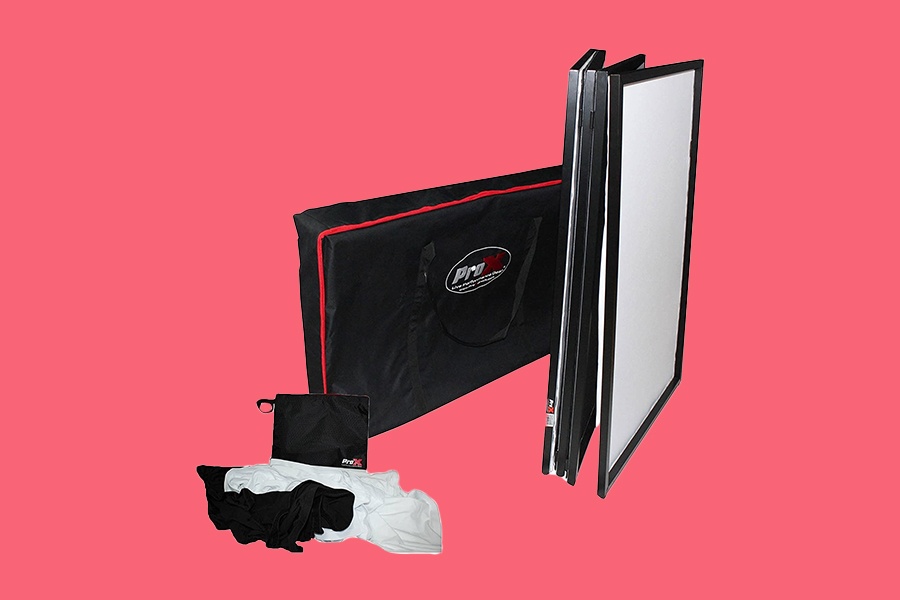 The essentiality of owning a DJ facade is quite debatable as most DJs compensate for it by purchasing DJ tables that cover the front efficiently. However, it is not just about covering your setup but also maintaining your charisma while performing, which DJ facades do quite impressively.
What is a DJ Façade?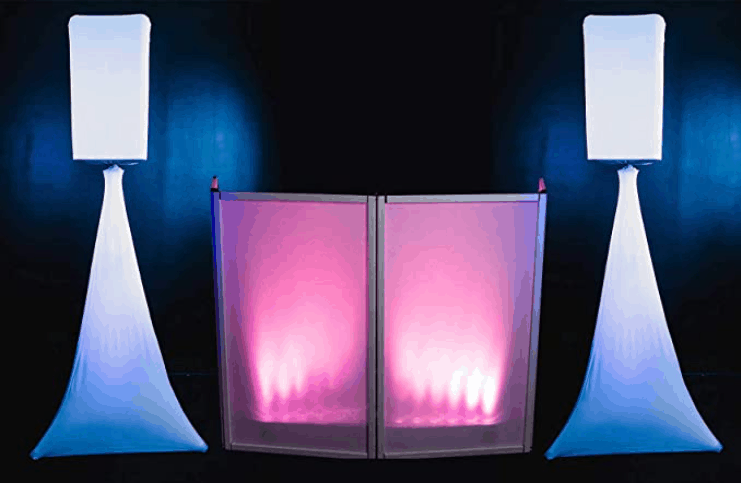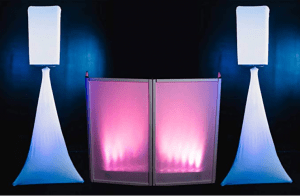 A DJ Façade is a front board to cover your DJ table (link) and set up. A DJ Façade is made up of a metal frame and a scrim. The scrim is the fabric that is stretched across the frame. Often, the scrim is transparent allowing lighting to shine through it and provide amazing lighting effects. Many DJs use them to provide the perfect lighting to accompany their music. For people looking for the perfect lighting setup, you'll want a DJ façade. It helps especially in crowded venues to take your overall "look" to the next level.
Want to learn more? Check out this dj façade video review:
Best DJ Facade
This product contains all the things you need for a DJ facade, right from setup to durability. The Rockville RFAAW DJ Facade kit comes with metal frames that are made from high tensile and lightweight aluminum which serves as an excellent alternative to steel.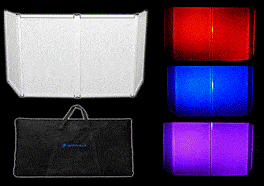 To keep your nightmares from turning into a reality, the company has made the scrim from fireproof fabric. It can stretch to an impressive degree and is very easy to wash. The scrim also dries up very fast.
The frame joints come with 360-degree mobility while giving you the freedom to make any adjustments to the panels. For enhanced stability, the frame comes with non-slip rubber feet.
You can carry the entire concoction in the portable bag that is included in the package. As it weighs only 7 pounds, you can take it with you anywhere you want.
Pros
Lightweight and portable
Stronger than the facades made of steel
Gives you the freedom to switch between the scrims
Easy setup and dismantling
Cons
It can be hard to find replacement parts
Lights and music make a deadly combination, especially when you're in a club. This facade lets you take advantage of this combination and make your booth visually appealing.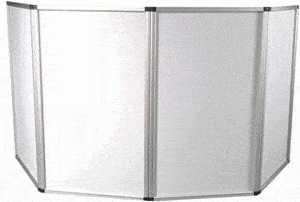 Just like the option above, this facade frame is made from aluminum too. The unique choice of metal surely makes the product durable and strong but it also makes it incredibly light. Since it weighs only 14 pounds carrying the facade from one place to another will not be a problem.
JMAZ has even taken care of transit and portability by providing a bag that fits the entire set up with ease. The bag has a sturdy construction and strong straps that keep it from falling during the journey.
The JMAZ event facade can be dismantled into smaller pieces. You can also connect or remove the panels to the amount that fits your booth.
It features a highly durable scrim that can be attached or removed when needed. The scrim can be washed by hand using cold water. However, it is recommended that you don't twist the fabric so that it does not get deformed and lose its shape.
It is also fireproof so you don't have to worry about the scrim catching fire in any circumstances.
Pros
Lightweight and easy to carry around
You can add or remove the number of panels
Size can be adjusted according to the available space
Two-color option i.e. black or white
Cons
A facade should not only make your stage appearance look good but it should also offer you the convenience of all sorts. The CedarsLink DJ Events Facade is the perfect choice in terms of convenience as its innovative design makes it much easier to use when performing.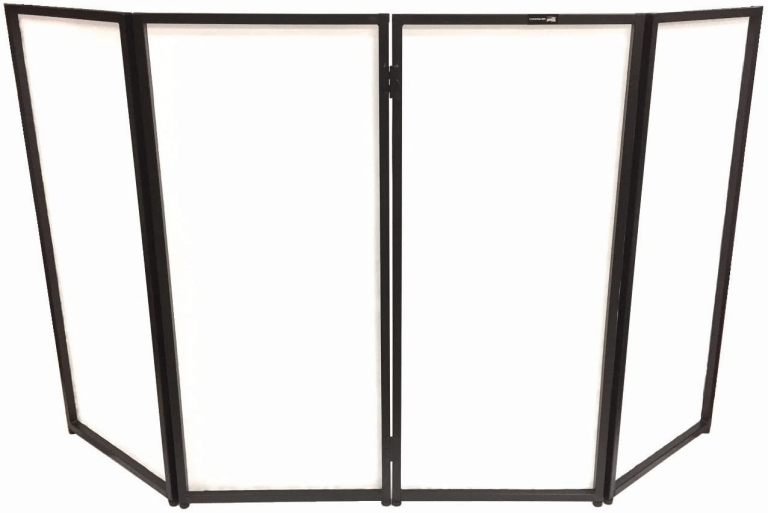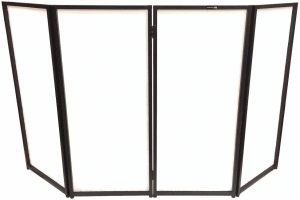 It has full heavy-duty metal frames that house the scrim with ease. The frame has hinges at different points that enable the frames to fold when not in use.
There are adjustable non-slip pads under the frames, these pads can be screwed/unscrewed to level the height of the frame when on the stage. The frames have velcro on the borders that lets you attach the scrim.
CedarsLink gives you scrims that are made from high-quality Lycra material that has numerous properties like stretchability, durability, and resistance. The scrim is washable and it dries up very quickly.
The company gives you two color options for scrims i.e. black and white. You also get different bags that can help you carry the entire kit. There is a different bag for every part of the kit such as a panel bag, a white scrim bag, and a black scrim bag.
The entire frame can be dismantled for easy transport and due to its lightweight i.e., 14 pounds carrying it won't be a problem.
Pros
Reliable and built according to industry standards
Comes with adjustable footpegs
Has velcro for scrim attachment
Both white and black scrims
Different bags for every part
Cons
Replacement parts can be hard to find
ProX XF-4X3048B talks straight business with its simple appearance and extensive features. The facade frame is made from a high-grade aluminum that can withstand impacts and shocks with ease. It is also scratch-resistant hence you don't have to worry much about getting the aesthetics ruined at any point.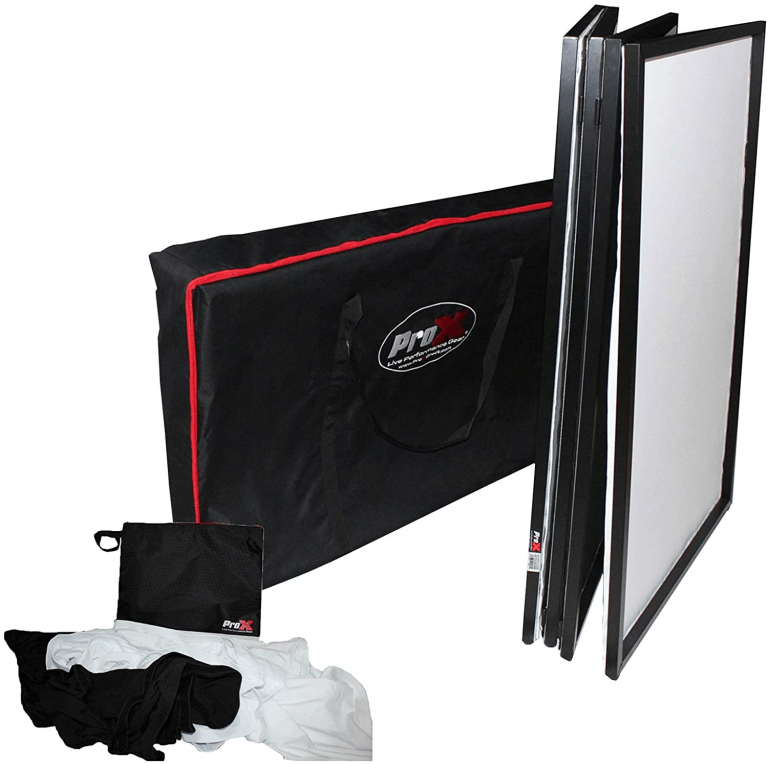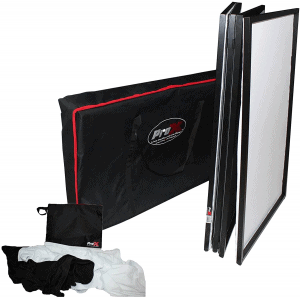 There are velcro strips on the borders of every frame which let you attach the different scrims. The facade does a great job in hiding the cables and your deck while maintaining an elegant appearance.
You can remove the panels for cleaning and also switch the panels in different combinations to make your facade look attractive. To keep the facade looking neat and clean, you can wash the scrims by hand, however, they have to be dried by laying flat so that they don't get deformed.
You can use any number of panels, according to the space available on the stage or the venue.
Due to its lightweight and foldable construction, it is a top pick among DJs that have a mobile setup. The company also provides bags for each part of the kit which keeps the items safe during travel.
Pros
Washable scrims
Strong and lightweight panels that can be removed for cleaning
Comes with a bag for each component
Velcro borders for easy scrim attachment
Cons
The carrying case for the frame is huge
Dragon Frontboards is among the popular companies that build DJ facades. The company has some pretty innovative and attractive front boards in their line up which includes the likes of DJ Facade.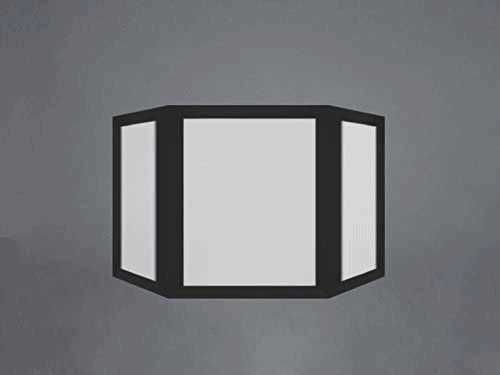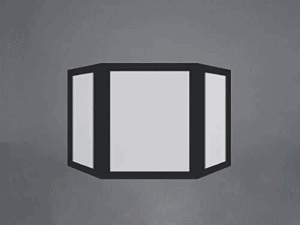 DJ Facade is very different from the normal facades, it is created using the finest engineering techniques of the company. It has a wooden frame that is stronger and lighter as compared to its metal counterparts. The black color of the frame adds elegance to its appearance.
It is sizeable enough to cover an X-stand so that your booth is not visible to the crowd. The product has 3-parts that can be folded when not in use.
For facade scrim, the company has used superior quality Lycra fabric that adds to the rich look. Moreover, the material is highly durable and it can stretch to a considerable extent. Due to the bright color of the fabric, the lights appear even more vibrant.
Pros
Easy set up that takes very less time
It comes equipped with a table where you can keep the equipment
You can choose between different scrim color options
Cons
Only 150 pounds is supported on the table
Odyssey CF5932 Carpeted Double Fold Out Facade
If you want to keep your appearance low-key and don't wish to grab the audience's attention, then the Odyssey CF5932 Carpeted Double Fold Out Facade is a perfect pick for you. The facade is entirely black and blends with the ambiance of the club.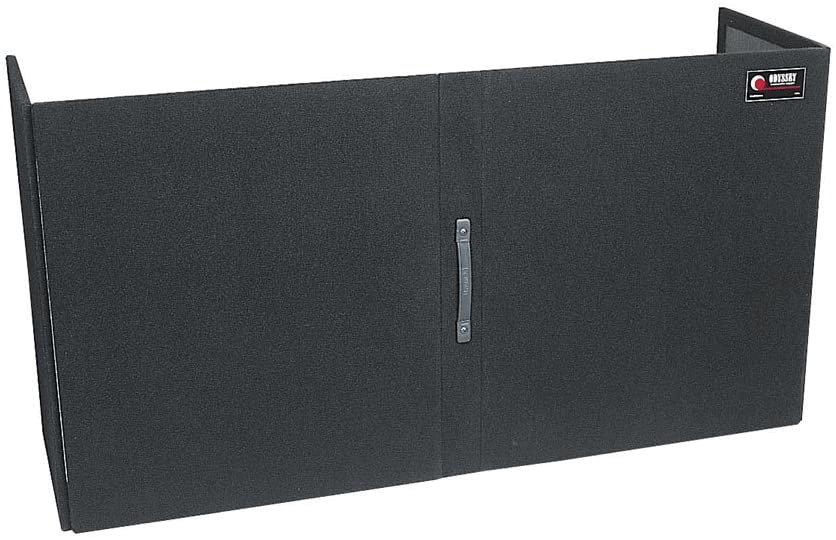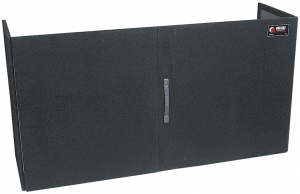 The entire facade is a single unit construction and has a black carpeted surface that gives a premium look. It comes with a handle at the center which can be used to carry while traveling. You can fold the facade into four parts i.e. left flank, right flank, two center flanks.
To enable easy folding, the facade has hinges attached to the flanks. The facade is strong enough to bear shocks and abrasions to an extent.
The only drawback of owning this facade is its weight. it weighs an astonishing 55 pounds which makes it a little heavier as compared to other options on our list.
Due to its black color, you will have to be extra careful of getting the facade dirty. It is not possible to wash the facade, therefore, you will have to clean the surface by wiping it.
Pros
Covers your booth well
Can be moved from one place to another
Great durability and performance
Cons
The screen tends to fall short, therefore, it is recommended that you choose the right dimension while buying
Make the most out of your facade by putting it to double use. With DJ Booth foldable cover screen, you can cover your booth efficiently while using the facade as a screen to show attractive graphics by using a video projector.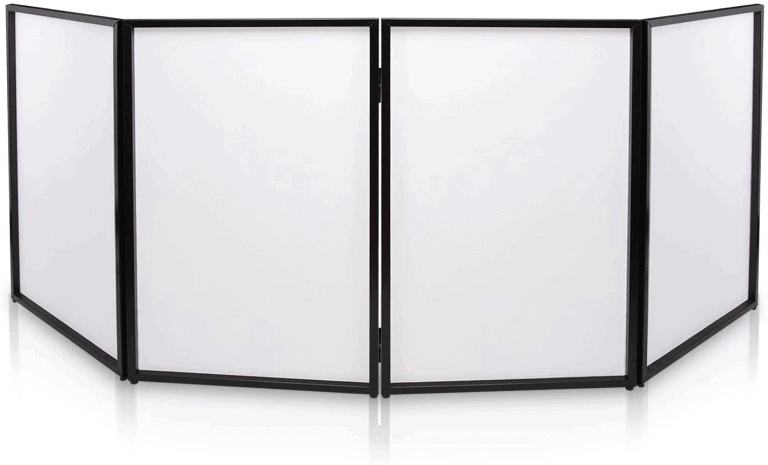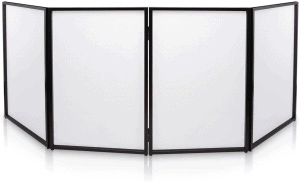 The foldable booth is made using flexible Lycra material that makes it appear smooth and cool. Owing to its stretchable properties, you can also wash it in a machine. It also helps in folding the facade for storage when not in use.
Its frame is made from alloy that is highly durable and has sturdy rubber feet that keep it from moving while adding stability. The height of the screen is sufficient enough to cover the booth so that your speaker and turntables are concealed well.
With its compact size and weight, the facade is easy to carry and can be used in different events. It is easy to assemble and can be assembled within minutes.
Pros
Can be used as an LCD screen
Scrim is made from stretchable Lyrca material
Lightweight and easy to install
Covers the booth flawlessly
Perfect for Cable Management & Concealment
Cons
Carry case is not included
Some DJs are often unlucky with facades that have fabric scrim, due to which they drop the idea of using a DJ facade. For such DJs, the CedarsLink DJ Event Facade is worth a shot. The incredible features of this facade will surely impress you.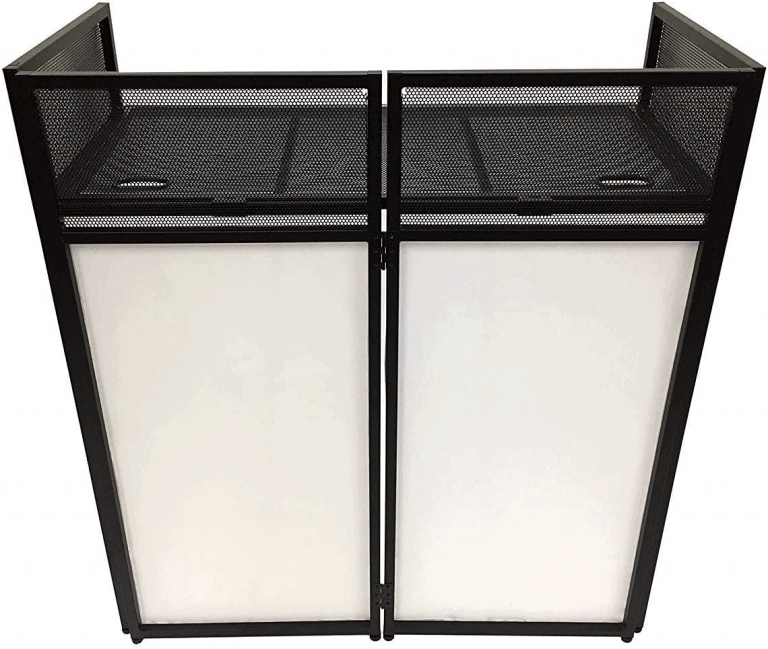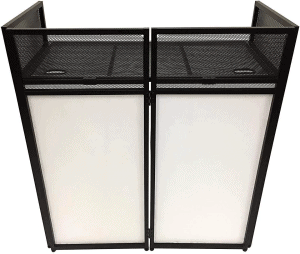 DJs who are worried about broken frames, one sight of this facade and all those worries will be put to rest. It has an all-metal body that is made from high-quality materials that can withstand shocks and impacts with ease.
It is a combination of four panels that can be folded into a flat frame for convenient transport. The company has also added different bags and pouches that can be used for carrying the facade while traveling.
To conceal your system in style, the company has added mesh panels on the top. These mesh panels can be removed if not needed. Furthermore, there is a small table structure that can be used to keep your gear like turntables, mixers, or laptops. It also has holes on the side that keep the wires organized.
Other features include Lycra panels that are highly reflective and come with white and black variants. The facade frame has velcro strips that can be used to stick the Lycra scrim. It also has rivets to keep the scrim peeling off of velcro.
Pros
Full metal body
Removable mesh panel
Comes with a built-in table
Velcro with rivets to keep the scrim from falling off
Has both black and white-colored scrim
Cons
Takes about 5-10 minutes to setup
If you are looking for buying a façade and a DJ table, here is a deal that can help you.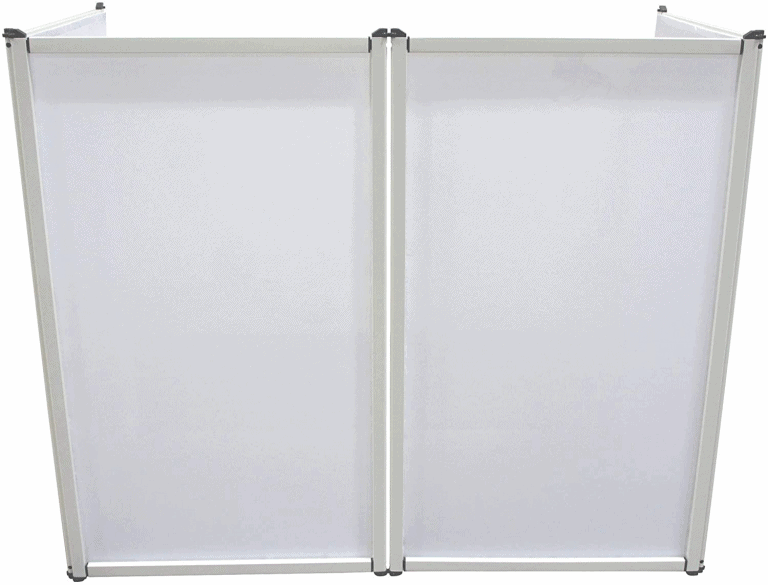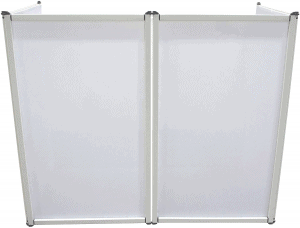 The Harmony Audio Aluminum Portable DJ Facade and Workstation Table is a combo that every DJ needs. It comes with a strong DJ table that can support all your gears and gadgets, while the portable DJ facade conceals your booth well.
The DJ table is made from wood and has metal accentuations on the sides that act as reinforcement. It can be folded into a smaller case for traveling. There is a metal handle on the top and locks that keep the table from falling off.
For the facade's frame, the company has used high-quality aluminum which makes it strong while keeping it lightweight. Whereas, its panels can be assembled in any order to form a facade.
The scrim is made from strong Lycra that can stretch to a considerable amount and its color also distributes light evenly.
To make the facade easy to carry, the company also provides a travel bag. It is strong enough to help you carry the facade to different places.
Pros
Affordable combo
Strong and durable
Can be carried with the help of a travel bag included in the package
The facade frame is outlined with velcro that can hold the scrim
Panels can be combined in any order for set up
Cons
The scrim often falls short
This façade is very special as it is designed with the help of professional DJs, which means it won't fail you in dire conditions.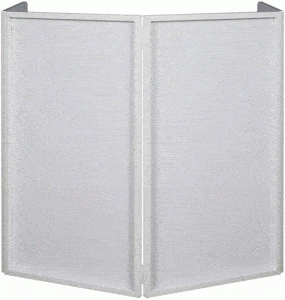 It has a sharp design that lets you maintain a professional appearance when on the stage. The frame of this facade is made from strong and durable metal that can endure the shocks and damages that usually happen while transit. You can choose from black and white color options.
There are two color options for scrims that are included in the package i.e. black and white. The scrims are made of superior quality Lycra that is fire resistant and can be washed with cold water.
The frames of this facade can be dismantled into smaller pieces for convenient storage or transit. You can also put these pieces in the bag that is included in the package. Moreover, the frames are outlined with velcro, which can be used to keep the scrim glued to the frame.
Pros
Aesthetically appealing design
Heavy-duty construction
Washable scrim
Easy setup
Cons
The quality of the travel bag could have been better
Frequently Asked Questions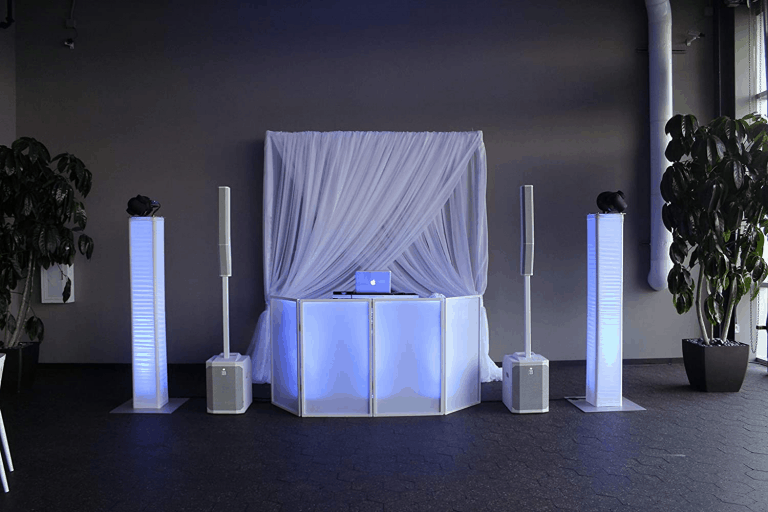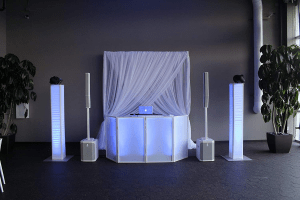 Is it necessary to own a DJ facade?
DJ facades are a matter of preference if you are comfortable performing with the back of your gadgets exposed then you don't need one. Most people who use DJ facades wish to maintain a sharp and sophisticated look.
If you don't wish to buy a DJ facade, you can make your own! However, you'll want to block out a weekend to start and finish the project.
How expensive are DJ facades?
Most DJ Facades are around $100. The price of a DJ facade depends on the brand, features, and quality that are offered by it. There are a lot of DJ facades in the market of varying prices but buying the one with the most features and high quality can be a great investment.
Is it possible to add a logo or a brand name on a facade?
Many companies offer customization on facades. Some charge extra for it while others do it for free. You can add the logo of your brand or your name on the scrim or other parts.
How to buy lighting for a DJ facade?
Well, you have to consider many things, but here are some of the most important ones:
The size of your façade and how many lights can fit in or around it: Most facades that are made of four panels use only one or two lights.
The type of light: You can choose from options like spotlights, wash lights, PAR can, or bar lights.
Venue: If you are going to set up the façade for permanent use you can buy spotlights or wash lights that should not be moved. For mobile setups, bar lights and par can lights work best.
Which is the best scrim material for a DJ facade?
Lycra is the best scrim material for a DJ façade. Typically, you want something that is lightweight, translucent, and stretchable. If you plan on using your DJ façade a lot, you'll also want one that is washable to help you keep it clean. For people who are on stage and want other effects (like fire), make sure you get a fireproof scrim!
Conclusion
DJs that have a cool appearance are admired by both fellow DJs and audiences. While many things can contribute to your on-stage appearance, a DJ facade can have the most impact, as the audience doesn't get to see the messy wires and the efforts that you put into making the performance successful.