DJs and earplugs make an absurd combination. Why would someone who makes money by creating or playing songs feel the need to cover his or her ears? The answer is pretty simple though: to protect their ears from getting damaged. This is where good-quality earplugs play a crucial role in saving a DJs career.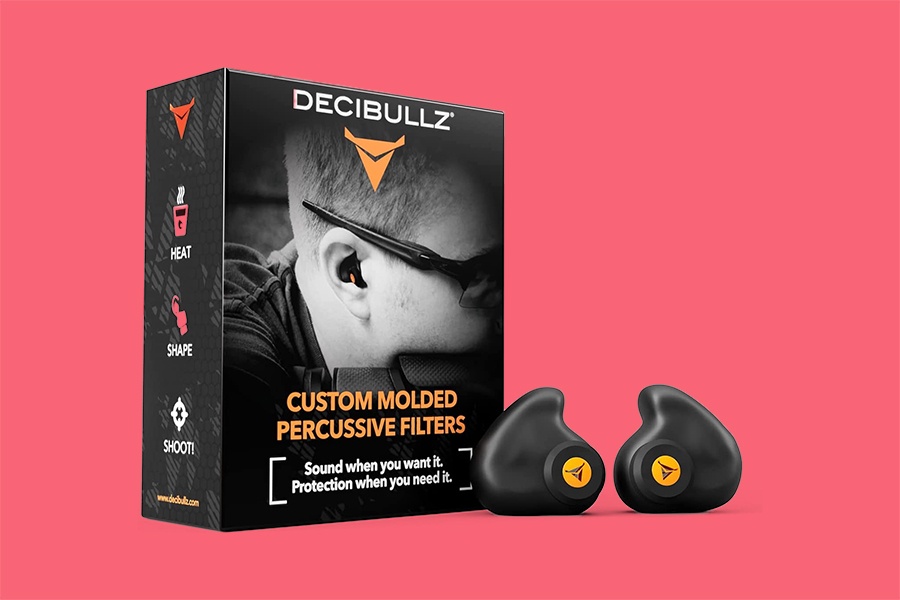 A DJ's ears are exposed to all kinds of sounds whether they are in the studio creating music or if they are on the stage playing for a crowd. This prolonged exposure does have side effects which include major health issues like hearing defects.
Summary of the Best DJ Earplugs
Image
Product
Features
Price

Editor's Choice

PEAK SUPPRESSION: These re-moldable Percussive Filters combine Decibullz top-rated custom moldable earplugs with superior percussive filter technology. These Percussive Filters protect from the peak sound pressures created by gun shots, artillery fire, explosions, and more, by suppressing them to safe levels. This helps protect users from long-term hearing damage

Check Prices

Budget Option

Soft, permanent custom fit; All-day comfort
Simple, easy to follow instructions
Safe, non toxic and hypo-allergenic silicone, no mess
Long lasting and washable
Made in the USA

Check Prices

Best Value

HIGH FIDELITY, PRECISE NOISE FILTRATION. Hear the music and chat with your friends while protecting yourself from harmful sound decibels.
LOW-PROFILE DESIGN, HIGH TRANSPARENCY. Almost invisible when you put them in your ears, no matter your skin color.
SOFT, HYPOALLERGENIC SILICONE. Wear them comfortably for long hours, even for the most sensitive, with exclusive earwax protection.
COMPACT ALUMINIUM CASE. Easy to store, take out, and carry around at all times. Optional luminescent sticker to find in the dark included.
COMPANION MOBILE APP. Know the sound level around you, and how long you can stay safely.

Check Prices

QUIET DOWN – Loud noises hurt hearing over time. Reduce damaging decibels while allowing clearer, quieter sound through HearGreat, high-fidelity reusable ear plugs by LiveMusic.
2 PAIRS, 1 PACK – Not all noise requires the same reduction. That's why your concert earplugs come in pairs of 2! The red pair provides high, 27-dB protection while the green protects at 21 dB.
PROTECTION FOR ANY EVENT – From concerts to construction, your noise reduction ear plugs work for any occasion. They supply security for musicians, motorcyclists, DJs, light sleepers, and more!
AROUND-THE-CLOCK COMFORT – Irritating earplugs for sleeping leave you itching to remove them. Stay comfy for hours with LiveMusic plugs featuring soft silicone, triple-flange design, and cone tip.
CARRYING CASE INCLUDED – Don't lose hearing because of lost musician ear plugs. Keep your set secure in their included aluminum carrying case that's large enough to fit both pairs.

Check Prices

FIRST CLASS HEARING PROTECTION - Our High Fidelity Earplugs protect your ears from harmful noise levels while still allowing you to clearly hear your surroundings. Get up to 21 dB of noise reduction (NRR 16 dB) so that you can do more of what you love while minimizing the risk of noise induced hearing loss, tinnitus, and anxiety.
PRISTINE SOUND QUALITY - Our innovative attenuation filters allow you to hear the world around you, just at a lower volume. Reduces noise evenly to maintain the full spectrum of sound while protecting hearing. Great for toning down noise levels in loud environments to reduce anxiety and for safely listening to live music with clarity.
USE EARGASM ANYWHERE - Fantastic ear plugs for concerts, noise sensitivity, tinnitus relief, motorcycles, musicians, drummers, noise cancelling, noise reduction, sporting events, sleeping and so many other uses!
PERFECT FIT GUARANTEE - Two pairs of different sized earplug shells made from hypoallergenic silicone are included with every unit. Fits most normal to large ear sizes. Individuals with smaller ear canals may want to consider our Smaller Ears Earplugs model. Contact Eargasm support with any fit issues and we'll be sure to make things right!
WATERPROOF ALUMINUM CASE - Never be without your earplugs again by using the included sturdy metal case with a waterproof rubber seal. Our compact case allows for safe and easy storage on your keychain, carabiner, backpack, or in your pocket.

Check Prices
Top 10 DJ Earplugs:
Even though many companies manufacture earplugs, choosing the right one is not that easy. Most earplugs look similar and the material used for their construction is not too different either.
However, some peculiarities can be considered to narrow your picks. Keeping those differences in mind, we have created a list of earplugs that you can use to protect your ears while performing on the stage.
Decibullz – Custom Molded Percussive Filters
These are the best pair of custom earplugs that you can find in the market. They have foam muffs that take the shape of your ear canal giving a perfect fit.
Since most custom earplugs are made of foam, Decibullz has made its earplugs different by adding a frequency filter in them. The filters ensure that you help you hear clear and crisp sounds while you're wearing them.
However, the company has chosen to keep the NRR (noise reduction rating) similar to that of foam plugs. The NRR in Decibullz Custom Molded Percussive Filters can reach up to 31dB.
Due to the foam composition, Decibullz Custom Molded Percussive Filters provide higher sound insulation than their silicone counterparts. This makes them suitable not only for stage performances, but also for work, shooting, and even swimming.
Decibullz earplugs have different color variants that are noticeable when worn.
Using these earplugs is very easy. Before using them, you have to make them soft and moldable. The best way to do this is by soaking the earplugs in hot water for a few minutes. When they become soft, simply plug them into your ears.
You can also re-mold them for later use.
These premium earplugs require no batteries or any power supply to function. You don't have to worry about losing your sound filters.
Pros
High sound suppression ability
No batteries required
Secure and Snug fit
Can be remolded for reuse
Cons
The price may seem a little high
Radians CEP001-R Custom Molded Earplugs
Radians CEP001-R is a much affordable option as compared to the Decibullz Custom Molded Earplugs. These earplugs are soft and give you a custom fit that stays comfortable all day. They are made from eco-friendly materials that get decomposed easily.
To ensure that you make the best use of these earplugs come with simple and easy-to-follow instructions. You can wear them all day without feeling any discomfort. Sometimes, the earplugs don't need any kind of adjustments, they fit into the ear canal properly.
The best thing about these earplugs is they are entirely safe and non-toxic. Furthermore, they are made from hypo-allergenic silicone which helps in keeping skin problems away.
The high-quality foam used for creating these earplugs makes it easy to wash them before or after use. The shape of these earplugs makes them suitable for multiple uses such as swimming or shooting.
These earplugs come with a lesser NRR as compared to the Decibullz Custom Molded Earplugs. Radians can reduce sound up to 26dB. You will be able to filter out all the unwanted loud sounds with ease.
If you have a problem with losing earplugs, the Radians CEP001-R have holes that can be used to screw lanyards in them.
Pros
Effective noise reduction
Eco-friendly material
Safe, non-toxic, and hypo-allergenic.
Affordable
Soft and easy to use
Cons
Might not fit tight and small ears
Best Cheap DJ Ear Plugs
EarDial Ear Plugs
These earplugs are specifically designed for musicians and DJs who spend a lot of time around loudspeakers and sound devices. EarDial features a high-quality noise filter that curbs the harmful sound levels to a decibel limit safe for human ears without affecting the sound quality.
The filter can be helpful while creating music as it reduces disturbing noises so that you can hear every note and sound. EarDial earplugs offer you an NRR of up to 11dB.
EarDial earplugs have a simple and low-profile design which is perfect for people who don't wish to grab unnecessary attention. The body of the earplugs and the noise filter is transparent which blends with your skin color flawlessly and becomes invisible.
The earplugs are made of latex-free hypoallergenic silicone. It is safe for all kinds of skins and does not cause problems like allergies or rashes. To make it better, the company has used soft silicone to make the earplugs making them suitable for prolonged use.
Most earplugs tend to lose their shape after some time which makes them useless. You can avoid this with EarDial. The silicone used for making these earplugs is strong and super durable, it does not bend or lose shape for years.
The company has added a small net at the tip that protects the precision filter from earwax. This net keeps the filter clean so that you don't have to compromise on sound clarity.
Pros
Made from high-grade durable silicone
Safe for all kinds of skins
Does not lose shape after prolonged use
Transparent body and filter
Comes with a small metal case
Cons
Low noise reduction rating
OstWony 3-Layered Soft Silicone Earplugs
If you want to try earplugs to see what difference it makes to your performance, the OstWony 3-Layered Earplugs can be a great alternative. These are the lowest priced earplugs in the market and they come in a bundle of 8-pieces and 2 pieces from them come with a rope.
OstWony Earplugs are suitable for different kinds of activities. They come with a protective case that can keep your pair of earplugs safe and easy to find.
The earplugs are made from super-soft food-grade silicone which is safe for your ears and doesn't cause any skin problems. That's not all, the earplugs have excellent noise reduction ability with a Noise Reduction Rating of 32dB.
OstWony has made sure you feel comfortable when wearing them which is why they are designed ergonomically. When using them, all you have to do is place them on your ears and rotate them a little while pushing them inside.
If you're worried about losing the earplugs due to frequent movement, you can wear the ones that have a strap attached to them. The strap is made from strong and durable material, and it will not break easily. Also, it is easy to clean.
Pros
Made from skin-friendly material
8 pieces at the price of one
Strong and durable
A protective case that keeps the earplugs safe
Cons
Ear Buddy Foam Earplugs
Foam is always considered to be the material when it comes to earplugs. They are soft and adjust to all kinds of shapes with ease. The best thing about foam earplugs is they can cover the entire ear canal and ensure no sound passes to your ear.
All of these qualities are found in the Ear Buddy Foam Earplugs. Even though these earplugs fall in the affordable range, they are a pretty good alternative to the silicone ones. You get 5 pairs of earplugs at this price.
Ear Buddy earplugs have been designed to help you with a lot of activities as they can block all kinds of sounds quite effectively. They are even recommended by doctors. These earplugs have a Noise Reduction Rating of 28dB.
It is very easy to use these earplugs. All you have to do is twist them into a small swab and put them in your ear. Within a minute the plugs will return to their original size, covering the entire ear canal. You can do this countless times.
Another notable feature of this product is the tiny holes that let the air pass through. This prevents sweat accumulation and protects you from infections. Toennesen earplugs can be washed for reuse.
Pros
Soft and comfortable
Affordable price
Recommended by doctors
Suitable for multiple uses
Antimicrobial and breathable
Cons
Does not fit all size of ear canals
Best Earplugs for Clubbing
HearGreat Reusable Silicone Ear Plugs
If you're a big fan of clubbing, these earplugs are designed just for you. They are great at reducing sounds to a minimum and not blocking them completely. This enables you to hear sounds.
HearGreat earplugs have a Noise Reduction Rating of 27dB which is quite effective in noisy environments.
These earplugs are very soft and they are made from Hypoallergenic Silicone which is safe for your ears. The earplugs have a conical shape that makes them easier to insert in the ear and ensures you get a snug fit.
It is very easy to use these earplugs. You have to place them on your ear and push gently keeping them at a 60-degree angle. To make sure the earplugs are set properly, try clapping near your ears to see the amount of sound you can hear.
When it comes to cleaning, HearGreat helps you save time and effort. You can wash them with soap and water. To dry the earplugs, you can use a hairdryer so that there are no traces of water left behind.
The earplugs come with a metal case that keeps them in place and saves you from losing or damaging them. You can dispose of the earplugs in 6-12 months.
Pros
Comfortable and easy to use
Safe for the skin
Washable and disposable
Cons
Does not fit ears of some sizes
Best Earplugs for Concerts
Eargasm High Fidelity Earplugs
Concert speakers have the loudest sound which can be deafening after prolonged exposure. Eargasm High Fidelity Earplugs is the perfect answer to your problems. Its universal size, discreet design, and low profile suit various environments.
These earplugs can turn down the sound significantly whenever you need it.
While reducing the sound, the earplugs make sure you hear sounds that you wish to without any compromise. This is made possible due to the super-powerful attenuation filters fitted in each earplug.
The filters make sure the sounds are reduced to a safe level and you hear the beats. Whether you're on the stage performing or in the crowd, these earplugs will help you hear only what you want to hear. The earplugs can help you turn the volume down anywhere you need it.
Eargasm High Fidelity Earplugs are made from soft and clear silicone that sit in your ear comfortably. Due to their transparent color, they appear virtually invisible to others. Their waterproof construction blocks any form of moisture or dust from getting into your ears.
The metal canister that comes with these earplugs prevents all kinds of damage that could ruin the earplugs and make them ineffective.
Pros
Reduces sound by 16 dB
Soft silicone body that fits all kinds of ears
Superior sound filtration
Comes with a metal canister that keeps them safe
Cons
Noise Reduction Rating is lesser than most earplugs
EarPeace Concert Earplugs
As the name suggests, these earplugs are designed specifically for concert use. The company has designed them ergonomically to offer a perfect fit. While the fit mostly depends on the canal size, the company claims it fits 80% men, women, and teenagers.
These are professional-grade hearing protectors and they can offer you clear sound at a safe level. There are different filters such as Medium, High, and Max. The filters make sure you get the desired amount of sound every time.
So if you're planning to spend a long day in the studio mixing beats and creating music, you are going to need these.
For DJs who don't want their peers or fans to take notice of them wearing earplugs while performing, the EarPeace is a great alternative. The earplugs are small and almost disappear in the ears. It comes with a small tab that helps in removing the earplugs from the ears.
The earplugs are precisely engineered to offer varied levels of Noise Reduction Ratings between 17-26dB when different filters are used.
EarPeace also provides you with an aluminum case with designated chambers for the earplugs. It keeps the earplugs safe and clean while keeping them close to you so you don't lose them.
Pros
Designed specifically for musicians
Different filters for varied NRR
Comes with a strong aluminum case
Small-in-size makes them almost disappear
Cons
The NRR might not be sufficient for high audio output
EAROS ONE High Fidelity Acoustic Filters
These are premium quality earplugs that not only block the sound but also change the way you listen to it. The earplugs are equipped with the technology that maintains the quality of the sound that you want to hear naturally.
The clever design and superior efficiency of the product are a result of high-level expertise. It is designed by the Director of MIT's Acoustics and Vibratory Lab.
EAROS has been designed to replicate the sound as captured by your natural ear and emulate a perfectly balanced combination of clear sound and hearing protection. The earplugs have been designed to offer a Noise Reduction Rating of 17dB while making sure you don't miss your beats.
Its slim and ergonomic design keeps the earplugs from becoming noticeable while providing a perfect fit. When inserted in the ears the earplugs create a seal that keeps sound from entering your ears. To make sure you get a perfect fit, the company has two sizes of tips.
To use the EAROS earplugs, first, you need to find the right earplug for the right ear. Then pull your ear a little to expose the ear canal. Place the earplugs in your ear and press gently. To make sure you get a perfect fit, you have to try locking the earplugs in the side of your ear.
Pros
Slim and modern design
Reduces sound but does not compromise on quality
Created by MIT experts
Cons
The NRR rating is a little low
Earasers Hi-Fi High Fidelity Earplugs
These are another pair of earplugs that are designed for musicians and recommended by doctors. They might not be as good as other earplugs on this list but can work well in areas that have a lot of noise.
Earasers are designed with a discreet appearance which is why they have a transparent body and small size. Due to their snug fit, these earplugs make a great replacement for custom-made ones that cost almost double.
The high-quality silicone used for creating the Earasers earplugs is soft on the ear and does not give you a plugged feeling. Apart from this, the earplugs don't cause any form of unnecessary vibrations that can make you feel uncomfortable.
When inserted in the ears, you can pull them out with the pull tabs that come out of them.
Earasers have a Noise Reduction Rating of 19dB, a perfect rating for concerts and even studio sessions. The earplugs are reusable and can be washed for cleaning.
Pros
A small and transparent body that is virtually invisible
Provides a snug fit and block water, dust, and, water
Does not cause sweat
Good replacement for custom-made earplugs
Cons
Not as durable as other products
Frequently Asked Questions About DJ Earplugs
Do you wear earplugs while mixing?
The answer to this question depends on the personal preference of the users. If you have good quality headphones that block all kinds of sounds, then you might not need earplugs at all.
If you're relying on your headphones for mixing, you need to check the frequency and volume that are produced by them. You can choose to wear headphones and earplugs at the same time but you will need powerful headphones for better results.
Also, you will have to add an EQ to hear the frequencies properly.
If you want to be a DJ for a long time, you will have to protect your ears by taking the necessary measures.
Foam vs Silicone?
Silicone earplugs have gained a lot of popularity in the last few years. This is due to the comfort, invisibility, and ability to isolate different sound frequencies without affecting the sound quality.
Due to the construction of silicone, the earplugs made can reduce sound up to 24dB NRR. If you have sensitive ears, then silicone ears will not be able to meet your expectations.
On the other hand, foam earplugs come with a much high NRR that reaches up to 32dB. Foam earplugs are not as comfortable as silicone earplugs and have a noticeable design.
Standard vs Custom?
This is another question that has created a divided notion among people. Custom-made earplugs feel comfortable in the ear as their design is created by considering the ear canal's shape. They come at a higher price than standard ones, and the sound isolation is not too significant.
Custom-made earplugs are quite noticeable which can be a problem for DJs.
Whereas, standard earplugs have a universal design to ensure that it fits the ears of most users. This does affect the amount of comfort offered by them. This makes them unsuitable for prolonged use.
The best thing about standard earplugs is the low price and easy availability. Standard earplugs also block dangerous frequencies similar to that of earplugs.
Are electronic earplugs worth the money?
Many key factors can affect the importance of electronic earplugs for you. For instance, if you play for just a few hours or just a few days in the week, then they won't be of much use to you.
Whereas, if you visit a venue for more than four days in the same week, then electric earplugs become a necessity.
Hearing matters the most for DJs. If you lose the ability to hear over time your career will go spiraling down and there will be very little that could be done. So when you buy earplugs think of them as a lifesaving investment.