For DJs looking for a more professional option, the majority of choices have always been 4-channel controllers. Released in late 2017 as the little brother to the revolutionary 4-channel DJ 808, the Serato powered Roland DJ 505 is one of the few 2-channel controllers focused more on the professional level currently on the market.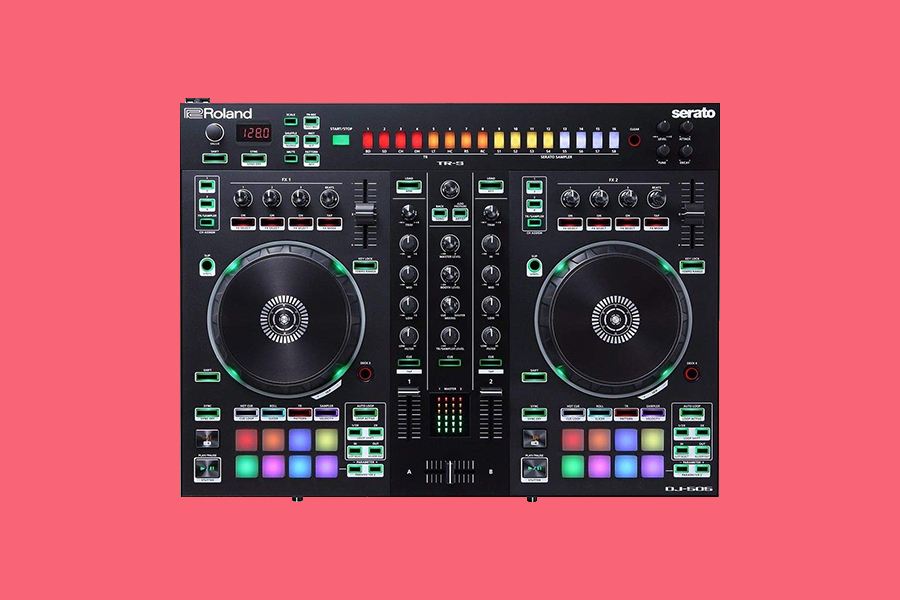 The 2-channel controller market has always been somewhat under-represented. The majority of 2-channel controllers available tend to be of the entry-level variety – cheaply made, lacking in options for professional inputs and outputs, being unable to function as a proper audio mixer with DVS functionality. 
As with all, Roland DJ controllers, the TR drum machine/sequencer section and it's tight integration with Serato is one of the unique features that can only be found in Roland controllers.
Let's take a deeper dive into the Roland DJ-505's features.
Layout/controls
The DJ controller market has hit a fairly standard layout at this point. While outliers exist (and Pioneer seems to be forging a slightly altered path with their newer line of controllers), the majority of controllers – especially Serato controllers – all have essentially the same layout these days. Ubiquitous 8 pads-per-side, effect controls at the top with 4 knobs and 4 buttons per side, jogwheels, pitch faders, and a mixer section with your standard EQ, gains, and dedicated filters per channel.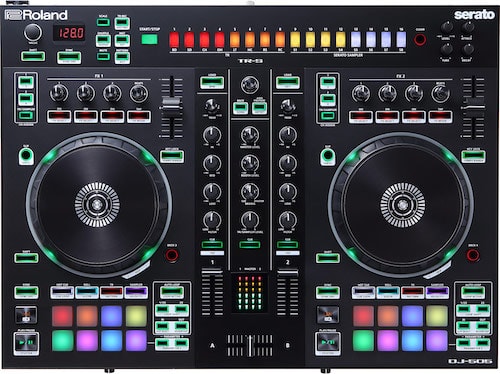 The controller also functions as a 2 channel audio mixer and is fully capable of DVS control. While the marketing touts "4 channels", this is firmly a 2 channel controller where the additional channels require flipping each control between channels.
As is the trend these days, the controller is asymmetrical, so it mimics a standard 2 decks and a mixer layout, rather than being mirrored as many companies chose to do throughout most of the 2010s.
The biggest difference is, of course, the TR drum machine and sequencer section at the top which is really only comparable to the one included with the DJ 808.
On the front, the controller sports a set of headphone inputs (both 1/4" and 1/8" jacks are available), crossfader curve adjust and reverse options, as well as line selectors and a headphone jack.


On the back, like most higher end, 4 channel controllers, the 505 covers all three standard output connections: XLR, 1/4", and RCA with the 1/4" booth outputs being controlled by a discrete volume knob. In addition, there are a pair of RCA inputs and a 1/4" mic input – as well as an old school, 5-pin midi port.

Like many controllers on the market, there is a fair amount of "hidden" options that can be accessed when booting the controller when booted up in System Settings mode.
This allows for customization of things like EQ adjustment, mic gain/attenuation and filters, crossfader curves, among many other options.
Build Quality
While plastic construction is generally the norm in most DJ gear these days – even in high end gear – the 505 construction doesn't feel particularly solid compared to a lot of other controllers.
Sporting a plastic base and metal faceplates covering just the platter sections, the plastic itself just doesn't feel the best. In some sections where the sides converge, you can actually feel the plastic buckling with the slightest pressure.
The knob stems are plastic as opposed to the metal stems you find in a lot of other gear and the faders also have an alarming amount of lateral wiggle to them. In general, the controller feels a little fragile and a flight case or hard shell bag is absolutely recommended if you plan on using it at gigs.
While I haven't experienced any major problems or flaws in the unit during testing, it simply doesn't feel very solidly built and I was expecting more from this level of controller.
Roland 505: What I Liked
TR sequencer/drum machine
Undoubtedly the centerpiece of the whole controller, it's a more stripped down version than its big brother in the DJ 808. With a relatively intuitive interface and fantastic options and sound quality, this is what sets the controller apart from all the others.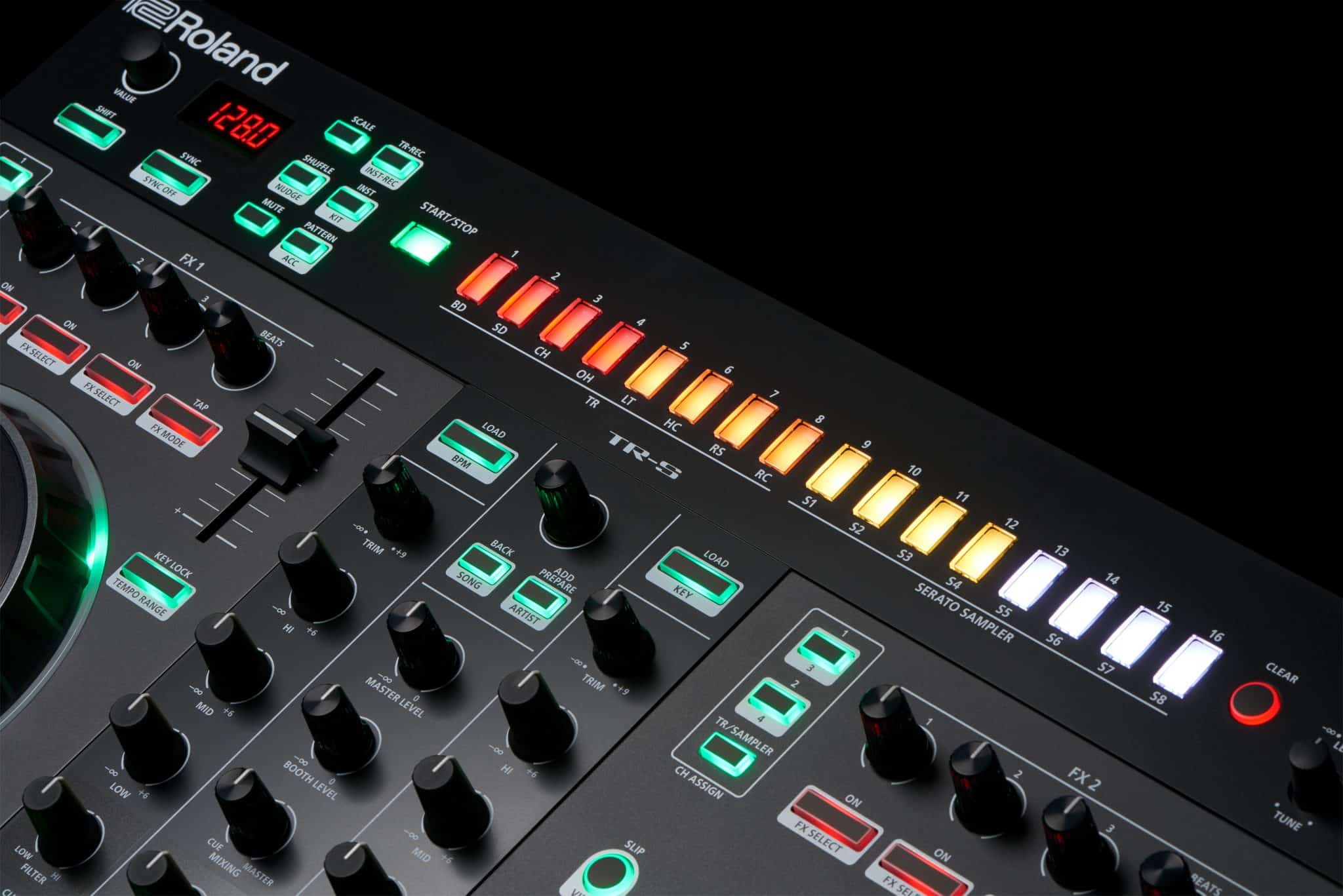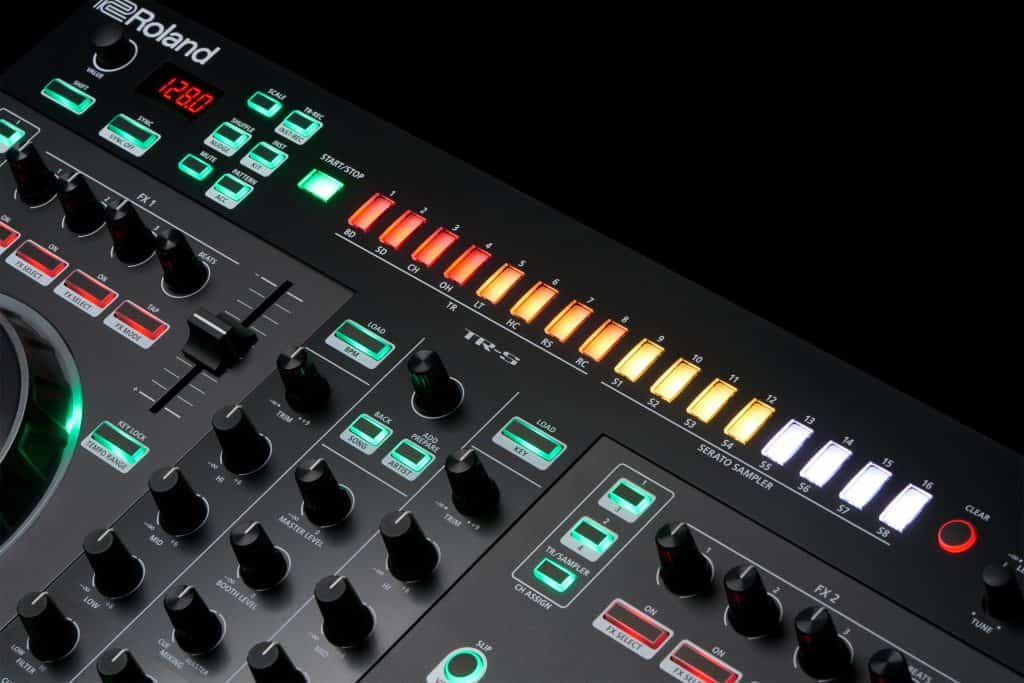 With access to drum sounds from 4 separate classic Roland drum machine kits, the TR drum machine allows you to create your own loops and clips from scratch with a fair amount of customization, you can create up to 16 short loops that can be strung together easily to create full phrases of drum tracks easily and intuitively.
Like the 808, you also get full sequencer control over the Serato Sampler in the software allowing you to slot whatever sound effects or even sections of tracks in your library which in effect, gives you 4 additional banks of sounds to choose from. Some basic sound sculpting controls can be accessed via the 4 small knobs on the upper right hand side and allows control over individual drum hits; volume, attack, decay, and pitch can all be tweaked via these knobs.
The TR sequencer can also be routed to one of the main DJ channels allow an additional layer of EQ sculpting as well as the ability to apply any of the Serato DJ Pro effects to the channel.
The one thing that the 505 offers that's superior to the 808 would be a full eight banks of hardware drum sounds vs the 808's four. Since this is Roland, this controller contain sounds from 4 of their classic drum machines including the legendary 808, and all the drum machine sounds are spot-on authentic and accurate.
In additional to the step-sequencer controls above the unit, the 505 is also able to record live playing via the pads – a feature that also exists on the 808 and 202. This allows for some live-looping functionality in beat making, and access to a more traditional, MPC-like set of pad controls to work with.
It does, however, lack in some of the more robust controls. As a result, it requires a little more memorization in shift-commands for some functions and is missing some key features like independent drum hit volume controls and dedicated sound bank buttons.
Sound Quality
While sound quality is often a subjective thing, much like most of their controllers, the DJ 505 sounds amazing – it has a warm, well-rounded sound that I personally think trumps every controller on the market that I've tried, and rivals and even surpasses some of the higher end DJ mixers on the market.
Platters
Roland touts ultra low-latency platters in their marketing and I'd be hard pressed to dispute that fact.  The platters feel very responsive and almost too sensitive at first.  They have a little more resistance than some of the competition, but still feel pretty loose compared to platters with a tension adjust like the DDJ SZ or the VCI 380.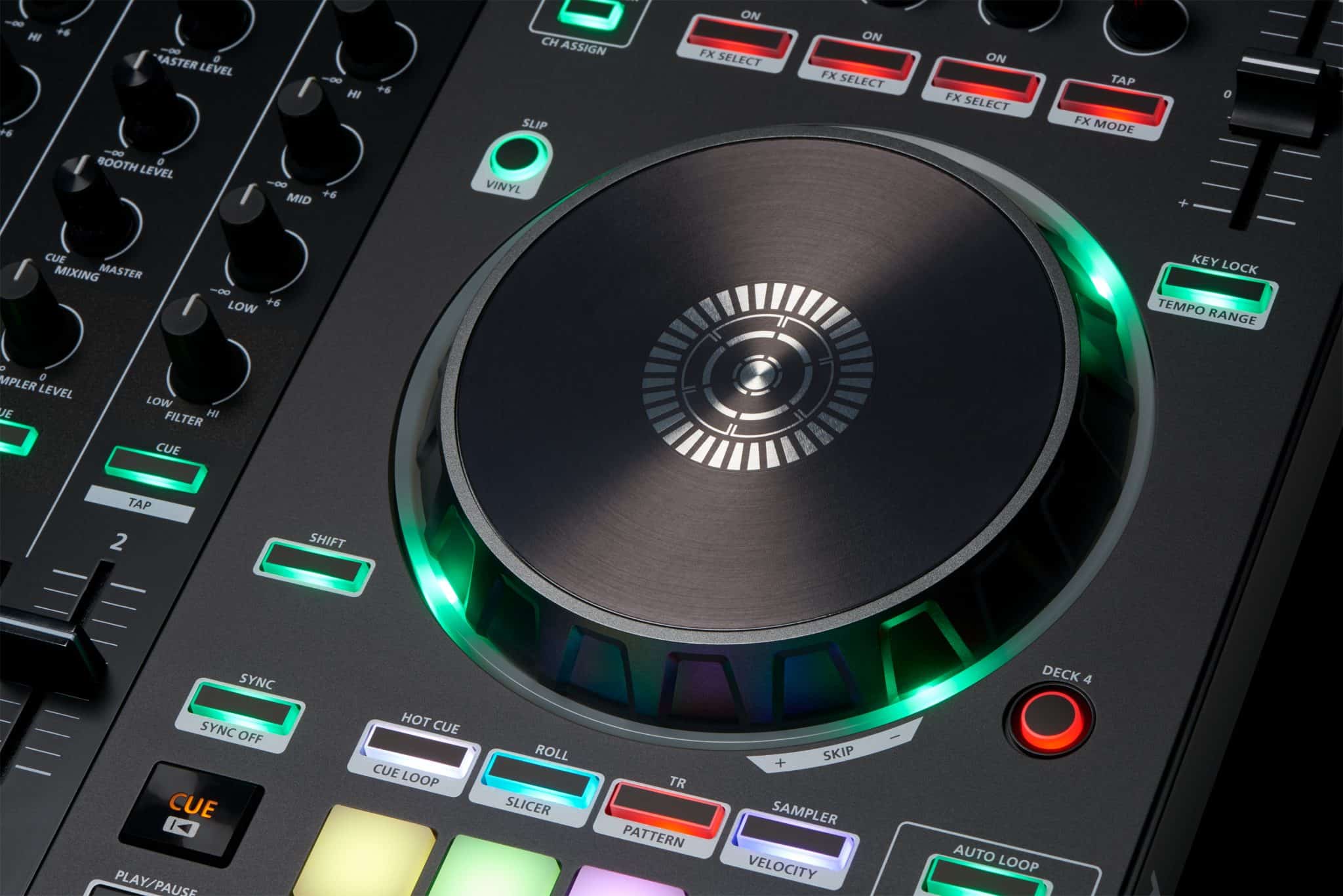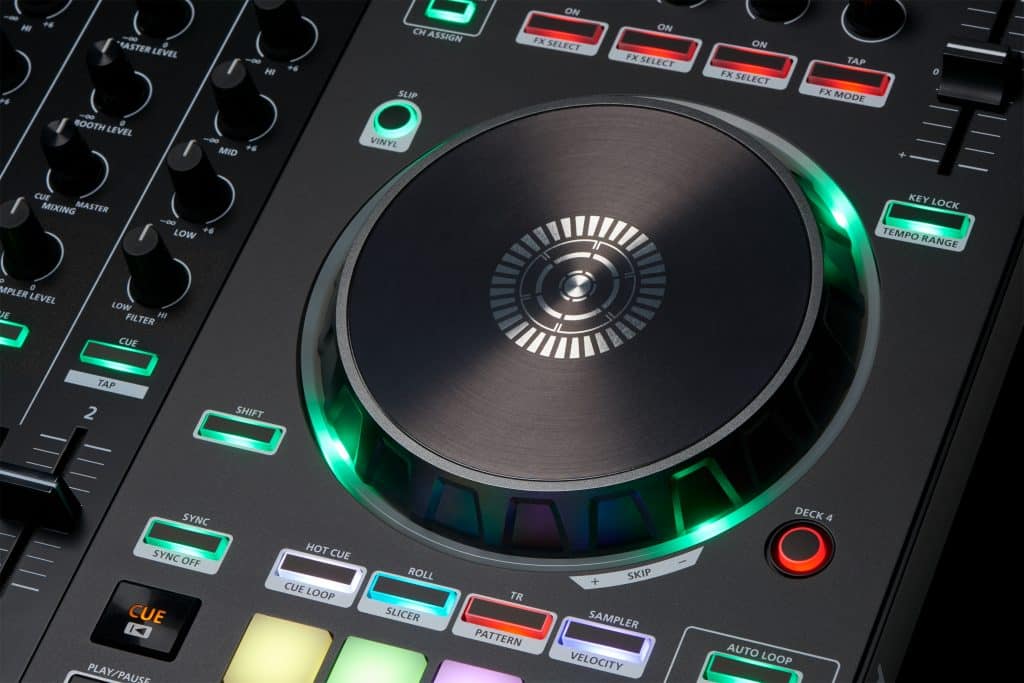 MIDI out
One of the main complaints about Serato is the lack of midi output options. The addition of Ableton Link does help, but the DJ 505 also includes a dedicated MIDI out port to sync with both hardware and software allowing the DJ 505 TS sequencer to be used as the master device. While fairly basic, and not as robust as the DJ 808's dedicated AIRA Link USB ports, this is a welcome feature to those looking to add some additional hardware to their performances.
Customer Support
When I was troubleshooting some of the issues below with the 505, I found that Roland's customer support was absolutely excellent. I was getting one on one Skype support promptly, and the included lessons and seminars they offer to product owners is a really nice added value to the price tag.
Roland 505 Review: The Not-So-Good Parts
Build quality Could've been Better
As mentioned above, I felt that the build quality was a big miss with this controller. Some with the price tag of the 505 – and the reputation of Roland – I felt should have felt a lot more solid in terms of construction and materials used.
Lack of platter indicator
While I do like the feel of the platters, I wish they had included a platter position indicator like on the 808 as I like to scratch and juggle even on controllers. Without it, I definitely have "Serato face" whenever I try to cut.
Short pitch faders
Sporting 60mm pitch faders, they don't provide the best resolution even at the lowest pitch range of 8%. For those looking to beatmatch by ear, it's doable, but not the tightest experience – it would have been nice they were able to move the Key Lock button and extended the pitch fader size by a couple cm.
Overhyped 4-channel controls on a 2-channel controller
I've never been a fan of 4 channel mixing on a 2 channel controller and the 505 is no different. This feature has always felt like lip service – something that looks good on a marketing features, but is overall something that isn't very practical in terms of real-world use. Since the channels share the same line faders and EQs, everything  ends up being being too complicated to use in any practical sense.
Nitpicks
Controls
While pretty comprehensive, the 505 is missing a few key controls that may affect some DJs. While most of the options are there, some are buried under a few midi pages and shift-functions which makes certain controls a pain to get to – most notably the Pitch-n-Time pitch shifting controls which require a number of button presses and shift-controls to access.
Size 
The size of the 505 is a little unique in that it's a lot deeper due to the drum machine and sequencer controls. This will make finding a case or bag a little challenging although I believe the dimensions are pretty close to the Traktor S8 controller. 
Mic controls
With only a volume knob, the mic controls are lacking in any EQ or tone controls which is something I feel is needed when using microphones. There are some basic filters and EQs for the mic, but they are only accessible in the Utility mode which requires a restart of the controller to adjust, and then another restart to implement – meaning it can't be done in realtime. I would prefer to have at least an EQ available
Major Issues with Roland DJ-505
I did come across a few issues with the 505 that Roland DJ 505 that may affect your decision to purchase the controller. I have been in contact directly with Roland and these issues are supposed to be addressed in one way or another, but I have no timeline on the fixes.
Issues with DVS 
There appears to be an issue using DVS specifically with Shure M44-7 cartridges. Apparently the preamps currently have some issues tracking due to the high output of those specific needles making scratching nearly impossible. Those not looking to use DVS or use non-M44-7 needles like Ortofon should be fine.
Issue with platters losing playback control
This is a little more alarming of an issue, but there have been a number of users in the Serato forum that have reported that playback controls stop functioning randomly after scratching with the jog wheels with the only way to fix the issue being a full restart of the controller. This apparently does not affect all users, it is apparently a result of a manufacturing defect in their earlier run of units and requires a hardware fix from Roland.
It has happened within minutes and I have also played for hours on end without encountering it. Roland and Serato are aware of the issue, but it is currently unknown how widespread it is or whether it's simply a bad batch of controllers.
Though my tests, I found the best way to avoid the issue is to minimize scratching with the platter. If you encounter this issue, I would contact Roland immediately.
Roland 505 compared to Other DJ Controllers
To see how this option compares to other controllers, see our comprehensive guides to the best budget DJ controllers here or read through our guide to the top DJ controllers for any DJ here.
Roland DJ Controller Final Thoughts
There's a lot to like about this controller – the drum machine is a lot of fun and can really add to a set in many ways, the sound quality is incredible, and it offers a fully featured, 2 channel controller with most of the bells and whistles associated with higher end, 4 channel controllers.
Those looking for a little more than the standard DJ controller would definitely appreciate the amount of options available – from building beats from scratch and linking with other MIDI compatible devices to incorporating more "live PA" elements into performances.
Aside from the TR sequencer/drum machine, the standout features of the 505 is undoubtedly the great sound quality and the low latency platters
The biggest drawback of the controller in my opinion is the lacklustre build quality and some potential quality issues with the platters. For a controller touting to be a more professional option, I wish Roland would have used a sturdier build as it simply does not feel as high quality as other controllers on the market.
All in all though, I do think the positives outweigh the negatives and a lot of my issues with the controller has more to do with my personal style of DJing and personal preferences. For some, the build quality may be a turn off, for others, the drum machine and superior sound quality may trump issues with sturdiness of the controller.