In a market flooded with a large selection of MIDI keyboards it can be somewhat overwhelming trying to choose the best one for your needs and your budget. Luckily, with the Arturia Keystep you might be getting one of the best MIDI keyboard controllers on the market at its price range.
Build quality:
Let's start with the build quality. In this price range it's really difficult to get a MIDI keyboard that doesn't feel way too light and it's not made from cheap plastic.

With the Keystep you're getting excellent materials: hard plastic on top and metal on the bottom. The keys are also very well made and are more close both in size and feel (having velocity and aftertouch) to real weighted keys than to the mini keys that are commonplace in most entry level controllers.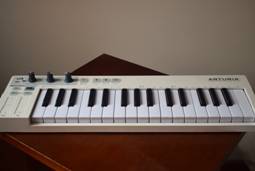 It feels more heavy and as such it is not as portable as other controllers, but your trading this for a more hardy and better built piece of equipment, also for the chance of having more keys to play. The Keystep has 27 keys in comparison with the 21 keys that are standard for controllers in this price range.
Sequencer and arpeggiator:
Additional controls come in the way of pitch and mod wheels, octave switch buttons, a hold button and a shift button to activate a transposer, chord mode, and to change MIDI channels and gate and swing percentages for the arpeggiator and sequencer.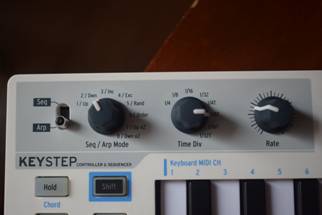 These two options, selectable by a switch, gives you even more creative options to use this keyboard as more than just a controller. With the sequencer you have the opportunity to record, play and transpose 8 different polyphonic sequences up to 64 steps with 8 different notes per step.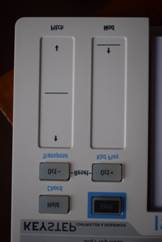 While the arpeggiator lets you play each note of any chord you make consecutively and not at the same time. Both the sequencer and the arpeggiator can be modified with time division and rate knobs and activated with intuitive led lighted Play/Pause and Stop buttons, which can also be used to control external MIDI devices.
The remaining knob doubles as a sequence selector (between the 8 you can record) and an arpeggiator mode selector, where you can change the way the notes in the arpeggio play (up, down, inclusive, exclusive, random, in order or up x2 and down x2). There's also a convenient Record button to start a new sequence.
Connections:
As is tradition with the Arturia family of MIDI controllers, the Keystep excels in the amount of connections the keyboard has. Besides a micro USB output for using it with your DAW of choice, you can also connect:
sustain pedal
DC adapter if you want to use the Keystep without a computer,
mod, pitch and gate CV outputs
sync in an out, so you can use the sequencer as either master or slave with almost any type of equipment
MIDI DIN input and output.
This wide arrange of connections gives you the chance to use the Keystep as a hub and controller for almost any type of analog or digital equipment you may have, which gives it an advantage over similarly priced controllers which can only be used with a computer.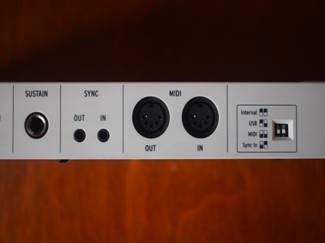 Keystep Pricing:
In regards to its price, it might be one of the most compelling reasons to buy it, for $149 you get one of the most complete and well built controllers on the market and you won't have to spend any more money if this is your first piece of equipment.
In comparison with the $449 that the Keystep Pro costs, this is the best price for an entry level controller.
Keystep vs Keystep Pro:
When comparing the Arturia controllers you might see the Beatstep Pro as an evolution and more complete version of the Beatstep, but in regards to theKeystep Pro, a more apt description would be that besides a few things, it is a combination of the Keystep, as it is still primarily a keyboard controller, and the Beatstep Pro, as it comes with the vast multitrack drum and polyphonic sequencer of this other staple Arturia controller.
 As you might have bought a Keystep and a Beatstep Pro separately before, as I have, now you could buy the Keystep Pro and you could have an all-in-one solution for your studio production and live performances.
Besides the addition of the multitrack drum and polyphonic sequencer, which you can read all about in our Beatstep Pro review, these are some of the main differences between the Keystep and the Keystep Pro:
The Keystep Pro Has More Keys and is Heavier
TheKeystep has dimensions of 19.0 x 6.0 x 1.5″. The Pro is not that big, but still has dimensions of 23.2 x 8.2 x 1.5″.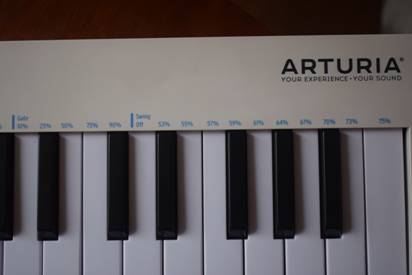 The difference in size can be seen in the accomodation of the different polyphonic sequencer panels and in 10 extra keys, for a total of 37 in comparison with the 27 the Keystep has.
The main difference here could be in portability, as the Keystep weighs 3lbs, the Pro version weighs almost double, 5.9lbs.
Keystep Pro Has More Connections:
In regards to connections, you can connect the controllers through micro USB or DC power supply and they can also be used with a sustain pedal.
While the Keystep only has one set of CV outputs and both a single sync and MIDI DIN input and output, the Keystep Pro blows its smaller sibling out of the water with
4 separate sets of CV outputs
8 dedicated drum gate outputs
clock sync in and out with an additional reset out for Eurorack sequencers,
1 MIDI in and 2 MIDI outputs and a dedicated metronome output.
The Pro version has LED above each keys to easily see them in dark places, something the basic version doesn't have.
Additionally the Keystep Pro comes with an OLED screen, a metronome with incorporated speaker, 5 encoders with LED rings and 16 step edit buttons for your sequences.
Keystep Review: Final Thoughts
No matter your skill level or your experience as a producer, if you can spend $449, you should definitely buy the Keystep Pro. The Keystep Pro will be a really powerful and diverse tool for all your production and live performance needs.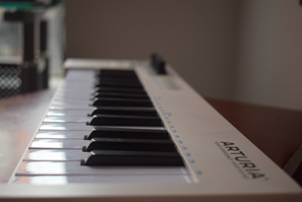 However, if you don't have that much money or you just want a keyboard controller with a comprehensive set of controls and connections and a more portable size, you should get the basic Keystep as it is still, 4 years after its launch, one of the best MIDI keyboard controllers on the market in its price range.