Edifier is among the old sound equipment manufacturers around the world. Over the years the company has introduced some noteworthy products that perform exceptionally but come at a fraction of a price. The Edifier R1280DB is one such product from the company. 
The R1280DB is a basic studio monitor with powerful sound output and covers high and low-end frequencies impressively. Apart from this, this studio monitor is portable and features a chic design which makes it more desirable. 
A good studio monitor offers incredible sound quality which is a result of many different factors working together in perfect harmony. Let's take a look at some of the essential factors that are required in studio monitors.
What you need in studio monitors
Power
Whether you have a big or a small room, power is the most important factor that you need to consider. The level of power output the studio monitor offers can affect the overall sound along with the volume it produces. 
Power also affects the dynamic range or the headroom that the monitor offers before the signal reaches its maximum limit. With more power, you will be able to hear the details more clearly which will allow you to make adjustments to the limits, gates, and compressors. 
EQ adjustment
Most of the advanced and expensive studio monitors come with equalizers that offer accurate sound adjustment and give you control over the track. A studio monitor with a 2-band or a 3-band EQ will help you hear the sound in the purest form and enhance your mixing skills. 
Clear sound output 
Studio monitors are designed to produce the truest representation of your composition. Which means they might not necessarily sound good. This makes them reliable for composition as their accuracy and precision help composers spot errors effortlessly. 
A studio monitor should be able to reveal all kinds of things both good and bad of your music while maintaining an accurate balance throughout different frequency ranges. Moreover, there is no way to be sure of how a studio monitor will perform in your room so consider trying some options or look for an online review of the product you wish to buy. 
Features
The Edifier R1280DB has a lot to offer which makes it an all-in-one solution for DJs who need an affordable sound driver. Let's take a look at the features that enable it to perform exceptionally.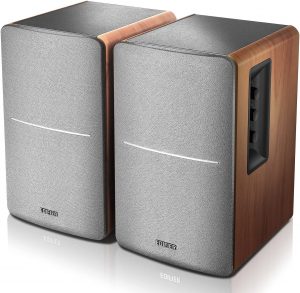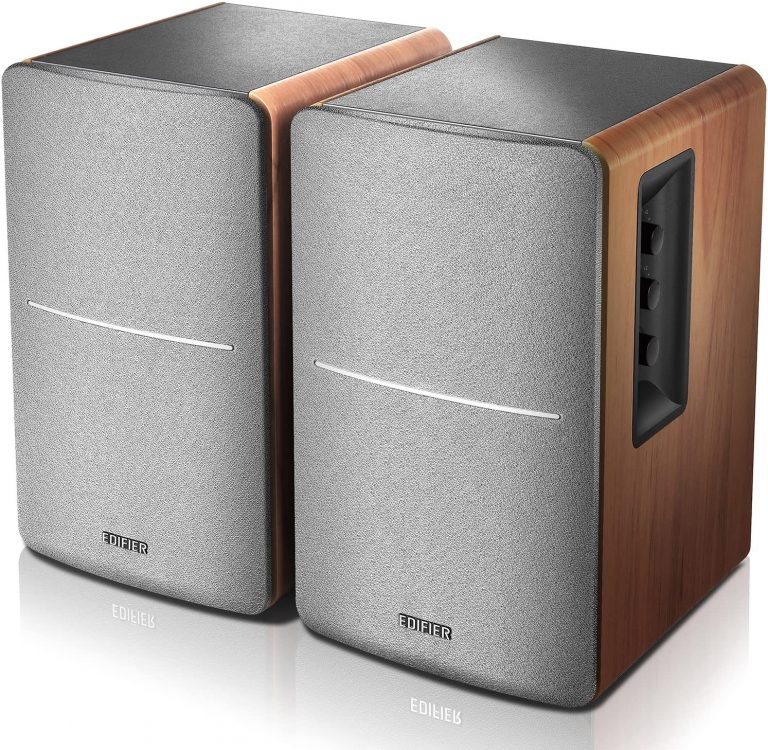 Sound Quality
Even though the R1280DB is an entry-level studio monitor, it offers exceptional sound quality. The well-balanced highs and mids are something that every DJ desires in a speaker. Moreover, the speaker offers a very flat response for pure sound output.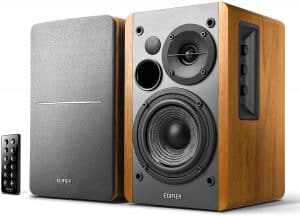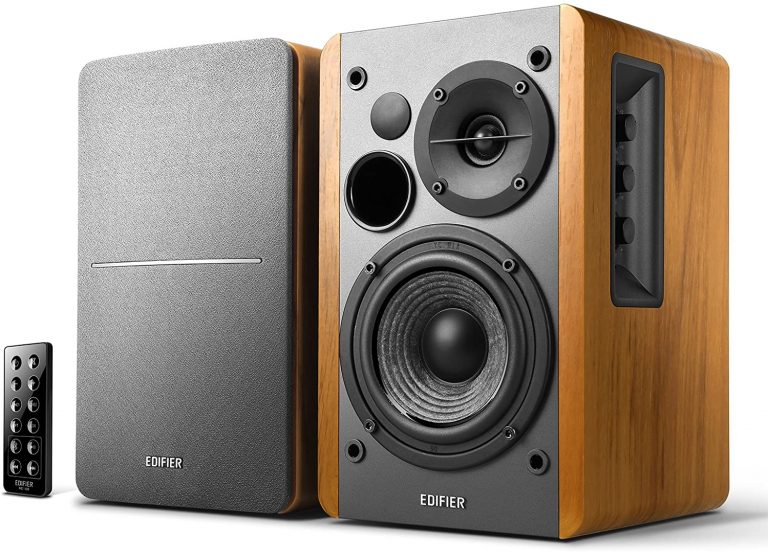 If you're more into production, you will love the Edifier R1280DB. With its crystal clear sound output, you will be able to find even the tiniest errors with ease and make your set sound better. 
With the R1280DB you can enhance your EQing skills as the representation of its EQ mixers is quite accurate.
The speaker offers amazing lows considering its size. They are balanced well with the mids and highs which sounds quite satisfying. While the speaker offers incredible sound quality, you might have to compromise a little on the base. 
Another notable feature of the R1280DB is the loud sound. You can easily fill a large room with quality sound but there is a drawback that you have to consider. As you reach the higher levels, the sound gets distorted. Which makes the R1280DB suitable for small studio setups. 
Build Quality
Normally the studio monitors that fall in this price range are not that strong or durable. They are made of low-quality materials that eventually fall out and can also cause performance issues.
That's not the case with the R1280DB. Though the wooden box may appear like real wood, it is made using a standard MDF board. The box gets its rich look due to the vinyl wrap. All of these things give the speaker a strong and robust feel.
With proper usage, the R1280DB can last for a very long time.
You also get a remote control with the speakers which is quite unusual for studio speakers at this price range. The remote control does add a little usage convenience but its build quality is not that impressive. Also, you cannot use any other remote with the speaker.
Specifications
The Edifier R1280DB offers a frequency response of 55Hz-20KHz. This enables the speaker to cover both high-end and low-end frequencies efficiently. In simple words, the lowest frequency a human's ear can hear is 20Hz, any sound below it is barely audible. 
Whereas, sounds at higher frequencies are clear and easy to detect.
It offers a signal-to-noise ratio of 85dBA. For easier comparison, a standard lawnmower's sound can reach up to 90dB. So according to basic calculation, this studio monitor is almost as loud as a lawnmower. 
The speaker comes with a 1-inch tweeter dome. Looking at the size of the speaker i.e. 4-inch these tweeters are a perfect fit. Also, the small size adds makes them portable and less space-consuming. You can keep them on your workstation or even on a bookshelf. 
Tuning Options
A speaker with a good amount of tuning options is a great pick for DJs. The tuning options can improve the performance of a normal speaker and transform the entire mixing process.
In the case of R1280DB, the speaker offers you basic controls for bass and treble. This makes it unique among all the other speakers found in this price range. You can adjust the bass and treble using the dedicated knobs that are located on the sides of a speaker.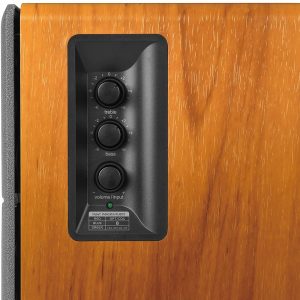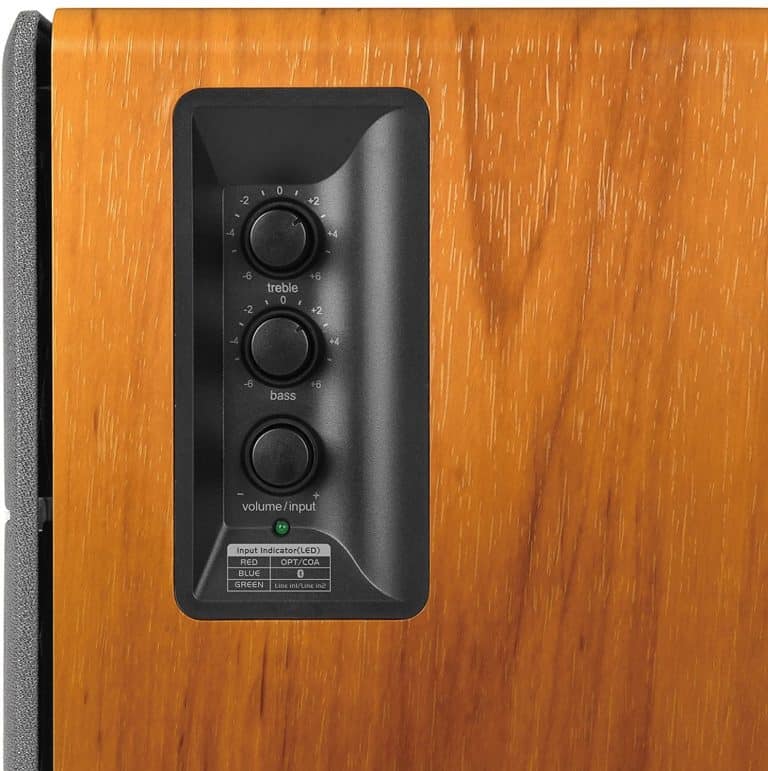 While side knobs are something that you don't come across every day, their inclusion in the R1280DB makes adjustment convenient. 
With compact size and easy tuning options, the R1280DB makes a great pair for your music system. 
Design
Though the design of a speaker barely matters, the Edifier R1280DB has an impressive design. It features a stunning design which is a combination of wood grain and black textured vinyl that covers the box. 
The speaker is also not overly designed and carries a sophisticated look. However, there are different color options that you can choose from for a unique appeal. Most color options are flashy and they are perfect for people who love to strike a bold statement. 
Its baffles are covered with a protective fabric that comes pre-installed from the factory. It is attached to the speaker using a simple clipping system. You can remove it easily if needed. Most people prefer using the speaker without the baffle as the output becomes clearer without it. 
Since the Edifier R1280DB requires no external amplifier, all the electronic parts are housed within the unit. The IR receiver is placed in the front to offer seamless transmission to the remote control. 
The only problem with the design is the status LED is on the right side which is not visible when the speaker is placed on a shelf. 
Inputs
It is great to see that the speaker comes with connection options as most speakers in this price range don't offer such advanced connection options. The Edifier features a standard RCA connection which is common but it also comes with optical and coaxial connections.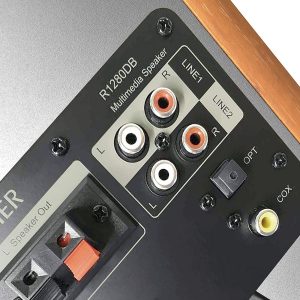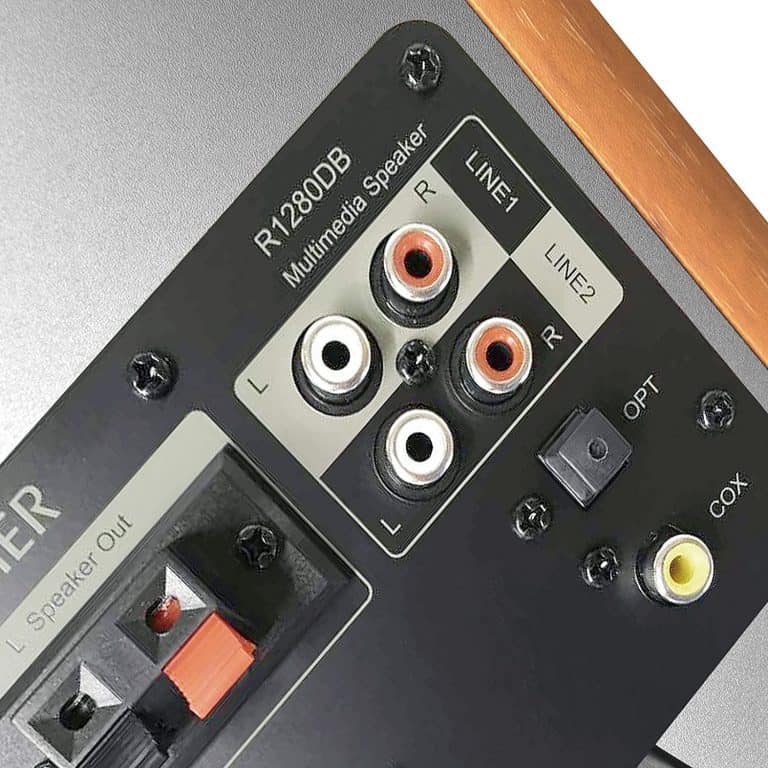 With these connection options, you can connect the speakers to different devices like TV or computers. 
For additional convenience, you have the Bluetooth connection option at your disposal. This option can help you connect the speaker to devices like cell phones or other Bluetooth-enabled devices. 
The R1280DB was designed to be used just for a single purpose. With the different input options, you can use it as a studio monitor, a subwoofer for your sound system, or even a travel speaker that you can take along with you on different trips. 
While the Bluetooth connection option may seem like a major highlight, there are some limitations that you will have to deal with. For instance, connecting devices to the speaker is time-consuming. In addition, the weak signal can be another major flaw of the device. 
Therefore, it is recommended that you use Bluetooth only when you're out for a casual occasion. 
Value
Edifier R1280DB is a powerful Bluetooth-enabled bookshelf speaker that offers great value to the user. Instead of buying expensive studio monitors or low-priced flimsy speakers, you can opt for the Edifier R1280DB.
While there are many other inexpensive options available in the market, they might be able to match the sound quality and durability offered by this one. Also, features like MDF board, multiple input options, 85dBA sound output, and EQ balance can be hard to find in one speaker.
Things to consider when buying a studio monitor
Understand your requirement
When trying to choose between a plethora of studio monitors, you can narrow down your option by considering your requirements. Since prices can vary from model to model and the number of features included in it, you need to understand the difference between them by observing them.
Most speakers that fall in the affordable range come with all the necessary features that are essential for music production and mixing. However, if you're looking for something advanced and more features, you will have to look in the higher price range.
Even though advanced speakers have multiple features, if you don't need them paying such a high price may prove futile.
Look for value
Looking for a studio monitor that falls in your budget is just not enough, you need to find a product that offers maximum value for your money. Try finding out the pros and cons of your shortlisted studio monitors.
Some monitors are light and portable. These monitors are suitable for DJs who prefer using a portable setup. On the other hand, for DJs who want speakers for a dedicated setup, bulkier models with the ability to produce low and high-end frequencies can be a better option.
Know the difference between power wattage
A studio monitor's power wattage and its maximum volume are two different things. Monitors with higher wattage offer detailed sound with a wider dynamic range. It gives you more control over the sound of your track and avoids distortion in the process.
Whereas, monitors with low wattage have some level of distortion when your sound hits the high and low-end frequencies. It happens due to the speaker's inability to cope up with the required output.
To make sure that a monitor meets your expectations, you need to consider the kind of sound you want to create. Songs with high bass levels can be a problem on monitors with low wattage.
Your studio's size can be a major deciding factor on how much power you need from a monitor. Since most home studios are made in a small room, choosing a powerful speaker is not necessary.
Monitors with 50 watts are suitable for home studio setups.
Make accuracy a priority
Studio monitors are like honest mirrors for your music. Unlike normal speakers, they do not focus on making the audio sound good. On the other hand, studio monitors produce pure audio so that you can detect even the smallest errors in your beat or mix.
Every monitor is designed to offer the best performance on any platform so that you can improve your track. These monitors don't add any extra bass or treble those normal speakers produce.
Studio monitors are great for testing your set. Even though they sound flat and underpowered, this can help you find all the minor and major errors in your set.
Consider your studio acoustics
If budget is not your concern, you can consider the acoustics of your studio when choosing a studio monitor set. The sound output of your studio monitor depends on the size of the room it is kept in, and the objects present around it. Also, the placement of the monitors can make a huge difference.
Once you're through with the acoustics of your room, then comes the most important task of positioning the speaker well. If you're planning on purchasing near-field monitors, you will have to keep them 1-2 meters away to get in the right listening position.
Moreover, if you have a bigger studio you will have to keep the speakers 2.2 meters away from the walls. This will reduce the impact of the bass rebounding off the walls. To help you do it, you can buy good-quality stands to keep the speakers above the ground.
Following these tips will help you make the most out of your studio monitors as it will reduce the room's impact on the sounds. Additionally, you will get a pure playback of your mix or tracks.
The more the merrier!
If you have a large budget, you can purchase more than one monitor for your studio. With more studio monitors you will be able to balance your channels precisely. It will also give you an idea of how your song will sound to an average user. Above all, the Edifier R1280DB is one of the best DJ speakers around – it's affordable, high quality (for the pricepoint), and a great starter speaker set.
Conclusion
The Edifier R1280DB is a great alternative for people who want a quality studio monitor in the affordable range. It offers an incredible sound quality, multiple input options, and an elegant design that matches almost any studio setup.
Its compact size tuned sound output, contemporary styles, and Bluetooth connectivity are some of the main features that you can consider when thinking of purchasing the Edifier R1280DB.